Solar Pumps Market - Key Research Findings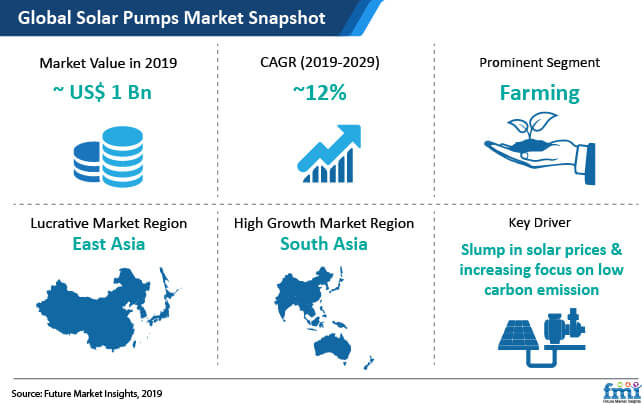 The solar pumps market size in 2019 is estimated to be valued at ~US$ 1 Bn.
The solar pumps market is estimated to grow at a CAGR of ~12% during the forecast period of 2019-2029.
Application of solar pumps in farming is expected to gain a noteworthy traction during the forecast period.
In regions, particularly South Asia, the demand for solar pumps is increasing rapidly. In countries, such as India, and ASEAN countries, the demand for solar pumps is rigorously increasing owing to the dropping price of solar panels. Moreover, the increasing dependence on renewable sources of energy; governmental initiatives; and focus on dropping carbon emission levels are some of the major factors boosting the solar pumps market growth momentarily during the forecast period.
Under the farming segment, irrigation is the most procured area of application for solar pumps, owing to the high demand from agriculture activities.
In terms of value share, South Asia is expected to hold a prominent share and CAGR growth, followed by East Asia.
Key market players in the solar pumps market are enhancing their product offerings by solar pumps ranging from varied capacities, such as solar pumps below 4HP and 4HP to 6 HP. Furthermore, acquisitions and collaborations with local market players remains a major trend in the solar pumps market.
Emerging market players in the solar pumpsmarket are enhancing their product offerings by investing in research and development activities.
India, countries in the Rest of MEA region, and China are expected to be the emerging markets in the solar pumps market.
Formation of international alliances by several countries to promote solar energy is another factor driving the market growth.
Factors Shaping the Solar Pumps Market
High Operating Cost of Diesel Motors and Non-reliable Electricity Distribution

One of the biggest cost-consuming task for farmers in India and other agriculture dependent countries is running water pumps using diesel generators, which have high operating costs. There are still many villages, which do not have a wide coverage to the grid electricity. As a result, solar water pump systems are emerging as a superior alternative to save irrigation cost for farmers as well as electrification cost in remote areas for government.

Meanwhile, solar panels are becoming less expensive, which has created massive acceptance among end users. In upcoming years, the demand will continuously increase, especially in the agriculture sector owing to the anticipated reduction in cost.

Supportive Government Policies

The solar water pumps market is primarily driven by government supported initiatives and subsidies provided to consumers on the purchase of solar panels. For example, in India, capital subsidies are offered by the central government through the Ministry of New and Renewable Energy (MNRE) and the National Bank of Agriculture and Rural Development (NABARD). Such initiatives by government is supporting the adoption of solar pumps among consumers from the agriculture sector.

Increasing Focus on Low Carbon Emissions

Governments worldwide are actively implementing initiatives to curb the growing carbon emission in an effort to reduce the global warming. Such initiatives have stemmed from the growing dependence on the usage of renewable sources of energy across industries to reduce energy consumption costs and total carbon footprint on the environment. Such initiatives are driving the demand for solar pumps.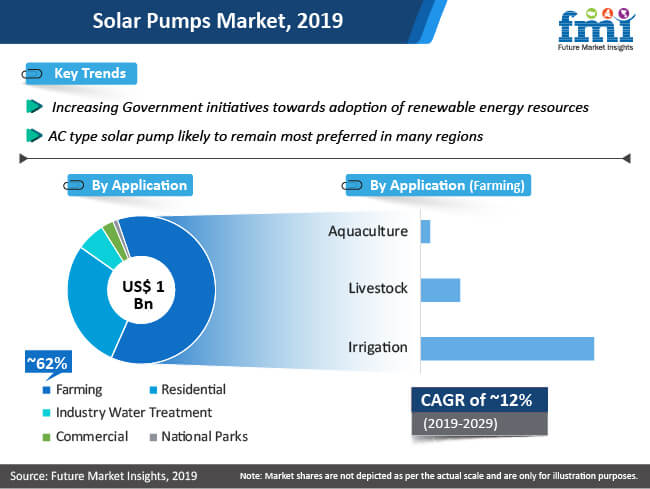 Solar Pumps Market Structure Analysis
The solar pumpsmarket is a fairly consolidated market where tier-1 players hold around half of the solar pump market share.
Most of the manufacturers in the solar pumps market are strategically focusing in South Asia. Key market players in the solar pumps market, such as KSB SE & Co. KGaA, Franklin Electric, BW Solar (Waterboy), Shakti Pumps (India) Ltd., Grundfos, Stanley Black & Decker, Inc., Kirloskar Brothers Limited, Glynncorp Electrical, and Bernt Lorentz GmbH & Co. KG, are focusing on expanding their product lineup by integrating flexibility in solar pumps in the solar pumps market.
Tier-1 players are strengthening their positions in the solar pumps market by offering increased subsidies by tying up with local governments.
Market Segmentation
By Capacity
Below 4 HP
4-6 HP
6-8 HP
Above 8 HP
By Product Type
Submersible
AC
DC
Surface
AC
DC
By Application
Farming
Irrigation
Livestock
Aquaculture
Residential
Building
Drinking
Commercial
Swimming Pool
Pond Management
National Parks
Industry Water Treatment
By Region
North America
Latin America
Europe
South Asia
East Asia
Oceania
MEA
Need specific information?
Talk Show:
The Rise of Intelligent Packaging
Personalized, Connected and Sustainable
November 18, 2021
11:00-11:45 AM PST (USA & Canada)
This is a LIVE session