Solar Charge Controller Market - Key Research Findings
Global Solar Charge Controller market size in 2017 was nearly US$ 1.4 billion
The Solar Charge Controller market will observe just-above 8% CAGR over 2018-2028
East Asia and Europe will remain the largest regional markets for solar charge controllers
Presence of solar panel and related storage battery manufacturers and suppliers will continue to generate substantial demand for solar charge controllers
East Asia holds high growth potential in solar charge controller market
Rapidly increasing installation rate of solar panels, increasing number of rooftop operations in remote areas, and growing electronic infrastructure for solar power generation will heavily contribute to the growth of solar charge controller market in Asia, particularly in fast-progressing economies, such as China and India
MPPT will witness high growth rate and is the most preferred solar charge controller
High efficiency and reliability will secure dominance of MPPT based solar charge controllers over PWM based solar charge controllers. However, cost factor will benefit the PWM based solar charge controllers over MPPT
Top Factors Shaping Solar Charge Controller Market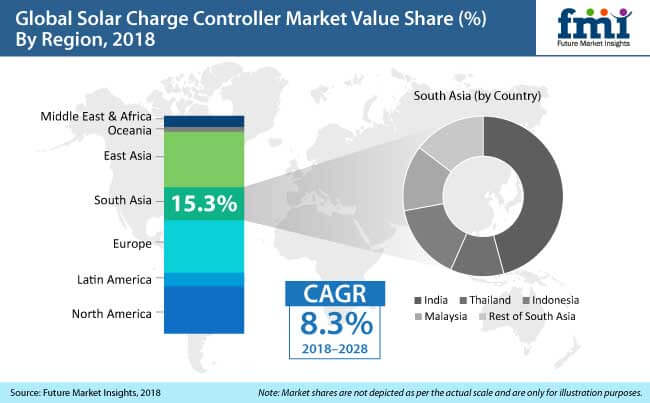 Demand for Solar Charge Controllers in Remote Operations

Increasing adoption of solar charge controllers in remote operations is prominently pushing their sales. In line with increasing demand for easy access to devices to gather information, the requirement for electrical storage battery is increasing, which is driving the solar charge controller market. This according to FMI is expected to remain the key factor driving the demand for Solar Charge Controllers at a global level.

Increasing Installation of Off-grid Solar Panel Systems to Boost Market Growth

Low availability of electricity in certain regions and frequent power breakups are driving the adoption of solar charge controllers. This trend has been gaining ground in countries in Africa, Asia and Latin America. Recently, the growth in installation of offgrid solar panel systems marks an important trend in the solar charge controller landscape. Increasing awareness along with subsidiaries for the installation of offgrid based solar panel systems will be a major booster for the global solar charge controller market.
Solar Charge Controller Market Structure Analysis
The global solar charge controller market represents a consolidated competition landscape wherein Tier 1 companies hold more than 34% revenue share
Tier-1 players or key players have strong sales and distributor networks to maintain their revenue growth. These companies are focussing strategically on developing economies, which is favouring their revenue growth. Though, the strategic focus on North American and Western European markets has not reduced, the report underscores that partnerships with technology providers will be an important developmental strategy for companies
Leading players in solar charge controller market are also concentrating on the rising trend of adoption of MPPT based solar charge controllers. However, cost competitiveness will remain a strong differentiation strategy.
Important entrants in the solar charge controller market from developing economies, such as India, Brazil, China and ASEAN countries, will determine the competitive scale in the global solar charge controller market.
American, Chinese and Japanese manufacturers have been substantially contributing towards the revenue growth of the solar charge controller market
The number of dealers and distributors of key solar charge controllers is increasing at a rapid pace, which is likely to have a significant impact on the competitive landscape of solar charge controller market
Key Segment
By Current Charging Capacity
up to 8A
8A to 20A
20A to 30A
30A to 60A
60A to 80A
100A to 250A
Above 250A
By Battery Type
Lead acid Battery
Lithium Ion Battery
By Technology
Pulse Width Modulation (PWM)
Maximum Power Point Tracking (MPPT)
By Region
North America
Latin America
Europe
Middle East and Africa (MEA)
East Asia
South Asia
Oceania
Need specific information?
Talk Show:
The Rise of Intelligent Packaging
Personalized, Connected and Sustainable
November 18, 2021
11:00-11:45 AM PST (USA & Canada)
This is a LIVE session