Introduction
Solar shading systems have gained immense traction in recent years, as they enable energy storage and use, while elimination permeation of heat radiations into the residential and commercial space. Adjustable heat reflecting louvers are an integral part of solar shading systems, which seek significant adoption to protect buildings against overheating.
Solar shading systems deliver strong architectural features and solutions for intensive solar radiation and provide shading. Roofing materials and roofing shingles have witnessed significant advancements in order to comply with latest solar shading technologies.
Solar shading systems continue to witness a significant surge in sales as innovative and efficient ways of shading spaces. Global warming prevails as a pervasive concern worldwide, which in turn has led consumers and commercial space owners toward installing solar shading systems. Key players operating in the solar shading systems market are including installation services in their product offerings, along with the provision of aftersales services apropos of maintenance & repair activities.
Leading players in the solar shading systems market are also focusing on the provision of automated systems in collaboration with integrated service providers. Lucrative application areas for the solar shading systems, that have been driving their adoption in recent years, include airports, railway stations, shopping malls, and tourist places.
Solar Shading Systems Sales Spike in Line with the Upward Trend of Urbanization
Permeation of the real estate industry into suburban areas, along with the resurgent growth in the construction and infrastructure development activities, allude imminent opportunities for the players in the solar shading systems market.
Other growth influencers of the solar shading systems market include the rise in smart city projects worldwide and promising prospects of the service industry. The growing carbon footprint of the industrial sector and the growing pressure of power demand on energy grids have been promoting commercial spaces to make investments in solar shading systems and relevant smart devices.
Construction of Smart Homes and Smart Architecture Drives the Solar Shading Systems Market
The smart building's concept has gained significant momentum as the new age city infrastructure. The growing popularity of smart homes is expected to complement the growth of the solar shading systems market, as they create the demand for various types of fabric as well as aluminum-based devices.
Commercial buildings based on the smart home concept involve the use of solar shading systems as an integral part of the infrastructure, which in turn will underpin the market growth in the near future. Rise in renovation activities by homeowners has indirectly driven the adoption of smart devices and equipment that tackle challenges related to solar radiation.
Spending on Home Aesthetics to Sustain Sales
Improving economic conditions worldwide, coupled with growing GHDI of consumers in recent years, has meant that spending on appealing luxury and comfort has increased manifold. This aspect is no exception to home interiors, with recent studies alluding a marked rise in home aesthetics-associated activities. Leading players in the solar shading systems market are responding to the trend by introducing attractive designs that suit well with the evolving requirements of the consumers.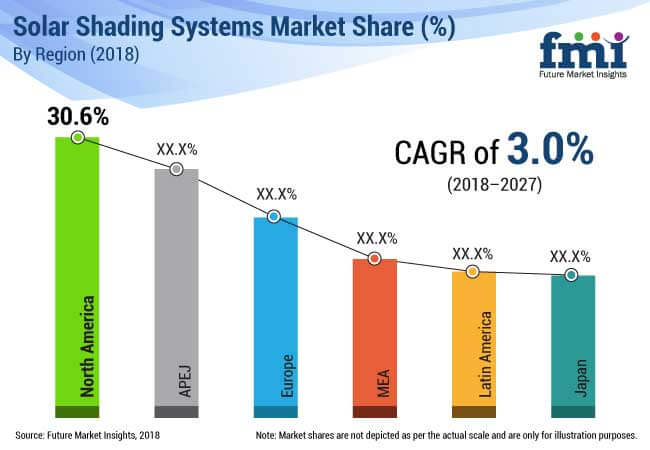 Key players operating in the solar shading systems market include WAREMA Nederland B.V., Glasscon GmbH, Thermosash , Alumet, Insolroll controller, Alliance Shadin, Roda Licht- und Lufttechnik Gmb, Comhan, InSync Solar, LINAK, Draper, Inc, Glazing GmbH, Solar Shading Systems, Inc., Construction Specialties, Coltinfo.co.uk, SWFcontract., Norsk Hydro ASA, and Duco Ventilation & Sun Control.
These companies are expected to provide a significant number of quality products, and highly influence the growth of the solar shading system market during the forecast period.
Solar Shading System Market: Key Segments
By application area:
Residential
Commercial
Industrial
By component type:
Aluminum-based
Fabric-based
Others
By technology:
Battery Powered
Manual
Smart Power Source
Key regions covered:
North America
Latin America

Brazil
Mexico
Rest of Latin America

Europe

Germany
U.K.
France
Spain
Italy
Rest of Europe

APEJ

China
India
Malaysia
Singapore
Australia
Rest of APEJ

Japan
MEA

GCC Countries
Israel
South Africa
Rest of MEA
Need specific information?