Submersible Pumps Market Snapshot
As per newly released FMI data, the submersible pumps market is estimated to be worth US$ 8.6 Bn in 2021. The market is expected to grow at a CAGR of around 5% through the forecast period (2020-2031). The expansion of new water and wastewater treatment facilities is expected to increase the demand for submersible pumps over the assessment period.
Borewell submersible pumps will emerge as the top-selling type, accounting for are expected to over 50% of revenue generated in the market through 2031.
Asia Pacific will remain as a leading market, accounting for over 45% of submersible pumps sales through 2021. Submersible pump demand outlook for North America however remains moderate. As per FMI analysis, the North America market will register CAGR of 2.9% over the forecast period.
Key Points Covered in Submersible Pump Market Report
Market estimates and forecast 2016-2031
Key drivers and restraints impacting market growth
Segment-wise, Country-wise, and Region-wise Analysis
Competition Mapping and Benchmarking
Brand share and Market Share Analysis
Key Product Innovations and Regulatory Climate
COVID-19 Impact on Submersible Pump Market and How to Navigate
Recommendation on Key Winning Strategies
2016-2020 Submersible Pumps Market Outlook in Comparison to 2021-2031 Forecast
The global submersible pump market valuation is estimated to be around US$ 8.6 Bn in 2021, according to FMI. The overall market is expected to grow at CAGR of around 5% for 2021-2031.
The swift growth of submersible pumps market can be attributed to the increasing investments in construction industry and high demand for submersible pumps in agriculture sector.
The introduction of innovative electric submersible pumps designed specifically for drainage, sludge and slurry pumping applications are boosting the market growth. These pumps help in preventing product failure, human errors, sudden loss of voltage and overheating. Manufacturers are setting high standards in terms of innovation and sustainability.
Availability of various bore-hole type submersible pumps along with solar driven variants through cutting-edge digital platform are propelling the sales in the market. Many industries such as oil & gas, water & waste water treatment are exhibiting high adoption of advanced technologies such as IoT devices to increase operational output, which will aid the overall expansion of the market.
Some of the leading submersible pump manufacturers are focusing on expanding their product portfolio to gain competitive edge in the market.
For instance, companies such as Grundfos are offering a wide range of advanced hydraulic submersible pumps like SB, SP, SP-G, and others. KSB group launched latest generation of its submersible grey water pumps, the AmaDrainer 3 type series recently. Similarly, WILO launched various intelligent pump models like Wilo-Rexa Mini3, WILO Jayline JDSK-10 and WILO 68 M which reformed the pump system completely.
How are Submersible Pumps Manufacturers Harnessing Efficiency and Agility into Opportunity?
The global submersible pump market is estimated to be around US$ 8.6 Bn in 2021 and is on a steady growth curve with sizable pull in demand from established markets as well as dominating end use industries. Submersible pumps are hard to replace with alternate technology and is suitable for dewatering, slurry and sewer applications.
As industrial applications of submersible pumps come with risk, high temperatures and handling of corrosive chemicals, choosing the most suitable submersible pump leads to better efficiency, reduced maintenance and long-term savings on cost.
Within industrial de-watering applications, pumps with continuous-duty motors are more preferred as they have cycles of more than 20 minutes. For smaller sump applications, intermittent-duty motor pumps are more optimal.
As pump brands learned the preferences of end use industries and their apt technical requirements, they took it to marketing strategy table. Such brands positioned their submersible pump with certain features and technical attributes to a specific application and leveraged the opportunity.
Smart Water Management Systems to Provide Growth at Scale
By the year 2025, nearly 20%-25% of the world population will be plagued by water scarcity. The impudent use of water can be reversed by smart water systems that use a combination of IoT, AI and Big Data.
Water management using smart systems are integrating various systems used in the management of water resources by regulating, monitoring and controlling water resources and equipment such as pumps.
Towards this, a series of instruments are used such as sensors, meters, actuators and visualization tools that enable engineers to keep better track of the water system. The main objective behind the use of smart water management is to enhance sustainability and recyclability of water. Further:
It helps reduce wastage
Improves water quality
Enhances water system efficiency
Within smart water management, sensors have shown great diversity for ascertaining wear and tear on pumps and also checking the requisite pressure on them in the distribution chain. This gives the management key insights on complexities within the entire system. This also facilitates data driven remedial action.
Majority of the end use industries such as Oil & gas, water & waste water treatment are witnessing high adoption of advanced technologies such as IoT devices to increase operational output.
For instance, Grundfos, a Danish pump manufacturer partnered with Ericsson and Telenor Connexion to devise a cutting edge IoT platform that could manage their water infrastructures world over. This has helped them to digitalize water pumps globally. Similarly, Adcon, a smart water company offers a range of smart solutions such as leakage detection in pumps to water monitoring.
Borewell Submersible Pumps to Remain Highly Preferred
Borewell submersible pumps are expected to account for about half of the global market in terms of revenue through 2030. The efficient design of submersible pumps has made them the right choice for borewells.
Borewells need a low diameter pump which can fit well in the area of use. Borewell submersible pumps are increasingly being used in the removal of ground water in farmlands, houses and industries. Discharge rate of fluid, diameter of pipe from which water is ejected, head/height of the pump and borewell size are some of the critical factors that influence selection of borewell pumps.
Submersible Pump Market – Key Challenges
Industrial processes such as wastewater management, paper pulping utilize a high amount of corrosive chemicals and acids. These may prove incompatible against pump components and cause significant wear and tear. High costs associated with troubleshooting in case of motor failure is a deterrent for market players.
Further, all submersible pumps reach a point where they pump at optimal efficiency levels. This is also called as the Best Efficiency Point (BEP). For industrial sewage and waste-water applications, the duty point needs to be well within the range of 30% of the BEP of the pump. Outside this range, vibration, higher operational costs and damage done due to cavitation can cause significant damage to the pump and remains a challenge
Asia Pacific to Remain in Forefront of Submersible Pumps Industrial Applications
Submersible pumps also called electric submersible pumps rank high on the efficiency index as they are not subject to pump cavitation that happens in conventional variants. The hermetically sealed motor ensures that water never touches its electric components.
With time, they have proven to be highly suitable for a range of industrial applications such as inland and offshore oil wells, deep well drilling, irrigation systems and flooded basements at construction sites.
The submersible pump market is expected to grow significantly in Asia Pacific on back of exponential demand growth in agriculture, chemicals, domestic and municipal pumping end-use. The Mekko chart above clearly illustrates market share of submersible pumps across a range of industrial application in key regions such as Asia-Pacific, Europe, North America, Middle East & Africa and Latin America.
Within the industrial Segment, submersible pumps are capturing a significant share in the Oil & Gas industry, particularly in North America, MEA and Asia Pacific. Following close behind is the construction sector which holds a sizeable market share across North America and Europe.
Submersible Pumps Pricing Remains Susceptible to Entry of Chinese Players
A large number of China based OEMs are offering low-priced submersible pumps. For instance, China based players sell submersible pumps at 25–30% lower price as compared to the global and regional brands.
This increases the preference of end users for such China based brands in agricultural and domestic applications. This has also enhanced price competitiveness and is forcing other players to offer reliable, efficient, technologically advanced and high-quality submersible pumps.
Internet savvy and connoisseurs are slowly gravitating to online portals where price transparency is rife. Digitalization has given consumers a newer perspective in terms of quick access and comparison between different models, their pricing and integrity/quality of the product.
China's Hegemony Rests on Wastewater Treatment
East Asia holds the leading share in the submersible pumps market in terms of volume; however, Europe is projected to account for highest value share. This is attributed to pricing variations of submersible pumps within these regions.
East Asia, especially China is major consumer, manufacturer and exporter of submersible pumps in the global market. The region is witnessing high consumption growth from municipal as well as industrial segment.
Japanese Pump manufacturer Tsurumi launched its innovative series of pumps in Munich last year. The KTZ415 and KTZ615 series of pumps have discharge heads of nearly 40 metres. Their motors boast of a formidable output of 15 MW and remain resistant to pressure for a depth of as much as 25 metres.
Market players in China are significantly investing in Waste water treatment plants to reduce water scarcity. This region is expected to witness significant growth in the global market.
For instance, the Bailonggang waste water treatment plant situated in Shanghai, China remains one of the biggest wastewater treatment plants in Asia. It treats wastewater in a catchment area of over 270 kms every day.
The region collaborated with KSB for supply of hundreds of waste water pumps on back of the company's world class efficiency in hydraulic pumps. Over one-third of waste water produced by Shanghai is cleaned here every day. Over one-third of waste water produced by Shanghai is cleaned here every day.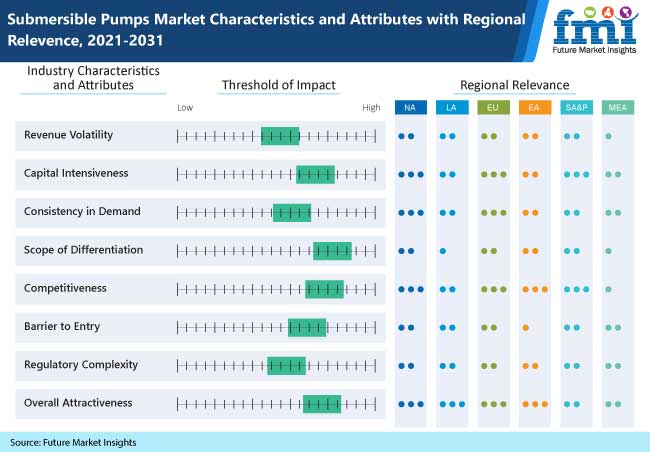 Competitive Landscape
Future Market Insights opines that the global submersible pumps market is fairly fragmented owing to the presence of several players across the globe. Submersible pumps are one of the most widely produced piece of machinery used in water reticulation, oil and gas, agriculture and construction. The market for characterized by a plethora of players who are leveraging their presence through efficient and solution-oriented pumps:
Wilo headquartered in Germany has 17 production facilities for its diversified range of pumps scattered across Europe, Asia and America. It specializes in high efficiency pumps for waste water treatment applications, irrigation and water collection and transport
Grundfos is the pioneer in pump manufacturing holding a sizeable share of the market. With production of more than 16 million pump units in a year, it boasts of an extensive distribution network in over 56 countries. The company has set high standards in terms of innovation, sustainability and has an elaborate portfolio of bore-hole type submersible pumps along with solar driven variants available through its cutting-edge digital platform
ZMSA's submersible pumps are products got from renewable energy. With energy requirements going up by at least 30% over the next 3-4 years, these pumps will offer novel solutions in hydro-electric power generation
Sulzer headquartered in Switzerland, in an industrial leader offering an extensive portfolio of submersible pumps for power, water, oil and gas applications. It has a highly nuanced and comprehensive range of submersible pumps of heavy, light and medium duty pumps for municipal and industrial wastewater applications
Submersible Pumps: Future Outlook
The Asia Pacific region alone generated nearly 45% of pump demand in the year 2019. High demand growth is set to proliferate on back of advances in fixed investments and skyrocketing construction spending.
In the future demand for pumps will be dependent on increased water supply and sanitation need and the repair and overhaul of old and aging infrastructure in developed regions. Towards this, North America will remain a high potential region. For now, demand is mildly tempered with a fall in oil prices and reduced activity in this sector.
Key Questions Answered in the Report
How much is the submersible pumps market worth?

The submersible pumps market is estimated to be worth US$ 8.6 Bn in 2021.

What will be the demand outlook for forecast of submersible pumps market?

Spurred by rising focus on smart water management solutions as the threat of water scarcity looms on each, the submersible pump market will rise at nearly 5% CAGR between 2021 and 2031.

At what rate did the submersible pumps market grow in the last five years?

The submersible pumps sales grew at 2% CAGR in the last five years

What are the key trends shaping the submersible pumps market?

Innovation of enhanced efficient prototypes and pursuit of omni channel sales are key trends influencing strategies undertaken by submersible pumps OEMs.

What are the key factors driving submersible pumps demand?

Demand from upstream process and increasing demand for water supply and distribution in industrial and municipal sectors are the key factors driving submersible pumps sales.

What is the North America submersible pump market Outlook?

North America market is expected to record CAGR of 2.9% with wastewater management touted as leading end use sector.

At what percentage submersible pumps market is going to register growth in Europe?

The submersible pumps market is expected to register annual average growth rate of 3.4% in Europe.

Which countries are the key producers of submersible pumps?

Germany, China, Japan, India, and the U.S. are key producers of submersible pumps.

Which are the key exporters of submersible pumps?

Countries like China, India, and Germany are key exporters of submersible pumps.

What is the key submersible pump market statistics in South Korea and Japan?

Japan and Korea are expected to contribute around 25% of sales share in the Asia Pacific market over the forecast period.
Submersible Pumps Market: Taxonomy
The global submersible pumps market is segmented in detail to cover every aspect of the market and present complete market intelligence to the reader.
Product Type
Non-Clog Submersible Pumps
Open Well Submersible Pumps
Bore Well Submersible Pumps
Head Type
Below 50 meters
50 m- 100 m
Above 100 m
Application
Agriculture
Industrial

Oil & Gas
Firefighting
Mining
Construction
Other Industrial

Municipal
Water Supply & Distribution
Wastewater Management
Region
North America
Latin America
Europe
South Asia & Pacific
East Asia
Middle East & Africa
Need specific information?