This Child Resistant Bottles market study offers a comprehensive analysis of the business models, key strategies, and respective market shares of some of the most prominent players in this landscape. Along with an in-depth commentary on the key influencing factors, market statistics in terms of revenues, segment-wise data, region-wise data, and country-wise data are offered in the full study. This study is one of the most comprehensive documentation that captures all the facets of the evolving Child Resistant Bottles market.
Child resistant Bottles
The U.S. Poison Prevention Packaging Act (PPPA) of 1970 defines child resistant packaging as – "Significantly difficult for children under five years of age to open or obtain a toxic or harmful amount of the substance contained therein within a reasonable time and not difficult for normal adults to use properly."
The risk associated with the accidental ingestion of hazardous materials by kids, has long influenced research and innovation in packaging design to create child resistant solutions. Child resistant packaging is defined as special packaging solutions, the contents of which cannot be accessed by kids under the age of 52 months, by virtue of their design. However, it is also important that the same can be used properly by adults, up to 70 years of age. The idea of child resistant packaging is not very old. Child resistant reclosable packs have been in the market since the mid-1970s, and were first introduced in the U.S. The same were exported to European countries and have achieved high acceptance, across the world. Since their inception, child resistant bottles have undergone improvement at design levels. The ultimate objective of design level innovations in child resistant bottles is to increase the resistance to opening of the packs by kids, yet maintaining a consumer-friendly design, which can be easily handled by adults.
Market Growth Analysis
Disclaimer: This data is only a representation. Actual data may vary and will be available in the report.
Child Resistant Bottles Market:
Global Industry Analysis 2013 - 2017 and Opportunity Assessment; 2018 - 2028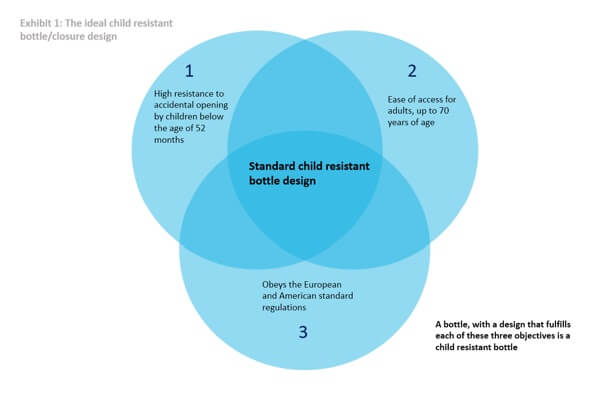 Global child resistant bottles market: Research Methodology
A robust methodology was adopted to arrive at the market size for child resistant bottles. Both supply-side and demand-side analysis were performed for the same.
Supply-side analysis
The key manufacturers were identified, and their revenues were tracked. Sources such as company annual reports, form 10-Ks, and paid databases were cited for the same. The segmental revenue was estimated from sales of bottles. Penetration of child-resistant design was calculated to arrive at the sales figure generated from the sales of child resistant bottles.
Demand-side analysis
Overall packaging demand was tracked from various end use industries such as the pharmaceutical industry, chemical industry, and beverages industry, among others. Penetration of bottles was then estimated, to facilitate estimation of demand for child resistant bottles. Paid interviews with key industry experts and independent consultants were conducted to validate the numbers arrived at. Finally, bottom-up approach was used to validate the numbers and estimate the market size and consumption of child resistant bottles.
Global child resistant bottles market: Key Players
Some of the key players operating in the global child resistant bottles market are –
Berk Company, LLC
Amcor Ltd.
Berry Plastics Group, Inc.
Gerresheimer AG
Alpha Packaging
Berry Plastics Group, Inc.
AptarGroup Inc.
Pretium Packaging Corp.
Tim Plastics Inc.
Comar LLC
Child resistant bottles: Significance
Annually, a significant number of accidental drug ingestion cases are reported, of which, nearly 45% of the cases comprise of children below 52 months, as the subject. To curb the risk of accidental ingestion by children, yet, ensure a convenient opening system for adults, child resistant packaging, and by extension, bottles, are manufactured.
Child resistant bottles are mostly used in the pharmaceutical, and medicinal marijuana industry, due to high demand for specific packaging, and packaging solutions which are compliant with government regulations.
The road ahead
The advancement in pharmaceutical drug formulation processes, coupled with the ever expanding variety of drugs will continue to create absolute need for special packaging, to ensure total reduction of accidental ingestion cases. The global child resistant bottles market will be influenced by further amendment in existing regulations, in accordance with advancement in drug formulations. Therefore, the global child resistant bottles market is expected to have a positive outlook over the forecast period.
The report is a compilation of first-hand information, qualitative and quantitative assessment by industry analysts, inputs from industry experts and industry participants across the value chain. The report provides in-depth analysis of parent market trends, macroeconomic indicators and governing factors along with market attractiveness as per segments. The report also maps the qualitative impact of various market factors on market segments and geographies.
Competitive Positioning Matrix
Disclaimer: This data is only a representation. Actual data may vary and will be available in the report.
Average Selling Price (ASP) Analysis
Disclaimer: This data is only a representation. Actual data may vary and will be available in the report.
Global child resistant bottles market: Segmentation
Globally, the child resistant bottles market has been segmented as –
On the basis of material, the global child resistant bottles market is segmented as -
Metal
Stainless Steel
Aluminium
Others
Plastic
HDPE
LDPE
PET
PP
Others
On the basis of capacity, the global child resistant bottles market is segmented as –
< 600 ml
600 – 750 ml
750 ml – 1,000 ml
1,000 ml – 2,000 ml
>2,000 ml
On the basis of end use, the global child resistant bottles market is segmented as –
Pharmaceuticals
Chemicals
Beverages
Others
Report Highlights:
A detailed overview of parent market
Changing market dynamics in the industry
In-depth market segmentation
Historical, current, and projected market size regarding volume and value
Recent industry trends and developments
Competitive landscape
Strategies for key players and products offered
Potential and niche segments, geographical regions exhibiting promising growth
A neutral perspective on market performance
Must-have information for market players to sustain and enhance their market footprint
Akshay Godge
Client Partner - Global Business Development