Concealed Weapon Detection Systems Market Outlook & Key Findings
Global concealed weapon detection systems market likely to grow at over 6% between 2020 and 2030
The global market is estimated to record a value worth more than US$ 180 Mn by the end of 2020, and is estimated to cross the US$ 300 Mn mark by 2030
By the end of 2030, spending on terahertz body scanners in the global concealed weapon detection systems market is estimated increase twice its value
Millimeter wave body scanners are projected to offer the most attractive opportunity worth approximately US$ 760 Mn over the forecast period
Approximately 2500 units of concealed weapon detection systems to be sold by the end of 2030
Precarious Public Safety to Boost Uptake of Concealed Weapon Detection Technologies
Controversial gun control laws that have led to shootings in public spaces and educational institutes have upped the demand for concealed weapon detection systems in transportation and public spaces. Ensuring civic safety as the threat of terrorist attacks continues to loom across the globe has also contributed to the high adoption of concealed weapon detection systems in the past decade.
In recent years, worries about civil unrest leading to riots and rebellions with volatile political scenarios has added to the growing demand for concealed weapons detection systems. Preemptive ways to ensure riot control has definitely played a critical role in uptake of non-lethal weapons and better weapon detection systems that can identify concealed items. End users such as banks, shopping malls, and educational institutes are thus expected to make increasing investments in weapon detection technologies during the forecast period.
Integration of Innovative Technologies to Ensure Detection and Recognition Accuracy
Integration of technologies such as identification and detection of contraband items and materials is expected to create the next wave of revenue generation in the global concealed weapon detection systems market.
Modern technologies such as deep learning, high definition videography, radar-imaging, and smart alerting in combination with notifying tools will accelerate market growth during the forecast period. Microwave holography, x-ray imaging, and acoustic detection are expected to see a significant rise in usage as illegal trade of weapons continues to be on the rise in politically unstable countries.
For instance, in June 2019, Liberty Defense, a weapons detection technology provider, launched a radar imaging-based concealed weapon detection system that harnesses capabilities of artificial intelligence (AI) and deep learning to recognize contraband hidden under a suspect's clothing or in bags. The low energy radar generates images of contraband rather than the images of the person's body. Apart from transport infrastructural end-users, this solution also attracted customers operating in sporting arenas and shopping malls.
Cancelled Sporting Events and No Movement During COVID-19 Hurts Sales
Stringent lockdowns to restrict infections across countries has severely affected regular business activities. Drastically reduced footfalls in malls, no air travel, ban on gatherings, and cancelled music and sporting events have, in turn,, affected the concealed weapon detection systems market. With no need to ensure safety at these events and spaces, the sales have definitely plummeted.
In addition, rescheduling of Olympic 2020 has also affected the market as management of events at such a magnitude requires topnotch technologies to detect concealed weapons that could cause colossal damage.
India, China, Brazil, Spain, and Italy, among others are some of the worst affected nations, and their Y-o-Y market growth is estimated to take a hit. As per FMI historical analysis, a CAGR of 4% was recorded in 5 years (2015 – 2019), and for the next 5 years (2019 – 2023) the global concealed weapon detection systems market is estimated to record a CAGR worth approximately 3%. Thus, COVID-19 is projected to play a major role in suppressing the overall growth of the global concealed weapon detection systems market.
High Initial Expenditure Dissuades SMEs from Investing in Modern Concealed Weapon Detection Technologies
In order to counter the inaccuracies of conventional concealed weapon detection equipment, vendors are upgrading them with state-of-art sensors and actuators. Equipped with weapon profiles, real-time and completely computer-operated, these detection machines eliminate the chance of human error.
These highly advanced concealed weapon detection technologies often go beyond the budget of SMEs, which is expected to restrict the potential of the market. Furthermore, they require regular maintenance to ensure optimal operation, which adds to their cost of upkeep.
Once the contractual maintenance period is up, end users are required to renew the contract or procure third-party maintenance services, both of which demand heavy investments. The maintenance and support costs incurred by the end users is projected to challenge the growth of the global concealed weapon detection systems market.
High Average Prices Observed in Developing Economies of Middle East and Africa and Latin America
The average prices of concealed weapon detection products in the Middle East and Africa (MEA) are the highest among all the regional markets, while the market in Europe reported lowest average prices. The weighted Average Selling Price (ASP) for x-ray body scanners in MEA is at least 1.7x higher than the weighted ASP for the same product in Europe.
The weighted ASPs of terahertz body scanners in Latin America and the MEA markets are both 1.2x the ASP in Europe. Market participants are recording a high demand from the developing economies of Latin America and MEA, and are strategically increasing their selling prices. However, regulatory legislations on security screening and concealed weapon detection products are forcing market participants to decrease the selling prices of their products and focus on deploying customized systems.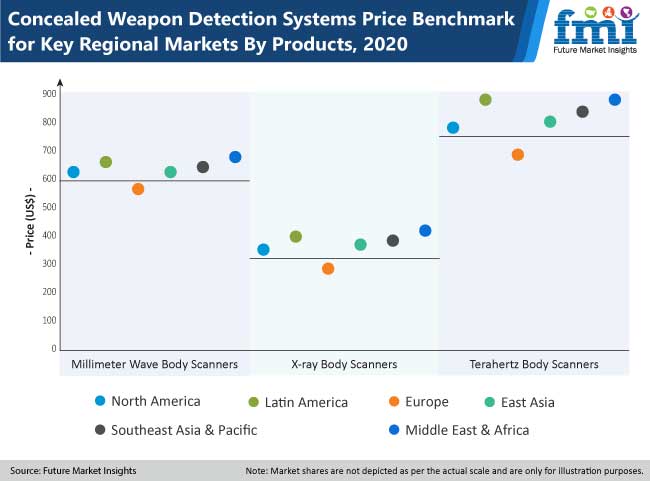 Concealed Weapon Detection Systems Market: Technology and Innovation Trends
Technology developers are integrating 3D holographic millimeter-wave imaging capabilities, which is expected to find growing application in white-collar prisons for inspection and diagnosis of concealed metal objects.
The advancement in dual vision X-ray inspection system for autonomous detection of concealed explosives at security checkpoints where personal belongings are screened is one of the key innovation trends in the market.
Since it is difficult to recognize threats with the help of certain modern technologies, companies are focusing on deploying new technology known as Nuclear Quadrapole Resonance (NQR). This new technology can detect explosives that are implanted in electronics and hidden under layers of clothes as well as shoes.
Competitive Innovation Strategies in the Concealed Weapon Detection Systems Market
Key players operating in the global concealed weapon detection market are focused on investing in research and development to introduce new technologies and to enhance the effectiveness, ease of use, safety, and reliability of existing products. This strategy enables vendors to tackle the decline in sales incurred due to regulatory legislations and bans imposed by governing bodies.
In order to facilitate innovation, concealed weapon detection and security screening market players are forming partnerships and collaborations with other sensing hardware and software experts in the market. For instance, in September 2017, Patriot One Technologies Inc., a weapons detection solution provider, entered into a partnership with March Networks®, an Internet Protocol (IP)-based video solutions provider. This partnership entailed the development of an intelligent weapon detection solution integrated with video capabilities and real time contraband recognition software.
This solution utilizes cognitive microwave radar technique to provide video evidence, along with data proof, to support investigations tackling weapon possession crimes.
Following are the key players operating in the global concealed weapon detection systems market –
Smiths Detection Group Ltd. (Smiths Group plc)
MC2 Technologies
Leidos
TeraSense Group
Rapiscan Systems (OSI Systems, Inc.)
INO
QinetiQ
NUCTECH COMPANY LIMITED
Following are some promising players that are estimated to lead the technical innovation over the coming years:
Rohde & Schwarz
Liberty Defense
Passive Security Scan, Inc.
Braun & Co. Limited
*The list is not exhaustive, and only for representational purposes. Full competitive intelligence with competition deep dive available in the report
Enhancing Product Attractiveness with Improved Technologies to Make an Impression on End Users
In the coming years, as crimes and attacks get complex, developing advanced products will open new doors for the market. For instance, image processing-based on combination of sensing technologies and analytics will play a major role in solving the challenges faced by the concealed weapon detection technologies.
One critical operational challenge is detecting contraband from a distance with strong probability of false alarms and weak probability of detection. Another difficulty is developing portable multi-sensory tools and instruments. Concealed weapon detection systems go conjointly with appropriate response from the system operator to overcome these challenges.
Technological innovation is expected to continue in the global concealed weapon detection systems market, as the demand for such equipment is rising continuously in areas with high public throughput. Terahertz (THz) body scanning technology has been recently developed and is the most expensive one but the most efficient technology in the market. The adoption rate of this technology is estimated to rise the fastest among all the scanning technologies during the forecast period.
Historically, X-ray technology-based concealed weapon detection solutions have been the most lucrative for market participants. However, with stringent privacy regulations and bans imposed on their usage by national governments, especially in the European Union (EU), the procurement for X-ray body scanners has already started to decline. Thus, technological research and upgrades will help vendors to comply with regulatory specifications and help maintain sales over the coming years.
Concealed Weapon Detection Systems Market: Segmentation
Product
Millimeter Wave Body Scanners

Active Millimeter Wave Body Scanners
Passive Millimeter Wave Body Scanners

X-ray Body Scanners

Backscatter X-ray Scanners
Transmission X-ray Scanners

Terahertz Body Scanners
Type
Application
Transportation Infrastructure
Correctional Facilities
Stadiums and Sports Arenas
Military and Defense
Others
Region
North America
Latin America
Europe
East Asia
Southeast Asia and Pacific
Middle East and Africa
Need specific information?