Global Nurse Call Systems Market- Overview and Key Findings
Global nurse call systems market to be valued at nearly US$ 4 Bn by 2030
Government efforts to improve healthcare infrastructure is stimulating nurse call systems market growth
Heightened penetration of smart technologies is spurring adoption of integrated wireless calling systems
Europe and North America collectively account for over 3/4th of the overall market share
Manufacturers rely on regulatory approvals to launch their products into the global market
Burgeoning Need for Responsive and Efficient Healthcare Services Drives Market Growth
Providing top-quality patient care is one of the primary objectives of primary healthcare providers. One of the most effective tenets in this regard is effective communication between healthcare providers and the patient. It is a fundamental right of individuals to avail efficient healthcare when required.
In this light, a foolproof communication mechanism is essential wherein the patient can relay his or her concerns to the nurses and doctors if required. Hence, hospitals and clinics have augmented their investments in nurse call systems in recent years.
Nurse call systems have also assisted healthcare providers in streamlining nursing activities. These have greatly assisted in enabling nursing institutions prioritize nursing calls, depending upon the emergency and types of requests generated by patients. Additionally, these systems help offer greater productivity and efficiency in institutions employing novice and inexperienced nurses.
Rise in Global Geriatric Population Generates Green Spaces for Nurse Calling Systems
In the present scenario, the proportion of the elderly population has seen a massive upsurge. A general improvement in the standard of living, primarily attributed to a booming healthcare industry, has increased individual life expectancy. According to W.H.O, 125 million people were aged 80 years or older as of 2018.
Naturally, the need for nursing and assisted care has embarked on an ascending growth trajectory. Majority of the old people reside in the Asia-Pacific region, with Japan, China and India being the frontrunners of geriatric healthcare. Based on this trend, the nurse call systems market shall expand favorably from 2020-2030.
Artificial Intelligence, Digitalization Emerge as Buzzwords in Nurse Call Systems Market
With the expansion of the global healthcare industry in recent years, the volume of treatment for various health ailments have increased. While treating patients, healthcare settings accumulate copious amounts of data which needs to be assimilated onto a centralized platform. This is prompting them to invest in artificial intelligence platforms.
Achieving digital competency has acquired top priority for healthcare organizations in order to provide the best quality care to the patients. Enhanced patient care involves accurate drug delivery, proper diagnosis of chronic ailments and effective nursing facilities. This rapid digitization has penetrated the nurse call system segment as well.
Several manufacturers are making efforts to integrate technological advancements such as real-time location detection, radio frequency identification (RFID) and security systems within nurse call system devices.
For instance, Siemens manufactures a wireless, portable nurse call patient band which can be worn around the wrist. This band is equipped with a button through which patients can summon the nurse in case of any assistance or emergency. It also markets a panic-button equipped badge for nurses to address issues such as workplace violence.
Integrated Communications Systems to Capture Lion's Share
Rapid penetration of smart technologies has immensely streamlined day-to-day operations, thus generating white spaces for integrated nurse call systems proliferation. These systems have immensely assisted in providing excellent patient care by reducing the workload on nurses and other healthcare providing staff.
Players such as Axis Global Enterprises are working tirelessly to promote the incorporation of integrated nurse call communications systems across healthcare settings. Its easy-to-use technology, clear and accurate information dissemination and integration with security systems makes it highly suitable to be deployed by nurses for patient care.
Technology Insights: Wireless Management Systems to Hold Maximum Sway
Wireless devices are rapidly garnering consumer attention, becoming a hallmark of state-of-the-art healthcare facilities in the nurse call systems market. These devices are also highly useful for senior and assisted living facilities in which patient mobility is highly critical. The segment is anticipated to grow impressively in the upcoming decade.
An example of wireless nurse call device is the Provider 680 Nurse Call System, manufactured by Jeron Electronic Systems, which is equipped with a Voice-over Internet Protocol (VoIP) flexible call routing and integration options. The device helps maintain patient safety through wireless pendants and resident check-in features, while supporting their independence.
On a similar plane, Honeywell Intelligent Life Care markets the Ackermann Systevo Nurse Communication Platform which allows process flows to be established in a customer-centric manner. The system connects patients with the hospital staff and facilitates sophisticated medical care, integrating it with other functions such as fire alarm and hazard-management.
Europe, North America to Remain Dominant, Asia Witnesses Lucrative Growth Prospects
Collectively, North America and Europe are expected to capture over 75% of the global nurse call systems market. The presence of prominent market players combined with stringent governmental regulations to provide quality healthcare and heightened spending by individuals on personal care are some driving forces behind such a heighted share.
Legislations such as the Affordable Care Act in the United States and The Canada Health Act in Canada provide for administering state-of-the-art healthcare to patients when needed. This includes ear-marking a specific proportion of the government budget towards investment in healthcare infrastructure which includes investment in improving nursing facilities.
The Asian market is anticipated to emerge as a promising growth spot for nurse call system manufacturers. Emerging economies such as India, China, Thailand, Malaysia and Indonesia will be the frontrunners in this regard. Growing emphasis on improving healthcare infrastructure to accommodate the rapidly expanding population is stimulating these markets.
In March 2016, the Ministry of Health in Singapore announced plans to expand the scope of long-term and acute care nursing homes. Since then, a number of vendors have been penetrating the regional market.
India is emerging as a potential nursing hub, attributed to growing government as well as private sector involvement in the healthcare industry. The rising number of hospitals and clinics have catapulted demand for nursing staff, thus providing traction to the nurse call systems market. Several regional and global manufacturers are prevalent across the country.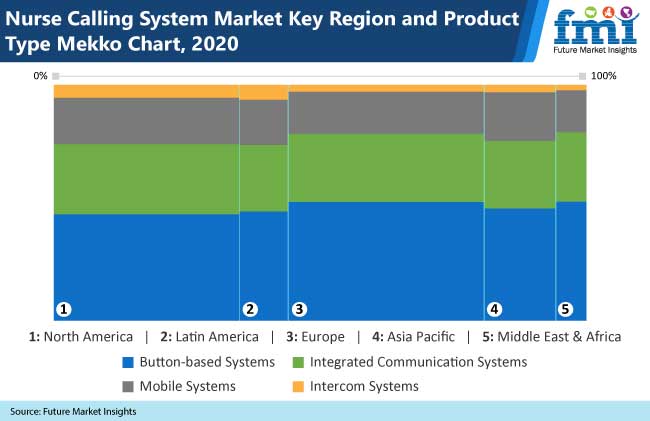 COVID-19 Impact Insights
The COVID-19 pandemic has led the global economy into doldrums. Healthcare organizations have become overburdened by unrelenting cases of infections, forcing the staff to provide round-the-clock care to patients. Based on this trend, the nurse call systems market is anticipated to surge in the upcoming quarters of 2020.
Countries such as the United States, Brazil and India are amongst the worst affected. Collectively, these countries account for nearly 12 million cases. Naturally, demand for enhanced care has risen in the past several months. With hospitals and clinics maintaining strict social distancing norms, usage of nurse call devices is surging.
To aid healthcare providers in their crusade against COVID-19, several players have accelerated the production of wireless nurse call devices. LoRa Alliance, for instance, has deployed the Push&Call Quick Deploy Nurse Call System for makeshift patient care areas which require prompt responses from nurses.
Likewise, Eastern Time Security Solutions has devised and been manufacturing its Wireless Patient Call Solution equipped with a ventilator alarm connection capability. The system is pre-configured for quick and easy deployment.
The market will continue experiencing an upward growth trajectory even in the post-pandemic scenario. The growing need for providing enhanced healthcare facilities will continue stimulating demand for nurse call systems across professional and residential settings. Moreover, patients will prefer more contactless care due to heightened cautiousness levels in the post-COVID world.
Vendors Target Collaborations and New Product Launches to Remain Afloat in the Market
The presence of a plethora of vendors renders the global nurse call systems market highly fragmented. In this nurse call systems market report, following companies have been profiled: Hill-Rom Holdings Inc., Ascom, Honeywell International Inc., Johnson Controls International Plc, Rauland-Borg Corporation, Jeron Electronic Systems, Inc., Azure, Schrack Seconet AG, Intercall Systems Inc., Stanley Black & Decker Inc., Tunstall Group, Tektone Sound & Signal Mfg. Inc. and Igeacare Solutions Inc.
The aforementioned players rely on launching new products, subject to approval by regulatory authorities. Additionally, collaborations, acquisitions and partnerships characterize other strategies for expansion.
In July 2020, Hill-Rom Holdings Inc. announced a new collaboration with Aiva to develop a hands-free communication device to facilitate caregiver-to-patient and caregiver-to-caregiver assistance utilizing an in-room voice assistant solution. This step has been initiated with the hope of expanding the company's product portfolio and reach a wider target audience.
In February 2017, Rauland-Borg was acquired by Ametek Inc. in order to expand its mission critical communication solutions for healthcare systems, hospitals and educational facilities. This acquisition has helped Rauland-Borg expand its research and development capabilities.
With regard to product sales, Stanley Healthcare markets the UL 1069 Arial Nurse Call, fully equipped with a Wi-Fi network, a 2-way voice communication between residents and caregivers, staff notifications and a central staff alerting systems to provide the necessary features for every level of care.
In 2019, Tunstall Healthcare partnered with Telefonica Empresas in order to provide remote patient management services across Spain. The agreement was specifically chalked taking into account the scope for improvement in residential-grade healthcare delivery.
Nurse Calling Systems Market: Segmentation
Equipment Type
Button-based Systems
Integrated Communication Systems
Mobile Systems
Intercom Systems
Application
Alarms & Communications
Workflow Optimization
Wanderer Control
Fall Detection & Prevention
Technology
Wired Nurse Call Systems
Wireless Nurse Call Systems
End-user
Hospitals
Ambulatory Surgical Centers
Clinics
Long-term Care Centers
Region
North America
Latin America
Europe
East Asia
South Asia
Oceania
Middle East & Africa
Need specific information?