BFSI and Retail & Consumer Goods Sectors to Sustain Revenue Pool
Good communication strategy is paramount in financial institutions in order to determine efficiency and profitability. As the banking, financial services and insurance (BFSI) sector flourishes, customer experience continues to remain the key value proposition that influences customers to choose between various financial institutions.
In 2027, the deployment of call centres in the BFSI industry will click US$ 10 Bn. Furthermore, the retail & consumer goods industry is accelerating its shift toward omnichannel call centre solutions to deliver a personal touch to customer interactions, while offering support and services.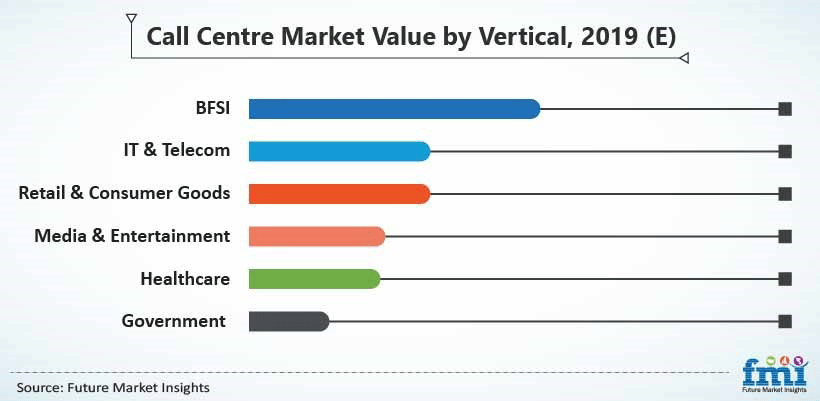 APAC Emerging as Fastest-growing Call Centre Industry
Being a hub for digitalization, North America would carve out a significant chunk of overall market value. The U.S. houses over 60% of call centres, globally, propelling market players to channelize their resources towards this developed region. Affordable telecom rates and surging Internet penetration is driving the call centre markets in Asia Pacific (APAC) and Latin America. Further, the former is emerging as the global capital for outsourced call centre services. By 2029, the markets in North America and APAC will register a combined revenue worth more than US$ 38 Bn.
Market Players Must Capitalize on CRM and Omnichannel Strategies
Customer relationship management (CRM) technology helps businesses manage customer interactions and data throughout the customer lifecycle. As such, it is ideally suitable for enhancing the efficiency of call centre organizations, and encourages companies to outperform in every client interaction. Integration of CRM application software with call centre solutions would aid organizations in establishing a framework that will allow to leverage technologies in optimizing call centre processes.
Investments in omnichannel applications are also likely to help call centre solution providers in bridging the gap between various customer touch points, and in delivering a 360-degree customer view to their agents. Players placing their bets on these technologies will be better positioned to significantly increase profits, and serve customers with improved products and services.
How Growth will Unfold
Numerous organizations are turning to cloud solutions to cut costs and future-proof their call centre infrastructure. Evolving customer expectations are influencing call centre organizations to respond quickly without compromising on their service quality.
As such, call centre organizations are embracing telecom cloud platforms to transform the way businesses manage supply chains, share files, communicate within teams, manage marketing, and submit payrolls. Market players must drive their focus towards cloud-based call centre solutions to help organizations manage daily operations and keep pace with the changing business landscape.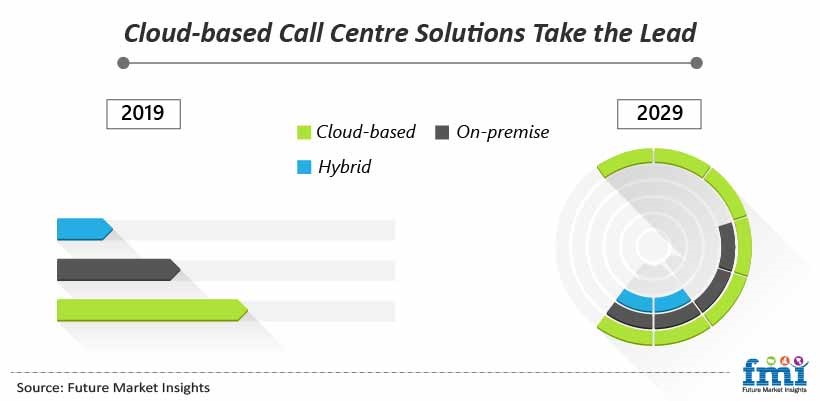 FREQUENTLY ASKED QUESTIONS ABOUT CALL CENTRE MARKET
How is the call centre market expected to shape up over the next decade?
The call centre industry has been undergoing significant technological, economic, and social changes. Over the last few years, consumers have become more empowered and knowledgeable than ever before, and therefore, expectations for better customer service, technical support, and sales knowledge continue to soar. With the digital transformation of call centres and adoption of new technologies such as Artificial Intelligence (AI), IoT (Internet of Things), and Knowledge Management (KM), the call centre industry expected to boom in the coming years.
How are Cloud-based Call Centre Solutions Impacting Market Growth?
The cloud model has seen exceptional growth and demand in the call centre market over the past few years. As call centre organizations are focusing on growing beyond their traditional technologies, they are opting for hosted and cloud solutions to save costs, and at the same time, modernize and future-proof their call centre technology.
What are the current challenges for the growth of the call centre market?
Budgetary constraints and high costs involved in adopting and effectively using new call centre technologies are the key challenge for the growth of the call centre market. Furthermore, difficulty in integration of legacy software systems and ever-changing customer expectations are some other major challenges for the growth of the call centre market.
Which vertical will offer the most lucrative growth opportunities for market players?
The retail and consumer goods vertical is expected to create potential growth opportunities for the call centre market. Retail and consumer goods companies are continuously moving towards enhancing their brand presence to provide better customer support to clients.
Which region is expected to lead the global call centre market?
North America is anticipated to remain at the forefront, offering high growth opportunities for players in the call centre market. However, Asia Pacific and Latin America are expected to create potential growth opportunities for the call centre market, owing to the low telecom rates, rising penetration of the Internet, and a large pool of educated, bilingual agents in various countries of these regions.
World's Most Profilic Intelligence Engine
Get Access To The World's Largest Market Research Database. Ngage with a revolutionary intelligence engine that scale and pricing that flexes as per your needs
Sign Up Now
CALL CENTRE MARKET TAXONOMY
The global call centre market is segmented in detail to cover every aspect of the market and present a complete market intelligence approach to the reader.
Component
Solutions/Software

Automatic Call Distributor
Interactive Voice Response
Intelligent Call Routing
Computer Telephony Integration
Reporting & Analytics
Intelligent Virtual Assistant
Call Center Workforce Optimization

Services

Professional Services

Consulting & Training
Integration & Deployment
Support & Maintenance

Managed Services
Vertical
BFSI
Retail & Consumer Goods
IT & Telecom
Media & Entertainment
Government
Healthcare
Travel & Hospitality
Others
Deployment
On-premise
Cloud-based
Hybrid
Region
North America
Latin America
Europe
East Asia
South Asia
Middle East & Africa
Need specific information?