Report Scope
Base year considered - 2020
Actual estimates/Historical data - 2015 – 2019
Forecast period - 2020 – 2030
Forecast units - Value (USD) Bn
Segments covered - Refining Method, Operation and Region
Regions covered - North America, Latin America, Europe, East Asia, South Asia, Oceania and Middle East and Africa
Key Players - Desmet Ballestra (Belgium), Gianazza International S.p.A. (Italy), Crown Iron Works (US), DVC Process Technologists Pvt. Ltd. (India), Alfa Laval AB (Sweden), Zhengzhou Sunshine Machinery Co. Inc. (China), and Gianazza International S.p.A. (Italy)
Report coverage - Revenue forecast, company share, competitive landscape, growth factors, and trends
KEY RESEARCH FINDINGS
Deodorization systems help in refining edible oils and fats. It's a multi-step process which includes oil desecration, heating and cooling, deodorization-de acidification, and vapour scrubbing systems
Coconut oil, palm oil, olive oil, mustard seed oil, peanut oil, soybean oil, and sunflower are some of the oil which can be refined by deodorization process
Key factors contributing to the growth of the global deodorization systems market are growing environmental issues, rising industrialization, increasing market awareness and the inclination of producers towards cost-effectiveness
The chemical processing industry is expected to account for the leading share in the global deodorisation systems market
Among edible oil types, palm oil accounted for higher share the global deodorization systems market.
The Asia Pacific market is expected to rise at the highest CAGR due to the remarkable expansion of the food and beverage and industry in countries such as India, China, Indonesia, Vietnam, South Korea, Thailand and Malaysia.
STRUCTURE ANALYSIS
Some of the players operating in the global deodorization systems market include Desmet Ballestra (Belgium), Gianazza International S.p.A. (Italy), Crown Iron Works (US), DVC Process Technologists Pvt. Ltd. (India), Alfa Laval AB (Sweden), Zhengzhou Sunshine Machinery Co. Inc. (China), and Gianazza International S.p.A. (Italy). The manufacturers are highly focused on taking development and marketing strategy to boost this market's growth.
Chemical Refining Segment is projected to dominate the Deodorization Systems Market
During the forecast period, the chemical refining segment is expected to hold the largest share in the deodorization systems market as it is a fairly efficient method of reducing the fatty acid content in crude oil with higher boiling point. This process is used to treat high free fatty acid content in the oil. Chemical refining is performed to extract the fatty acids from the crude oil that are then neutralized using caustic soda. It results in batch settling or centrifugal separators separating the sodium soaps. Then, the neutral oils are bleached and deodorised.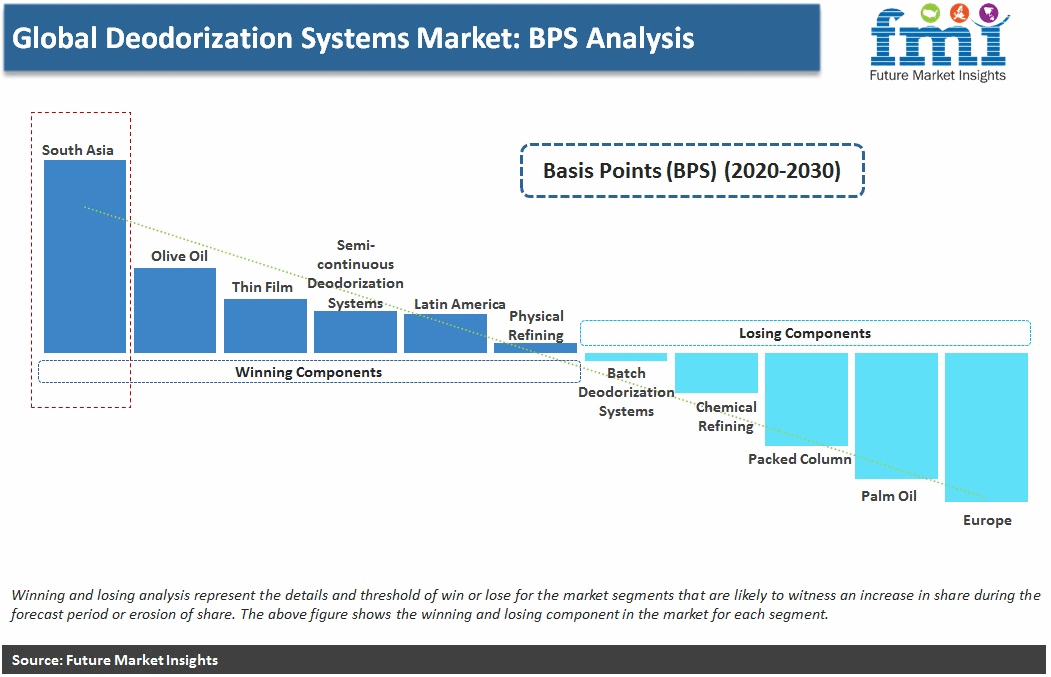 Asia Pacific Expected to Dominate the Market
Asia Pacific is projected to dominate the global market for deodorization systems due to rising investment in technical innovation and increasing disposable income. Research and development activities undertaken in some of the developing economies will boost the uptake of deodorization system in Asia Pacific. Growing equipment exports and increasing demand for edible oil are some of the main factors creating opportunities for the growth of the market.
Additionally, Asia Pacific offers a conducive environment for low-cost manufacturing, which makes it highly lucrative for investment by key players. Industrial expansion and industry-friendly policies, besides the increasing demand for edible oil and rising population favour the establishment of new refinery units, which drives the deodorization systems market in the region.
Rising Demand for Deodorizers from Various Industries is Driving Growth
Deodorization method is used to remove volatile, odoriferous material present in the edible fats and oils. The technology aims at removing naturally occurring substances that cause unwanted smell and taste. Deodorizations are done in high temperature and are a high- vacuum steam distillation process. Steam distillation column, barometric condenser, demisters and scrubbers are the equipment used in the process of deodorization. They vaporise at high temperature, condense and stain surrounding surfaces.
The increasing demand for edible oil for domestic use, rising demand for deodorizer distillates for industrial use and stringent regulations imposed on the production of oil are some of the key factors expected to boost the market in upcoming years.
How Growth will Unfold
Advent of the nano neutralization deodorization technology and technological developments aimed at overcoming process limitations will aid the expansion of the market. The growing oil industry and increasing demand for edible oil with a higher nutritional value are further driving developments in the market. Governments around the world have become more cautious about promoting health and wellness. They have updated various regulations to ensure better nutritive value in edible oils as well. Evolving trends such as these are likely to create growth opportunities for the market in the near future.
With companies aiming at the top spot, investment in the latest technologies is poised to surge. Their aim towards better efficiency, while significantly reducing the cost and time consumed during production will boost the advancements in deodorization systems. The market will also gain from industrialization witnessed in developing economies.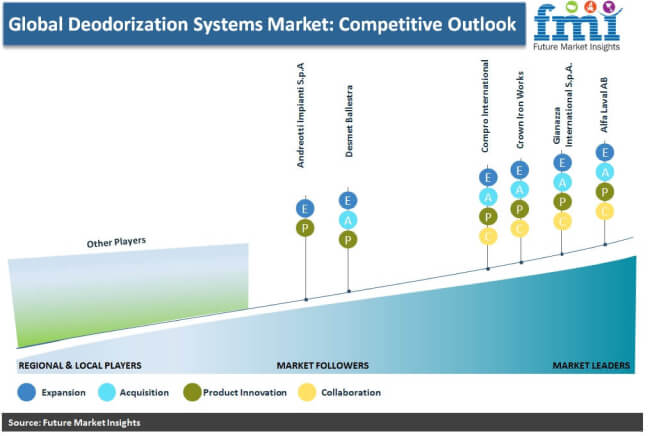 DEODORIZATION SYSTEMS MARKET TAXONOMY
The global Deodorization Systems market is segmented in detail to cover every aspect of the market and present complete market intelligence to readers.
Component
Pumps
Towers
Coolers
Oil & Management Systems
Tanks
Technology
Refining Method
Physical Refining
Chemical Refining
Edible Oil
Soybean Oil
Olive Oil
Peanut Oil
Canola Oil
Sunflower Oil
Palm Kernel Oil
Cottonseed Oil
Coconut Oil
Palm Oil
Operation
Batch Deodorization Systems
Semi- Continuous System
Continuous Deodorization Systems
Region
North America
Latin America
Europe
East Asia
South Asia
Oceania
MEA
Need specific information?