Global Deodorization Systems Market to Surpass US$ 5.2 Bn by 2030
The global deodorization systems market is projected to reach US$ 5.2 Bn by the end of 2030. The market was valued at US$ 3.7 Bn in 2020. If these figures hold true, the market will exhibit a CAGR of 3.4% between 2020 and 2030. Growing industrialization and rapid urbanization, growth in the oil industry, and growing demand for higher nutritional value in edible oil are some of the factors driving the growth of the deodorization systems market.
COVID -19 : Impact Analysis
Request the coronavirus impact analysis across industries and markets
Request Covid -19 Impact
Key Highlights
Deodorization Systems Market - Key Research Findings
The deodorization systems market will exhibit a CAGR of 3.4% between 2020 and 2030
The chemical processing industry is expected to account for the majority of the global deodorisation systems industry.
Among the edible oil types, palm oil accounted for majority of the global deodorization systems market.
The Asia Pacific market is expected to grow at the highest CAGR in the deodorization systems market. Growth in the region is driven by the expansion of the food and beverage and industries in countries such as India, China, Indonesia, Vietnam, South Korea, Thailand and Malaysia.
Stringent regulations imposed on edible liquid nutrition and high competition among the players are other parameters likely to spur the growth of this market soon.
Key Factors Shaping Deodorization Systems Market
Nano Neutralization Deodorization Technology in Deodorization Systems Market will Witness High Demand
The increasing production of edible oil and growing concern for healthier edible oil are driving the growth of the global deodorization systems market. Increasing usage of the nano neutralization deodorization technology, government concern and consumer inclination toward the less expensive products are some factors of driving growth of the global deodorization systems market during the forecast period.
The novel coronavirus outbreak has will have a remarkable impact on the deodorization systems market. Manufacturers are therefore increasingly focusing on quality checking, which involves deodorisation besides other processes. Even the food industry has witnessed the need for deodorization. With the unprecedented spread of the disease around the world, it comes as no surprise that countries affected due to the spread of the virus have implemented stringent restriction orders and this will have impact on the global food market.
In addition to the rapidly increasing human toll of the epidemic, we are heading towards a time of unprecedented decline in economic activity, subsequently prices of financial assets. Rapid and unprecedented policy responses to both counter and mitigate these declines are necessary for companies to ascertain sustainable growth amidst these difficult times.
Palm Oil Dominates among the Edible Oil Segment
Palm oils can easily be refined and has lower costs. Palm oils have a high tocopherol content, which is favored by commercial industries as this results in better stability in the oils, thereby improving their shelf life. Indonesia and Malaysia are among the key players in the palm oil market. In palm oil, the thermal breakdown of carotene leads to color reduction or the heat bleaching. These systems popularly used in the refining of edible oils and fats.
High Energy Intake Causing Hindrance
High energy consumption owing to heat recovery technologies, is a major factor restraining growth of the market during the forecast period. In addition, technical difficulties during processing of oil, is another factor hampering growth of the global deodorization systems market over the forecast period. Moreover, technical restriction during oil processing is another reason hindering industry growth.
Deodorization Systems Market - Structure Analysis
The companies in this market have a strong presence in Asia Pacific and Europe.
The manufacturers are highly focused on adopting development and marketing strategies to boost growth.
Major players in this market are focusing on increasing their market share and presence through new product launches & developments, investments, and partnerships.
Report Scope
Report Metric

Details

Base year considered

2020

Actual estimates/Historical data

2015 – 2019

Forecast period

2020 – 2030

Market Value in 2020

US$ 5.2 Bn

Segments covered

Refining Method, Operation and Region

Regions covered

North America, Latin America, Europe, East Asia, South Asia, Oceania and MEA

Key Players

Desmet Ballestra (Belgium), Gianazza International S.p.A. (Italy), Crown Iron Works (US), DVC Process Technologists Pvt. Ltd. (India), Alfa Laval AB (Sweden), Zhengzhou Sunshine Machinery Co. Inc. (China), and Gianazza International S.p.A. (Italy)

Growth Drivers

Growing environmental issues
Rising industrialization
Increasing market awareness
Inclination of producers towards cost-effectiveness
Chemical Refining Segment is Projected to Dominate the Deodorization Systems
During the forecast period, the chemical refining segment is expected to hold the largest market share in the deodorization systems as it is a fairly efficient method of reducing the fatty acid content in crude oil with higher boiling point. This process is used to treat high free fatty acid content in the oil. Chemical refining is performed to extract the fatty acids from the crude oil that are then neutralized using caustic soda. It results in batch settling or centrifugal separators separating the sodium soaps. Then, the neutral oils are bleached and deodorised.
Asia Pacific Expected to Dominate the Market
Asia Pacific is projected to dominate the global market for deodorization systems due to rising urbanization, technical innovation and increasing population disposable incomes. Rising Chinese research and development activities and rising urbanization are likely to drive this demand growth in the Asia Pacific region. However, growing equipment exports and increasing demand for edible oil are some of the main factors that will increase this market growth in the near future. Additional factors driving growth in the Asia Pacific market are the availability of technology and low-cost manufacturing. High industrial growth potential and industry-friendly policies, increased demand for edible oil due to a increasing population, and increased manufacturer involvement through the establishment of new refinery units have driven this region's market for deodorization systems.
* This data is only a representation. Actual data may vary and will be available in report.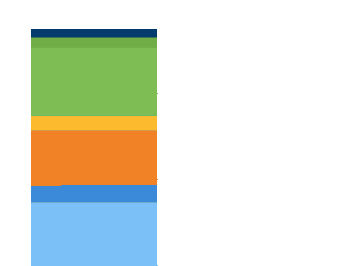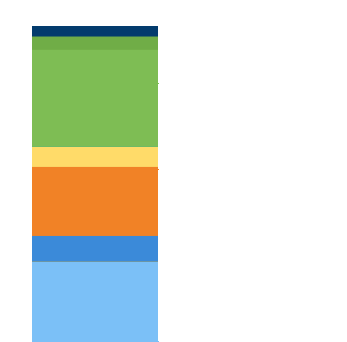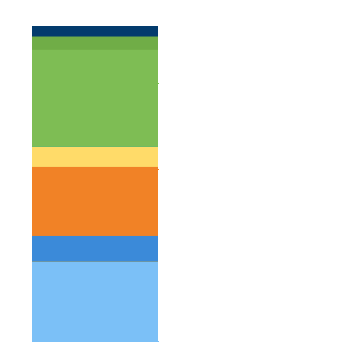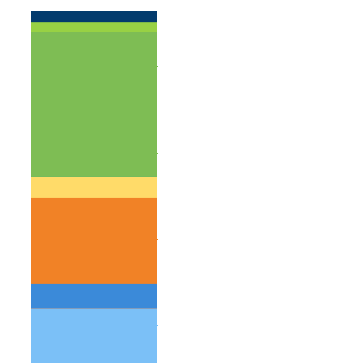 Rising Demand for Deodorizers from Various Industries is Driving Market Growth
To remove volatile, odoriferous material present in the edible fats and oils deodorization method is used. The deodorization aim is to remove naturally occurring substance that causes unwanted smell and taste. Deodorizations have high temperature and are a high- vacuum steam distillation process. Steam distillation column, barometric condenser, demisters and scrubbers are the equipment which is used for the process of deodorization. They vaporise at high temperature and condense and stain surrounding surfaces. The major factors which drive the industry are increasing demand for edible oil for domestic use, rising demand for deodorizer distillates for industrial use, stringent regulations imposed on the production of oil, these factors expected to boost the market in upcoming years.
Chemical refining method segment held the leading market share
Physical refining segment forecast to higher rate of growth
Batch deodorization systems segment holds dominance
Continuous deodorization systems segment to rise at a higher CAGR
How Growth will Unfold
The rapidly growing industrialization and urbanization across the globe are driving market growth. Growing nano neutralization deodorization technology along with the technological developments to overcome process limitations in the market is again propelling the demand. The rising oil industry and increasing demand for edible oil with a higher nutritional value are further driving market development. However high energy demand is likely to limit market growth during the cycle. Another factor likely to boost the growth of this market in the near future is the strict regulation on edible oil nutrition and high competition between the players. Lower production costs and development accessibility in the area are also other factors that will drive the growth of the global market for deodorization systems in the coming years. Moreover, increasing industrialization is another significant parameter that will positively help this market's growth in the near future. Based on the aforementioned factors, it is estimated that the global demand for deodorization systems will register significant growth during the course of forecast period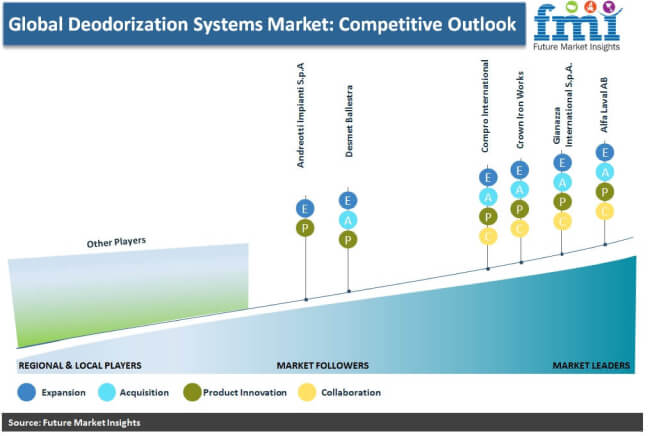 * This data is only a representation. Actual data may vary and will be available in report.
Click Here To Know How The Growth Will Unfold
Custom Market Research Services
FMI offers custom market research services that help clients to get information on their business scenario required where syndicated solutions are not enough.
Overview
Deodorization Systems Market: Global Industry Analysis 2015-2019 & Opportunity Assessment 2020-2030
A recent market study published by Future Market Insights on the Deodorization Systems market offers global industry analysis for 2015-2019 & opportunity assessment for 2020-2030. The study offers a comprehensive assessment of the most important market dynamics. After conducting a thorough research on the historical, as well as current growth parameters of the Deodorization Systems market, the growth prospects of the market are obtained with maximum precision.
Deodorization Systems Market Taxonomy
The global Deodorization Systems market is segmented in detail to cover every aspect of the market and present complete market intelligence to readers.
Component
Pumps
Towers
Coolers
Oil & Management Systems
Tanks
Refining Method
Physical Refining
Chemical Refining
Edible Oil
Soybean Oil
Olive Oil
Peanut Oil
Canola Oil
Sunflower Oil
Palm Kernel Oil
Cottonseed Oil
Coconut Oil
Palm Oil
Operation
Batch Deodorization Systems
Semi- Continuous System
Continuous Deodorization Systems
Region
North America
Latin America
Europe
East Asia
South Asia
Oceania
MEA
How the research was conducted?
Primary Research
C - Level Executives
Marketing Directors
Sales Heads
Production Managers
Distributors Heads
Sales Executives
Product Manufacturers
Distributors
Traders
Industry Experts
End Users
Current Market Dynamics and Challenges
Market Characteristics
Market Performance and Growth Quadrants
Competition Structure and Market Structure
Strategic Growth Initiatives
Near-term and Long-term Market Growth Prospects
Market Segment Splits and Authenticity
Opinions on Market Projections and Validity Of Assumptions
Secondary Research
Industry Publications

Industrial Week
Industrial Product Review
Industrial Magazine

Industry Associations

Dieticians Association
Food and Agriculture Organization

Company Press Releases
Annual Reports and Investor Presentations
Research Papers
Government Websites and Publications
Trade Websites
Primary Interview Splits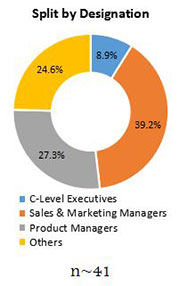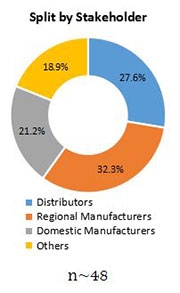 To Learn More About our Comprehensive Perspective on Deodorization Systems Market,
Get in touch
Harish Tiwari
Global Head - Business Development
Akshay Godge
Client Partner - Global Business Development
CASE STUDIES
See how our work makes an impact.
At FMI, we design strategies that are adaptive, impactful, and implementable.