Sustainable Application Scope in Commercial Sector
The commercial and industrial sectors will remain the key application zones in the global fire alarm systems market. Adoption in the commercial sector currently accounts for around half of overall market value, and the trend is likely to increase at a healthy pace. In 2019, fire alarm systems worth US$ 8.5 Bn were set up in commercial facilities. While increasing scope of application has been observed from the industrial sector, owing to stringent regulations regarding personnel safety, demand from the residential sector would remain steady through 2029.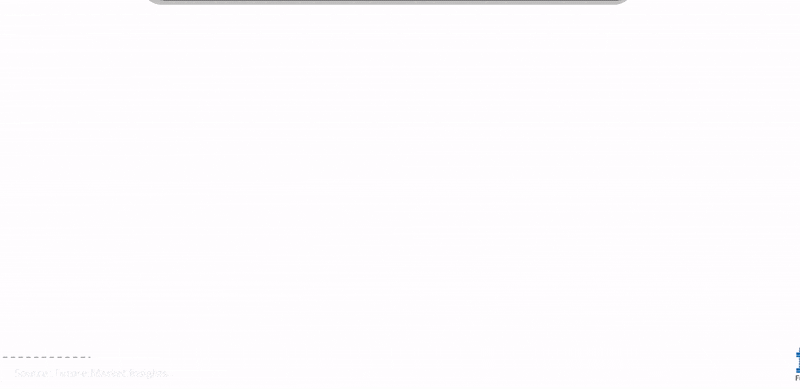 North America in Vanguard, APEJ to Close in
At present, the fire alarm systems markets in North America and Western Europe are leading the way, with the former representing the most lucrative prospects through 2029. While these developed regional markets are accounting for nearly 50% market share, the market in Asia Pacific (excluding Japan) is spearheading in terms of growth rate. In addition to this, the APEJ fire alarm systems market will outpace that in Western Europe by the end of the foreseeable timeframe.
Scaling up Safety with IoT-based Fire Alarm Systems
In an effort to promote the efficiency of fire alarm systems in various sectors, market players must integrate their offerings with advanced technologies such as Internet of Things (IoT). IoT-enabled fire alarm systems are equipped with a wide array of sensors for detecting fire casualties and alerting officials for immediate response.
For instance, passive infrared (PIR) sensors aid in determining the exact location of the mishap. Gas sensors detect the presence of any flammable gas, including CO2. Smart fire alarm systems, despite incorporating highly complex algorithms, offer a high degree of precision, and as such, add another layer of security.
How Growth will Unfold
Both, conventional and addressable fire alarm systems continue to stay at the top against other solutions such as professional services and managed services. Among them, addressable fire alarm systems are likely to see substantial adoption, owing to better efficiency in terms of time and cost over conventional versions.
As both system types hold around 4/5 of total market revenue, players in the fire alarm systems market are highly focused on these solutions. This study further reveals that, addressable fire alarm systems will register revenue nearly thrice that of their conventional counterparts by the end of 2029.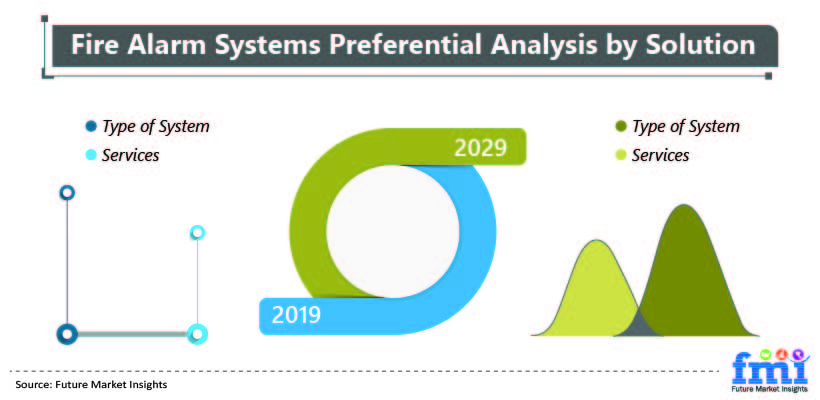 FIRE ALARM SYSTEMS MARKET- KEY RESEARCH FINDINGS
The global fire alarm system market size will surpass US$ 33Bn in valuation by 2029.
The market is expected to register a CAGR of 6% over the forecast period 2019-2029.
The commercial and industrial sectors will remain major contributors to the fire alarm systems market growth through 2029.
Demand from the residential sector remains prominent, while growing application in industrial sector is likely to result in increased market share.
Conventional and addressable systems will continue to witness higher demand as compared to services.
North America and Western Europe account for significant share of the global market value.
KEY FACTORS INFLUENCING FIRE ALARM SYSTEMS MARKET
Rising Incidence of Fire Outbreaks
An increasing number of deaths and property loss have raised awareness about fire alarm systems which remain key growth drivers of the market. Rising adoption of fire safety strategies in several countries where investments in infrastructural development have been relatively low will work in favor of the market players. Overheating of electronic equipment, alternating voltage, electric spark, and poor handling of burning lamps and cooking gas leakage are the major reasons identified for the causes of fire outbreaks, which subsequently influence the demand for fire alarm systems.
Implementation of Stringent Rules and Regulations
Growing enforcement of stringent government regulations is significantly accelerating growth of the fire alarm systems market. In developed and developing countries, implementation of these regulations has pushed the requirement for fire alarm systems. For instance, the UK government ensures all the fire detection and alarm systems should be installed under British Standards.
Elevated Maintenance and Installation Cost
High costs associated with maintenance and installation of fire alarm system continue to represent a potential threat for manufacturers. The cost of a fire alarm system varies depending on size, type, usage, and lifespan. These systems are expensive to install in older buildings as compared to new buildings.
FIRE ALARM SYSTEMS MARKET STRUCTURE ANALYSIS
Key players in the fire alarm systems market are focused at leveraging new technologies for product innovations to stay ahead of the curve.
Leading players have introduced several fire safety programs to catapult awareness regarding the benefits of fire protection systems.
Manufactures are eyeing lucrative opportunities in small and medium enterprises (SMEs).
In June 2018, Johnsons Controls introduced Autocall brand of fire alarms system in MEA.
Base Year - 2019
Forecast Period -2019-2029
Market value by 2029 -US$ 33 Bn
CAGR over 2019-2029 - 6%
Segments Covered - Solution, Application
Key Companies - Johnson Control, United Technologies Corporation, Honeywell International, Siemens, and Halma
Key Developments -

In September 2019, Bosch Limited introduced AVIOTEC IP starlight 8000.
In June 2019, Halma acquired Ampac to enhance their global presence.
FIRE ALARM SYSTEMS MARKET TAXONOMY
The global fire alarm systems market is segmented in detail to cover every aspect of the market and present a complete market intelligence approach to readers.
Solution
Type of System

Conventional Systems
Addressable Systems

Services

Professional Services

Consulting
Designing & Installation

Managed Services
Application
Commercial
Industrial
Residential
Region
North America
Latin America
Western Europe
Eastern Europe
Asia Pacific Excluding Japan
Japan
Middle East & Africa
Need specific information?