An Incisive, In-depth Analysis on the Ultrasound Systems Market
This study offers a comprehensive, 360 degree analysis on the Ultrasound Systems market, bringing to fore insights that can help stakeholders identify the opportunities as well as challenges. It tracks the global Ultrasound Systems market across key regions, and offers in-depth commentary and accurate quantitative insights. The study also includes incisive competitive landscape analysis, and provides key recommendations to market players on winning imperatives and successful strategies.
High Penetration of Hand-Held Ultrasound Systems to Stay Trending in the Current Market Scenario
Ultrasound imaging has gained popularity mostly with the cases of pregnant women. It is utilized to help analyze the reasons for diagnosis, swelling and contamination in the body's interior organs and to inspect an infant in pregnant women and the brain and hips in newborn young ones. With the rise in frequency of ultrasound imaging centers and advancement in technologies, there is an emergence of a compact and easy to use form of ultrasound systems. Widely known as hand-held systems these machines are witnessing an increase in use of ultrasound scanners by the various non-radiologists to aid in clinical examinations or practical procedures. The consistent falling in pricing has made it more widely adopted. The overall market for hand-held ultrasound systems is expected to reach a market value of over US$ 2,300 Mn by the end of 2028, growing at a CAGR of 6.5% during the forecast period.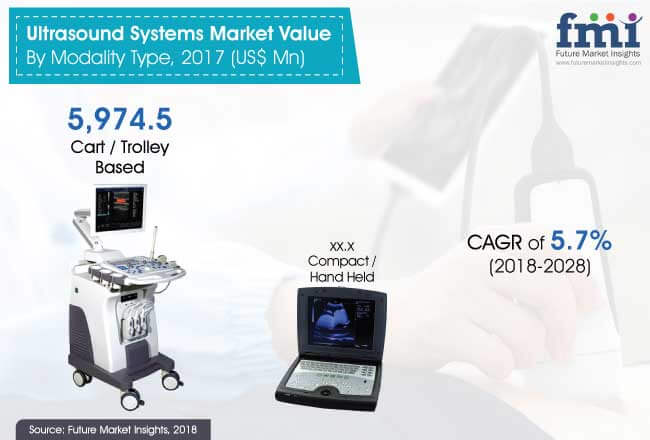 Mobile connected visualization is also an integration in the Ultrasound Systems market
Most of the machines in the healthcare industry are worked upon to integrate Artificial Intelligence. This has opened the new horizons of the health care and health related services. The technology is already a part of ultrasound machines, which now provides a 2D-3D image of the examination too. These machines are being made compact and easy to use to reduce the effort required, just like any other medical examination machine.
The hand-held or compact form of ultrasound systems are now integrated with the mobile connectivity. It is the technology allowing wireless connectivity with mobile or tablet for visualization in real-time diagnosis. This technologically advanced device also contributes in reducing queuing time alone with along with real-time monitoring in point-of-care facilities. The trends are expected to completely abolish the use of traditional systems, as the new ones offer much more convenience to the users. Most of the end users are now preferring the use of portable systems which are equipped with many more features that provide better results.
High prices and reimbursement regulations may hinder the overall growth of Global Ultrasound Systems Market
High end ultrasound systems can cost a fortune for the healthcare providers. Especially the ones that are equipped with new and advanced technology, are higher in price and cannot be affordable for small scale hospitals or diagnostic centers. The top end machines usually cost US$ 55,000 to US$ 100,000 and governments of many regions do not provide enough grants for it. This has made many regions like Asia Pacific and Latin America more reluctant to afford it. This is primarily attributed to lack of awareness among patients about these systems, which negatively affects its uptake.
The market is also facing an impact of FDA regulations and reimbursement scenario. The regulations for ultrasound devices are quite stringent owing to the possible harms these devices could cause to the human body. It is required to be handled by equipment expert, however there is a serious lack of skilled labor in the industry, which may lower the adoption rate of advanced equipment. Also, lack of reimbursement policies and effective insurance cover for automated ultrasound scanning dissuades patients from opting for this technique as compared to other modalities. This ultimately restricts market growth.
Global Healthcare Sector Outlook
Despite the economic and political uncertainty in the recent past, the global healthcare industry has been receiving positive nudges from reformative and technological disruptions in medical devices, pharmaceuticals and biotech, in-vitro diagnostics, and medical imaging. Key markets across the world are facing a massive rise in demand for critical care services that are pushing global healthcare spending levels to unimaginable limits.
A rapidly multiplying geriatric population, increasing prevalence of chronic ailments such as cancer and cardiac disease, growing awareness among patients; and heavy investments in clinical innovation are just some of the factors that are impacting the performance of the global healthcare industry. Proactive measures such as healthcare cost containment, primary care delivery, innovation in medical procedures (3-D printing, block chain, and robotic surgery to name a few), safe and effective drug delivery, and well-defined healthcare regulatory compliance models are targeted at placing the sector on a high growth trajectory across key regional markets.
Parent Indicators Healthcare
Current expenditure on health, % of gross domestic product

Current expenditure on health, per capita, US$ purchasing power parities (current prices, current PPPs)

Annual growth rate of current expenditure on health, per capita, in real terms

Out-of-pocket expenditure, % of current expenditure on health

Out-of-pocket expenditure, per capita, US$ purchasing power parity (current prices, current PPPs)

Physicians, Density per 1000 population (head counts)

Nurses, Density per 1000 population (head counts)

Total hospital beds, per 1000 population

Curative (acute) care beds, per 1000 population

Medical technology, Magnetic Resonance Imaging units, total, per million population

Medical technology, Computed Tomography scanners, total, per million population
Research Methodology
FMI utilizes a triangulation methodology that is primarily based on experimental techniques such as patient-level data, number of procedures and capital equipment install base to obtain precise market estimations and insights on various medical devices and medical technology. Bottom-up approach is always used to obtain insightful data for the specific country/regions. The country specific data is again analysed to derive data at a global level. This methodology ensures high quality and accuracy of information.
Secondary research is used at the initial phase to identify the feasibility of the target products/technology categories and its respective segments, product offerings, usage pattern as per disease indications, product installed base in target healthcare facilities, life span of a device, reimbursement scenario, adoption rate and future impact of new technologies.
Each piece of information is eventually analysed during the entire research project which builds a strong base for the primary research information.
Primary research participants include demand-side users such as key opinion leaders, physicians, surgeons, and supply-side providers of medical devices who provide valuable insights on trends, key treatment patterns, adoption rate, and purchasing pattern, technological development of medical devices, patient education, effectiveness of manufacturers and important strategies, pricing and competitive dynamics.
Quantitative and qualitative assessment of basic factors driving demand, economic factors/cycles and growth rates and strategies utilized by key players in the market is analysed in detail while forecasting, in order to project Year-on-Year growth rates. These Y-o-Y growth projections are checked and aligned as per industry/product lifecycle and further utilized to develop market numbers at a holistic level.
On the other hand, we also analyse various companies annual reports, investor presentations, SEC filings, 10k reports and press release operating in this market segment to fetch substantial information about the market size, trends, opportunity, drivers, restraints and to analyse key players and their market shares. Key companies are segmented at tier level based on their revenues, product portfolio and presence.
Please note that these are the partial steps that are being followed while developing the market size. Besides this, forecasting will be done based on our internal proprietary model which also uses different macro-economic factors such as per capita healthcare expenditure, disposable income, industry based demand driving factors impacting the market and its forecast trends apart from disease related factors.
Standard Report Structure
Executive Summary

Market Definition

Macro-economic analysis

Parent Market Analysis

Market Overview

Forecast Factors

Segmental Analysis and Forecast

Regional Analysis

Competition Analysis
Market Taxonomy
By Modality

By Application

By End User

By Region

Cart/Trolley Based

Compact/Handheld Ultrasound Devices

Radiology

Obstetrics and Gynecology

Gastroenterology

Cardiovascular

Others (Breast Imaging, Urology, Emergency Care and among others)

Hospitals & Clinics

Diagnostic Imaging & Surgical Centers

ASCs

Others

North America

Latin America

Western Europe

Eastern Europe

APEJ

Japan

MEA
Specific Report Inputs
The report has been created considering various aspects of the healthcare industry and accurate scope of the market. Pointers like installed machinery base, systems sale, replacement rate, new sales number of hospitals and maternity clinics have been taken into account. It helps in getting the exact market status in terms of a particular product's sales, demand and availability.
COVID -19 : Impact Analysis
Request the coronavirus impact analysis across industries and markets
Request Covid -19 Impact
CASE STUDIES
See how our work makes an impact.
At FMI, we design strategies that are adaptive, impactful, and implementable.