Ease of Diagnostic Workflow due to Integrated Systems
Next generation ultrasound system is a device that integrates a number of imaging diagnoses related to a wide variety of clinical segments. This device has been introduced in order to make the diagnostic work more efficient with the technological aspects, and it is a better option than the standard ultrasound machine in terms of quality, mobility and cost.
The device is used to enhance the productivity and provide high-quality images. The technique has gained quick acceptance as a user-friendly device owing to its robust applications for growing patient pool across the globe. Next generation ultrasound system is also used to monitor the progress of patients and provide point-of-care diagnosis in remote locations, clinics at battlefields, emergency rooms, and independent clinics.
The next generation ultrasound system is a compact device—best combination of high performance and portability. Next generation ultrasound systems are used for general imaging, musculoskeletal imaging, vascular interventional procedures, interventional, anaesthesiology, and breast imaging, thyroid and phlebology applications, etc.
With the advancement and widening of applications, medical technology companies have developed new tools for next generation ultrasound systems that are small, portable, reliable & fast and also provide high-quality images. With the availability of USB ports, next generation ultrasound systems have replaced hard copies of the scanned reports. The next generation ultrasound system is sensitive and specific for tissue differentiation, provides elastography, and collects the images of the organs rapidly.
Next Generation Ultrasound System Market Assessment by End User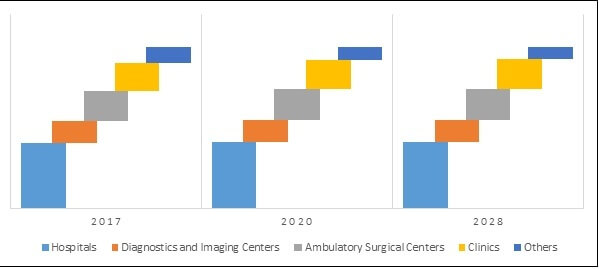 Don't pay for what you don't need
Customize your report by selecting specific countries or regions and save 30%!
Market Segmentation
Among all the end-use segments, the hospitals segment is expected to hold high share in the global market for the next generation ultrasound systems due to high patient pool.
Factors Driving and Restraining the Next Generation Ultrasound System Market
The next generation ultrasound systems market is expected to witness a significant growth over the forecast period due to its growing adoption by clinics and advancement in technology. The key drivers of the market include increasing cases of fatal injuries during pregnancy, prevalence of cancer, growing burden of chronic diseases such as cardiac and orthopedic injuries in aging population, etc.
According to the U.S. Bureau of Labour Statistics, 7% increase of fatal injuries was recorded from a total of 5,190 in 2016. Ease of use, time saving features and crisp images with fast image acquisition of next generation ultrasound system are factors responsible for growing penetration of the device across all end-use segments.
The ultrasound waves emitted are low amplified and do not involve ionizing radiations, owing to which the device is harmless to the patients. However, for many of the complex applications it is hard to replace the standard ultrasound devices.
An Innovative Tool that Enhances Productivity of Diagnostic Centers
Next generation ultrasound machines are small and compact and can be carried anywhere, i.e., they are about the size of a laptop. Next generation ultrasound systems can work as standalone systems and portable devices as well. They are used in many clinical settings, due to their non-invasive nature, lack of ionizing radiation, and the ability to visualize internal organs irrespective of the sizes.
The device provides a high user interface, and is designed for different clinical departments. Also, it gives a wider field of view and allows the system to be accessed easily from hospitals, clinics and diagnostic centers.
Regional Outlook
North America is one of the dominant markets in the global next generation ultrasound system market and is expected to follow the same trend throughout the forecast period, due to increased acceptance of portable devices by the end users. The high penetration rate of the devices in the U.S. has made it a dominating country in North America.
Economic conditions in the APAC region are set to drive the next generation ultrasound market to a new level. Europe and APAC are expected to be the fast-growing markets due to rising popularity of portable devices. Latin America is expected to expand at a significant CAGR due to rising healthcare expenditure in order to increase the patient compliance.
When compared to the other regions, the growth of next generation ultrasound systems market in the Middle East and Africa is considerably slow. However, emerging economies such India, China, and Brazil are expected to witness high growth rates over the forecast period.
Competition Outlook
Examples of some of the key participants in the global next generation ultrasound market include Vinno Technology Co. Ltd, Esaote SpA, Teratech Corporation, Siemens AG, GE Healthcare, Carestream Health, Koninklijke Philips N.V., etc. The companies are mainly focused on R&D to strengthen core competencies of their product portfolio.
mall-Scale Manufacturers/Providers:-
VINNO Technology (Suzhou) Co,.Ltd.
Medgyn Products, Inc.
TELEMED Medical Systems
Medium-Scale Manufacturers/Providers:-
Esaote SpA
CHISON Medical Technologies Co., Ltd.
Large-Scale Manufacturers/Providers:-
Teratech Corporation
Siemens AG
GE Healthcare
Carestream Health
Koninklijke Philips N.V
Toshiba medical systems Cooperation
Key Data Points Covered in Report
Get the data you need at a Fraction of the cost
Personalize your report by choosing insights you need
and save 40%!
The report covers exhaustive analysis on
Next Generation Ultrasound Systems Market by end user and region
Regional level market analysis of North America, Latin America, Europe, Asia Pacific Excluding Japan, Japan, Middle East & Africa by end-use segments and country
Next Generation Ultrasound Systems Market Dynamics & Opportunity Assessment
Next Generation Ultrasound Systems Market Current Trends/Issues/Challenges
Competition & Companies involved
Research Methodology
The market sizing of next generation ultrasound systems will be done by the adoption data triangulation approach. Demand-side approach will be followed to assess the actual market size of next generation ultrasound systems. Secondary research is used at the initial phase to identify the feasibility of the target product categories and its respective segments, product and service offerings, equipment installed base in end use facilities, adoption rate and future impact of new technologies.
Each piece of information is eventually analyzed during the entire research project, which helps build a strong base for the primary research information.
Primary research participants include demand-side respondents such as diagnostic laboratory managers, radiologists, physicians as well as key opinion leaders in addition to supply-side respondents such as equipment manufacturers, brand manager, regional sales head etc. who provide valuable insights on trends, applications of products and technologies, purchasing patterns, services offered and associated pricing.
Market Segmentation
By End User
Hospitals
Diagnostics Laboratories and Imaging centers
Clinics
Ambulatory Surgical centers
By Region
North America
Latin America
Western Europe
Eastern Europe
Asia Pacific Excluding Japan
Japan
Middle East & Africa