Availability of Advanced Diagnostics at a Reduced Cost to Benefit Cancer Patients Worldwide
After the completion of the human genome project in 2003, the cost of assembling one genome has reduced tremendously and cut down the time of analysis with the development of highly-advanced sequencing equipment. For instance, in January 2014, Illumina Inc. launched the HighSeq X Ten Sequencer, which cut down the cost of genome sequencing to as low as US$ 1,000 including reagents cost, sample preparation equipment depreciation cost, etc.
Further advancements may continue to pull down the cost of genome sequencing for cancer diagnosis to less than a cost of an X-ray, which would enhance the accessibility of this technology and thus enhance the adoption of cancer diagnostics. This would also facilitate the use of highly-advanced cancer diagnostic technologies by smaller cancer diagnostics research and clinical laboratories who have less technical expertise and low resources, which is expected to benefit the cancer diagnostics market greatly.
Meeting the Needs of Hospital Laboratories: Huge Opportunity for Players in the Global Cancer Diagnostics Market
Attributing to the healthcare cost containment in a majority of mature markets, hospital-based cancer diagnostic laboratories are facing pressure to supply more services at reduced costs. Healthcare facilities are catering to the increased aging population and witnessing a rise in the prevalence of chronic diseases. By 2018 end, almost 10% of the global population is expected to be aged 65 & above.
This imposes cost management pressure on cancer diagnostic laboratories and general diagnostic laboratories. Thus, majority of diagnostic laboratories have started adopting informatics solutions, which help them increase overall productivity within the existing resources. In line with this, manufacturers of diagnostic tests can grab the opportunity to provide complementary services and support to hospital-based cancer diagnostic laboratories.
These services would help high-burden cancer diagnostic laboratories to reduce unexpected down time and better manage laboratory workflow. For instance, Abbott Laboratories recently launched AlinIQ support and services to help its laboratory partners manage operations to maximize throughput and capacity. The company is also planning to launch next-generation systems for point-of-care testing, immunoassay, clinical chemistry, molecular diagnostics, etc. BioMérieux's LEAN lab assessment program is witnessing increased diagnostic laboratory productivity by up to 30%.
Cancer Biomarkers Continue to be the Most Rapidly Advancing Field in Cancer Diagnostics
The number of biomarkers that can be utilized for early cancer detection from blood or plasma samples is continuously expanding, which is expected to bring new cancer biomarker tests in the market in nearest future. These cancer biomarkers can be used as screening tests or cancer diagnostics in the general population or for early diagnosis of specific cancer.
Advancements in cancer biomarkers, coupled with the introduction of sophisticated cancer diagnostic technologies such as microarray and automated sequencing would bring about revolutionary changes in the cancer diagnostics market. For instance, researchers at the University of Sheffield have recently identified over 700 new blood biomarkers that can be used for early cancer diagnosis.
As per OECD statistics, the global biomarkers market for companion diagnostics was valued at US$ 5.2 Bn in 2012 and raked US$ 8.4 Bn by 2016. The growth in companion diagnostics is indicative of the acceptance of biomarkers in healthcare systems and may offer attractive incentives for biomarkers' business development in cancer diagnostics.
Despite Advances in Molecular Diagnostics, Imaging Techniques Remain Mainstay in the Cancer Diagnostics Market
Multiple imaging techniques are used in all phases of cancer screening, cancer diagnostic, and treatment management and thus, are an essential part of clinical protocol. Imaging has become an important aspect of cancer screening and cancer diagnosis and recent progress in tumor imaging technologies has improved the diagnosis of five common cancers including breast, lung, prostate and colorectal cancers.
For instance, Toshiba Medical Systems Corporation has developed an ultrasound technology MicroPure for the early detection of microcalcification in breast tissue. With the increasing demand for PET cameras, technology has gone evolved to cut down the time for image processing. The introduction of PET/CT has enabled the acquisition of morphological and functional information.
Biopsy Segment Dominates the Global Cancer Diagnostics Market in Terms of Revenue
For a majority of cancers, biopsy is the primary test a physician would prescribe and thus, it holds the largest share in the global cancer diagnostics market. Even though liquid biopsy is becoming more popular due to its non-invasive nature, to obtain an accurate diagnosis, solid tumour biopsies or tissue biopsies are still preferred. New developments in fine needle aspiration tools for cancer diagnosis for different indications including lung cancers, head and neck cancers, advanced breast cancer among others have led to the increased demand for tissue biopsy. Majority of lung cancers are diagnosed in the late stage of where fine needle aspiration biopsy is the only possible test done to confirm the cancer presence.
Lung Cancer Indication Segment is the Most Lucrative for Manufacturers of Cancer Diagnostics
Lung cancer is one of the most common cancers across the globe and is the cause for thousands of deaths each year. However, the incidence and pattern of lung cancer show huge variations among geographic regions, ethnicity, etc. The screening of lung cancer patients, thus, presents difficulties to healthcare systems across the globe. In one recent study by All India Institute of Medical Sciences India, screening of lung cancer patients with low dose computed tomography (CT) showed ~20% reduction in lung cancer deaths, but with 95% false positive rate.
New techniques of lung cancer diagnostic and screening are thus immediately needed. The development of specialized biomarker tests for non-small cell lung cancer by key players in the cancer diagnostic industry is expected to benefit patients. In 2014, Medicare spent US$ 38.3 Mn on lung cancer diagnosis in the U.S. and biopsy held a significant proportion of the lung cancer diagnostic tests conducted in 2014.
Competitive Landscape
The FMI report provides detailed information about growth parameters in the cancer diagnostics market with the help of a detailed assessment of the competitive environment in the global cancer diagnostics market. The global cancer diagnostics market study provides comprehensive data on important stakeholders in the cancer diagnostics market including Abbott Laboratories, F. Hoffmann-La Roche AG, Thermo Fisher Scientific Inc., Siemens Healthineers, Bio Rad Laboratories Inc., GE Healthcare, Illumina, Inc., Koninklijke Philips N.V., Toshiba Medical Systems Corporation, Agilent Technologies, Inc. etc. among others.
Major players in the cancer diagnostics market are focusing on maximizing their market penetration in the install base. The development of molecular diagnostic tests run on specialized instruments and development of these instruments require huge investment of money and time. Thus, addressing the huge needs in cancer diagnostics requires the participation of established diagnostics industry players.
Majority of the cancer diagnostic companies place these instruments into diagnostic and research laboratories through reagent rental contracts, in exchange for long-term contracts to purchase test reagents, as these cancer diagnostic tests can only be run in laboratories possessing instruments for which the test is developed and approved.
Moreover, newly developed cancer diagnostic tests for particular instruments need to be mass marketed to diagnostic laboratories, general practitioners, and health insurers. For instance, Epigenomics AG, a U.S.-based molecular diagnostics lab and one of the major players in the cancer diagnostic market, employs a unique strategy of non-exclusive licensing for its newly launched cancer diagnostic tests to increase the penetration of its new products in the global cancer diagnostics market.
Big players such as Roche Diagnostics and Abbott license their cancer diagnostic test products to regional geographical partners who either distribute these products in the region or develop reagent kits for their instruments.
Definition
Cancer diagnostics include cancer screening tests performed among the general population or high-risk population, specific cancer diagnostic tests or confirmatory tests and tests to track the prognosis of disease and treatment. The global report cancer diagnostics market report includes market size for all the above mentioned tests for cancer diagnosis.
About the Report
The study on the cancer diagnostics market, recently published by FMI, provides comprehensive information about the most important market dynamics that will prove instrumental in the growth of cancer diagnostics market during 2016-2026. Market players can find the most accurate quantitative and qualitative information about growth parameters in the cancer diagnostics market in the report, which will help them to develop data-driven business strategies in the coming future.
Segmentation
For the better understanding of readers, the FMI cancer diagnostics market report provides salient information about the cancer diagnostics market in the most comprehensive manner. The cancer diagnostics market has been segmented according to geographical regions, test types, applications/indications and end users to analyze the segment-wise growth of the cancer diagnostics market. Based on geographical regions, the cancer diagnostics market has been segmented into North America, Latin America, Western Europe, Eastern Europe, Asia-Pacific Excluding Japan (APEJ), Japan and the Middle East & Africa (MEA).
On the basis of test type, the cancer diagnostics market has been segmented into tumour biomarker tests, imaging tests, biopsy, liquid biopsy, immunohistochemistry, in-situ hybridization.
Furthermore, based on application/indication, the global cancer diagnostic market has been segmented into breast cancer, lung cancer, colorectal cancer, melanoma, blood cancer, prostate cancer, ovarian cancer, stomach cancer and liver cancer. Based on end users, the global cancer diagnostics market has been divided into hospital associated diagnostic laboratories, independent diagnostic laboratories, diagnostic imaging centers, cancer research institutes and others.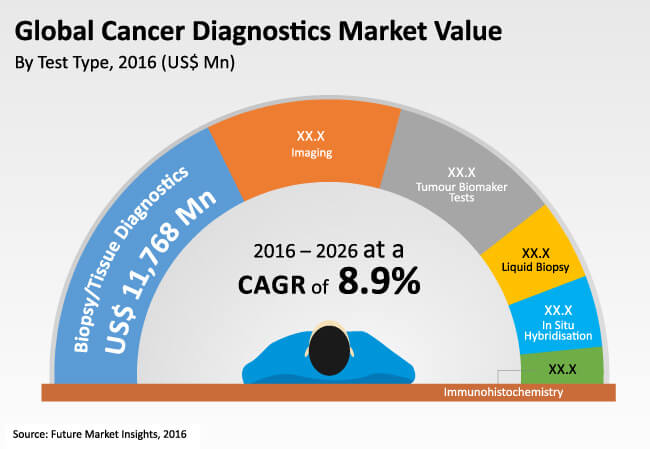 Additional Questions Answered
Readers can find detailed information about the important factors that are supporting and hampering the growth of the cancer diagnostics market during the forecast period in this report. Additionally, the report also contains valuable information about cancer diagnostics market players with answers to critical questions, such as:
Which test types are commonly prescribed for each cancer diagnosis?
How has the global cancer diagnostics market evolved over time?
Which regulations in various regional segments are influencing the strategies of players in the cancer diagnostics market?
What is the potential population/volume of the cancer diagnostics market?
Research Methodology
The process of market research followed at FMI commences with an extensive secondary research of the cancer diagnostics market. Analysts obtain industry-validated, historic and current data about the demand and sales of all approved cancer diagnostics across the globe. Crude incidence rates for each of the cancers mentioned above in the report scope are obtained on a country level. Diagnostic rates for each cancer, patient journey from cancer screening to diagnosis, percentage prescriptions for various diagnostic tests performed for each cancer type, number of tests per person, etc. are some other factors obtained through in depth primary interviews for each country within the scope.
These factors and costs of tests are then utilized to arrive at the final market value for the cancer diagnostics market. The comprehensive secondary research is then followed by primary research, where detailed information about the cancer diagnostics market is obtained in terms of value (US$ million). Based on thorough secondary and primary research of growth parameters in the cancer diagnostics market, analysts come up with the most precise forecast on how cancer diagnostics market will grow over the forecast period.
Key Segment
Based on the test types
tumour biomarker tests
imaging tests
biopsy
liquid biopsy
immunohistochemistry
in-situ hybridization, etc
Based on the Indication
breast cancer
lung cancer
colorectal cancer
melanoma
blood cancer
prostate cancer
ovarian cancer
stomach cancer
liver cancer and others
Need specific information?