Cancer Diagnostics Market by Test Type (Tumour Biomarkers Tests, Imaging, Biopsy, Liquid Biopsy, Immunohistochemistry, In Situ Hybridization), End-user & Region - Forecast to 2021-2031
Cancer Diagnostics Market - Analysis, Outlook, Growth, Trends, Forecasts
March 2021

REP-GB-1090

285 pages
Cancer Diagnostics Market - About the Report
[285 Pages Report] The rising prevalence of cancers has necessitated innovation in the cancer diagnostics. The global market is set to grow at an impressive pace over forecast period. Use of advanced technologies such as liquid biopsy for breast cancer, prostate cancer and lung cancer diagnosis and treatment can result in favorable therapeutic outcomes. Furthermore, the increasing advancements in imaging technologies for early-stage diagnosis of cancer is expected to boost the market for cancer diagnostics.
In its latest edition of the study, ESOMAR-certified market research and consulting firm Future Market Insights (FMI) offers insights about key factors driving demand for cancer diagnostics. The report tracks the global sales of cancer diagnostics in 20+ high-growth markets, along with analyzing the impact COVID-19 has had on cancer diagnosis services in general, and cancer diagnostics in particular.
How Historical and Future Outlook for Cancer Diagnostics Market Match Up?
As per the World Health Organization (WHO), in 2020 around 19 Mn new cancer cases were diagnosed across the world. Likewise, the American Cancer Society reported that the 89,500 cases of cancer were diagnosed in U.S. in 2020. The most common cancers in the U.S. include lung cancer, breast cancer, prostate cancer, colorectal cancer, thyroid cancer, pancreatic cancer, non-Hodgkin lymphoma, melanoma, endometrial cancer, renal pelvis cancer, kidney cancer and leukemia.
Governments in developed countries such as the U.S. raise funds for cancer research to aid in the diagnosis and treatment. They also are funding clinical trials to support companies in developing effective diagnostic tests for cancer. According to the American Association for Cancer Research, Cancer Epidemiology, Biomarkers & Prevention journal reported that national cancer-attributable costs in the United States are projected to increase by over 30 % from 2015 to 2030, corresponding to a total cost of over $245 billion.
Late diagnosis of cancer is the chief reason behind the rising mortality rates. This has been fuelling the demand for improvement in screening and diagnosis. Moreover, investments in the field of research is estimated to create new opportunities for the cancer diagnostics market in the coming years. Research funding from governments and improving reimbursement facilities for cancer diagnostics are expected to boost the market.
In 2019, the American Cancer Society has funded more than $67 million in breast cancer research through 162 research and training grants. Likewise, the increased funding for the National Breast and Cervical Cancer Early Detection Program (NBCCEDP) by the American Cancer Society Cancer Action Network (ACS CAN), at the state and federal levels.
Similarly constantly evolving technology such as next-generation sequencing techniques for cancer diagnostics and patient-based cancer diagnostics would fuel the demand for cancer diagnostics. Next-generation sequencing (NGS) is the most cost-effective, time-saving and successful technological advances in cancer diagnostics in the last 3 decades. Revolutionary second-generation and third platforms offered by Roche, Illumina and Life Technologies, Pacific Biosciences of California, Inc. are rapidly gaining absorbed in the market. Many molecular pathology laboratories are transitioning from single molecular PCR protocols to adopt NGS platforms, and thus the market for cancer diagnostic is expected to gain traction.
According to FMI's analysis, cancer diagnostics sales have grown at an 8.5% CAGR between 2021 and 2031. The cancer diagnostics market experienced a short-term negative impact owing to a sharp reduction in the number of patients in hospitals for cancer diagnosis across the world. The market is expected to recover by mid-2021. As the COVID-19 cases were rising, the healthcare system had shifted its focus towards mitigating the ongoing global medical emergency.
The screening of cancer, case identification, and referral in symptomatic cancer diagnosis is declined due to the outbreak of COVID-19. Even the follow-up and management of cancer patients are also exaggerated by the pandemic. For instance, a 40% decline in weekly cancer incidence is reported by Netherlands Cancer Registry in 2020, and the U.K. has accomplished a 75% decline in referrals for assumed cancer since the onset of COVID-19.? However, in the coming years, a significant increase is projected in cancer diagnostic procedures.
FMI expects the global cancer diagnostics market to grow at 8.5% CAGR through 2031.
How is Shift towards Advanced Diagnostics Fuelling Cancer Diagnostics Demand?
Advances in diagnostics such as imaging techniques have increased the demand for cancer diagnostics. Imaging has become an important aspect of cancer detection and diagnosis and recent progress in tumour imaging technologies have improved the diagnosis of 5 common cancers including cancers of breast, lung, prostate and colorectal cancers. For instance, in 2018 ultrasound technology MicroPure was introduced by Toshiba Medical Systems Corporation for the early detection of microcalcification in breast tissue. With the growing preferences for PET cameras, the technology has gone through several evolutions resulting in cutting down the time for image processing. Similarly, the addition of PET/CT enabled the acquisition of morphological and functional information simultaneously.
What Are The Opportunities In The Cancer Diagnostics Market?
Increasing patient acceptance for non-invasive tests & hospital laboratory needs presents huge growth opportunities for developers and manufacturers of cancer diagnostic tests. Due to healthcare cost containment in the majority of mature markets, hospital-based laboratories are facing pressure to supply more services at a reduced cost. Healthcare facilities are faced with challenges related to increasing ageing population and a rising prevalence of chronic diseases.
By 2018, almost 10% of the global population will be 65 & above. Also, global healthcare spending is expected to witness a 5.2% growth every year till 2018. This imposes cost management pressure on diagnostic labs. Thus, a majority of laboratories have started adapting informatics solutions which helps them to increase overall productivity with existing resources. In line with this, manufacturers of diagnostic tests can grab the opportunity to provide complementary services and support.
For instance, in 2016 Abbott laboratories launched AlinIQ support and services to help their laboratory partners accomplish maximize output and capacity during operations. Similarly, bioMérieux's LEAN lab assessment program is witnessing to increase labs' productivity by up to 30%. There is a growing concern in the development of newer and sensitive techniques to diagnose cancer patients as early as possible, especially in high-risk groups where conventional technology falls short, thus creating opportunities in the cancer diagnostics market.
What is the Potential of Imaging Technique?
Imaging helps in the better staging of cancer, along with prognostic and treatment monitoring capabilities of functional and metabolic information. Owing to these benefits, the application of imaging techniques has fundamentally increased in cancer screening programs. The adoption of advanced imaging tests such as multiphoton microscopy and magnetic resonance imaging is growing across the world.
This technology shortens acquisition time and fusion imaging by providing precise attenuation modification, and, leading to an increase in diagnostic specificity and sensitivity imaging, thus plays an important role in staging, initial diagnosis, and monitoring of treatment response. Implementation of diagnostic imaging processes will be supplementary reorganized by multimodality imaging techniques, due to their use in the improvement of a specific treatment plan for custom-made cancer treatment.
What Is The Regulatory Impact On Cancer Diagnostics?
Insufficient insurance coverage for costly cancer diagnostics tests is the major factor hampering the growth of the global cancer diagnostics market. Despite high-value propositions of molecular diagnostics for cancer, insufficient coverage for costly test procedures discourage a large section of patients from pursuing these tests.
Furthermore, as per the new pricing policy for 2017, CMS has increased rates for numerous new CPT codes including next-generation sequencing and multi-analyte algorithm assays. For instance, CMS increased the cost of next-generation sequencing tests for genetic breast cancer (CPT code 81432) from US$ 623 to US$ 925. It is expected that state Medicaid programs will also adjust their prices to reflect Medicare rates. Regulators of CMS, as well as private payers, are progressively highlighting the growing value and single-source tests having strong evidence of clinical utility.
Development of analytical instruments used for laboratory analysis of cancer specimen and high-end instruments such as MRI, PET, SPECT equipment and next-generation sequencing platforms requires high investment in terms of both money and time. While this might discourage smaller players, some of the big pharmaceutical companies are entering into the diagnostics business.
If at all the company develops innovative diagnostic testing, they still have to invest in special clinical efficacy studies, and there is no assurance that the product will get coverage. This might create obstacles to growth.
What Are Key Trends In Cancer Diagnostics Market?
An increasing number of the key players in the cancer diagnostics market are implementing inert growth strategies to sustain in the growing competitive burden. Companies in the global market are enthusiastically involved in mergers and acquisitions, as the industry is in its growth phase as of continuous technology upgrades and the launch of novel blood tests to detect cancer.
Players in the liquid biopsy industry have started taking strategic decisions to occupy in strategic partnerships and collaborations to support their product portfolio and surge their brand share in the market. Thus, these companies have strengthened their positions in the cancer diagnostics market.
For instance, in March 2021, Agilent Technologies Inc. acquired Resolution Bioscience, to reinforce its headship position in cancer diagnostics and in September 2020, Illumina, Inc. acquired GRAIL to launch a new phase of a cancer diagnosis. This acquisition is aimed to accelerate the adoption and commercialization of transformative multi-cancer diagnosis test with the prospective to detect more cancers earlier and enable better outcomes.
Cancer Diagnostics Market - Country-wise Insights
Why is Demand for Cancer Diagnostics High in the U.S.?
The rising prevalence of cancer in the U.S. is likely to boost cancer diagnostics demand. Cancer is the second-leading cause of death in the United States. In 2020, there will be approximately 89,500 cancer cases diagnosed and around 9,300 cancer deaths in adolescents and young adults (AYAs) aged 15 to 39 years, in the US.
Moreover, the U.S. is considered the largest market for medical devices in the world, which invariably makes it a lucrative pocket for cancer diagnostics. According to SelectUSA, the medical devices market in the U.S. accounted for 40% of the global market in 2017. By 2023, it is expected to reach US$ 203 billion in valuation.
Favorable healthcare policies, coupled with high per capita healthcare spending, has created a conducive environment for the adoption of advanced cancer diagnostic technologies such as imaging in the U.S. Also, the presence of leading players is supporting growth in the U.S. Strategies undertaken by these companies include product launches and expansion plans, which will continue aiding overall expansion in the U.S.
What Are the Factors Hampering Cancer Diagnostics in South Africa?
Lack of awareness about advance cancer screening tests and insufficient treatment options leads to increasing incidence of cancer. Due to limited campaigning about the assessment of these cancers, there seems to occur minimum practice of this cancer diagnosis tests in hospitals in South Africa. Additionally, inadequate healthcare services in South Africa as compared to the developed countries is hindering the growth of the cancer diagnostics market in South Africa.
Other factors responsible for the hindrance of cancer diagnostics services in South Africa are a financial burden, governments fail to provide proper screening and diagnosis for cancer patients and are unable to facilitate campaigns to create awareness among the population, which may impact the adoption of cancer diagnostics in this region. The market in South Africa is expected to witness sluggish growth with a revenue share of around 22% at the end of 2031.
What Is Driving Adoption Of Cancer Diagnostics In China?
Growth in East Asia is expected to happen at a faster speed. The World Health Organization has reported that in 2020, about 4.5 Mn new cancer cases are diagnosed in China. The incidence rate of obesity and hormonal exposure-related cancers, like breast cancer in females and "lifestyle change-related cancer", such as prostate cancer in males, showed a rising trend in China which results in surging adoption of cancer diagnostics in China.
Based on results revealed in the Global Burden of Disease Study, cancer is the leading cause of death in the country in 2020. These figures are indicative of opportunities for wider penetration in China, consequently in South Asia. An increase in the incidences of cancer and increasing awareness related to early detection of cancer in Asian countries such as China is another key factor driving rapid growth in the market.
Cancer Diagnostics Market - Category-wise Insights
Why is Demand for Liquid Biopsy High?
Liquid biopsies are developing as a promising alternative to conventional biopsies, due to their noninvasiveness for the diagnosis and monitoring of cancers. Current technological advances in the liquid biopsy potential to address the current limitations of biopsies and increase the sensitivity of cancer diagnosis are results in the highest revenue in the cancer diagnostics market.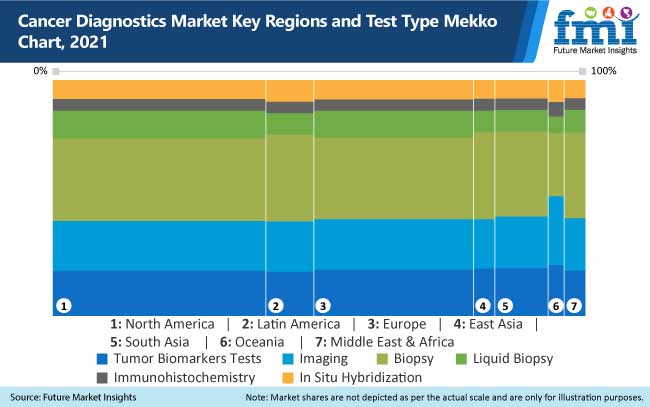 Which is the Key Indication for Cancer Diagnostics?
In terms of indication, cancer diagnostics is being resorted primarily for lung cancer diagnosis. According to the American Lung Association, approximately 541,000 Americans are living with lung cancer. According to the World Health Organization, lung cancer has caused nearly 2.21 million deaths in 2020. With the incidence of the ailment projected to increase, the demand for accurate and timely diagnosis is expected to rise.
Who is the Leading End User?
Hospital associated labs have emerged as the leading end user. Besides the higher footfall of patients, access to advanced infrastructure and modern medical tools support expansion of the segment.
Cancer Diagnostics Market - Competitive Landscape
Most of the medical device companies are currently focusing on developing advanced diagnostic tests for assessment of cancer screening.
For example, in December 2020, Philips has introduced its latest advancements in digital pathology to boosts digital pathology with enhanced informatics to advance precision diagnosis in cancer diagnosis.
Moreover, the manufactures are focusing on getting stamp of approvals for their product and also entering into partnership and collaboration agreement to expand their product portfolio in different countries globally.
For instance, in February 2021, Agilent Technologies Inc. has received U.S. Food and Drug Administration (FDA) approval for PD-L1 IHC 22C3 pharmDx assay for expanded use in patients with non-small cell lung cancer (NSCLC).
Some of the leading companies operating in the market are:
Abbott Laboratories
Roche
Thermo Fisher Scientific Inc.
Siemens AG
Bio Rad Laboratories Inc.
Illumina, Inc.
Koninklijke Philips N.V.
Canon Medical Systems Corporation
Agilent Technologies Inc.
*The list is not exhaustive, and only for representational purposes. Full competitive intelligence with SWOT analysis available in the report.
Cancer Diagnostics Market - Scope of the Report
Attribute

Details

Cancer Diagnostics Market Forecast Period

2021-2031

Cancer Diagnostics Market - Historical Data Available for

2016-2020

Cancer Diagnostics Market - Market Analysis

USD Million for Value

Cancer Diagnostics Market- Key Regions Covered

North America, Latin America, Europe, East Asia, South Asia, Oceania Middle East & Africa

Cancer Diagnostics Market - Key Countries Covered

US, Canada, Germany, U.K., France, Italy, Spain, Poland, Russia, China, Japan, South Korea, India, Thailand, Malaysia, Indonesia, Australia, New Zealand, GCC Countries, Turkey, South Africa

Cancer Diagnostics Market - Key Segments Covered

Test Type, Indication, End-user and Region

Key Companies Profiled

Abbott Laboratories
Roche
Thermo Fisher Scientific Inc.
Siemens AG
Bio Rad Laboratories Inc.
Illumina, Inc.
Koninklijke Philips N.V.
Canon Medical Systems Corporation
Agilent Technologies Inc.

Cancer Diagnostics Market- Report Coverage

Market Forecast, Competition Intelligence, DROT Analysis, Market Dynamics and Challenges, Strategic Growth Initiatives

Customization & Pricing
World's Most Profilic Intelligence Engine
Get Access To The World's Largest Market Research Database.
Sign Up Now
Cancer Diagnostics Market by Category
Test Type
Tumour Biomarkers Tests

PSA Tests
CTC Tests
AFP Tests
CA Tests
HER2 Tests
BRCA Tests
ALK Tests
CEA Tests
EGFR Mutation Tests
KRAS Mutation Tests
Others

Imaging

Ultrasound
Mammography
MRI Scan
PET Scan
CT Scan
SPECT & Others

Biopsy

Needle Biopsy
Endoscopic Biopsy
Bone Marrow Biopsy
Others

Liquid Biopsy
Immunohistochemistry
In Situ Hybridization
Indication
Breast Cancer
Lung Cancer
Colorectal Cancer
Melanoma
Blood Cancer
Prostate Cancer
Ovarian Cancer
Stomach Cancer
Liver Cancer
Others
End-user
Hospital Associated Labs
Independent Diagnostic Laboratories
Diagnostic Imaging Centers
Cancer Research Institutes
Others
Region
North America
Latin America
Europe
East Asia
South Asia
Oceania
The Middle East and Africa (MEA)
Key Questions Answered in the Report
Which is the most lucrative market for cancer diagnostics?
The US currently leads the North America market for cancer diagnostics. Sales in the US will account for over 85% of total demand in North America throughout the forecast period.
Which is the most used test type in cancer diagnostics?
Liquid Biopsy is in high demand in terms of test type. This is because of its ease of operability and noninvasiveness.
Which End User is driving revenue of cancer diagnostics?
Hospitals associated labs have emerged as leading the end user in the cancer diagnostics market.
Who are some of the leading players in cancer diagnostics market?
Some of the leading players operating in the cancer diagnostics market are Abbott Laboratories, Roche, Thermo Fisher Scientific Inc., Siemens AG, Bio Rad Laboratories Inc., Illumina, Inc., Koninklijke Philips N.V., Canon Medical Systems Corporation, and Agilent Technologies Inc. among others
Need specific information?
Our Clients