Cancer Supportive Care Products Market Outlook & Key Findings
Cancer supportive care products market is expected to grow at about 4% y-o-y in 2020
Erythropoietin stimulating agents to hold leading revenue share, given their efficacy in treating chemotherapy-induced anemia
Sales of cancer supportive care products via hospital pharmacies to remain prominent through 2030
Usage of cancer supportive care products in treating leukemia to accelerate in the coming years
North America to spearhead the global cancer supportive care products market over the following decade
Cancer Supportive Care Products Market Analysis
Growing prevalence of cancer has consistently spurred the demand for cancer treatments such as chemotherapy over the past decade. That said, radiation therapy comes with several side effects that are challenging for cancer patients to confront, while they undergo the course of procedure.
While cancer treatment is significantly progressing, rising incidences of side effects are growing as well that are addressed by cancer supportive care products.
Oncology is among the fastest-growing therapeutic areas (TAs) worldwide, and is projected to capture about 26% of pharmaceutical sales by 2022, with 107 novel drug approvals in 2018 alone.
In addition, the domain is highly competitive – 35% of the industry preclinical pipeline lies in oncology, and leading players have a commercial footprint. This investment and interest is partially driven by rapid development cycles.
Technological intervention in cancer supportive care products has enabled to treat various indications following chemotherapy procedure, as well as chemotherapy-induced nausea, vomiting, anemia, and neutropenia.
The global cancer supportive care products market is currently growing at a sound pace and is expected to experience moderate growth over the forecast period, 2020-2030.
Cancer Supportive Care Products Market Trends – The Biosimilar Solution to Expensive Cancer Treatment
Biosimilar drugs (or biosimilars), used in management of several disease conditions, account for about 25% of global pharmaceutical industry.
Adoption of biosimilar drugs among patients having cancer has triggered significant advancements in cancer treatments and supportive care.
The US FDA has approved various biosimilars for treatment of cancer and supportive care management, and the figure is expected to follow a positive trend.
Further, usage of biosimilars is associated with exponential cost-savings. Recent studies stress that biosimilars will result in a reduction of US$ 54 Bn in direct expenditure on biologic drugs over 2017-2026, or around 3% of overall anticipated biologic spending within the same timeframe, ranging of US $24-150 Bn.
Prominent drivers of cost savings include number and timing of biosimilars in development and marketing, acceptability of usage among prescribers and patients, cost of biosimilar development, changes in global market size, cost-sharing, payer coverage, and other regulatory policies.
Although these figures appear promising, the expected cost savings with usage of biosimilars are projected to remain modest.
Globally, the cost of biosimilars is about 20-30% less compared to that of reference drugs. The cost savings will bank on several factors such as cost of reference drugs, their sales, and degree of competition.
Hospital Pharmacies to Remain Leading Value Creator
Among the distribution channels, hospital pharmacies are expected to generate greater total return to shareholders (TRS) – over 50% of overall cancer supportive care products market revenue.
About 33% of overall healthcare companies are looking forward to transmuting their whole business model in 2020, with hospitals, the major providers of cancer care, accounting for 66% of them.
Pharmacy is an ever-evolving landscape, as such, hospital pharmacies are striving to keep pace with surging demand for cancer supportive care products and consistent rise in healthcare expenses. With inbound costs of oncology drugs, hospital pharmacies are in a constant juggle to reduce expenses and keep the budget on track.
Hospital pharmacies are monitoring trends on cancer supportive care products that have measurable effect on pharmacy budget in order to ensure maximum savings for hospitals' pharmaceutical expenses.
While hospital pharmacies continue to capture a bigger slice of cancer supportive care products market value, players are also unlocking new revenue lines in retail pharmacies.
Cancer Supportive Care Products Market Regional Analysis – North America Leads, APAC's Market to Speed up
Regionally, North America continues to engage manufacturers of cancer supportive care products over the following decade. Cancer is the major cause of mortality in Canada and the second-leading cause, after cardiovascular diseases (CVD), in the US.
Around 1.9 million new incidences of cancer and 693,000 cancer mortalities were reported in Northern America in 2018.
The most prevalently diagnosed cancers are prostate and breast cancer, while lung cancer remains the leading cause of mortality in the region.
Consequently, governments in the US and Canada are substantially investing in cancer research and development of pharmaceutical drugs, especially erythropoietin stimulating agents, and granulocyte colony stimulating factors.
Moreover, the regulatory authorities have been showing immediacy in approving various cancer supportive care products. The US has granted approval to around 23 biosimilars by July 2019, of which 14 carry indications for use in oncology.
In a similar vein, Asia Pacific (APAC) is also offering value-capture opportunities for players in of cancer supportive care products market.
Studies reveal that nearly half of the global cancer cases are reported in APAC, and by 2030, the number of individuals fighting cancer is likely to soar by about 35%, with mortality increasing by about 40%.
Biopharmaceutical companies in APAC are beginning to launch APAC-centric clinical therapeutics research. Within oncology domain, major portion of APAC drug development is centered on breast, lung, and colorectal cancers. Carrying an enormous cancer burden, the oncology drug market in China is expected to hit US$ 18 Bn by 2023.
Driven by expanding healthcare needs in tandem with supportive government policies. APAC represents tremendous opportunity for cancer supportive care product manufacturers. Countries are implementing steps to set up domestic environments that can leverage local talent and fetch foreign investment.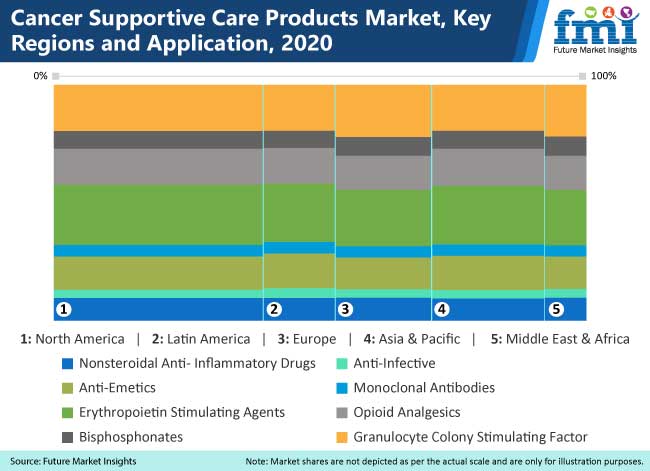 Cancer Supportive Care Products Market Players – Product Innovations and Launches to Shape Stakeholders' Tactics
The cancer supportive care products market is witnessing the penetration of emerging players both at local and international level. The rising level of market competition is making new product launches, innovative applications, and tech-enabled developments a key priority among market players. Some of these include,
Amgen Inc. develops and delivers innovative human therapeutics – Neulasta - a PEGylated form of human granulocyte CSF.
Baxter International Inc. offers products under the business categories - Medication Delivery, Renal Care, and Pharmaceuticals. The company develops REGLAN Injection, which is a metoclopramide injection.
Bayer AG works under several business segments - Crop science, Pharmaceuticals, Animal health, and Consumer health. The company develops Xarelto, which incorporates rivaroxaban.
Daiichi Sankyo Co. Ltd. provides products under Pharmaceutical operation business unit. The company develops Naruvein Injection - a hydromorphone hydrochloride injection.
GlaxoSmithKline Plc delivers products under business segments – Vaccines, Pharmaceuticals, and Consumer healthcare. The company develops REZONIC - a neurokinin 1 receptor antagonist.
Cancer Supportive Care Products Market Future Outlook – Cannabis-based Products to Emerge as Potential Oncological Wonder
Recent medical studies are underway unleashing the potential of cannabis or cannabidiol (CBD) in cancer treatment. With limited number of opportunities for cancer treatment currently, CBD is likely to hold great promise for both patients and scientists in addressing the situation.
Given its cytotoxic, antiemetic, and anti-inflammatory effects, CBD has been garnering huge attention to its possible usage as a potent anti-cancer agent.
While regulatory bodies in the US have prohibited cannabis consumption, several states in the US, as well as some countries across the globe have legalized cannabis consumption for medical applications.
Two CBD drugs have been approved by the US Food and Drug Administration (FDA) - nabilone and dronabinol were researched as potent antiemetic medications.
Research and trials are in progress, incorporating swathes of scientists worldwide scrutinizing the potential of CBD for cancer treatment. However, these studies are yet to discover ample concrete scientific evidence to prove the safety and efficacy of CBD oil in treating cancer.
These scientific studies and research have been performed using animals or cancer cells developed in the laboratories. Human beings are more complex compared to animals, as such, results elaborated after the studies might not work as effectively for humans as they did in animal trials.
At present, the loopholes in research studies regarding consumption of CBD oil are creating hindrance for its approval as a potential medication for cancer treatment
Key Segment
Drug Class
Nonsteroidal Anti- Inflammatory Drugs
Anti-Infective
Anti-Emetics
Monoclonal Antibodies
Erythropoietin Stimulating Agents
Opioid Analgesics
Bisphosphonates
Granulocyte Colony Stimulating Factor
Indication
Lung Cancer
Breast Cancer
Prostate Cancer
Liver Cancer
Bladder Cancer
Leukemia
Ovarian Cancer
Melanoma
Others
Distribution Channel
Hospitals Pharmacies
Retail Pharmacies
Compounding Pharmacies
Region
North America
Latin America
Europe
South Asia
East Asia
Oceania
MEA
Need specific information?