Introduction
The global cancer tissue diagnostics market is poised to grow from close to US$ 4,350 Mn in 2016 to nearly US$ 9,650 Mn by 2026 end. This represents a CAGR of 8.3% over the forecast period. The global market for cancer tissue diagnostics represents incremental opportunity of about US$ 5,300 Mn between 2016 and 2026.
Global Cancer Tissue Diagnostics Market Attractiveness Analysis by Region, 2016 – 2026
North America dominated the global cancer tissue diagnostics market in revenue terms in 2016, and the trend is projected to continue throughout the forecast period. North America accounted for 36.5% value share in 2016 and is projected to account for more than 40% share by 2026 end. In terms of value, APEJ is expected to register a CAGR of 8.0% during the forecast period. Despite a low value CAGR of 5.7%, the MEA cancer tissue diagnostics market is projected to grow 1.9X over 2016–2026.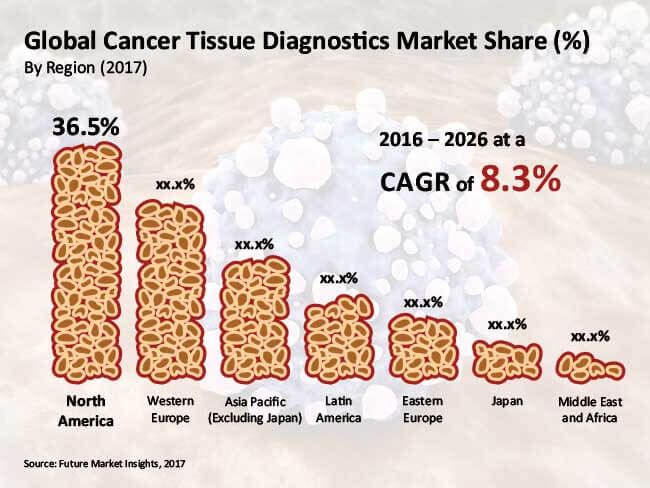 Constantly growing list of cancer biomarkers boosting the cancer tissue diagnostics market
Sheer number of biomarkers that can be utilised for early cancer detection from blood or plasma samples are constantly increasing, which is expected to bring new cancer biomarker tests in the market in the near future. For instance, researchers at the University of Sheffield have recently identified over 700 new blood biomarkers that can be used for early cancer detection.
As per OECD statistics, the global biomarkers market for companion diagnostics was valued at about US$ 8.4 Bn in 2016. The growth in companion diagnostics is indicative of acceptance of biomarkers in healthcare systems and may offer attractive incentives for biomarkers business development.
Advanced diagnostics at reduced costs aiding the global cancer tissue diagnostics market
After the completion of the human genome project in 2003, cost of assembling one genome has reduced tremendously and also cut down the time of analysis with development of highly advanced sequencing equipment. For instance, in January 2014, Illumina Inc. launched HighSeq X Ten Sequencer, which cut down the cost of genome sequencing to as low as US$ 1,000 including reagents cost and sample preparation equipment depreciation cost.
Further advancements may continue to push down the cost for less than the cost of an X-ray, which would enhance the accessibility of this technology and thus drive the growth of the market. This also facilitates the use of highly advanced technologies by smaller research and clinical laboratories that possess less technical expertise and low resources.
Enormous R&D investment poses a threat to the expansion of the cancer tissue diagnostics market
Development of all high end instruments such as PET, MRI, SPECT equipment as well as next-generation sequencing platforms, analytical instruments used for laboratory analysis of cancer specimen etc. need huge investments of time and money, which is expected to be the prime factor impacting the cancer tissue diagnostics market.
Also, all big pharmaceutical companies are entering into the diagnostics business and are thus cutting down the growth prospects of diagnostic giants such as Roche, Danaher etc. If at all a company develops innovative diagnostic testing, they still have to invest in expensive clinical utility studies, and there is no guarantee that the product will get coverage.
Meeting the needs of hospital laboratories presents a significant opportunity for the growth of the global cancer tissue diagnostics market
Due to healthcare cost containment in majority of mature markets, hospital based laboratories are facing pressure to supply more services at reduced costs. Healthcare facilities are facing increased aging population and rising prevalence of chronic diseases. By 2018, almost 10% of the global population will be 65 and above. Also global healthcare spending is expected to witness 5.2% growth every year till 2018.
This imposes cost management pressure on diagnostic labs. Thus, several laboratories have started adapting informatics solutions, which helps them to increase overall productivity with existing resources. In line with this, manufacturers of diagnostic tests can grab the opportunity to provide complementary services and support. For instance, Abbott laboratories recently launched AlinIQ support and services to help their laboratory partners manage operations to maximise throughput and capacity.
Market Taxonomy
Immunohistochemistry (IHC) Test
Breast Cancer
Lung Cancer
Stomach Cancer
Colorectal Cancer
Prostate Cancer
Others
In Situ Hybridisation Test
Breast Cancer
Non-Small Cell Lung Cancer
Bladder Cancer
Others
By Region
North America
Latin America
Western Europe
Eastern Europe
Asia Pacific excluding Japan
Middle East and Africa
Japan
Need specific information?