Liquid Biopsy Market Snapshot
[262 Pages Report] As per a recent market analysis by ESOMAR-certified firm Future Market Insights (FMI), the global liquid biopsy market value is pegged to reach US$ 1,026 Mn in 2021. Rising at 13.49% CAGR the market is expected to total US$ 3,637 Mn by 2031.
Cost-effectiveness and high efficacy of liquid biopsy over other diagnostic tests are chief factors responsible for market growth. Fast track approvals from regulatory bodies such as the U.S. Food and Drug Administration (FDA) for non-invasive cancer diagnosis tests will continue creating growth opportunities.
Key Points Covered in Liquid Biopsy Market Survey
Market estimates and forecast 2021-2031
Key drivers and restraints impacting market growth
Segment-wise, Country-wise, and Region-wise Analysis
Competition Mapping and Benchmarking
Brand share and Market Share Analysis
Key Product Innovations and Regulatory Climate
COVID-19 Impact on Liquid Biopsy Market and how to Navigate
Recommendation on Key Winning Strategies
Liquid Biopsy Market Historic Sales Compared to 2021-2031 Forecast Outlook
Owing to rising incidence of cancer across the globe, several biotech companies were compelled to roll out highly efficient and innovative diagnostic tests, which led to expansions in the global liquid biopsy market. As per FMI's recent study, the market reached a valuation of US$ 1,194 Mn in 2019, expanding at an impressive 19.68% CAGR between 2016 and 2020.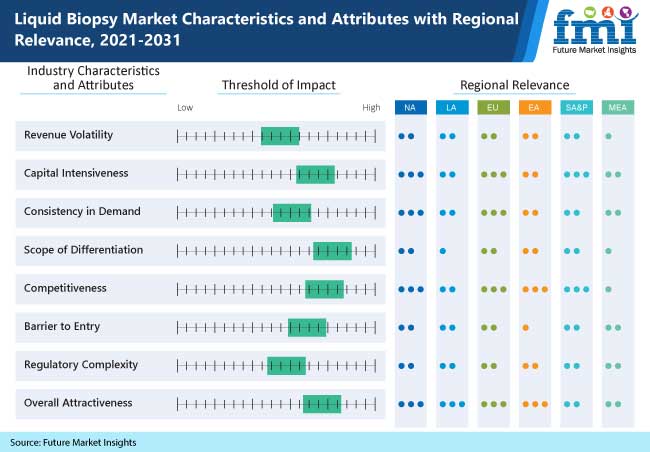 In 2020, the advent of the coronavirus outbreak led to interruptions in development of liquid biopsy tests. The focus was actively shifted to development of vaccines for COVID-19, and most clinical appointments were put on hold. These factors briefly affected the growth of liquid biopsy market, resulting in a decline in sales.
However, FMI projects a positive growth outlook for the liquid biopsy market through 2031. Increasing innovations in molecular diagnostic tests will provide tailwinds to the market sales. The preference for non-invasive diagnostic procedures will lead to significant adoption of liquid biopsy tests among oncologists, which will further augment growth.
What is the Impact of COVID-19 on Liquid Biopsy Market?
Research based on cancer diagnostics and treatment has been at the forefront of ushering transformation in the medical industry for several years. However, with the outbreak of COVID-19, research activities went on hold and the focus shifted on deriving measures to contain the novel coronavirus.
Primarily, sales of diagnostic equipment and other medications were mildly affected, but liquid biopsy still held its ground. The unprecedented events delayed several surgical procedures and endoscopies, with a drop in urgent treatment referrals. This trend engulfed liquid biopsy procedures as well, as most procedures were rescheduled, impacting the sales.
Irrespective of the pandemic, cancer cases were on the rise, which made diagnostic procedures imperative. For developing faster and more accurate diagnostic processes, governmental policies and intensive research and development increased in 2020, and the trend is expected to continue throughout the assessment period.
In addition, rapid technological advancements will facilitate the development of faster and more convenient liquid biopsy procedures, shaping the demand outlook positively. To curb the global burden of cancer, key players are launching simpler and effective liquid biopsy technologies and procedures. Thereby, widening lucrative growth opportunities over the forecast period.
How will Government Initiatives Aid Liquid Biopsy Market Growth?
Cancer has been affecting humanity for decades, and the numbers continue to rise even with the emergence of better treatment and care. In 2020, the World Health Organization (WHO) reported nearly 10 million deaths caused due to cancer. This staggering rise in number emphasizes on the need for accurate and convenient cancer diagnostic systems for early detection.
Governments in various high cancer burden nations have pledged to assist cancer research by providing adequate funds that can aid improved outcomes. For instance, as per the National Institute of Health (NIH), the federal government has allocated US$ 119 Mn to National Cancer Institute for the fiscal year 2021.
Similarly, in 2018, India-UK Cancer Research Initiative came into effect which focused on improved and affordable approaches to cancer diagnosis and treatment. The initiative will receive investments valued at £5 Mn from the Department of Biotechnology (DBT), Ministry of Science & Technology, India, and Cancer Research UK (CRUK) each over a 5-year program.
These government-led initiatives will further promote cancer specialists across the globe to set research goals aimed at affordability, convenience, and optimal patient care in cancer treatments. Adequate funding will allow experts to develop research alliances to enable significant improvements against numerous cancer outcomes.
Liquid Biopsy to be More Preferred over Traditional Biopsy Procedures
Owing to non-invasiveness and comparatively affordable price, liquid biopsy procedures are gaining immense traction in medical research and cancer treatment. Liquid biopsy procedures are primarily used for diagnosing breast cancer, leukemia, and lung cancer, which are the most prevalent forms of cancer.
In recent years, liquid biopsy is largely being preferred by cancer institutes, hospitals, and research centers for obtaining accurate results. These procedures assess cancer genetic status by analyzing circulating biomarkers that are present in the blood and enable early cancer detection and monitor reoccurrence of tumors during treatment.
Besides this, liquid biopsy can potentially detect tumor formation in its nascent stage, asses multiple tumor mutations, and effectively monitor the treatment process. These factors are making liquid biopsy one of the most preferred diagnostic measures in oncology, and the trend is projected to continue during the upcoming years.
Next Generation Liquid Biopsy Approaches to Remain Highly Sought-after
With the ongoing technological advancements in cancer research, next-generation liquid biopsy approaches are applying deeper and broader gene sequencing to derive both tumor and non-tumor-based cancer signals.
Deeper gene sequencing helps researchers identify a wealth of cancer markers in the blood circulation and circulating tumor DNA (ctDNA), resulting in implementation of data-science-driven liquid biopsies in oncology. The shift of liquid biopsies from digital mutation signals to analog signals is opening pathways for machine learning incorporation.
In addition to machine learning, rapid technological innovations in liquid biopsy have also driven the production of increasingly sensitive microchip-based technologies. These microchips are highly specific in nature and can potentially measure increasing numbers of biomarkers while being clinically deployable.
Advent of these algorithmic technologies has actively facilitated developments in liquid biopsy procedures, aiding diagnosis, prediction, and medical decision making.
Country-wise Insights
How will the Liquid Biopsy Market Expand in the U.S.?
As per FMI's analysis, the U.S. is projected to account for 51% of the total market share in the liquid biopsy market during the assessment period. Growth prospects in the U.S. can be attributed to increasing government funding to support cancer research. Rising prevalence of cancer across the U.S. will generate high demand for highly accurate liquid biopsy services.
Wide adoption of technological developments including artificial intelligence, machine learning, and microchip-based liquid biopsy diagnostic services will lead market expansion in the U.S.
In addition to this, presence of major players including Biocept Inc., Janssen Global Services, and Trovagene Inc., will further lead to innovation in liquid biopsy technologies and procedures. Thereby, creating remunerative opportunities in liquid biopsy market.
What is the Scope of Liquid Biopsy Market Growth in The U.K.?
As per report by Macmillan Cancer Support, the number of cancer patients is estimated to reach 4 million by 2030. Foreseeable spike in cancer cases will underscore the need for liquid biopsy to actively diagnose patients for early treatment and care.
The presence of several well-known research institutes in the U.K. such as the University of Oxford and the National Institute of Medical Research will further lead to developments in liquid biopsy services.
These developments will provide lucrative opportunities for players operating in the market, allowing them to benefit from technological advancements for better products and services. The U.K. will account for 24% of the market share, as estimated by FMI.
How will Japan Emerge as A Lucrative Market?
As per a recent report by the Japan Agency of Medical Research and Development, the country has launched 'CIRCULATE-Japan', a research project to analyze cancer treatments through liquid biopsy for testing circulating tumor DNA in the blood of patients suffering from colorectal cancer.
The research project is mainly launched to derive the clinical advantages of risk assessment
of tumors through liquid biopsy for 'invisible cancers'.
With increasing incidence of cancer in the country, it focus on developing convenient and accurate diagnosis procedures is on the rise. These trends are anticipated to provide tailwinds to demand for liquid biopsy services as a ripple effect.
What Are the Growth Prospects for Liquid Biopsy Market in India?
Government initiatives aimed at improving cancer awareness, research, and development are anticipated to propel growth of liquid biopsy market in India, as per FMI's market survey.
As revealed by the National Cancer Registry, cancer incidence in men is estimated to reach 736,575 in 2025, with 806,218 cases to be recorded in women.
Increasing number of cancer cases is anticipated to underscore the pressing need for technologically advanced liquid biopsy systems, which in turn will shape the demand outlook in the country.
Additionally, numerous budding and established biotech companies in India are focusing on research and development for early diagnosis and improvements in cancer treatment and patient care.
Such developments will provide opportunities for market expansion to major global players, thereby propelling sales in India.
Category-wise Insights
Why Are Circulating Tumor Cells (CTC) More Preferred?
As per FMI's analysis, based on markers, circulating tumor cells (CTCs) are anticipated to witness lucrative growth during the assessment period.
CTCs are primarily found in the blood, urine and other bodily fluids of cancer patients and elevated levels suggest the onset of cancer. These markers adequately detect prognosis, factors suggesting residual disease, and monitor the effectiveness of treatment.
Non-invasiveness of CTC marker detection through urine and saliva is a chief factor highlighting the significance of CTC markers in oncology, leading to increased adoption of CTC-based liquid biopsy.
Blood Samples Will Lead the Sample Type Segment
Based on sample type, blood samples will be accepted widely in liquid biopsy procedures. Circulating tumor cells (CTC) and circulating tumor DNA (ctDNA) are two common elements that are targeted in liquid biopsy procedures.
To detect these elements, a simple blood sample is required. Most patients are comfortable with taking blood samples as they are non-stressful and involve minimal pain, more like a pricking sensation.
Blood samples are also useful when locating a tumor and removing a sample for diagnosis becomes difficult for oncologists. Blood sample collection is generally minimally invasive, making them the most widely preferred method of sample collection.
Rising Lung Cancer Cases Set To Propel Liquid Biopsy Applications
The American Cancer Society's reports estimate around 235,760 new cases of lung cancer (119,100 in men and 116,660 in women) in 2021. The alarming rise in lung cancer cases will press upon the need for effective liquid biopsies.
As per FMI, liquid biopsy will find most.
Owing to high risk involved in these procedures, oncologists are preferring liquid biopsies over tumor biopsies in lung cancer patients. Liquid biopsies can potentially detect any genomic alterations in the circulating tumor cells (CTC) and guide oncologists towards required treatment options.
Cancer Institutes to Remain Dominant?
By end-user, liquid biopsy will be widely applied in cancer institutes, accounting for 4/10th of the revenue share, followed by hospitals and diagnostic centers during the assessment period.
Increasing government initiatives for advanced cancer research are anticipated to boost liquid biopsy procedures in cancer institutes. Research and development aimed at better cancer treatment will generate the demand for liquid biopsy kits in cancer institutes, which in turn will promote sales.
Hospitals and diagnostic centers will follow suit, owing to on-site sample collection, diagnosis, and treatment.
Competitive Landscape
Key players in the liquid biopsy market are aiming at strategic collaborations with end-users including hospitals, diagnostic centers, and cancer research institutes to strengthen their product offerings in the market. As per FMI analysis, tier-1 players will account for approximately 20-25% of the total sales.
Industry research funding and product development agreements will provide proprietary benefits to manufacturers, helping them contribute to the development of accurate diagnosis methods for various cancers. In addition, gaining patents and government approvals for new technologies will remain one of the prominent growth strategies. For instance:
In July 2021, Biocept Inc., one of the leading providers of molecular diagnostic services, received a South Korean Patent for its newly launched Primer-Switch technology. Primer-Switch technology detects mutations in circulating tumor DNA (ctDNA) using real-time PCR and related methods, identifying rare cancer biomarkers.
In July 2021, Janssen Global Services, LLC, received FDA approval for DARZALEX FASPRO in combination with pomalidomide and dexamethasone (Pd) for treating adult patients with multiple myeloma, further strengthening the company's product offerings.
Scope of Report
Attribute

Details

Forecast Period

2021-2031

Historical Data Available for

2016-2020

Market Analysis

USD Million for Value

Key Regions Covered

North America, Latin America, Europe, East Asia, South Asia, Oceania, and the Middle East & Africa

Key Countries Covered

US, Canada, Germany, U.K., France, Italy, Spain, Russia, China, Japan, South Korea, India, Thailand, Malaysia, Indonesia, Australia, New Zealand, GCC Countries, Turkey, Northern Africa, and South Africa

Key Segments Covered

Marker Type, Sample Type, Application Type, End-Users, and Regions

Key Companies Profiled

BIOCEPT, INC.
Qiagen N.V.
Trovagene, Inc
Janssen Global Services, LLC
MDxHealth SA
Natera, Inc

F. Hoffmann-La Roche Ltd
Silicon Biosystems
Pathway Genomics Corporation
Sysmex Corporation

Report Coverage

Market Forecast, Company Share Analysis, Competition Intelligence, DROT Analysis, Market Dynamics and Challenges, and Strategic Growth Initiatives

Customization & Pricing

Available upon Request
Key Questions Answered in the Report
What is the current liquid biopsy market value?

Currently, the liquid biopsy market is valued at US$ 1,026 Mn.

At what rate did the liquid biopsy market grow between 2016 and 2020?

The liquid biopsy market experienced impressive growth, exhibiting a 19.68% CAGR.

What are the key trends driving liquid biopsy sales?

Increasing demand from biotech and pharmaceutical companies, coupled with leading players launching innovation molecular diagnostics tests are prominent trends driving liquid biopsy sales.

What will be the demand outlook for North America liquid biopsy market?

North America's liquid biopsy market will account for approximately 51% of the global market share between 2021-2031.

What is the market share of leading players in liquid biopsy market?

The top 5 players in the liquid biopsy market are anticipated to account for around 20-25% of the total sales.

What will be the liquid biopsy market share in Europe?

The U.K. will account for 24% of the global liquid biopsy market in Europe.

Which are the top countries driving the liquid biopsy market sales?

Top countries driving liquid biopsy sales are the U.S., Canada, the U.K., Germany and China.

What is the current market share of Japan and South Korea in the global liquid biopsy market?

South Korea and Japan will collectively account for 4.5% of the global liquid biopsy market share.
World's Most Profilic Intelligence Engine
Get Access To The World's Largest Market Research Database. Ngage with a revolutionary intelligence engine that scale and pricing that flexes as per your needs
Sign Up Now
Liquid Biopsy Market by Category
By Marker Type:
CTCs (Circulating Tumour Cells)
ctNA (Circulating tumor Nucleic Acids)
Exosomes
By Sample Type:
Blood
Urine
Others (Plasma, Saliva, CSF)
By Application Type:
Lung Cancer
Gastrointestinal Cancer
Prostate Cancer
Breast Cancer
Colorectal Cancer
Leukemia
By End-Users:
Hospitals
Cancer Institutes
Academic Institutes
Diagnostic Centers
By Region:
North America
Latin America
Western Europe
Eastern Europe
Asia Pacific excluding Japan
Japan
Middle East & Africa
Need specific information?