Liquid Silicone Rubber Market by Technology (Liquid Injection Molding System, Other Molding Processes), Grade Type (Food Grade, Industrial Grade, Medical Grade, Other Grades), End Use Industry & Region - Forecast to 2017-2026
Liquid Silicone Rubber Market - Analysis, Outlook, Growth, Trends, Forecasts
March 2018

REP-GB-5736

170 pages
Use of Liquid Silicone Rubber in Personal Electronics to Offer Key Revenue Streams
Liquid silicone rubber is seeing exponential growth into manufacturing of consumer electronics, driven by the need to craft ruggedized versions of personal electronics for daily use that won't easily wear out. Moreover, rising need to balance between fashion and function, particularly with the advent of wearable electronics, and to enable functionality in prohibitive environments is boosting the demand for liquid silicone rubber in personal electronics.
For instance, Jabil Green Point, a leader in crafting plastic and metal parts for consumer and mobile markets, makes use of liquid silicone rubber for noise-cancelling headphones. Moreover, liquid silicone rubber is also being extensively used in manufacturing cell phones for military applications having maximum level of survivability.
Clamour for Clarity and Precision Molding Propels Demand for Optical Liquid Silicone Rubber in Lighting
Optical liquid silicone rubber is being highly preferred across LED lamps, owing to manufacturers moving away from thermoplastics that are less heat resistant. Moreover, liquid silicone rubber also offer additional benefits of precision moulding, which is further enhancing its appeal across a myriad of lighting applications.
Optical liquid silicone rubber is increasingly preferred across lighting applications, owing to its enhanced light output over acrylic and polycarbonate. Moreover, excellent heat resistance of optical liquid silicone rubber remains one of its prominent attributes, which is substantially fostering its popularity across lighting applications.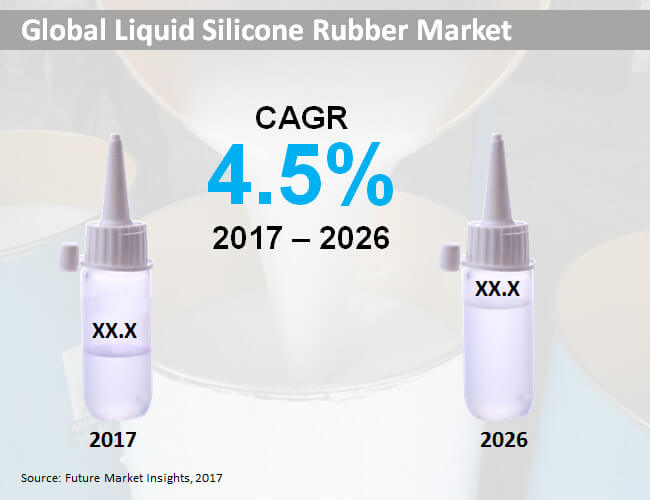 Demand for Liquid Silicone Rubber in Wearable and Medical Applications to Pave Lucrative Avenues
A wide-range of traditional rubber applications, such as medical devices, wearables, automotive, and industrial, have started to gravitate toward use of liquid silicone rubber by a notable margin. The demand for liquid silicone rubber is being prompted in case of medical devices, on account of attributes such as softness and biocompatibility. For a wide range of flexible components, such as IV tubes and respiratory devices, liquid silicone rubber has been swiftly gaining grounds.
Furthermore, a rush among the health-savvy demographic to own wearable fitness trackers is likely to push the demand for liquid silicone rubber. Liquid silicone rubber, with its competency of standing extreme temperature variations, is widely preferred over conventional rubber for wearable technology devices.
Manufacturers Leveraging 3D Printing to Craft Specialized Liquid Silicone Rubber Products
The spectrum of liquid silicon rubber processing is witnessing transformation with rising popularity of 3D printing. 3D printing, unlike traditional liquid silicone rubber processing, is creating a new range of possibilities including faster turnaround in case of prototypes, specialized products with low volume for customization, and many more.
3D printed liquid silicone rubber products are witnessing impressive growth across multiple applications such as automotive, consumer goods, lighting applications, and medical devices.
Over the past several years, leading players in the liquid silicone rubber market, such as Dow Corning (DowDuPont) and Wacker Chemie, have successfully launched a wide-range of LSR grades suitable for 3D printers.
Liquid Silicone Rubber Market: Competitive Developments
Dow Corning Corporation (DowDuPont), a leading player in the liquid silicone rubber market, launched 'Fluoro Liquid Silicone Rubber (F-LSR)', meant for seamless manufacturing of automotive components capable of withstanding harsh environmental conditions. Moreover, the company also launched a new product named 'Silastic LC 3335' in 2016, which was crafted for German RepRap's patent-pending LAM 3D printer.
Wacker Chemie AG, a prominent player in the liquid silicone rubber market, launched the first ever industrial 3D silicone printer in the year 2016. Moreover, the company has also established the ACEO brand for its product delivery infrastructure and user-friendly process of printing. Also, the company specializes in additives for improving optimal functionalities of liquid silicone rubber and ensuring a strong bonding of the silicone with different substrates.
Stockwell Elastomerics, a key player in the liquid silicone rubber market, nurtures an in-house inventory of silicone rolls, silicone sheet, and molding compounds for injection molding for fast response times. Also, the company announced availability of 10 and 20 durometer (Shore A) molded liquid silicone rubber (LSR) gaskets, which offer enhanced water protection for enclosures and portable devices.
World's Most Profilic Intelligence Engine
Get Access To The World's Largest Market Research Database.
Sign Up Now
Market Taxonomy
By Region
North America
Latin America
Europe
Japan
APEJ
MEA
By Grade Type
Food Grade
Industrial Grade
Medical Grade
Other Grades
By Technology
Liquid Injection Molding System
Other Molding Processes
By End Use Industry
Consumer Goods
Electrical and Electronics
Construction
Automotive
Healthcare
Other Applications
Need specific information?
Our Clients