An Incisive, In-depth Analysis on the Liquid Silicone Rubber Market
This study offers a comprehensive, 360 degree analysis on the Liquid Silicone Rubber market, bringing to fore insights that can help stakeholders identify the opportunities as well as challenges. It tracks the global Liquid Silicone Rubber market across key regions, and offers in-depth commentary and accurate quantitative insights. The study also includes incisive competitive landscape analysis, and provides key recommendations to market players on winning imperatives and successful strategies.
Use of Liquid Silicone Rubber in Personal Electronics to Offer Key Revenue Streams
Liquid silicone rubber is seeing exponential growth into manufacturing of consumer electronics, driven by the need to craft ruggedized versions of personal electronics for daily use that won't easily wear out. Moreover, rising need to balance between fashion and function, particularly with the advent of wearable electronics, and to enable functionality in prohibitive environments is boosting the demand for liquid silicone rubber in personal electronics.
For instance, Jabil Green Point, a leader in crafting plastic and metal parts for consumer and mobile markets, makes use of liquid silicone rubber for noise-cancelling headphones. Moreover, liquid silicone rubber is also being extensively used in manufacturing cell phones for military applications having maximum level of survivability.
Clamour for Clarity and Precision Molding Propels Demand for Optical Liquid Silicone Rubber in Lighting
Optical liquid silicone rubber is being highly preferred across LED lamps, owing to manufacturers moving away from thermoplastics that are less heat resistant. Moreover, liquid silicone rubber also offer additional benefits of precision moulding, which is further enhancing its appeal across a myriad of lighting applications.
Optical liquid silicone rubber is increasingly preferred across lighting applications, owing to its enhanced light output over acrylic and polycarbonate. Moreover, excellent heat resistance of optical liquid silicone rubber remains one of its prominent attributes, which is substantially fostering its popularity across lighting applications.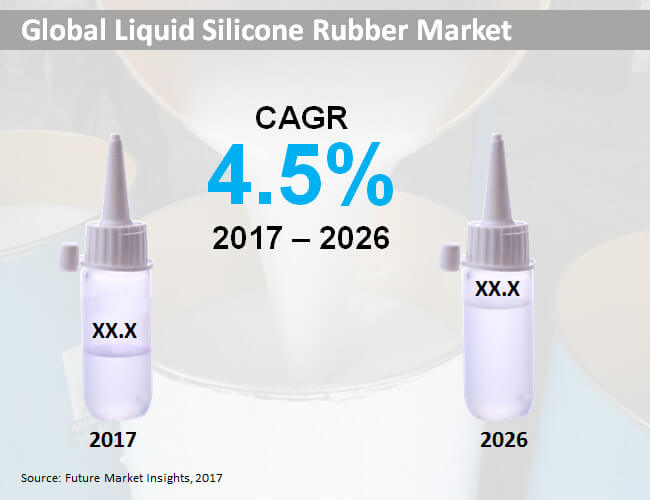 Demand for Liquid Silicone Rubber in Wearable and Medical Applications to Pave Lucrative Avenues
A wide-range of traditional rubber applications, such as medical devices, wearables, automotive, and industrial, have started to gravitate toward use of liquid silicone rubber by a notable margin. The demand for liquid silicone rubber is being prompted in case of medical devices, on account of attributes such as softness and biocompatibility. For a wide range of flexible components, such as IV tubes and respiratory devices, liquid silicone rubber has been swiftly gaining grounds.
Furthermore, a rush among the health-savvy demographic to own wearable fitness trackers is likely to push the demand for liquid silicone rubber. Liquid silicone rubber, with its competency of standing extreme temperature variations, is widely preferred over conventional rubber for wearable technology devices.
Manufacturers Leveraging 3D Printing to Craft Specialized Liquid Silicone Rubber Products
The spectrum of liquid silicon rubber processing is witnessing transformation with rising popularity of 3D printing. 3D printing, unlike traditional liquid silicone rubber processing, is creating a new range of possibilities including faster turnaround in case of prototypes, specialized products with low volume for customization, and many more. 3D printed liquid silicone rubber products are witnessing impressive growth across multiple applications such as automotive, consumer goods, lighting applications, and medical devices. Over the past several years, leading players in the liquid silicone rubber market, such as Dow Corning (DowDuPont) and Wacker Chemie, have successfully launched a wide-range of LSR grades suitable for 3D printers.
Liquid Silicone Rubber Market: Competitive Developments
Dow Corning Corporation (DowDuPont), a leading player in the liquid silicone rubber market, launched 'Fluoro Liquid Silicone Rubber (F-LSR)', meant for seamless manufacturing of automotive components capable of withstanding harsh environmental conditions. Moreover, the company also launched a new product named 'Silastic LC 3335' in 2016, which was crafted for German RepRap's patent-pending LAM 3D printer.
Wacker Chemie AG, a prominent player in the liquid silicone rubber market, launched the first ever industrial 3D silicone printer in the year 2016. Moreover, the company has also established the ACEO brand for its product delivery infrastructure and user-friendly process of printing. Also, the company specializes in additives for improving optimal functionalities of liquid silicone rubber and ensuring a strong bonding of the silicone with different substrates.
Stockwell Elastomerics, a key player in the liquid silicone rubber market, nurtures an in-house inventory of silicone rolls, silicone sheet, and molding compounds for injection molding for fast response times. Also, the company announced availability of 10 and 20 durometer (Shore A) molded liquid silicone rubber (LSR) gaskets, which offer enhanced water protection for enclosures and portable devices.
Future Market Insights' latest offering provides extensive research on the future of global market for liquid silicone rubber. This report covers all aspects encompassing the global liquid silicone rubber market's growth and offers an all-embracive forecast by analyzing a slew of information. A market consensus view of size, trends and shape has been developed in this report to identify factors that will exhibit a significant impact in boosting the sales of liquid silicone rubber in the near future. For the assessment of the forecasted market size estimations, the report has considered a near-decadal 2017-2026 period during analysis.
Analysis across Multiple Datapoints to Capture Market Holistically
Basic data groundwork and baseline information has been objectively collected during the development of this study, and aspects such as target consumer base, competition and regulatory environment have been predefined for the purpose of constructive analysis. A constant dialogue with leading liquid silicone rubber manufacturers has bolstered the sourcing of primary research information, which reflects the latest market trends and trade insights for liquid silicone rubber.
The study understands the maturity of the global market for liquid silicone rubber. New offerings and their effectiveness, manufacturing costs, pricing structure, and supply chain characteristics of the global liquid silicone rubber market have been analyzed to understand its development till date. A comparative analysis of manufacturing dynamics, emerging trends for production of liquid silicone rubber and usage patterns indicates the direction for the market to grow in the immediate future. Such valuable information also elevates that utility of this report for investors, opinion makers, and strategic leaders.
A vast base of liquid silicone rubber manufacturers serve as the potential clients for this study, and majority of their concerns have been addressed and explained herein. Short-term expectations of these clients, as well as their long-term business goals, have been considered while developing this report in a tailor-made format. Niche markets have been identified, lucrative avenues for adoption of liquid silicone rubber beyond conventional applications have been revealed.
Market Taxonomy
| Region | Grade Type | Technology | End Use Industry |
| --- | --- | --- | --- |
| North America | Food Grade | Liquid Injection Molding System | Consumer Goods |
| Latin America | Industrial Grade | Other Molding Processes | Electrical and Electronics |
| Europe | Medical Grade | | Construction |
| Japan | Other Grades | | Automotive |
| APEJ | | | Healthcare |
| MEA | | | Other Applications |
(Additional information, including cross-sectional data and country-wise analysis & forecast is available in the report)
Details on Competition and Market Positioning
Companies manufacturing liquid silicone rubber products can avail this report as a credible business document that provides insights on how to improve the consumer perception of their brand against competing brands. Key players in the global liquid silicone rubber market have been profiled in this report. The assessment of competitor analysis provides objective information on how liquid silicone rubber manufacturers can create a unique position in the expansion of the global market over the forecast period.
From industry leaders to emerging players, the report covers the overall liquid silicone rubber manufacturing landscape from a global perspective. Competitors have been identified, market rivalry has been explained and the report has also evaluated the strategies that govern the weaknesses and strengths of prominent players. The scope of the report is to enable liquid silicone rubber manufacturers in outpacing their rivals by re-strategizing their path for business development and considering the insightful inferences provided within.
COVID -19 : Impact Analysis
Request the coronavirus impact analysis across industries and markets
Request Covid -19 Impact
CASE STUDIES
See how our work makes an impact.
At FMI, we design strategies that are adaptive, impactful, and implementable.