Spoonable breakfast – especially spoonable yoghurt – likely to remain consumer favourite during the forecast period
In terms of value, spoonable breakfast is projected to be the most attractive segment in the global liquid breakfast products market during the forecast period and is expected to remain dominant, accounting for a revenue share of more than 50% by 2027 end. The market for spoonable breakfast is estimated to be valued at around US$ 57 Bn by 2017 end and is expected to increase at a CAGR of 6.1% over the forecast period.
This segment is expected to be valued at more than US$ 100 Bn by the end of 2027, representing an absolute $ opportunity of about US$ 2,800 Mn in 2017 over 2016 and an incremental $ opportunity of more than US$ 45 Bn between 2017 and 2027. The liquid breakfast segment is expected to account for a revenue share of about 45% by the end of 2027.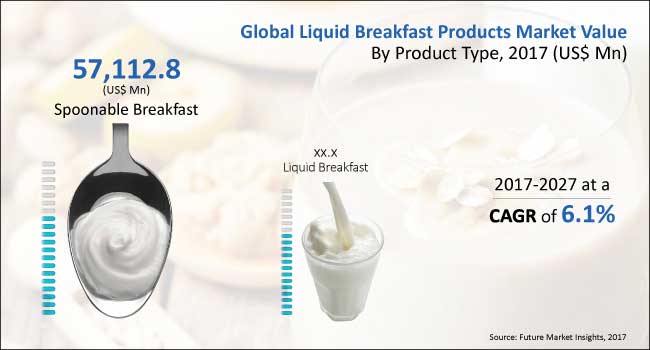 Growing consumer preference for healthy food products fuels growth in demand for spoonable breakfast
Consumers, especially the younger generation have a different outlook about the food they eat. Consumers demand products that are tasty, healthy, and convenient with the 'natural and clean' label as they prefer food containing ingredients that are known to have low or no side-effects. For example, in response to growing consumer demand for natural and authentic yoghurt, dairy ingredient manufacturers are focussing on developing ingredients that are helping yoghurt producers produce clean label and lactose free products.
Another factor that is fuelling the demand for spoonable breakfast that also includes yogurt among the U.S. consumers is the indulgence aspect. Drinkable yoghurt market has become a staple food for healthy indulgence and continues to be a popular spoonable breakfast product category due to its versatility, convenience and high nutrition content. Texture is the premium attribute responsible for growing demand for yoghurt across the globe.
Consumers across Latin America have a balanced diet with a high dependency on consumption of ready-to-eat breakfast food products and are more inclined towards purchasing low-fat food products as part of their breakfast meal. This is expected to drive consumption of packaged liquid breakfast products such as spoonable and drinkable yogurt, milk and cereal based liquid breakfast drinks and other liquid breakfast product categories across the region.
Manufacturers of liquid breakfast products are focussing on targeting developing markets in the Asia Pacific in order to generate maximum revenue. This is also fuelled by shifting consumer preference from carbonated drinks to nutritious healthy breakfast drinks across the region.
For example, in 2015, PepsiCo Inc., which is a multinational producer of food and beverages products, expanded its presence across the Asia Pacific liquid breakfast products market by opening a new production plant in China. Through this new plant, the company is focussing on manufacturing a variety of Quaker products including instant oats, quickly cooked oats and Quaker's cereal powder drink in order to cater to demand from the market in the region.
Global Liquid Breakfast Products Market: Analysis and Forecast
Sales of liquid breakfast products are expected to witness robust growth during the forecast period, owing to changing eating habits of youngsters across the globe. Revenue from the global liquid breakfast products market stood at more than US$ 80 Bn in 2012 and more than US$ 95 Bn in 2016.
By 2027 end, the global liquid breakfast products market is expected to reach a market value of more than US$ 185 Bn, expanding at a CAGR of 6.1% over the forecast period 2017–2027.
World's Most Profilic Intelligence Engine
Get Access To The World's Largest Market Research Database. Ngage with a revolutionary intelligence engine that scale and pricing that flexes as per your needs
Sign Up Now
Market segmentation
By Product Type
Liquid Breakfast

Milk and Cereal Based Breakfast
Drinkable Yogurt
Vegetable Liquid Soup
Chilled Soup

Spoonable Breakfast
By Region
North America
Latin America
Eastern Europe
Western Europe
Asia Pacific Excluding Japan (APEJ)
Japan
Middle East & Africa (MEA)
By Packaging Type
Pouches
Cups & Tubs
Bottles
Carton Packaging
Cans
By Distribution Channel
Hypermarket/Supermarket
Retail Stores
Convenience Stores
Online Selling
Other Retail Formats
Need specific information?