Destination Wedding Market Snapshot
With the increasing access to affordable travel options and a large number of scenic locations, destination weddings have rapidly gained popularity. According to Future Market Insights, the destination wedding market will witness a year-on-year growth rate of 28.7% in 2021.
As per the market analysis, the destination wedding market will generate revenue, surpassing US$ 21.5 Bn in 2021. By 2031, the market is forecast to cross US$ 290 Bn. Food service activities remain important and are set to account for 39% of the value share in 2021.
Key Points Covered in Destination Wedding Market Study
Market Estimates and Forecast 2016-2031
Key Drivers and Restraints Impacting Market Growth
Segment-wise, Country-wise, and Region-wise Analysis
Competition Mapping and Benchmarking
Brand share and Market Share Analysis
Key Product Innovations and Regulatory Climate
COVID-19 Impact on Destination Wedding and How to Navigate
Recommendation on Key Winning Strategies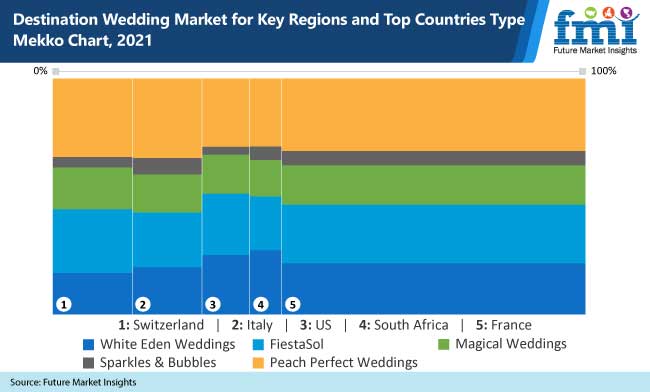 2016-2020 Destination Wedding Market Outlook Compared to 2021-2031 Forecast
The global destination wedding market has witnessed a significant transformation in recent years due to an increase in the number of lavish wedding designs and scenic destinations through mass marketing. The market grew from US$ 7,484.9 Mn in 2016 to US$ 16,779.0 Mn in 2020.
Destination weddings play an important role for businesses involved in travel and tourism. The increase in the number of hotels, resorts, cruise line stop-offs and flight-connectivity, has made it easier for couples to get married at their desired destination.
Overseas weddings play a key role in the overall growth of the global hospitality industry, as couples seek a unique and personalized experience abroad. These weddings are positively impacting local economies which works in favor of the market.
The cost of a destination wedding is significantly cheaper than a wedding at home, as many players offer all-inclusive discounts on destination wedding packages. These events involve smaller number of guests, augmenting market prospects.
Change in lifestyles and growing incomes are some factors that open the door for new players to enter the market.
The rise in social media influencers has supported destination weddings. Millennials are changing the way destination weddings are done, turning them into grand, once-in-a-lifetime vacations.
Additional events such as pool parties, tracking, beauty pageants, mehndi/tattoos & couple dance parties contribute to growth. The market will grow from US$ 21,590.4 Mn in 2021 to US$ 290,550.5 Mn in 2031.
How are Personalization Trends Contributing to Destination Weddings?
Couples are inclined towards destination weddings owing to the availability of multiple options for personalization. For instance, some couples may prefer smaller, more intimate ceremonies and celebrations at ballrooms, mansions, gazebos, cenotes, or private offsite locations. This trend encourages players to provide customized packages.
Couples can also customize aspects like cuisine, ambience, and themes. Variety provided by destination wedding market players is seen to be far better than local marriages which is expected to boost market growth.
What is the Impact of the COVID-19 Crisis on the Destination Wedding Market?
COVID-19 has had a major impact on business. The outbreak has forced postponements of weddings across the world. Wedding planners, hotels, caterers and more have witnessed 45-80% of all wedding events getting postponed or cancelled.
Businesses that rely on summer weddings stand to lose millions of dollars because of the pandemic. Travel and tourism have been one of the most affected industries, with airlines being grounded, hotels closing, and travel controls enforced, affecting business operations in the destination wedding industry.
Many couples prefer destination weddings in the post pandemic period through 2021 and beyond. This will help destination wedding companies and the travel industry to generate revenue partially mitigating losses that arose during the pandemic.
Country-wise Insights
How is the Destination Wedding Market Faring in the U.K?
Europe is predicted to be one of the most attractive markets during the forecast period, according to Future Market Insights. U.K has the largest number of destination weddings as compared to other countries across the Europe and covers more than 50% of the market share in 2021.
Experiencing the vagaries of heritage or local culture has gained importance and some may even choose to incorporate that culture into their ceremony. Couples in the U.K tie their knot at spiritual destination near churches or temples. Many couples in Europe tie the knot at Tuscany, Porto, Amalfi Coast, Edinburgh and Santorini. Cultural and heritage locations are expected to be the major contributors to the country's growth.
How is Eco Tourism Driving the Destination Wedding Market in the UAE?
The UAE is a favored location as a result of relaxed visa regulations, easy connectivity, year-round sunshine, a variety of pristine beaches and scenic mountain ranges which is creating traction among couples and millennials.
Ecotourism, wellness, adventure and agritourism are important trends, especially among environment-conscious consumers. Travelers are exposed to the environmental impact of tourism and are looking for destinations that offers sustainable amenities and experiences including glamping.
The prevalence of destination wedding culture in the UAE has contributed to regional development over the years.
Why is Demand for Destination Wedding Increasing in India?
India is another place where the destination wedding industry is booming. Destinations throughout northern India including Rajasthan and Mussoorie, rely heavily on wedding tourism to attract couples and families from around the world.
Popular traditional locations such as Jodhpur, Jaipur, and Udaipur to places of interest such as Mussoorie, Jim Corbett National Park, Andaman and Nicobar Islands are at the forefront of international wedding choices.
This represents a great opportunity for destination wedding market players operating in India and for companies focusing on attracting outbound travellers to organise destination wedding in these locations.
Category-wise Insights
What is the Contribution of International Venues to Destination Wedding Events?
International destinations account for a significant share 66% in the market. Some of the popular locations include the Greek island Santorini, Fiji, and Tuscany is. Quaint villages in Provincial France also top the list.
An increasing interest among couples and millennials to visit unique places and experience new things result in higher demand for international destination wedding. However, national destinations are expected to register significant growth during the forecast period as people living in remote areas, especially in villages or small towns, are driven towards destination marriages.
The absence of proper airports, cab services, and railway services is inconvenient for faraway wedding locations. Improvement of accessibility of various locations and rising income is likely to bolster growth for the foreseeable future.
Why are Wedding Ceremonies Key to Revenue Generation?
Wedding ceremonies accounted for around 33% of the global value share by end of 2021, exhibiting fastest growth, over the forecast period. This type of wedding are much simpler to plan and execute than close-to-home weddings.
Moreover, the bride and the groom can use the wedding location for their honeymoon. This not only saves money, but minimizes planning requirements for.
How do the Number of Guests Influence Destination Weddings?
In terms of guest capacity, below 100 guests account for a notable market share of 34%. The coronavirus pandemic has cut into the guest list and has increased the trend of micro wedding/intimate weddings.
The micro-wedding trend picked up steam earlier this year as social distancing practices will continue for the foreseeable future. Another factor resulting in limited numbers of guests are an expensive nature of destinations.
Which Season is Preferred for Destination Wedding Events?
Mid peak season weddings account for a share of 26% owing to optimal weather conditions with moderate costs. Mid peak season is considered the best season for wedding events.
High season will remain popular despite higher costs, aided by the growth of discretionary income in many countries around the world for the foreseeable future.
What is the Contribution of Online Bookings for Destination Weddings?
In-person booking remains prominent accounting for a 43% value share in the destination wedding market. Having a planner or coordinator that specializes in destination weddings saves a lot of time and effort.
However, with enhanced internet penetration bookings through online channels are expected to register significant growth with a 38% share in 2021. The channel has gained impetus with the onset of the coronavirus pandemic.
Competitive Landscape
Companies operating in the destination wedding market are aiming for strategic collaborations and partnerships with in addition to finding new locations for wedding venues to consolidate market position.
In 2020, Allseated introduced Allseated Vision, to offer virtual tours of event spaces that allow prospective clients to "visit" the properties virtually from anywhere in the world.
Selfridges announced the launch of a new rental boutique platform for vintage wedding outfits under the brand RESELLFRIDGES in August 2021.
In July 2021, Playa Hotels & Resorts announced limited time bonus events and price reductions for destination wedding packages with savings of up to 10% in Intimate Elegance or Lavish & Opulent packages.
Scope of Report
Attribute

Details

Forecast Period

2021-2031

Historical Data Available for

2016-2020

Market Analysis

USD Million for Value

Key Regions Covered

North America, Latin America, Europe, East Asia, South Asia, Oceania, and the Middle East & Africa

Key Countries Covered

US, Canada, Germany, U.K., France, Italy, Spain, Russia, China, Japan, South Korea, India, Thailand, Malaysia, Indonesia, Australia, New Zealand, GCC Countries, Turkey, Northern Africa, and South Africa

Key Segments Covered

Season, Inclusion & Activity, Guest Capacity, Function, Venues, Booking channel and Region

Key Companies Profiled

White Eden Weddings
FiestaSol
Tropical Wedding & Honeymoon
Magical Weddings
Sparkles & Bubbles
ALL THINGS BEAUTIFUL
PLANNED FOR PERFECTION
Peach Perfect Weddings
The Wedding Travel Company
LM WEDDING PLANNER
Jennifer Fox Weddings
W Day
The Destination Wedding
Wedding Planner Roma
Studio Brzak Events

Report Coverage

Market Forecast, Company Share Analysis, Competition Intelligence, DROT Analysis, Market Dynamics and Challenges, and Strategic Growth Initiatives

Customization & Pricing

Available upon Request
Key Questions Answered in the Report
How much is the destination wedding market worth?

The global destination wedding market is worth USD 21.5 Bn in 2021 and is expected to reach USD 290 Bn by 2031 owing to improved travel options.

What was the destination wedding market growth for the last 5years?

Historically, the market has grown at a 31% CAGR from 2016 to 2020.

What are the key trends of the destination wedding market?

Investments into green wedding events and international scenic locations will create key opportunities for market players in the coming decade.

What is driving the demand of the destination wedding market?

Affordable international travel has increased sales opportunities in the destination wedding market. Lower cost requirements in terms of guests will drive the market during the forecast period.

Who are top 5 players in the destination weddings market?

The top 5 players include White Eden Weddings, FiestaSol, Magical Weddings, Sparkles & Bubbles, and Peach Perfect Weddings.

What are the top countries driving demand for destination wedding?

Switzerland, Italy, the U.S., South Africa, and France are the top 5 countries that are driving the demand for the destination wedding market.

What is the North America destination wedding market outlook?

North America is a key market for destination weddings, exhibiting a CAGR of 32% over the forecast period.

At what rate is the destination wedding market going to register growth in Europe?

Europe is set to exhibit a CAGR of 27% during the forecast period owing to the large number of preferred locations and temperate climate around the year.

What is the global growth for destination wedding market between 2020 and 2021?

From 2020 to 2021, the destination wedding market grew from 1.4% to 28.7%.

What are the key destination wedding market statistics in Korea and Japan?

Japan's destination wedding market is expected to account for 17.6% in 2021. South Korea holds a revenue share of 35.2% in the global destination wedding market.
Market by Category
By Season:
High Season
Mid-Season
Low Season
Mid-Peak Season
By Inclusion & Activity:
Accommodation Services
Food Service
Butler Services
Other Services
By Guest Capacity:
Below 100 Guests
100 & Above
By Functions:
Pre-Wedding Ceremonies
Wedding Ceremonies
Reception
Bachelor's Party
Other Types of Functions
By Venues:
By Booking Channel:
Phone Booking
Online Booking
In Person Booking
By Region, Destination Wedding Market is segmented as:
North America
Latin America
Europe
East Asia
South Asia
Oceania
Middle East and Africa (MEA)
Need specific information?
Talk Show:
The Rise of Intelligent Packaging
Personalized, Connected and Sustainable
November 18, 2021
11:00-11:45 AM PST (USA & Canada)
This is a LIVE session