DSL Tester Market – Key Insights
Global DSL tester market size (in 2017) – US$ 959.3 Mn
The DSL tester market is envisaged to grow at a CAGR of over 5% during 2019-2027.
North America will retain its lead as the largest market for DSL testers

Booming telecommunication industry across key countries of North America will propel demand for DSL testers.

Asia Pacific Excluding Japan to emerge as a region with impressive growth potential for DSL tester market.
Sheer proliferation of internet services and flourishing telecommunication are some of the broad factors upholding growth of APEJ DSL tester market, notably across the rapidly emerging economies, such as India and China.
Handheld DSL testers is anticipated to be the 'best-selling' one as compared to other product types in the DSL tester market.
Top 3 Factors Shaping DSL Tester Market
Booming Telecommunication Services to Stimulate Adoption of DSL Tester Market

The surging use of DSL testers in the telecommunications arena is one among the major factors boosting market growth. Key areas with economic growth and burgeoning population, such as North America, Europe, and Asia Pacific Excluding Japan, represent some of the behemoth telecom markets with more than a billion subscribers. This, in turn, is likely to spur the deployment of DSL testers across these regions, thereby driving growth of DSL tester market.

Handheld DSL Testers to Outsell the Portable Variants

The demand for handheld DSL testers is foreseen to increase at a significant pace, owing to a host of operational benefits offered. Handheld DSL testers offer unmatched flexibility with improved productivity, which further adds to the overall visibility of handheld DSL testers. Telecom technician heavily rely upon handheld DSL testers to turn-up as well as verify converged services, which is resulting in a massive influx of a wide-range of handheld DSL testers in the market with 'better-than-the-rest' features. This, in turn, is likely to propel growth of overall DSL tester market over the forecast period.
Growing Demand for High-Quality DSL Testers from Internet Service Providers to Fuel Market Growth
The increasing usage of the internet in day-to-day life is rapidly fuelling the growth of the DSL tester market. Increase in population and technological advancements in the field of the internet is boosting the demand for DSL testers among internet service providers. The necessity of video streaming, broadcast video services or multicast, and additional applications have encouraged the providers of DSL testers to lay special emphasis on providing high-speed and steady broadband connections.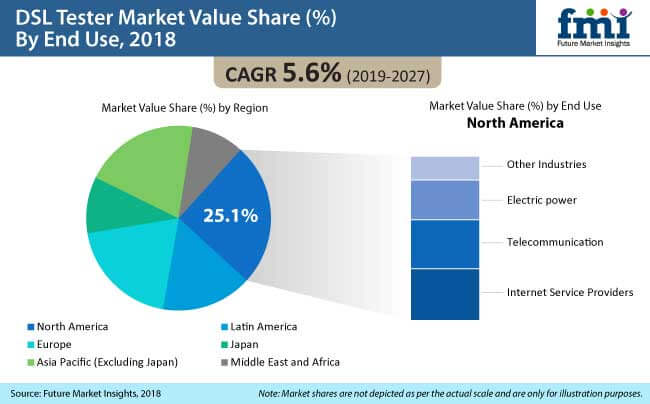 DSL Tester Market- An Analysis of the Market Structure
The global DSL tester market can be characterized as a consolidated landscape, wherein the tier 1 companies account for a revenue share of more than 43%.
Leading companies in the DSL tester market include VIAVI Solutions Inc., EXFO Inc., and Agilent Technologies.
While majority of the leading players continue channelling their focus on the European and North American markets, the report sheds light on the technology assessment, which is a key developmental strategy for the companies.
Emerson Electric Co., 3M, Spirent Communications, and T & M TOOLS CO., Limited are also some of the major players operating in the DSL testers market.
The count of distributors and dealers of DSL testers is increasing rapidly, which is expected to have a significant impact on the competitive landscape of the DSL tester market across the globe during the forecast period.
Key Segment
Based on Modularity Type
Handheld
Portable DSL Tester
Based on End Use
Internet Service Providers
Telecommunication
Electric power
Other Industries
Based on Region
North America
Latin America
Europe
Japan
APEJ
Middle East & Africa (MEA)
Need specific information?