EDIBLE FUNGUS MARKET - KEY RESEARCH FINDINGS
The market will exhibit a CAGR of 8.5% between 2020 and 2030.
With the expansion of the global edible fungus, the commercial production and distribution have improved significantly.
Positive trade scenario, coupled with cultivation of number of mushroom varieties across the major mushroom producing countries, is expected to fuel the growth of the market in the forthcoming years.
Demand for balanced diet creates scope for expansion in developing countries.
Auricularia auricula-judae holds the largest share in the edible fungus market among the product type.
KEY FACTORS SHAPING THE EDIBLE FUNGUS MARKET
Changing Eating Preferences Driving Growth
Increasing awareness about health benefits of various types of edible fungus is driving the market. Increasing interest in plant-based products and changing consumer preferences in favour of meat alternatives will support growth as well. Consumption of Shiitake mushroom for instance is considerably high in Southeast Asian and European countries. As per studies, the demand for this variety of mushroom will increase at a steady pace in the forthcoming years.
The recent coronavirus outbreak is changing consumption preferences for consumers. People are unlikely to buy meat products and are turning to alternatives like mushrooms. This could be a result of various rumours linking meat consumption and the spread of the virus. Also lockdown imposed is likely to have a significant impact on the market. For example, lockdowns in Asia-Pacific meat and seafood markets would result in people buying mushrooms as they taste similar, due to the increase in demand.
Increasing Focus on Merger & Acquisition
The edible fungus market is gaining traction at a significant pace in many developed and emerging economies but their organized distribution remains a challenge in many countries and regions. Investment by market players as well as government to develop the fresh and processed distribution system for mushrooms would bring significant growth opportunities for global sales of mushrooms. A number of key players in the industry rely on mergers and acquisitions to continue to dominate the global market.
Increasing Investment in R&D to Improve Commercial Cultivation will Offer Growth Opportunities
Governments across several countries are investing in the production of high-quality edible fungus varieties that are not only safe for human consumption but can also be exported to other countries to generate revenue. Adopting the advanced pest management method to control damage caused by pest infection in mushrooms can also lead to higher yields of mushrooms, which will eventually support the growth of edible fungi in the market.
EDIBLE FUNGUS MARKET - STRUCTURE ANALYSIS
The key players in this market aim to increase their presence through mergers and acquisitions, new product releases and agreements.
The companies have a strong presence in Asia Pacific, Europe and North America.
They have manufacturing facilities for substrates and good distribution networks throughout those regions.
REPORT SCOPE
Base year considered - 2020
Actual estimates/Historical data - 2015 - 2019
Forecast period - 2020 - 2030
Market Value in 2020 - US$ 600 Mn
Segments covered - Product, Industry and Region
Regions covered - North America, Latin America, Europe, East Asia, South Asia, Oceania and MEA
Key Players - Xuerong Biotechnology, Ruyiqing, JUNESUN FUNGI, China Greenfresh Group, Shanghai Bright Esunyes, Starway Bio-technology
Growth Drivers -

Awareness regarding the health benefits
Increasing demand for meat substitutes
Versatility of mushrooms
Changing food consumption pattern
Demand for Fresh Mushroom is Increasing Rapidly
The demand for fresh mushroom is rising across the world, especially across in the U.S. and other developed economies. The increasing demand for healthy food products with no added preservatives is augmenting growth prospects for the edible fungus market. The U.S. is one of the main producers of fresh mushrooms. Demand for fresh mushroom is expected to see a sharp rise across Asia Pacific and Europe as a result of increasing customer inclination toward organic food.
Across countries such as India, South Korea and others where there is an abundance availability of different mushroom types, such as button mushrooms, fresh mushrooms rate is comparatively lower. Low fresh mushroom prices compared to other processed types of mushroom can drive fresh mushroom sales across these regions. This will in turn favour growth of the edible fungus market.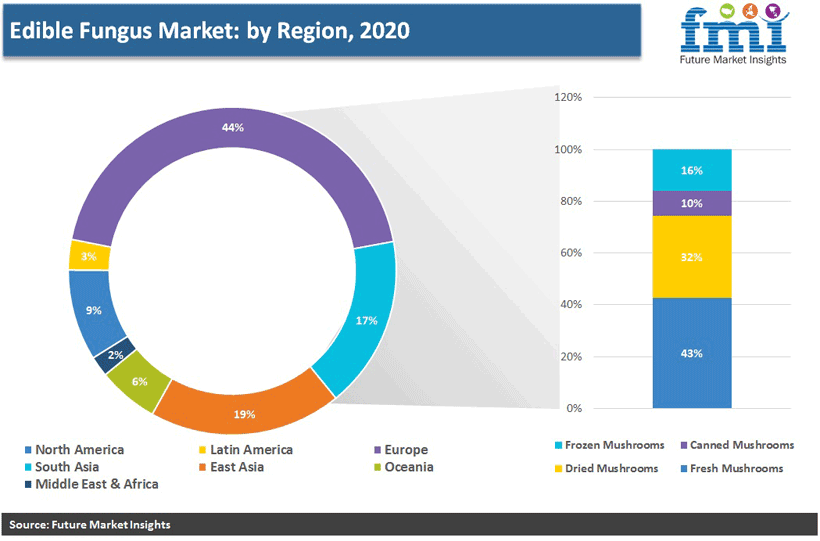 Asia Pacific is the Leading Region in the Global Market
China being the world's largest producer of mushrooms, the per capita consumption of edible fungus is higher in the country than any other region. Consumption of edible mushrooms in Asian nations such as India, Japan and others is increasing at a significant rate due to increased production and import and export of mushrooms in these countries. In the coming years, the growing adoption of advanced farming techniques among farmers is expected to boost the edible fungus market in the region.
Rising Health Consciousness Leading to Increased Demand for Edible Fungus
Increasing demand for foods that are low in fat and cholesterol content and packed with nutrients such as selenium, potassium, vitamins and other micronutrients is expected to accelerate growth of the global edible fungus market. Furthermore, the rapid expansion of the food service sector has resulted in increasing demand for mushrooms in hotels, restaurants and cafes.
Growing acceptance of edible fungus as a meat substitute, combined with increasing vegan population, is anticipated to drive the market in the foreseeable future. The rising demand for processed mushrooms, especially in Western countries is creating export opportunities for major mushroom producing nations in Asia.
How Growth will Unfold
Edible fungi are rich in nutritional values and are consumed owing to their various health benefits. They are rich in vitamins, selenium, and potassium. They help in improving the metabolism and reduce cholesterol. They are also consumed for medicinal purposes, as they are known to minimize the risk of cardiovascular diseases. Edible mushrooms for instance are typically sold fresh, frozen or dried and can also be found in powder form and also soup form.
Because of this, mushroom farming has become a profitable sector, driving the edible fungus market worldwide. The demand for edible fungus is likely to skyrocket as disposable income of consumers across major developing nations including India, and Thailand increases. With the help of seasonal growing and capturing potential markets such as the United States, Germany and France, China produced low-cost mushrooms with processed edible fungus at the expense of the farmers.
With market players forging partnerships with emerging local players, in the coming years edible fungus sales are likely to pick up. FMI reveals that a majority of companies are focusing in expansion and strategic collaborations to gain edge amidst prevailing competition. Their strategies are likely to have significant impact on the growth trajectory of the edible fungus market.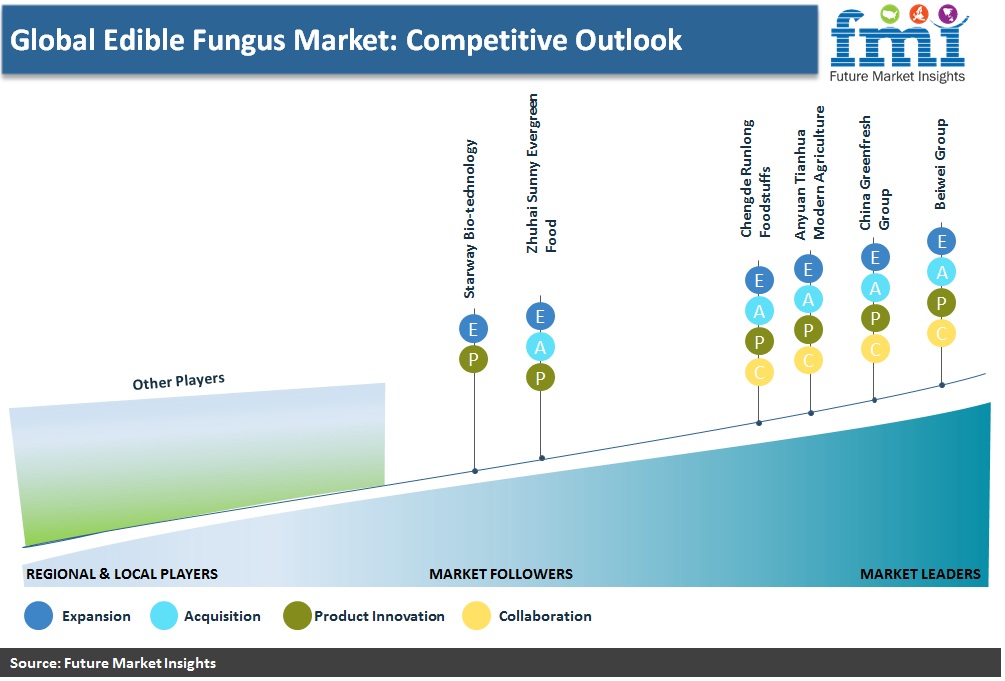 EDIBLE FUNGUS MARKET TAXONOMY
The global Edible Fungus Market is segmented in detail to cover every aspect of the market and present complete market intelligence to readers.
Product Type
Shiitake
Auricularia Auricula-judae
Pleurotus Ostreatus
Enokitake
Agaricus Bisporus
Others
Application
Fresh Mushrooms
Dried Mushrooms
Canned Mushrooms
Frozen Mushrooms
Others
Region
North America
Latin America
Europe
East Asia
South Asia
Oceania
MEA
Need specific information?