About the Report
With increasing awareness and the need to maintain a healthy lifestyle, consumers are adopting healthy eating habits by including healthy foods such as edible nuts, drinking more water, and including fruits in their diet. These small habits tend to make a large difference in the health and wellness of individuals. As the World Health Organization (WHO) recommends the inclusion of edible nuts as a part of a healthy diet in adults, consumers are now recognizing the importance of this functional food for health which is driving the growth of the global edible nuts market.
In its new study, ESOMAR-certified market research and consulting firm Future Market Insights (FMI) offers insights about key factors driving demand for edible nuts. The report tracks the global sales of edible nuts in 20+ high-growth markets, along with analyzing the impact COVID-19 has had on the food and beverage industry in general, and edible nuts in particular.
How Historical and Future Outlook for Edible Nuts Market Match Up?
Consumers are considering healthy food and nutrition-rich items to stay fit and board off the risk of diseases. Therefore, they have started choosing snacks that are rich in nutritive values such as edible nuts. Changing preferences in turn improved the sales of edible nuts.
Healthy snacking on comfort food has therefore emerged as a more feasible option, which has bode well for the overall market. The concern to stay fit is making people adopt healthy eating habits. Edible nuts are rich in minerals, vitamins, proteins and are fibrous foods. They also are often associated with numerous health benefits.
Increasing awareness about these benefits has led to a growing demand for edible nuts in the daily routine of urban consumers. According to FMI's analysis, edible nuts sales have grown at 5.5% CAGR between 2016 and 2020.
FMI sees the increasing availability across retail shelves as a chief growth driver. Retail shops such as supermarkets and hypermarkets are common channels for retailing food in urban areas, specifically among the upper- and middle-income earners, whereas, small stores are more popular among the low-income earners.
Large chains such as Walmart and Carrefour are strongly practicing shelving of edible nuts in their stores, and coming up with schemes and offers on them.
This trend is also getting popular among independent stores as they seek to gain traction. Some of them are shelving edible nuts under their own brands, which is a practice often observed in the U.K, Italy, and Spain, besides other countries. FMI expects global edible nuts market to grow at 8.4% CAGR through 2031.
How is Consumers Inclining towards Edible Nuts Affecting Growth?
A mixture of different types of edible nuts can be easily stored on the shelf for about 6 months, and this shelf-life can be extended to 1 year when edible nuts are refrigerated. This encourages consumers to buy edible nuts in bulk, which can be a great addition to the pantry, as edible nuts do not require special storage and have multiple applications, for instance whole nuts for snacking or using them as an ingredient in a wide variety of dishes.
Edible nuts also are used in the foodservice industry as a flavor enhancer or to enhance the nutritional value of a dish. The hotel restaurant and café (HoReCa) sector has become increasingly aware regarding the behavior pattern of consumers. Their inclination towards healthy eating has encouraged the sector to include healthy salads and other preparation with edible nuts as a key ingredient.
However, manufacturers are struggling to produce high-quality edible nuts in high quantities. To overcome safety issues raised due to the presence of pathogens such as e-coli, aflatoxin, and salmonella, the Global Food Safety Initiative (GFSI) is actively raising the bar of quality standards to meet the safety demand from consumers.
The seriousness of the issue can be seen in the increased rate of rejection of edible nut batches that have failed to meet the quality standards of GFSI in Europe. Such trends could however pose threat to the market players.
How is Edible Nut Sales Influenced by Sustainable Farming Activities?
Focus on sustainable farming is higher than ever before. Driven by higher focus on sustainability an increasing number of manufacturers are using state-of-the-art techniques and practices that minimize environmental damage. These include technologies that will help them managing water wisely and minimize waste generation.
The International Nut & Dried Fruit Council monitors region-wise development in order to achieve sustainable growth in the global edible nuts market. Many manufacturers, for instance Blue Diamond Growers, are partnering with these associations and programs and following sustainable activities mentioned above. These developments are expected to bode well for the market.
Is High Nutrient Density of Edible Nuts A Key Factor of Growth?
Edible nuts are a nutritionally dense and is a rich source of unsaturated fatty acids and bio-active compounds. This unique composition of edible nuts makes them extremely beneficial for health. Epidemiologists suggest consumption of edible nuts such as tree nuts and peanuts reduces the incidence of coronary heart disease. Consumption of edible nuts also leads to weight loss and reduces blood sugar levels which in turn is also boosting the demand for edible nuts.
Will Increasing Vegan and Flexitarian Population Bolster Edible Nuts Sales?
Economists have named 2019 as the vegan year, in response to the rapid expansion of the vegan food market occurred thanks to the growing awareness about and demand for vegan products. But veganism is just one pillar of the growing market, along with flexitarianism.
Traditional meat eaters are now transitioning to flexitarian lifestyles, intending to cut down on the consumption of meat or animal-based products as much as possible and replace them with edible nuts to enhance nutritional value of the dish, as it contains the right amount of fiber, proteins, vitamins, and other essential nutrients with a reduced amount of calories. This trend has further accelerated in recent months, as the outbreak of COVID-19 has disrupted the meat industry.
Country-wise Insights
How Big is the Opportunity in U.S. for Edible Nuts Market?
FMI has projected the U.S. to remain one of the most lucrative markets throughout the forecast period. The North America food and beverage industry is continuing on a steady pitch due to stable consumer spending in the region. In the U.S., variations in the Food Safety Modernization Act (FSMA) can define that America's food safety laws focus less on claims of food adulteration and more on prevention of food contamination.
Rising awareness regarding the role of food in well-being of the people has made consumers in U.S. and Canada more observant towards the ingredients utilized by manufacturers. Moreover, due to inclination towards healthy foods, the North American food and beverage companies has develop new portfolios which in turn has projected the demand for edible nuts market.
Edible Nuts Are Essential Part Of Spain Cuisine
Edible nuts are consumed in Mexico ever since the Spaniards introduced them nearly five hundred years ago. Since then, edible nuts have been an essential part of Mexican cuisine, including savory and sweet dishes.
Distinct to walnuts and almonds, hazelnuts carry an identical flavor and subtle aroma, which goes best with Mexican baking. This one-seeded fruit can be shelved for almost 2 years, which is an add-on quality for being preferred over others.
Avellanas (Spanish hazelnut) are found in late October in Cholula. They are popular as cake and cookie constituents, and can be seen all through the holiday season. In Sonora, they are utilized in a sponge cake, also known as rosca de las abuelas.
Mexican food contains interesting recipes for hazelnut moles that use fruits, edible nuts, and chilies, and are varieties of the southern Mexican mancha manteles.
Spain is therefore forecast to remain one of the highly attractive markets for edible nuts in Europe. The presence of some of the leading market players will give tailwinds to the growth registered in the country
For instance, Borges Agricultural & Industrial Nuts that has prime operations in processing and supplying edible nuts to commercial customers is expanding its production chain by identifying loopholes in production system.
How is Increasing Prevalence of Ailments Affecting Edible Nuts Sales in China?
China is one of the key markets in East Asia due to the increasing prevalence of health complications such as obesity in the country. This is attributable for the shifting consumption patterns and consumers opting for more plant-based products such as chocolate-coated edible nuts. China is expected to generate the significant revenue of nearly US$ 5.8 Bn by 2031.
What is Impact COVID-19 on Australia Edible Nuts Market?
FMI has projected Australia to remain one of the most lucrative markets among the Oceania edible nuts throughout the course of the forecast period. It holds83.5% market share in the Oceania edible nuts in 2021. The key factor supporting the edible nuts market growth is rising awareness regarding healthy lifestyle.
In 2020, Select Harvests Limited recorded increased productivity momentum after the outbreak of COVID as production of edible nuts upsurge as compared to 2019, due to increasing health conscious consumers.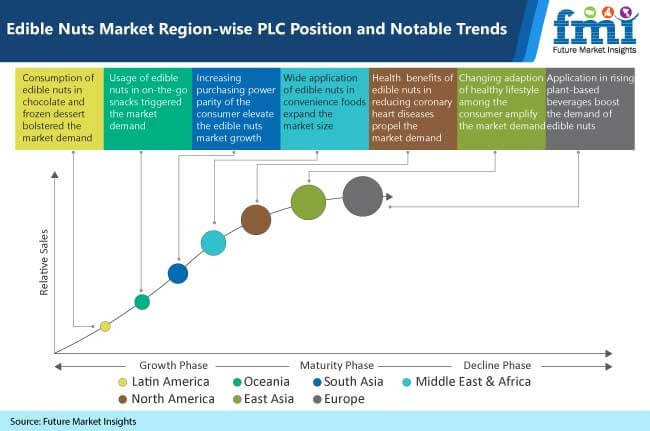 Category Wise
Which Industry Exhibits High Application of Edible Nuts?
The food and beverage segment holds the largest share of the overall edible nuts market in terms of application. Their dominance is attributable to the growing awareness of health benefits associated with edible nuts across the globe. The rising demand for protein-enhanced products among consumers will keep the demand for edible nuts high in the food and beverages sector.
Why Organic Edible Nuts Demand Rising at Higher Pace?
While conventional edible nuts segment continues to remain dominant, the demand for organic edible nuts is expected to rise at a higher pace. Organic food has gained a large consumer base as in the last decade and has developed rapidly in developed countries.
Consumption of organic edible nuts is expected to rise steadily in developing countries as well in the coming years, creating export opportunities. With increasing awareness, the consumer base is shifting towards organic and non-GMO products as they believe that food should be natural.
The rapidly emerging organic food products market is driven not just by healthy eating beliefs, but also by the increasing acceptance of the opinion that producing organic foods is kinder to the planet, which in turn has boosted the edible nuts demand globally.
Opportunities Abound in Edible Nuts Industry
Dairy milk consumption has been declining in recent years driven by factors such as the growing aging population, increase of veganism, worries about animal well-being, and rising preference for additional sources of protein. Consumers are giving maximum preference to edible nut-based proteins such as almond milk and cashew milk over dairy proteins, which is expected to have a long-term positive impact on the edible nuts market.
They are buying edible nuts for producing milk at home, while the HoReCa industry is using edible nuts in various vegan dishes. This divergence of preference from dairy to vegan is majorly owing to increasing awareness about animal cruelty and the environmental impact of the consumption of animal-based products.
This divergence of preference from dairy to vegan is majorly owing to increasing awareness about animal cruelty and the environmental impact of the consumption of animal-based products.
Competitive Landscape
Restaurants and hotel chains are partnering directly with growers and suppliers of edible nuts for sourcing of high-quality produce for used in their dishes. For instance, Napa Nuts has partnered with The French Laundry, Mourad, airbnb, The Culinary Institute of America, Marriot, and many more for edible nuts to supplied directly to them.
Nowadays, market players are strengthening their footprint by building a robust distribution channel for maintaining superior quality of the product. A strong distribution channel ensures the product is reaching its target population hence reduces the gap between the final product and the potential market.
For instance, Diamond Foods, Inc. is expanding with Direct Store Delivery to enhance its product engagement with the consumer base in the U.K.
Consumption of edible nuts as snacks is experiencing growing demand as innovative products are launched in the market. For instance- In 2019, Blue Diamond expanded their almonds edible nuts snacks collection with the introduction of Fruit and almonds, a unique take on traditional trail mix.
Some of the leading companies operating in the edible nuts market are:
Archer Daniels Midland Company
Diamond Foods, Inc.
Olam International Ltd
Blue Diamond Growers
Mariani Nut Company
Select Harvests Limited
Durak Findik
Grower Direct Nut Co. Ltd
Sun-Maid Growers of California
Hines Nut Company
John B. Sanfilippo & Son
Borges Agricultural & Industrial Nuts
The Wonderful Company LLC
Germack Pistachio Company
Nichols Farms
Keenan Farms
Setton Pistachio of Terra Bella Inc.
Kraft Foods Inc.
Hampton Farms, Inc.
Star Snacks Co., LLC
*The list is not exhaustive, and only for representational purposes. Full competitive intelligence with SWOT analysis available in the report.
Scope of the Report
Attribute

Details

Forecast Period

2021-2031

Historical Data Available for

2016-2020

Market Analysis

USD Million for Value and MT for Volume

Key Regions Covered

North America, Latin America, Europe, East Asia, South Asia, Oceania, MEA

Key Countries Covered

US, Canada, Brazil, Mexico, Argentina, Rest of Latin America, Germany, Italy, France, U.K., Spain, BENELUX, Nordic, Russia, Poland, Rest of Europe, Japan, China, South Korea, India, Thailand, Indonesia, Malaysia, Vietnam, Rest of South Asia, Australia, New Zealand, GCC Countries, Turkey, South Africa, North Africa, Central Africa, Rest of MEA

Key Segments Covered

Variety, Nature, Product Type, Form, End-Use, Distribution Channel and Region

Key Companies Profiled

Archer Daniels Midland Company
Diamond Foods, Inc.
Olam International Ltd
Blue Diamond Growers
Mariani Nut Company
Select Harvests Limited
Durak Findik
Grower Direct Nut Co. Ltd
Sun-Maid Growers of California
Hines Nut Company
John B. Sanfilippo & Son
Borges Agricultural & Industrial Nuts
The Wonderful Company LLC
Germack Pistachio Company
Nichols Farms
Keenan Farms
Setton Pistachio of Terra Bella Inc.
Kraft Foods Inc.
Hampton Farms, Inc.
Star Snacks Co., LLC

Report Coverage

Market Forecast, brand share analysis, competition intelligence, Drivers, Restraints, Opportunities and Threats analysis, Key factors, Market Dynamics and Challenges, Strategic Growth Initiatives

Customization & Pricing
Key Questions Answered in Edible Nuts Report
At what rate the demand for edible nuts is expected to grow for the next 5 years?
The global edible nuts market is estimated to grow by CAGR of 8.4% for the next 5 years. Rise in awareness among consumers has a great impact on the preference of the products and in case of edible nuts sales are poised to surge as a result of increasing focus on health and wellness.
Which form of edible nuts is more preferred?
The whole form of edible nuts is highly preferred and the segment hold the largest share in the market. Among different types of edible nuts, whole nuts are most famous due to their application in confectionery, bakery products, and other desserts.
Which are the leading companies are offering edible nuts?
Some of the leading companies offering edible nuts are Archer Daniels Midland Company, Diamond Foods, Inc., Olam International Ltd, Blue Diamond Growers, Mariani Nut Company, Select Harvests Limited, Durak Findik, Grower Direct Nut Co. Ltd among others.
What are the drivers supporting the growth of edible nuts market?
The edible nuts market is driven by the launch of increasing demand for low-calorie food products, rising application of edible nuts in homemade desserts in various regions, and other factors. Edible nuts also are used as key ingredients in homemade granola. Besides this, the increasing vegan and flexitarian population will continue bolstering edible nut market in the coming years.
Which are the key success factors supporting the growth of edible nuts market?
Some of the key success factors supporting the edible nuts market growth are implementation of new production techniques, product portfolio, nuanced marketing campaigns, exploiting economies of sales, and strategic promotional activity and many others.
Enquiry before Buying
Is this research conducted by Future Market Insights?
Yes, the research has been conducted by expert analysts of Future Market Insights through a combination of primary research and secondary research. To know more about how the research was conducted, you can speak to research analyst
What research methodology is followed by FMI?
FMI follows a methodology that encompasses demand side assessment of the market, and triangulates the same through supply side analysis. This methodology is based on use of standard market structure, methods and definitions. Request detailed methodology
Who are the respondents for primary research?
FMI speaks to stakeholders across the spectrum, including C-level executives, distributors, product manufacturers, industry experts. For a full list of primary respondents, please reach out to us.
What are the sources of secondary research?
FMI conducts extensive secondary research through proprietary databases, paid databases, and information available in the public domain. We refer to industry associations, company press releases, annual reports, investor presentations, and research papers. More information about desk research is available upon request.
Is a sample of this report available for evaluation?
Yes, you can request a sample and it will be sent to you through an email.
How can I buy this report?
FMI provides a secure online payment system to buy report seamlessly. You can buy the report securely and safely.
World's Most Profilic Intelligence Engine
Get Access To The World's Largest Market Research Database. Ngage with a revolutionary intelligence engine that scale and pricing that flexes as per your needs
Sign Up Now
Edible Nuts Market by Category
Variety
Almond
Cashewnuts
Hazelnuts
Peanuts
Pistachios
Walnuts
Other (Brazil Nuts)
Nature
Product Type
Raw
Roasted
Salted
Others (Glazed, etc)
Form
End Use
Food Service Industry
Household
Distribution Channel
Hypermarket/Supermarket
Specialty Stores
Wholesale Stores
Mass Grocery Stores
Online Retail
Region
North America
Latin America
Europe
East Asia
South Asia
Oceania
Middle East & Africa
Need specific information?