Enteral Feeding Devices Market by Product Type (Enteral Feeding Pumps, Enteral Feeding Tubes, Enterostomy Feeding Tubes, Standard Tubes, Oroenteric Feeding Tubes), Application (Oncology, Gastroenterology, Diabetes, Neurological Disorders), Age Group, End User & Region - Forecast to 2020 - 2030
Enteral Feeding Devices Market - Analysis, Outlook, Growth, Trends, Forecasts
August 2020

REP-GB-12403

320 pages
Global Enteral Feeding Devices Market Outlook
[320 Pages Report] Elevated malnutrition levels due to insufficient food intake to generate green spaces for expansion of Enteral Feeding Devices Market
Nasogastric tubes will hold major sway owing to ease of nutrient delivery to the body
Oncology to remain the dominant application area during the forecast period
North America & Europe will collectively capture nearly 70% of the global Enteral Feeding Devices Market? share
A CAGR of 6.6% is predicted for the global enteral feeding devices market from 2020-2030
Rising Gastrointestinal Anomalies Opens Up Doors for Market Proliferation
Enteral feeding typically refers to food ingestion via the gastrointestinal tract. It entails nutrition intake either orally or by virtue of a tube inserted into the stomach or small intestine. The medical fraternity largely interprets this approach as tube feeding. Enteral feeding has surged in popularity owing to rising cases of GI disorders.
GI tract cancers are the main reason for rising cases of indigestion across the world. As of 2018, over 1 million cases of stomach cancers were reported across the world. People afflicted with GI cancers largely suffer from a poor appetite, nausea and abdominal pain, rendering them unable to consume food properly.
Additionally, non-malignant conditions such as irritable bowel syndrome (IBS), perianal infections, diverticulitis and hemorrhoids have also up-scaled utilization of enteral feeding devices. Administering food through enteral means ensures that the necessary calorie and nutrient requirements are fulfilled without subjecting the GI tract to any strenuous digestive activity.
Based on these aforementioned trends, the enteral feeding devices market is poised to register a steady growth, reaching a value of nearly US$ 6 Bn by the end of the 2020-2030 forecast period.
Mushrooming Geriatric Population to Accelerate Enteral Feeding Devices Uptake
It is observed that the global geriatric population burden has become elevated since the dawn of the 21st century. As of 2019, the total number of elderly people reached more than 700 million, all over 65 years of age. A significant chunk of this population resides in Asia, Europe and North America.
By 2050, the East & South Asian region will record the maximum spike in the number of old people, rising from 261 million to 573 million. Based on these figures, it is inevitable that the incidence of several chronic illnesses will also increase boost Enteral Feeding Devices Market.
Also, as the human body ages, several bodily functions start degrading. A major degeneration in this respect is the inability to properly digest and break down food. In this light, the number of enteral feeding procedures have spiked.
Neurological conditions such as dementia, multiple sclerosis and strokes greatly hinder swallowing capabilities, forcing them to curtail their solid food intake and rely on enteral feeding devices to supplement their nutritional requirements.
Oncology Emerges as a Converging Point for Enteral Feeding Devices Manufacturers
Over the years, mushrooming incidences of cancers have led to an upsurge in chemotherapies, which may have detrimental effects on an individual's digestive system. According to the Journal of Clinical Oncology, nearly 50-80% of chemotherapy patients suffer from diarrhea. This renders patients unable to consume proper solid food.
It has also been concluded that chemotherapy targets healthy cells lining the intestine, thereby causing digestive discomfort. In this scenario, medical practitioners are incorporating enteral feeding devices to provide adequate nutrition and help patients boost their immunity and maintain a healthy weight.
Furthermore, patients diagnosed with neck and head cancers face a tremendous risk of malnutrition, attributed to the difficulty in oral food intake due to intense throat and mouth pain, making it difficult for them to swallow the food, thus accelerating enteral nutrition support.
Product Insights: Enteral Feeding Pumps, Nasoenteric Feeding Tubes to be Most Extensively Utilized Devices
Feeding pumps accounted for the lion's share of the global enteral feeding devices market. More than six out of ten primary healthcare providers have invested in installing enteral feeding pumps. This number is anticipated to increase across the projected forecast period. High cost effectiveness is a primary reason behind their rising uptake.
Additionally, enteral feeding pumps are programmed to administer a slow, consistent and hourly food intake. This aids patients in developing feed tolerance. Moreover, these pumps also aid in regulating blood glucose levels due to consistent carbohydrate delivery. Moreover, the introduction of portable feeding pumps makes it easier to administer food even while traveling.
Infinity Feeding Pumps, a prominent enteral feeding pumps manufacturer, markets the Zevex EnteraLite Infinity Feeding Pump, weighing less than one pound. This makes it easy to carry anywhere, thus ensuring that the feeding schedule of patients is not overlooked. Also, the pump maintains a 5% accuracy rate, allowing for exact compliance with prescribed feeding norms.
Simultaneously, feeding tubes are acquiring major popularity, due to effective nutrient delivery to the body. Enteral tube feeding is extremely beneficial for patients suffering from severe chronic conditions such as HIV-AIDS as they have severely compromised digestive capacities, thereby causing nutrient deficiencies.
The nasoenteric feeding tube segment is expected to remain on high ground, attributed to extensive usage for administering essential nutrients to pre-term infants. Since they have a highly delicate body system, premature babies need to be handled extremely carefully, inflicting the least possible amount of discomfort as possible.
Nasoenteric tubes are highly effective in providing nutrients and calories to severely immunocompromised patients suffering from neurological disorders, dementia and lateral sclerosis. These disorders are notorious for inducing constipation, diarrhea and dyspepsia, rendering patients unable to eat proper solid food. This compels them to seek essential nutrients through alternative means.
North America & Europe to Emerge as Market Hegemons, Asia-Pacific to Offer Credible Growth Opportunities
North America will emerge as the kingpin of the global enteral feeding devices market along with Europe, both regions accounting for 39.3% and 30.2% market shares respectively. High prevalence of neurological and digestive disorders among the population have contributed to these heightened shares.
Additionally, governments across both continents are implementing favorable reimbursement policies, motivating manufacturers to introduce products which are operationally and technologically superior, which often involve huge production costs.
The Asian Enteral Feeding Devices Market is expected to witness robust growth, with India being at the helm of the growth trajectory. According to W.H.O., the number of preterm births between 2014 and 2015 in the country amounted to 3.5 million, with the numbers climbing during each successive year. This has increased demand for proper infant care.
Moreover, increased life expectancy has led to a proliferation of the geriatric population base, significantly heightening incidences of age-related chronic gastrointestinal ailments, prompting them to seek treatment. This has alleviated demand for enteral feeding device during the patient's course of treatment.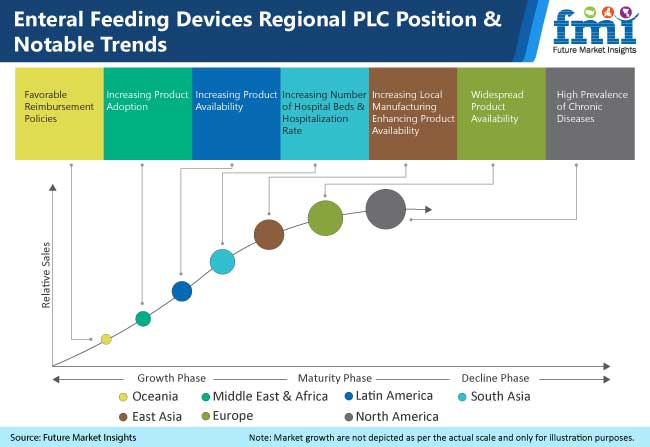 COVID-19's Impact on the Enteral Feeding Devices Market
The COVID-19 pandemic has put immense pressure on the healthcare industry, with hospitals valiantly striving towards eradicating this deadly disease by providing round-the-clock services across all countries. Governments worldwide have redirected their budgets towards developing potential cures for the virus, relegating all its other obligations to the back bench.
As the number of cases worldwide rise exponentially, demand for enhanced patient care services is accelerating the need for providing proper food and nutritional support. COVID-19 induces nausea, vomiting, diarrhea and liver dysfunction. Naturally, the patient's ability to digest solid food is severely compromised, prompting doctors to administer enteral feeding.
Although nationwide lockdowns have ushered in logistical constraints, prominent enteral feeding device manufacturers are ensuring that the supply of essential equipment to hospitals, homecare settings and clinics is not hindered. For this, they are forging robust links with regional distributors to ensure a consistent supply chain.
As the prospects of finding a credible cure for the virus seems abysmal, the pandemic is anticipated to linger until the latter half of 2021. Despite several countries experiencing a flattening of the infection curve, they will continue administering enteral feeds to mildly symptomatic patients as a precautionary measure, keeping the demand afloat.
Global Enteral Feeding Devices Market- Competitive Intelligence
The global enteral feeding devices market comprises of market players offering a broad product portfolio across several healthcare verticals. Both regional as well as global players have a substantial share of Enteral Feeding Devices Market footprints across lucrative countries. As it is in the growth stage, vendors are concentrating on introducing new products to attain maturity.
Prominent players profiled in this report include ICU Medical, Boston Scientific Corporation, Fresenius Kabi, Abbott Laboratories, Cook Medical, Cardinal Health, Inc., Becton Dickinson & Company and Dynarex Corporation among others.
ICU Medical is a highly prominent players within the enteral feeding devices landscape. It markets the Lopez Valve and EnFit Lopez Valve Closed Enteral Tubes which provide protection from accidental exposure to infectious body fluids to healthcare workers.
On a similar plane, Boston Scientific Corporation markets a broad range of enteral devices such as the EndoVive Enteral Feeding Tube Kits. To expand its gastroenterology product portfolio, the company announced a limited market release of its Exalt Model-D single-use duodenoscope in January 2020.
In 2014, Cook Medical launched the Entuit Thrive Balloon Retention Gastronomy Feeding Tube for gastronomy and gastropexy procedures. This launch was a part and parcel of the company's efforts to expand its enteral feeding devices product pipeline. Also, Cardinal Health launched its Kangaroo Joey Enteral Feed and Flush Pump in 2016 to expand its adult nasogastric feeding tubes portfolio.
World's Most Profilic Intelligence Engine
Get Access To The World's Largest Market Research Database.
Sign Up Now
Enteral Feeding Devices Market: Segmentation
Product Type
Enteral Feeding Pumps
Enteral Feeding Tubes
Enterostomy Feeding Tubes
Standard Tubes
Standard Gastrostomy Tubes
Standard Jejunostomy Tubes
Standard Gastrojejunostromy Tubes
Low Profile Tubes
Low-profile Gastrostomy Tubes
Low-profile Jejunostomy Tubes
Nasoenteric Feeding Tubes
Nasogastric Feeding Tubes
Nasojejunal Feeding Tubes
Nasoduodenal Feeding Tubes
Oroenteric Feeding Tubes
Administration Sets
Enteral Syringes
Consumables
Application
Oncology
Gastroenterology
Diabetes
Neurological Disorders
Others
Age Group
End-user
Hospitals
Specialty Clinics
Ambulatory Surgical Centers
Homecare Settings
Others
Region
North America
Latin America
Europe
East Asia
South Asia
Middle East & Africa
Need specific information?
Our Clients