Parenteral Packaging Market By Product Type (Vials, Pre-filled Syringes & Cartridges, Bags, Ampoules, Ready to Use Systems), Material Type (Glass, Plastic) & Region – Forecast 2021 – 2031
Parenteral Packaging Market - Analysis, Outlook, Growth, Trends, Forecasts
June 2021

REP-GB-1258

195 pages
Parenteral Packaging Market Snapshot
Future Market Insights (FMI) in its market analysis projects the parenteral packaging market to grow at 5.5% CAGR during the forecast period 2021-2031. Driven by the rising necessity of effective packaging solutions for therapeutic drugs without compromising their potency, the parenteral packaging market is forecast to reach the market valuation of US$ 11,460 Mn in 2021.
North America is expected to provide lucrative growth opportunities backed by increasing healthcare spending and rising production rate of parenteral packaging in U.S. Spurred by this, the North America parenteral packaging worth is projected to expand at 4.3% CAGR in 2021.
Key Points Covered in Parenteral Packaging Market Study
Market estimates and forecast 2021 – 2031
Key drivers and restrains impacting market growth
Segment-wise, Country-wise, and Region-wise Analysis
Competitive Mapping and Benchmarking
Brand share and Market Share Analysis
Key Product Innovations and Regulatory Climate
COVID-19 Impact On Parenteral Packaging Market and How to Navigate
Recommendation on Key Winning Strategies
Parenteral Packaging Market 2018 – 2020 Outlook In Comparison to 2021 – 2031 Forecasts
High mortality rate due to various chronic diseases coupled with rising demand for COVID-19 vaccines has fueled the demand for rapid delivery of medicines and drugs without loss in potency.
This has culminated in elevated demand for medicines and vaccines and need to protect drugs from contamination until administered, thus boosting the parenteral packaging market demand. FMI, in its market analysis indicated that, parenteral packaging market expanded at about 4.6% CAGR in past five years.
The World Health Organization reports that diabetes was responsible for 1.5 million fatalities in 2019. As such the demand for insulin is on the rise for early treatment and medication. Rising demand for insulin will drive the parenteral packaging market demand.
Governments are working towards providing affordable insurance services especially in emerging economies. Rising awareness among people regarding diabetes and related diseases and elevated spending on healthcare by consumers will create new growth opportunities.
Bormioli pharma recently acquired Remy and Geiser to strengthen the supply of tubing glass vials in multiple formats. The company also announced a new range of dual chamber systems to cater the need of evolving drug formulations.
Gerresheimer launched sterile "Gx RTF® vials" processed with modern filling and sealing technology. The new glass vials are supplied in two different packaging solutions in sync with the customers filling technology while maintaining the desired sterility and reduce potential risk of contamination.
Increasing accessibility to proper healthcare in low and middle income nations and rise in government immunization drives to tackle the pandemic will create lucrative opportunities for parenteral packaging market.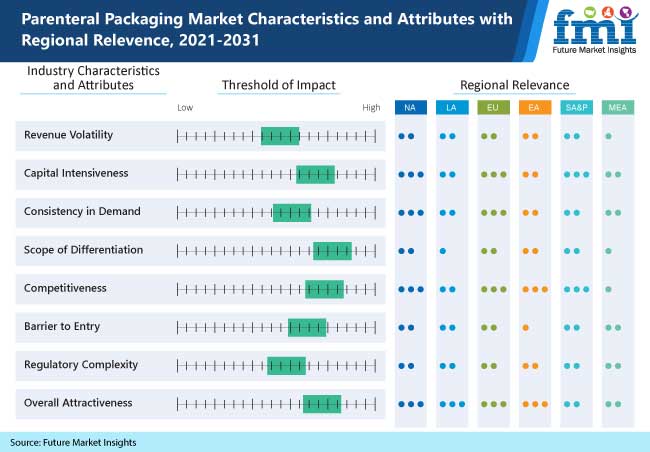 Parenteral Packaging Market Outlook
The parenteral packaging market is anticipated to witness a positive growth trajectory, however, several factors such as instability in the price of raw materials and limited availability of raw materials are expected to hinder the growth of the parenteral packaging market. Additionally, the complex registration process of packaging is likely to be a constraint in the parenteral packaging market expansion.
Key players are focusing on providing an extensive scope of packaging materials for parenteral drugs. For example,
Gerresheimer, a market leader in the manufacturing of cosmetics packaging prepared of recycled glass, in response to its customers developed a cosmetics glass that has the utmost recycled material proportion available for the end consumer and simultaneously provides an incomparable level of quality.
The company, further initiated two more plants in India and China for pharmaceutical products, to produce plastic primary packaging. This will allow it to offer its consumer, the best possible supply service.
Bormioli Pharma, a manufacturer of plastic primary and pharmaceutical glass packaging, acquired GCL Pharma, an Italian subsidiary of the Guala Closures Group, focused on the manufacturing of aluminum, rubber, and plastic closures for pharmaceutical applications. This follows Bormioli's purchase of Remy & Geiser finished last fall, growing its ability and product range to support the most difficult pharmaceutical requirements.
Bormioli Pharma focuses to fortify its industrial footprint by adding novel technologies that will allow them to extend their product range, particularly in the parenteral and oral segments, further stimulating their business synergies.
The significance of packaging in the pharma industry to strike an accurate balance between regulatory compliance, quality, and cost is an established fact. Thus, as the pharma sector dynamics get transformed by the COVID-19 pandemic it is apparent that pharma labeling and packaging too will undertake major shifts.
The future embraces unparalleled challenges and opportunities in terms of labeling and the pharma packaging sector. The sector will have to evolve continually to meet the pharma stakeholders' expectations, combating counterfeits, be it assuring efficacy of medicines, enabling patient convenience and adherence, upkeep logistics security, or following to regulatory requirements.
Pre-filled Syringes & Cartridges to Account for Maximum Sales
The global market for parenteral packaging was valued at US$ 9,864.8 Mn in 2017 and is projected to expand at a CAGR of 4.8%, during the forecast period (2018 - 2028).
Parenteral packaging is a method that allows the medicine or other fluid to keep its potency and therapeutic effectiveness intact throughout the shelf life or till the time the drug is administered.
Effective packaging in parenteral is required to protect the drugs from contamination and aseptic administration to the patient. Prefilled syringes and cartridges are certain novel innovations in the field of parenteral packaging, which favors minimization of drug administration, apart from conventional parenteral packaging solutions such as vials and ampoules.
One of the key factors such as the introduction of various new raw material for parenteral packaging along with advancements in conventionally used materials are making the market more consolidated.
There has been effective collaboration between the suppliers and manufacturers for raw material sourcing and final packaging. Introduction of polymers such as cyclic olefin copolymers (COC) and cyclic olefin polymers (COP) are acquiring the attention of many of the parenteral product manufacturers due to various advantages over plastic and glass.
The introduction is beneficial for sophisticated and newly developed drugs and delivery technologies.
In terms of material, the plastic is expected to be the most attractive material segment for manufacturing parenteral packaging across the globe.
Plastic is the most preferred material of choice for parenteral packaging due to their comparatively low cost an easy production method, advantages in terms of light weight, durability, no reactivity and design flexibility.
Drivers & Restraints
Some of the key drivers for the growth of the global parenteral packaging market include the increasing per capita healthcare expenditure of several leading economies across the globe. Parenteral drugs is the second-largest contributor to the global pharmaceutical market of US$ 962 Billion, with approximately 30% share in 2014, preceded only by oral dosage form.
Moreover, the long-term estimates that pharma spending is expected to match the expenditure on healthcare sector at an average of 4.2% during the forecast period. Additionally, private health insurance (PHI) are playing significant role in carving up the healthcare systems.
The overall impact of rise in per capita expenditure and introduction of health insurance are expected to favor the growth of parenteral packaging market.
Immunizations through vaccines are a major health intervention that has a significant positive impact on the health the populace. Demand for parenteral is strongly correlated with immunization.
Vaccination plans such as Global Vaccine Action Plan (GVAP) 2011–2020, National Vaccine Plan (NVP) by U.S., which are introduced by the government on regular intervals to eradicate health issues such as hepatitis, polio etc., are expected to further fuel the parenteral packaging market.
According to World Health Organization (WHO) chronic non-communicable disease (NCD) prevalence is projected to grow by 57% between 2015 and 2020. In terms of geographical inclination of demand, emerging markets are expected to contribute significantly to growth, largely due to diseases related to lifestyle changes as well as population increase.
Competitive Landscape:
Key players operating in the global market for parenteral packaging include UFP Technologies, Inc., Schott AG, UDG Healthcare plc, Gerresheimer AG, Becton, Dickinson and Company, Catalent, Inc., Stevanato Group S.p.A., Baxter International Inc., Nipro Corporation, West Pharmaceutical Services, Inc., among others among others.
This list is indicative - full details about prominent parenteral packaging manufacturers is available upon request
Parenteral packaging Market – Report Scope
Attribute

Details

Forecast Period

2021 – 2031

Historical Data Available for

2018 – 2028

Market Analysis

US$ Mn for Value & Units for Volume

Key Regions Covered

North America, Latin America, Eastern Europe, Western Europe, Japan, Asia Pacific excluding Japan, and Middle East and Africa

Key Countries Covered

US, Canada, Brazil, Mexico, Argentina, Rest of Latin America, Germany, Italy, France, U.K., Russia, Spain, BENELUX, Poland, Nordic, Rest of Europe, India, China, ASEAN, ANZ, Rest of APEJ, GCC Countries, Turkey, South Africa, Iran, Israel, and Rest of MEA.

Key Segments Covered

Product type, Material type, Packaging type, and Region

Key Companies Profiled

Schott AG
UDG Healthcare plc
Becton
Dickinson and Company
Catalent, Inc.
Stevanato Group S.p.A.
Nipro Corporation
West Pharmaceutical Services, Inc.

Report Coverage

Market Overview, Market Background, Market Forecast, Segmental Analysis, Regional Profiling and Competition Analysis

Customization & Pricing

Available upon Request
World's Most Profilic Intelligence Engine
Get Access To The World's Largest Market Research Database.
Sign Up Now
Key Segments Covered in Parenteral packaging Market Study:
By Product Type:
Vials
Pre-filled Syringes & Cartridges
Bags
Ampoules
Ready to Use Systems
By Material Type:
Glass
Plastic

Polyvinyl Chloride (PVC)
Polyolefin
By Packaging Type:
Small Volume Parenteral (SVP)
Large Volume Parenteral (LVP)
Region:
North America
Latin America

Brazil
Mexico
Rest of Latin America

Western Europe

Germany
France
U.K.
Spain
Italy
Benelux
Nordic
Rest of Western Europe

Eastern Europe

Russia
Poland
Rest of Eastern Europe

APEJ

China
India
Australia & New Zealand
ASEAN
Rest of APEJ

Japan
MEA

GCC Countries
South Africa
Rest of MEA
Key Questions Answered in the Report
What is parenteral packaging market size?
Driven by increasing demand for therapeutic drugs storage provisions, the parenteral packaging market size is forecast to reach US$ 11,460 Bn in 2021
At what rate did the parenteral packaging market expand in the last five years?
Between 2016 and 2020, the parenteral packaging sales surged at a 4.6% CAGR backed by increasing demand for self administered drugs and medicines for chronic ailments.
What are the key trends shaping the parenteral packaging market?
Growing emphasis towards multi-compartment parenteral packaging for faster distribution of medications across the globe is the key trend shaping the market.
What are the key factors driving parenteral packaging market demand?
Rising prevalence of chronic ailments and high demand for vaccines to tackle epidemics and pandemics will remain the chief growth driver. The market also will gain from rising spending on advanced healthcare.
What is the North America parenteral packaging market outlook?
Demand registered in North America will continue rising, backed increasing sales and production of parenteral packaging in the U.S, the North America market will expand at 4.3% CAGR in 2021.
Who are the leading companies in parenteral packaging market?
Becton, Dickinson and Company, Schott AG, Catalent, Inc., Gerresheimer AG, and Baxter International Inc. are the top ten companies in the market. They are responsible for 1/10th of global market sales.
What is the cumulative share of top companies in parenteral packaging market?
Top players account for nearly 10% to 15% of the parenteral packaging market
At what rate will parenteral packaging sales increase in Europe?
Parenteral packaging sales will increase at 3.9% CAGR in Europe, backed by rising export and production in Italy, Germany, France, and other countries.
Which are the top five countries driving parenteral packaging market demand?
Leading countries driving demand in the parenteral packaging market are U.S., China, Italy, Japan and Germany.
What are the key statistics for Parenteral packaging market in Japan and South Korea?
Japan held 21% share in the East Asia parenteral packaging market in 2021 while South Korea held around 10% share in the East Asia region.
Need specific information?
Our Clients