Generic Injectable Market Size to Expand 3X by 2029
Commercially, the global injectable market has been in its nascent phase in the recent past. However, inequalities in the supply-demand of various drugs have influenced market players to focus on expanding their manufacturing and distribution capabilities. Governments are also playing a pivotal role by boosting capital allocation for the healthcare sector, especially in oncology research and biologics production. Moreover, patients are preferring self-drug administration such as pre-filled syringes to avoid caregiver fees. Together, these activities are offering fertile ground for generic injectable manufacturers. Exhibiting a double-digit CAGR, worldwide revenue of the generic injectable market will surge threefold by 2029.
Frequently Asked Questions about Generic Injectable Market
What are the factors contributing to the growth of the generic injectable market?
Growing focus on targeted therapies and biologics, particularly in the area of cancer, is increasing the need for generic injectable drugs. Biological injectable drugs hold a notable share of the generic injectable market. Adoption of generic injectables in small molecules is anticipated to gain significant traction.
What are the promising strategies for large manufacturers and small local players in the generic injectable market?
Overall, leaders in the generic injectable market are expected to have a wide portfolio and low-cost products, and local players will have truly distinguished offerings. To achieve higher cost savings, government healthcare facilities are now adopting higher utilization of generic injectables in their services.
How are CMOs affecting the growth of the generic injectable market?
Outsourcing manufacturing of generic injectable drugs to CMOs and CDMOs led to significant cost savings among key drug makers, who were facing capital investment issues with high levels of debt.
How is the cost associated with generic injectables hampering market growth in emerging economies?
Heightened competition from low-cost manufacturing countries such as China and India led to the suspension of many products in the segment for economies of scale. This is offering growth opportunity for low-cost manufacturers to gain significant share of the generic injectable market.
Which region is expected to offer lucrative growth opportunities for the generic injectable market?
North America and Europe, being highly mature markets with higher concentration of manufacturers and healthcare resources, are estimated to drive the growth of the global generic injectable market. Furthermore, East Asia and South Asia are expected to be lucrative regions, as a majority of manufacturers of low-cost generic injectables are focusing on establishing facilities in these regions.
How is the competition scenario in the generic injectable market?
Key manufacturers in the generic injectable market such as Pfizer Inc., Novartis AG, Teva Pharmaceutical Industries Ltd., and Sanofi S.A. are aiming at inorganic and organic business expansions strategies by entering into mergers, sales agreements, partnerships, and production partnerships with local manufactures from developing economies.
Manufacturers Prefer Monoclonal Antibodies to Develop Generic Injectables
Given their higher biosimilar capabilities and cost benefits over branded injectable drugs, demand for monoclonal antibodies (mAbs) stays atop in the generic injectable market. Procuring around a quarter of overall market value, manufacturers prefer mAb drugs for treating various chronic disorders, including cancer and other autoimmune diseases. Rising prominence of single-use technologies and closed delivery systems are transforming vaccine manufacturing, particularly in addressing the challenge of sterilization. Market players are thus driving innovations in the development and delivery of vaccines.
Developed Regions Maintain their Primacy
Capturing a significant chunk of total market revenue, collectively, North America and Europe are the hub of value-creation prospects for manufacturers. The presence of a well-established healthcare system and increasing rate of drug approvals are auguring well for the generic injectable market in these developed regions. Further, North America and Europe would share nearly identical divide in the market landscape by 2029 end. Driven by drastic upsurge in production capacity and technology intervention in the pharmaceutical industry, manufacturers are also targeting Asia for further investment opportunities.
Reimagining Supplier Ecosystems with CMOs
Contract manufacturing organizations (CMOs) play an instrumental role in spurring network disruptions in the healthcare vertical. Moreover, recent projections suggest that, CMOs are likely to flourish nearly twice that of the entire medtech industry in the near future. Market incumbents are outsourcing the manufacturing of generic injectable drugs to CMOs in order to ensure significant savings in capital expenses (CAPEX). Furthermore, with a proper approach, CMOs help them manage volatilities in demand and tackle supply risks. As such, players in the generic injectable market would be well placed to expand their customer base with quality-focused products and services.
Monoclonal antibodies remain highly preferred
Vaccines to gain rapid traction
High preference for small molecule drugs
Large molecule drugs to show noteworthy CAGR
High adoption in pain management
Application in infectious diseases on rise
Hospital pharmacies account for leading value share
Retail pharmacies to exhibit higher growth rate
How Growth will Unfold
Small molecules have been a mainstay in the manufacturing of generic injectable drugs, primarily attributable to the favorable regulatory framework. However, large molecule drugs, or biologic drugs, are emerging as a major shake-up in the biotechnology industry, owing to their greater specificity and safety profile in injectable drug delivery. By 2022, large molecule generic injectables will outperform the small molecule iterations. These paradigm shifts are compelling generic injectable manufacturers to re-think every facet of their approaches.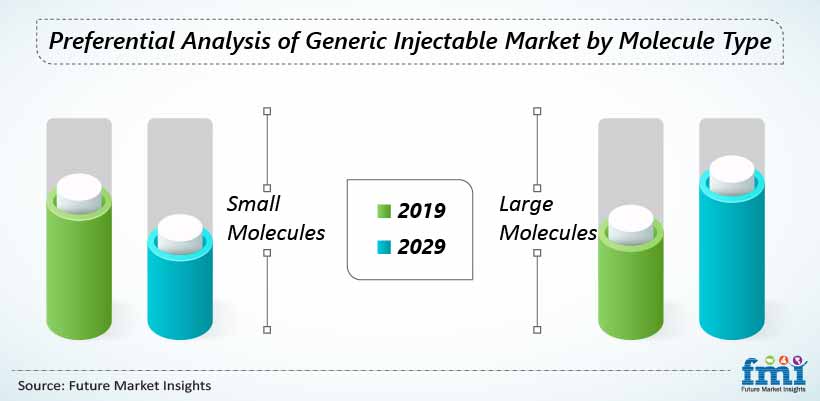 * This data is only a representation. Actual data may vary and will be available in report.
Click Here To Know How The Growth Will Unfold
Custom Market Research Services
FMI offers custom market research services that help clients to get information on their business scenario required where syndicated solutions are not enough.
Overview
Generic Injectable Market Analysis 2019-2029
A recent market study published by Future Market Insights (FMI) offers global industry analysis of 2014-2018 and forecasts for 2019-2029. The study also offers a comprehensive assessment of the most important market dynamics. After conducting thorough research on the historical as well as current growth parameters of the generic injectable market, the growth prospects of the market are obtained with maximum precision.
Generic Injectable Market Taxonomy
The global generic injectable market is segmented in detail to cover every aspect of the market and present a complete market intelligence approach to the reader.
Product
Monoclonal Antibodies
Immunoglobulins
Cytokines
Insulin
Peptide Hormones
Blood Factors
Peptide Antibiotics
Vaccines
Small Molecule Antibiotics
Chemotherapy Agents
Others
Molecule Type
Small Molecules
Large Molecules
Application
Oncology
Infectious Diseases
Diabetes
Blood Disorders
Hormonal Disorders
Musculoskeletal Disorders
CNS Diseases
Pain Management
Cardiovascular Diseases
Route of Administration
Intravenous (IV)
Intramuscular (IM)
Subcutaneous (SC)
Distribution Channel
Hospital Pharmacies
Retail Pharmacies
Drug Stores
Online Pharmacies
Region
North America
Europe
Latin America
South Asia
East Asia
Oceania
Middle East And Africa
How the research was conducted?
Primary Research
C - Level Executives
Marketing Directors
Sales Heads
Portfolio Managers
Purchasing Managers
Medical Officers
Device Development Heads
Strategy Advisors
R&D Managers
Product Manufacturers
Distributors
Component Suppliers / OEMs
Purchasing Departments
Physicians / Nursing Managers
Industry Experts
Current Market Dynamics and Challenges
Market Characteristics
Market Performance and Growth Quadrants
Competition Structure and Market Structure
Strategic Growth Initiatives
Product Adoption, utilization rate, substitutes
Regulatory Landscape
Products in Pipeline and Clinical Development
Near-term and Long-term Market Growth Prospects
Market Segment Splits and Authenticity
Opinions on Market Projections and Validity of Assumptions
Secondary Research
Industry Magazines
Factiva
Organisation for Economic Co-operation and Development
Emergency Care Research Institute
Global Clinical research Organizations
Research organisations
Company Press Releases
Annual Reports and Investor Presentations
Peer-reviewed Journals
Government Websites and Publications
Trade Websites
Clinical Trial Registries
Country-specific Regulatory Authorities
World Bank, WHO
Primary Interview Splits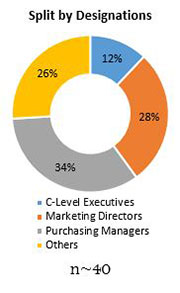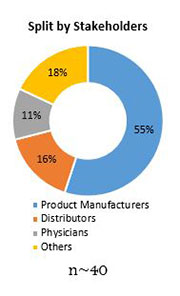 To Learn More About our Comprehensive Perspective on Generic Injectable Market,
Get in touch
COVID -19 : Impact Analysis
Request the coronavirus impact analysis across industries and markets
Request Covid -19 Impact
CASE STUDIES
See how our work makes an impact.
At FMI, we design strategies that are adaptive, impactful, and implementable.