About the Report
The increasing prevalance of chronic diseases has resulted in investments towards innovations in field of generic injectables. The demand for immediate treatment options has resulted in the growing popularity of intravenous (IV) or intramascular (IM) routes of drug administration.
For example, IM administration of insulin provides better patient outcomes. Generic injectable products offera number of advantages such as faster approvals, improved availability of biologic drugs in development pipelines, and higher preference for injectable drug delivery. Factors such as cost-effectiveness, and better patient outcomes are bolstering sales prospects for products including vaccines, monoclonal antibodies, peptides, immunoglobulins, and antibodies.
Generic injectables are also increasingly recognized as cost-effective treatments as compared with branded alternatives. These factors are driving up adoption rates in the generic injectable market.
In its latest study, ESOMAR-certified market research and consulting firm Future Market Insights (FMI) offers insights about key factors driving demand for generic injectables. The report tracks global sales in 20+ high-growth markets, along with analyzing the impact COVID-19 has had on the generic injectable market.
How Does the Historical and Future Outlook of Generic Injectables Compare?
The wide prevalence of lifestyle-based ailments such as diabetes in developed and developing countries is increasing driven by a number of factors including family medical history, obesity and others. Increasing prevalence of diabetes adds up to medical costs for management of the condition.
As per data from the World Health Organization (WHO), the prevalence of diabetes is expected to surge from 117 million in 2000 to 422.0 million in 2030 with a rapid rise in patient numbers. The prevalence of diabetes across all age-groups was estimated to be 2.8% in 2000, which is projected to rise to and 4.4% in 2030.
Previously, due to insufficient clinical data and safety concerns about generic injectables, uses were limited in the treatment of chronic ailments. According to Future Market Insights, generic injectable sales have grown at an 8.8% CAGR between 2016 and 2020.
The COVID-19 pandemic has changed priorities in national healthcare processes and spending, but this is considered to be a short-term negative impact on the generic injectable market. Future Market Insights expects the global generic injectable market to rise at 11.6 % CAGR through the end of the forecast period in 2031.
How are Branded Versions Contributing to Sales of Generic Injectables?
The expiry of patents of branded items and reduced numbers of new launches have positively influenced generic medications and has contributed to the development of market players and product sales.
Generic injectable costs are relatively low, when compared with the costs of branded products providing significant impetus to market growth while also expanding net sales. Generic drugs are resulting in losses for pharmaceutical companies with support from government incentives for participants in the market.
Across economies there has been rising trend in healthcare expenditure in the last decade. Factors responsible include inflation rates that contributes significantly towards drug price spirals. Utilization of capacities and rates have remained stagnant since 2000 and it's only prices that are driving growth. In this regard, close focus on both pricing and healthcare access are key aspects that need to be considered while containing medical costs.
Why are Pipeline Drug Approvals and Sterile Injectables Gaining Importance?
Medications in the drug development pipelines with parenteral applications has risen from 56% to 58%, between 2020 and 2021. This can be attributed to the scaling of biologics. Expansion of generic injectable in pipeline result in the expansion and R&D efforts involved in the conventional injectable market.
Generic injectables affirmed as new molecule entities (NMEs) by the US Food and Drug Administration's (FDA) Center for Drug Evaluation and Research (CDER) estimated a peak of 57% in 2020 and has since dropped to 40% in recent months.
Research into new treatment and route of administration options for chronic diseases has risen. Expansion will drive development in the generic injectable market.
Major drug production organizations have reported their expectations to invest in manufacturing facilities with the objective of improving manufacturing limits, cutting down corporate expense rates, and building their international presence in emerging economies like India and China, where manufacturing cost is relatively lower as compared to Europe and North America.
The new duty changes in the U.S., have resulted in lower corporate tax rates, and have boosted biopharmaceutical organizations to bolster production capacities. In July 2020, Pfizer reported an arrangement to contribute around US$ 465 million to fabricate a sterile injectable plant in Portage, Michigan. This development is a part of the company's plan to invest around US$ 5 billion for every U.S.- based capital task in line with corporate assessment changes in the country.
High Operational Costs Restraining Generic injectable Growth?
Generic injectables need complex equipment for manufacturing, all of which require appropriate certification and sterilization standards for each batch prior to production. This leads to high operating costs and high debt levels, due to purchase/ rent-to-lease of capital equipment. Additionally, regulatory cost burdens are significantly higher owing to FDA mandates of maintaining high degrees of care not only in the manufacturing process, but also for packaging, storage and distribution.
Some areas contributing to high level of expenditure include sterility from bacterial and fungal contamination, stability issues, separation of extractable and leachable substances from packaging materials along with transportation and logistics.
What Are the Opportunities Involved in Generic injectables?
Manufacturing of sterile products has been increasingly outsourced to CMOs and CDMOs. This has resulted in major monetary savings among the larger drug producers. The development is witnessing increased traction in the oncology segment. Further, the expansion of large molecule products into injectables are fueling developments. Information geneted from bioavailability studies demonstrating a connection among pharmacodynamics and pharmacokinetics for such generic injectables is bolstering market prospects. India's power of favored assembly areas for major drug production units is gradually expanding to different areas including research and clinical practices, owing to India's low operational costs and significant expertise in the field.
According to the Pharma India 2021 report, India overwhelms the generic medications market; it traded US$17.3 billion worth of medications - approximately 20% of the worldwide market - in 2017-18. This trend is unlikely to change in the near future. In 2017, the FDA affirmed 80 new vagrant signs, with 53 endorsed in 2020. In this way vagrant medication classification will give critical development freedom to producers of nonexclusive injectable products.
Country-wise Insights
How Lucrative is the Opportunity in the China?
China is one of the leading producers of pharmaceutical products in the world. However, China is experiencing dramatic increase in wages and is consequently getting more expensive for contract manufacturing processes. Despite this, Asia remains a very affordable region for manufacturing.
Also, the government and regulatory authorities in China are implementing several cost-containment plans to ease the burden on the healthcare sector. The Chinese government is actively taking initiatives to encourage various research activities for the development and treatment plan for generic injectables for cancer.
The World Health Organization reported that in 2018 the incidence rate of "westernized lifestyle-related Diseases" such as diabetes, hypertension, together with obesity and hormonal imbalance has been found to be a major cause of chronic diseases showing an upward trend in China.
Furthermore, the higher prevalence of chronic diseases in the China, with a number of service providers are conducting campaigns to raise general awareness among people related to these diseases. This is likely to support the overall market growth in the country.
What Developments Drive Success in the U.K.?
Frequent tech advancements, the demand for wider product portfolios, and improvements to drug development pipelines and production capacities of existing injectable players are key factors speeding up the promising growth in the UK of the generic injectable market. New acquisitions have been driven by the need to widen the portfolio for nonexclusive clean injectables in the UK market.
For Instance, in January 2021 – Samsung Biologics announced another successful Investigational New Drug (IND) clearance from the FDA for cancer immunotherapy, furthering the company's track record as a premiere CDO service provider in the global market.
What are the Factors Restricting Generic Injectables in Germany?
Regulatory guidelines are relatively strict in Germany. As a result, achieving approvals for drug development and production is harder. Authorities responsible for the registration of pharmaceuticals is an independent higher federal authority under the Federal Ministry of Health. The institute aims to continuously improve the safety of drugs and monitor the risks associated with medical devices and narcotics. BfArM's headquarters are located in Bonn and Berlin.
BfArM is the authority responsible for licensing medicinal products for humans. Sera, vaccines, allergens, test sera, test antigens, and blood products are licensed by the Paul-Ehrlich-Institute. Marketing authorizations for medicinal products for use in animals are granted by the Federal Office of Consumer Protection and Food Safety. Complying with the difference in standards will play key roles in the future of the industry.
How is R&D Expenditure Affecting the U.S Market?
The healthcare R&D expenditure in the U.S. rose by over 33% from 2018 to 2020. Numerous investors in the United States are spending on R&D pertaining to the healthcare industry, federal government, universities, and foundations.
Rapid growth of healthcare expenditure is resulting in new molecule discovery, and the evaluation of various molecules for potential treatments. The U.S. witnessed approximately 400 injectable in pipeline during 2020. Large molecules are a key focus of the pharmaceutical industry at present. This is due to the highly biocompatible nature of large molecules.
The approval of large molecules and biosimilars is a lengthy process that requires a significantly high investment for research. Increase in R&D spending in the pharmaceutical industry offers the opportunity for numerous large molecules to enter the pipeline. Oncology remains the key focus of research owing to a large patient pool that offers significant growth opportunities once launched in the market. Most products are in phase 3 of the pipeline. This is because many manufacturers strategize to gain approvals for pre-marketed products for new indications in order to expand their customer base.
What is Supporting Surging Adoption Of Generic Injectables in India?
Growth of government spending in pharmaceutical sectors is a major factor generating penetration opportunities in india. High levels of capital investment as continuous support to keep up with USFDA cGMP generic clean injectable plants will positively influence market developments.
The lapse of patents for branded items and reduced number of new item launches have brought about the increase in generic injectable deals in India. Relatively relaxed standards of regulatory approval of generic injectables have contributed to higher investments in production to ensure higher quality levels.
The usual time span for regulatory approvel for sterile medications in the countyr are more than three to four years. A large gap between demand and supply adds to deficiencies, create value building incentives. Practical medication for working class populace will also contribute to the market.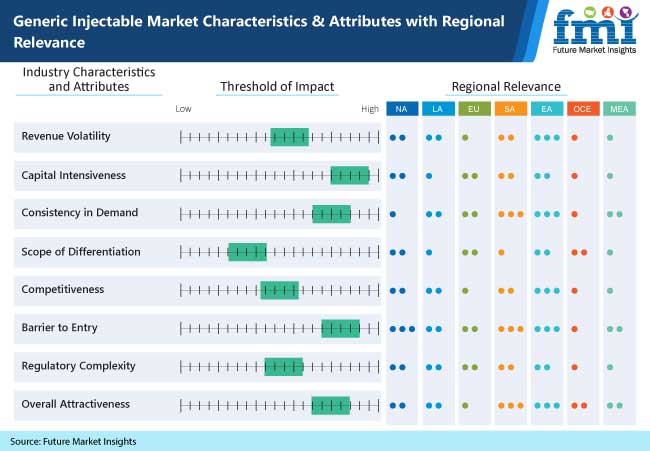 Category-wise Insights
Why is Intravenous Administration Driving Revenues?
Intravenous injections are though to be more effective for a number of life treating diseases and associated treatments. Ease of operations by doctors and lower costs, drive physicians to choose intravenous options. Lower costs for patients also results in higher revenue generation in the generic injectable services market with increased sales.
What's the Market Share of Monoclonal Antibodies by product type?
The monoclonal antibodies segment will continue to dominate the market during the forecast period. According to FMI, the segment is expected to hold around 44% of the market share, in terms of service providers, through the end of 2031. Hospitals are equipped with advanced injectable for fast recovery of patients, through immunity boosting offerings which is finding roles to treat patients with various chronic diseases.
Why Large Molecule Type have good share ?
Most of the pharmaceutical generic companies are focusing on research of large molecule delivery by injectable route that create good opportunities in this area. And in forcast period as well this segment is showing largest share of 57%.
Why Hospital Pharmacies give largest sale through out forcast period ?
Injection are something which cant be self administrated so to take it heatlcare docters are required so for that purpose we need to go to hospitals to take injection. Big hospitals have their own pharmacies so all the medicine required in hospital comes from their pharmacies incuding injection so that it give large sale. It give around 94 Bn sales in forcast period.
How has Diabetes Contributed to Sales of Generic Injectable?
Diabetes currently leads the market in terms of indication. The increasing prevalence of diabetes around the world will continue to drive demand. The prevalence of diabetes in developed as well as developing countries is increasing due to factors such family history of diabetes and obesity among others. Increasing prevalence of diabetes adds up to the cost of management of diabetes.
As per the World Health Organization (WHO), the prevalence of diabetes has surged from 117 million in 2000 to 422.0 million in 2030 and the number is rising rapidly. The prevalence of diabetes for all age-groups worldwide was estimated to be 2.8% in 2000 and 4.4% in 2030.
The prevalence of diabetes is higher in men than women, but there are more women with diabetes than men. Urban population in developing countries is projected to double between 2000 and 2030. The prevalence rate is high particularly in developing countries as compared to developed countries. With the incidence set to rise, the demand for effective is forecast to surge with CAGR of 12%. This will in turn fuel the demand for Generic Injectable in the coming years.
Competitive Landscape
Manufacturers in the generic injectables market are aiming to carry out strategic collaborations and R&D.
For instance, In January 2020, Merck announced its Strategic Collaboration for oncology platform with Taiho Pharmaceutical Co, Ltd. And Taiho Pharmaceutical Co, Ltd to expand its focus on small molecule in injection inhibitors for cancer research.
For Instance, In January 2019, Sanofi S.A acquired Biogen Spin-Off in $11.6-Billion Deal.
In March 2021, Pfizer Inc. and Eli Lilly and Company announced the approval U.S. FDA for tanezumab for osteoartities Pain taken subcutaneously (SC)
The company is strategically making promotional plans for its established prescription brands to increase their awareness within the prescription market Its 'Get Old' campaign also makes a frequent appearance on the main company feeds and through its own Twitter and Facebook page. Sanofi AG may be known for blockbuster injectable drug products such as Libtayo and Sarcalisa, but the company is engaged in effective promotions to increase its brand recall among established prescription brands.
Some of the leading companies operating in the market are:
Samsung Biologics Co Ltd
Aurobindo Pharma Limited
Sun Pharmaceutical Industries Ltd.
Novartis AG
Merck & Co. Inc.
Cipla Ltd
Pfizer Inc
Fresenius Kabi
Sanofi S.A
AstraZeneca Plc
Teva Pharmaceuticals.
Mylan N.A
Baxter International
Dr. Reddy's Laboratories Ltd
Scope of the Report
Attribute

Details

Forecast Period

2021-2031

Historical Data Available for

2016-2020

Market Analysis

USD billion for Value

Key Regions Covered

North America, Latin America, Europe, East Asia, South Asia, Oceania Middle East & Africa

Key Countries Covered

US, Canada, Germany, U.K., France, Italy, Spain, Poland, Russia, China, Japan, South Korea, India, Thailand, Malaysia, Indonesia, Australia, New Zealand, GCC Countries, Turkey, South Africa

Key Segments Covered

Product, Molecule, Application, Route of Administration, Distribution Channel and Region

Key Companies Profiled

Samsung Biologics Co Ltd
Aurobindo Pharma Limited
Sun Pharmaceutical Industries Ltd.
Novartis AG
Merck & Co. Inc.
Cipla Ltd
Pfizer Inc
Fresenius Kabi
Sanofi S.A
AstraZeneca Plc
Teva Pharmaceuticals.
Mylan N.A
Baxter International
Dr. Reddy's Laboratories Ltd

Report Coverage

Market Forecast, Competition Intelligence, DROT Analysis, Market Dynamics and Challenges, Strategic Growth Initiatives

Customization & Pricing
Key Questions Answered in the Report
Which is the most lucrative market for generic injectable?

The US currently leads the global market for generic injectable. Sales in the US will be over 95% of the total global demand throughout the forecast period.

Which is the most used type of product?

Monoclonal Antibodies is dominating the segment in terms of product. Due to its fast action and cost effective and will continue increasing through the forecast period.

Which is most common application for generic injectables?

Infectious disease is having more Patient worldwide. There is more prevalence of bacterial or viral infection that is main reason for the lubrication of this segment.

Which route of administration is preferable?

Intravenous is showing consistence growth in market due it instant effect on route cause and relief in indication also site action is more seen.

Which Distribution channel is driving revenue of generic injectable?

Hospitals are leading the service provider segment of the generic injectable services market, owing to their advanced medical facilities and higher footfall of patients.
Generic injectable Market by Category
Product type
Monoclonal Antibodies Generic injectable
Immunoglobulin Generic injectable
Cytokines Generic injectable
Insulin Generic injectable
Peptide Hormones Generic injectable
Blood Factors Generic injectable
Peptide Antibiotics Generic injectable
Vaccines Generic injectable
Small Molecule Antibiotics Generic injectable
Chemotherapy Agents Generic injectable
Molecule Type
Small Molecule Generic injectable
Large Molecule Generic injectable
Application
Oncology Generic injectable
Infectious Diseases Generic injectable
Diabetes Generic injectable
Blood Disorders Generic injectable
Hormonal Disorders Generic injectable
Musculoskeletal Disorders Generic injectable
CNS Diseases Generic injectable
Pain Management Generic injectable
Cardiovascular Diseases Generic injectable
Route of Administration
Intravenous (IV) Generic injectable
Intramuscular (IM) Generic injectable
Subcutaneous (SC) Generic injectable
Distribution channel
Hospital Pharmacies
Retail Pharmacies
Drug Stores
Online Pharmacies
Region
North America
Latin America
Europe
East Asia
South Asia
Oceania
The Middle East and Africa (MEA)
Need specific information?
Talk Show:
The Rise of Intelligent Packaging
Personalized, Connected and Sustainable
November 18, 2021
11:00-11:45 AM PST (USA & Canada)
This is a LIVE session