Bioplastics for Packaging Market By Material Type (Bio PET, Bio PA, Bio PE, Bio-PP, Bio-PS, PLA, PHA, Starch Blends), Application (Bottles, Cups, Trays, Clamshell, Films), End Use Industry (Food & Beverages, Cosmetics & Personal Care, Pharmaceuticals) & Region - Forecast 2017 - 2027
Bioplastics for Packaging Market - Analysis, Outlook, Growth, Trends, Forecasts
January 2018

REP-GB-6087

270 pages
Introduction
Bioplastics for packaging are proven safe for non-carbonated, carbonated & alcoholic beverages, dairy products, personal care, and homecare products, it is likely that the demand for bioplastics for packaging will remain robust throughout the forecast period 2017-2027. The US$ 4 Bn market for bioplastics for packaging is projected to observe vigorous growth at over 14% CAGR over 2017-2027, as indicated by Future Market Insights' research on bioplastics for packaging market.
Bioplastics for Packaging Market Remains a Fragmented Landscape; Top 10 Account for Less than 1/3rd Revenue Share
The top 10 players in the global bioplastics for packaging market currently account for over 32% share of the total revenue of bioplastics for packaging marketplace. Whereas, the bioplastics for packaging market is more intensively operated by a large number of relatively smaller players, which provide packaging manufacturers with a wide array of choices at competitive prices. While the local players cumulatively hold a whopping revenue share of nearly 70% in the global bioplastics for packaging market, global brands are still struggling to penetrate into emerging regions predominantly due to the high price point and associated logistical expenses.
Thailand Plays a Pivotal Role in Shaping APEJ's Growth as the Most Lucrative Bioplastics for Packaging Market Globally
Asia Pacific has been the largest producer of bioplastics for packaging, followed by Europe and North America. Thailand is considered to be the Asian hub for resins production used in bioplastics for packaging, and the Thailand government is expected to continue extending strong support producers of bioplastics for packaging, through tax exemption and incentives.
Being one of the leading sugarcane and cassava exporters besides Europe and North America, Thailand holds maximum potential to cater to the demand for bioplastics for packaging materials from manufacturers at relatively competitive prices. Thailand's preeminence is likely to augur well for the APEJ is expected to thrive at the fastest CAGR in bioplastics for packaging market through 2027.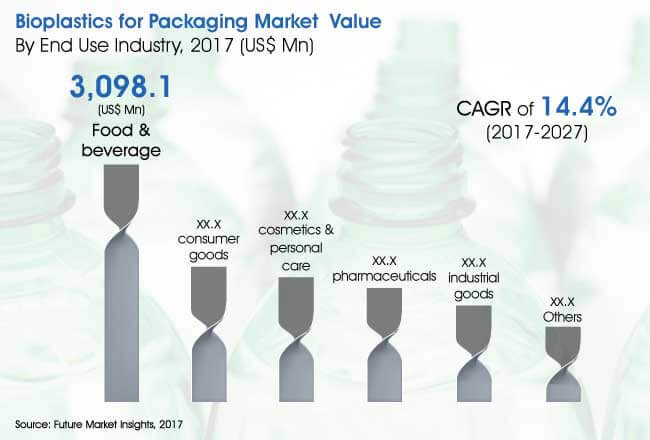 Starch Blends and PEF Register a Major Boost in Popularity, Bio-PET Remains in the Limelight
Bio-PET for packaging, extensively used by a majority of manufacturing brands, will remain the most favored material type for bioplastics for packaging throughout the assessment period. However, starch blends are likely to demonstrate the highest CAGR during 2017-2027, owing to their superior sustainability over other material types in the bioplastics for packaging market.
With growing awareness about the superiority of Polyethylenefuranoate (PEF) over conventional PET, the former is rapidly becoming a preferred material in manufacturing of bioplastics for packaging applications, especially beverage bottles. Some of the prominent players in the global bioplastics for packaging space such as Germany-based BASF and Synvina, and Netherlands-based Avantium entered into a strategic collaboration (2017) for the production and recycling of PEF material for bioplastics for packaging.
Edible Bioplastics for Packaging Creates Untapped Attractive Opportunities in the Dominant F&B Sector
With the food and beverages sector monopolizing the market for bioplastics for packaging with a current revenue share of over 80%, the mounting significance of convenience packaged foods cannot be overstated. In an effort to offer a novel dimension to F&B packaging and promote the zero-waste sustainability initiative, manufacturers are now zooming their R&D focus on edible bioplastics for packaging.
Indonesia-based Evoware is already active in edible packaging products based on biodegradable bioplastics for packaging. Manufactured from particular sea weeds as a key ingredient, these bioplastics for packaging products allow customers to eat up the food along with the package. Covering a versatile range of packaging formats, the company supplies bioplastics for packaging to several manufacturers as well as retailers in F&B sector.
Competitive Landscape: Bioplastics for Packaging Market
Besides expanding R&D investments for a wider product portfolio, key players in bioplastics for packaging market are eyeing a slew of business opportunities existing in emerging Asian markets. However, global brands continue to face the challenges posed by a major threat from a large number of local players and complex supply chain management. Despite holding a strong foothold in developed regions, leading companies in bioplastics for packaging market will continue their struggle to effectively penetrate into developing regions due to dominating presence of local brands. It is most likely that the global players will strategize mergers and acquisitions of local companies in an effort to grow organically in developing economies.
A majority of the companies active in bioplastics for packaging market landscape are prioritizing source innovation in bioplastics, for an instance, Brazil-based Braskem SA is consistently innovating bio-based resins and films. The company, through various strategic partnership deals, has created a novel material of bioplastics for packaging of a line of men's skincare products, produced sugar-based bioplastics for packaging (MEG i.e. monoethylene glycol), and even developed a sugarcane-based material for biolpastics for packaging. Moreover, Indian Uflex Ltd. also preferred to partner with a leading regional brand in flexible packaging, for innovation of a new super barrier film.
World's Most Profilic Intelligence Engine
Get Access To The World's Largest Market Research Database.
Sign Up Now
Market Taxonomy
The market taxonomy is the process of bifurcating the market into smaller segments based on various parameters. This makes understanding and analyzing the market easier. The report on the global bioplastics for packaging market has four major segmentation types – based on material type, end use, application type and region. The report depicts an individual analysis of each of these segments. The regional segmentation helps readers identify the most lucrative regions where their business is likely to grow.
Material Type
Bio PET
Bio PA
Bio PE
Bio-PP
Bio-PS
PLA
PHA
Starch Blends
Others (PCL, PBAT etc.)
End Use Industry
Food & Beverages
Cosmetics & Personal Care
Pharmaceuticals
Consumers Goods
Industrial Goods
Others(Automotive, Electrical & Electronics
Application Type
Bottles
Cups
Trays
Clamshell
Films
Bags
Pouch & Sachet
Others
Region
North America
Latin America
Western Europe
Eastern Europe
Asia Pacific Excluding Japan
MEA
Japan
Need specific information?
Our Clients