Garment Steamer Market Outlook & Key Findings
Future Market Insights (FMI) forecasts the global garment steamer market to exhibit a CAGR of 5.2% between 2020 and 2030
Lightweight designs in garment steamers, which are more convenient for consumers to carry for travels, have become increasingly popular
Garment steamers are replacing traditional irons at a faster pace than expected. Besides time saving, garment steamers pose lesser risk of burning clothes, which is helping them race ahead of their conventional counterpart
Upright or non-portable garment steamers are expected to witness high demand. FMI projects them to comprise the leading segment among products, accounting for more than half of the market
Liberal Spending on Better Versions of Household Appliances will Spur Sales of Garment Steamers
The importance of home appliances has progressed over the years. Initially launched as specialty FMCG product, garment steamers have evolved into a household item and so has their design and usability.
They are available in more compact designs with features particularly aimed at better convenience. One of the recent innovations was to make them travel-friendly. The idea driving these innovations was to offer consumers a more convenient technology in comparison to bulky irons that will help them wear crease free clothes.
Consumers are spending increasingly on garments, invariably, the demand for high-end maintenance of their expensive clothing has risen. While ironing use to suffice earlier, consumers are seeking out advanced technologies, which translated into opportunity for the entry of garment steamer brands in the household sector.
Garment steamers sport an improved design which make steaming clothes a simpler chore than mundane ironing. It helps users to cut down on their ironing time besides offering a range of other advantages.
Driven by the aforementioned trend, the future of garment steamer market seems robust. The market is expected to gain momentum, as consumers increasingly focus on making their homes smarter.
Overall the demand for linen care appliances has risen steadily in response to the rising number of households. This, coupled with increasing willingness to spend on better versions of utility products is driving sales in the garment steamer market.
Liberal consumer spending over past years across regions has led to slight consolidation in the global garment steamer market. Since, it is not a frequently purchased product and doesn't belong to consumer's priority buying category the industry also exhibits a bit of volatility. Other key industry attributes has been indicated in exhibit below.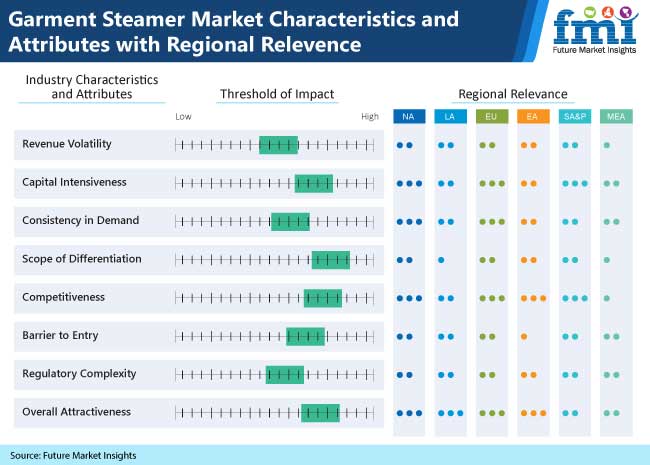 Lower Brand Loyalty among Consumers Compels Manufacturers to Maintain Competitive Pricing
Companies in the garment steamer market are operating in a highly competitive environment. Availability of numerous products within the same category and frequent launches have compromised with brand loyalty of consumers.
Besides competition, higher product penetration has compelled manufacturers to invest in innovations. They are also changing the strategies to expand their reach. For instance, several companies have shifted their focus from high to low and mid income group of consumers.
Consequently, more products are available at competitive pricing in the market. Thanks to advanced technologies, companies are able to offer better versions of the product at lower prices.
The challenge is coming also from ecommerce behemoths such as Amazon, Walmart and others. Some of these companies are pushing their maiden brands across online platforms, which is compelling manufacturers to focus on new product development.
Market Players are Adopting Consumer-centric Approached to make their Brands More Lucrative
A consumer primarily judges an appliance on the basis of its functionalities. Handheld garment steamers for instance are trending among travelers due to their ease of use and portable design. Ideally there are a few parameters that influence consumers' purchase decision.
A significant number of them are influenced by brand identity. However, not all of them demonstrate brand loyalty. Hence it is imperative for companies to build a strong brand portfolio and strengthen their presence across multiple channels.
Next comes the functionality, for instance in case of hand held steamers, consumers often judge them on the basis of their efficiency in comparison to traditional press irons. Therefore products with higher wattage are likely to enjoy better goodwill.
Weight is another key factor that a consumer judges a product on. In case of handheld garment steamers consumers are likelier to opt for portable designs with better efficiency that can be suitable for travel purposes. Keeping this in mind, an increasing number of companies have launched steamers weighing between 0.5 and 0.7 kilograms.
Besides weight and wattage, consumers are looking for adjustable settings in garment steamers. Another factor they consider before making their final choice is the water tank capacity.
Because garment steamers are an improvement over press irons, consumers will be drawn by better convenience and efficiency. A large number of companies are ensuring their products fulfil the aforementioned parameters to strengthen their foothold in the market. In addition to this, they offer several years of warranty to make their brands more lucrative.
Smart Home Innovations Emerge as Key Growth Driver
The demand for controlled systems and smart homes is rising at an impressive pace. An increasing number of consumers are interested in digitizing their home space. Resultantly, the demand for home appliances with built-in smart technologies has spurred.
A rising demand for convenient and comfortable living has inclined homeowners in favor of smart laundry activities using advanced products such as garment steamers. Some of the leading companies such as Samsung and LG Electronics have launched smart clothes dryers that can be monitored and controlled through wireless technologies.
The rising demand for smart homes will therefore spur sales of advanced garment steamers. Driven by technological advancements besides other factors, FMI projects the garment steamer market to surpass US$ 1.4 Bn by the end of 2020.
Availability of Fake Goods Possess Risk to the Market
The availability of counterfeit or fake commodities is increasing at an unbridled pace. Their accessibility is especially high across online platforms. These counterfeit product manufacturers are slowly eating away into the market share of leading companies.
The online copies of original products often lack their efficiency and technology. This could create a negative perception about the original brand in consumers' mind, making companies lose business opportunities. Growth witnessed in the market is also hampered to an extent due to the availability of counterfeit products.
Manufacturers are responding to COVID-19 Crisis by altering their Existing Business Plans
The unprecedented spread of COVID-19 worldwide has had negative implications for suppliers of consumer goods and electronics. It has disrupted supply chain operations, creating bottlenecks. Besides decreasing the frequency of purchase, the pandemic has significantly increased the lead time taken for delivery of orders.
The garment steamer market is not immune to aforementioned concerns. It is reeling under constraints brought about by the pandemic crisis. Since lockdown was enforced in various countries across the world, it has become increasingly difficult to get the required raw materials.
Labor supply is hampered as well, restricting the overall operations in the garment steamer market. However, Future Market Insights expects operations to resume, albeit gradually as countries ease their lockdown rules.
Consumer traffic is expected to surge post lockdown especially in online channels. To spur growth, an increasing number of manufacturers will focus on launching novel designs in tandem with altering their business plans to suit the changing environment.
Garment Steamer Market: Regional Analysis
Driven by the rising demand in the U.K., Europe has emerged dominant in the global garment steamer market. According to FMI, the demand for garment steamer is considerably high in Germany and France. The expansion of household appliances market in these countries will aid growth witnessed in the garment steamer market.
Both East and South Asia are likely to emerge as lucrative markets for garment steamer. The rising demand for fabric care appliances in India and China will boost growth in both regions. Encouraged by increasing income, consumers in these regions are liberally spending on home care appliances. This will fuel sales prospects for garment steamer suppliers.
Growth witnessed in East and South Asia is also supported by lower revenue volatility of these regions. Europe will continue exhibiting better consistency in demand, which will seal its position as the market leader through the forecast period.
Garment Steamer Market Top Players
The garment steamer market primarily depends upon how feasible the product is for the customers and the benefits related to the product. Companies operating in the market are therefore driven by changing consumer needs and preferences. FMI profiles some of the leading companies operating across key regional segments. These include:
Americas
Hamilton Beach Brands Holding Company
Stanley Black and Decker Inc.
Conair Corp.
GE Appliances
Jiffy Steamer Company, LLC
Bear Down Brands LLC
Pursteam Company
SALAV USA
MARYANT, INC.
Reliable Corporation
AICOK
Steamfast Company
Secura Inc.
Epica company
Europe
Koninklijke Philips N.V.
Groupe SEB
Electrolux AB
Pro Breeze
Asia Pacific
Panasonic Corporation
LG Electronics
Godrej & Boyce Mfg. Co. Ltd.
IFB Industries Ltd.
Samsung Electronics
Midea Group Co., Ltd.
Shanghai Flyco Electrical Appliance Co., Ltd.
Haier Group Corporation
*The list is not exhaustive, and only for representational purposes. Full competitive intelligence with SWOT analysis available in the report.
Garment Steamer Market: Way Forward
FMI is optimistic about the future prospects of the garment steamer market. As garment steamers come in portable shape and size it is a popular choice among travellers, irrespective of whether they are tourist or business professionals. Garment steamers are easy to use, consume less time & effort and requires less space, which have increased their popularity among travellers
Garment steamers also consume less time and are gentle on fabrics as compared to traditional ironing. Upright and non-portable steamers also have a scientific design, which allows them to be used on hanging clothes, making ironing easier than on board. In the coming years, the demand for garment steamers is expected to rise, especially since they make ironing a less tedious process.
Market Segmentation
Product Type
Handheld/ Portable garment steamer
Upright/Non-Portable garment steamer
Power
Below 750 Watt
750-1000 Watt
1000-1500 Watt
1500-2500 Watt
2500 Watt & Above
Water Tank Capacity
Below 500 ml
500 ml- 1 Litre
1-2 Litre
2-3 Litre
3-4 Litre
4 Litre & Above
Material
Plastic
Anti-Lock Braking System (ABS)
Metal
Aluminium
Stainless Steel
Cast Iron
Ceramic
Price Range
Economy/ Mid-Range
Premium
End User
Households
Others
Commercial

Hotel & Restaurants
Hospitals
Long Term Care Centers
Sales Channel
Direct
Indirect

Supermarkets/Hypermarkets
Convenience Stores
Independent Small Stores
Discounted Stores
Online Sales Channel
Others
Region
North America
Latin America
Europe
South Asia
East Asia
Oceania
MEA
Need specific information?