Geospatial Analytics Market Outlook (2022 to 2032)
The global geospatial analytics market is expected to rise 12.5% of CAGR, securing a valuation of US$ 34.5 Billion by 2032. The market is likely to be valued at US$ 10.6 Billion in 2022, driven by:
Evolving Artificial Intelligence (AI) and growing machine learning.
The advanced technology of 5G network in telecommunication.
Maintaining and installing applications and data in the IT infrastructure.
Growing technology in GIS, such as sensor maps.
The global geospatial analytics market is likely to grow at a high pace by capturing a higher CAGR during the forecast period. The rising use of GPS devices and several technical data is lifting the demand for geospatial analytics during the forecast period. In addition, developing recent analytics such as vessel navigation and logistics management are growing the market share all around the globe. Track the location of the person, viewing optical satellite images, and do strategic operations are driving the market size in the foreseen time.
| | |
| --- | --- |
| Attribute | Details |
| Geospatial Analytics Market Estimated Size (2022) | US$ 10.6 Billion |
| Projected Market Valuation (2032) | US$ 34.5 Billion |
| Value-based CAGR% (2022 to 2032) | 12.5% |
| Top 5 Vendor Market Share | Around 35% |
Don't pay for what you don't need
Customize your report by selecting specific countries or regions and save 30%!
Developments of Geospatial analytics in Europe Drive Global Growth
Europe region is likely to dominate the geospatial analytics market share by securing a higher share during the forecast period. Due to the growing geographic information system and innovating AI, advanced technology in the United Kingdom is flourishing in the market size in the region. The wide use of GIS is likely to enhance the productivity of the business in recent years. In addition, growing awareness regarding geospatial data fuels the market growth in the region during the forecast period. Moreover, the company's employees and marketing intelligence are monitoring real-time data to make well-informed decisions for the company in the region.
The North American region is followed by Europe and is expected to grow the fastest market growth of the rising adoption of geospatial analytics for growing smart cities. In addition, the USA is accelerating the higher market growth in the region by contributing towards the modern geospatial cloud. Moreover, it further uses for web services and data storage and permits substantial sharing during the forecast period. Furthermore, current geographic information, rising business value, and adoption by the organization are rising the demand for modern geospatial cloud during the forecast period. On the other hand, it is widely adopted by data scientists and software developers in the region.
Asia Pacific region is also propelling a significant geospatial analytics market share. India is likely to drive the demand for geospatial analytics due to rising GIS technology for the agriculture sector during the forecast period. This technology helps to generate dynamic agriculture and provides information related to crops at different stages. GIS also offers effective products in a good environment by managing and controlling farming easily with this technology in the region.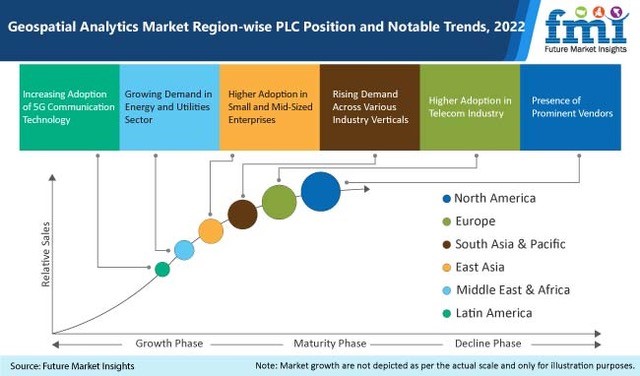 Opportunities Abound in the Geospatial Analytics Market
The market is fragmented by the number of key manufacturers presents globally during the forecast period. These key players are making marketing strategies to provide high-quality services to end users. Some of their basic tactics are mergers, partnerships, collaborations, and acquisitions, among others. Various start-ups and key companies are deployed modern options and offer scalable and secure services. Moreover, several key market players are innovating Esri ArcGIS technology with AI, with is one of the best combos in the market. It is one of the latest mapping analytics software, which is likely to drive all around the globe. Large enterprises are likely to prefer this technology due to provide better values for the company's growth.
The geospatial analytics market currently represents nearly 40% of the overall geographic information system (GIS) market. There has been a remarkable enhancement in artificial intelligence (AI) and machine learning (ML) abilities over the last few years to analyze GIS data. Artificial Intelligence and machine learning when integrated with geospatial data offer improved insights to organizations.
AI GIS (artificial intelligence geographic information system) is a combination of artificial intelligence technology and several GIS procedures, like spatial data analysis algorithms. AI GIS is becoming the main focus of geoscience research and applications in recent times. Thus, the growing utilization of artificial intelligence and machine learning in GIS solutions is driving the market.
2017 to 2021 Geospatial Analytics Market Demand Outlook Compared to 2022 to 2032 Forecast
The geospatial analytics demand is expected to increase at 12.5% CAGR between 2022 and 2032 in comparison to the 10.2% CAGR registered between 2017 to 2021. With the help of technologically advanced 5G networks, geographic information system companies are offering both existing and unique data to the telecommunication industry.
The geospatial analysis offers physical information about landscapes and cities, it can also offer information on the weather, vegetation, and people. The 5G network data offers network designers and radio engineers a thorough knowledge of GIS factors. Technological advancements in 5G communication technology are creating opportunities for the geospatial analytics players.
How are Rising Applications of Geospatial Analytics Solutions in Smart City Projects Augmenting Growth?
Geospatial analytics solutions have become a platform for smart city development. A centralized information system based on GIS offers an IT infrastructure for installing and maintaining applications and data in every phase of the smart city development life cycle.
The interactive geographic information services permit the imaging of sensor maps and urban components. End-users can use mapping software to access static and dynamic data regarding urban systems together with updating the data.
Geodesign framework technology is being used in smart city projects and is utilized for designing, planning, and conceptualizing smart city projects. The framework assists each process of smart city infrastructure development, from site investigation to assessment and simulation.
Get the data you need at a Fraction of the cost
Personalize your report by choosing insights you need
and save 40%!
Will Advancements in Geospatial Big Data Analytics Influence Demand?
Geoanalytics or geospatial big data analytics is a developing technology in which big data technology takes out insights, meaning, and patterns from complicated geospatial datasets. The advancement of big data technology will augment the adoption of sensor technology and the Internet of Things (IoT).
More businesses are moving towards analytics technology to collect details from their day-to-day operations. Geoanalytics scales the investigation of big data by disclosing hidden patterns. For example, analytics can investigate everything from crime patterns to the spread of diseases.
The IoT in GIS is referred to the enhanced connectivity between physical devices over the internet with a spatial component. IoT in GIS enhances accuracy, efficiency, and economic advantages as it permits these objects to gather and exchange details with each other.
Esri offers GIS products such as the ArcGIS platform that offers real-time GIS capabilities. Real-time dashboards offer actionable views into the daily functions of organizations, empowering stakeholders and decision-makers with the latest details they require to drive future and current strategies and ideas. Thus, advancements in geospatial big data analytics and the usage of IoT are contributing to the growth in the market.
Country-wise Insights
How is the United Kingdom Geospatial Analytics Market Faring?
Increasing Awareness Regarding Geospatial Data Analysis in the United Kingdom Will Fuel Growth
As per the study, the United Kingdom is estimated to create an absolute $ opportunity of US$ 1.1 Billion by the end of 2032. The combined usage of geographic information systems and business intelligence is driving the market in the United Kingdom The integrated use of GIS and business intelligence is supporting businesses to enhance productivity and cut prices.
Applications that connect geographic information system and business intelligence permits companies to monitor employees, equipment, and asset, and to gather and interpret data in real-time to make well-informed decisions.
Why is the USA Geospatial Analytics Market Witnessing High Demand?
Rising Adoption of Geospatial Analytics in Smart Cities Will Boost Sales
The geospatial analytics demand in the USA is expected to account for around 72.3% of the North American market share by 2032. The emergence of modern geospatial clouds is contributing to the growth in the USA market.
Geospatial cloud uses web services, along with elastic computing and data storage abilities offered by cloud computing services to permit substantial sharing and integration of distributed georeferenced data.
This modern architecture is simpler to install and use and, hence it also increases adoption and business value. The geospatial cloud is letting current geographic information systems users and new adopters increase their value across their organizations, and it can be utilized by executives and fieldworkers data scientists, and software developers.
What is Driving the India Geospatial Analytics Market?
Growing Demand for Geospatial Analytics in the Agricultural Sector in India Will Spur Growth
Sales of geospatial analytics solutions in India are anticipated to grow at an impressive 17.0% CAGR over the forecast period. Increasing applications of GIS in the agriculture sector are driving demand in India.
Technological developments and geospatial technology help in generating competitive and dynamic agriculture which is preventive of the environment and effective in offering better products to the people. With the help of geographic information systems natural inputs in farming can be easily controlled and managed.
Category-wise Insights
Why is the Demand for Geospatial Analytics Solutions Rising?
Adoption of Geospatial Analytics Solutions to Remain High
The solutions segment is expected to account for nearly 61.8% of the total market share by 2032. Geospatial analytics solutions support enterprises to analyze, localize, and act upon the transforming business trends and conditions. Many companies now have started to finance in geospatial analytics because of the agility and comprehensive operational efficiency offered by the solution.
It also helps in understanding business trends in the right way and lowers functional prices. These solutions are becoming important across organizations as they gather high-level information from location data.
How will Demand from Large Enterprises Support Growth?
Sales of Geospatial Analytics Across Large Enterprises to Remain High
Demand in the large enterprise segment is anticipated to grow by 2.8X during the forecast period. The adoption of cloud technologies results in more effective business performance and has generated demand for geospatial analytics in large enterprises.
Large enterprises are capable to gain a better understanding of their consumers and how they function with the support of GIS mapping software. Thus, all these benefits offered by geospatial analytics are driving sales in this segment.
Which is the Leading Industry in the Geospatial Analytics Market?
Demand for Geospatial Analytics Across Government and Defense Sector Will Increase
Sales in the government and defense sectors are estimated to grow by 3.3X during the predicted period. Defense organizations are utilizing geographic information systems in various ways, comprising charting and mapping of all military operations and plans to make more well-informed decisions.
GIS can play an important role in defense estate management. One of the main advantages of geographic information system in the management of military bases is that it eases the management and maintenance of all stores on a base. Thus, the advantages offered by geospatial analytics are propelling demand in this segment.
Competitive Landscape
Geospatial analytics market players are concentrating on strategic partnerships with other service providers to develop advanced geospatial analytics solutions. For instance:
In May 2022, Hexagon AB company declared that the company Intergraph G/Technology is now obtainable on the Oracle cloud infrastructure. The modern deployment options offer utility operators a secure, scalable geographic information solution with lowered start-up prices and required infrastructure.
In March 2022, PrecisionHawk declared a partnership with Esri Company. The partnership will bring the best in geospatial intelligence by combining PrecisionHawk's industry-leading AI with Esri ArcGIS technology, the globe's most dynamic spatial and mapping analytics software.
Scope of Report
Attribute
Details
Estimated Market Size (2022)
US$ 10.6 Billion
Projected Market Valuation (2032)
US$ 34.5 Billion
Value-based CAGR (2022 to 2032)
12.5%
Forecast Period
2022 to 2032
Historical Data Available for
2017 to 2021
Market Analysis
US$ Billion for Value
Key Regions Covered
North America, Latin America, Europe, East Asia, South Asia & Pacific, and the Middle East & Africa
Key Countries Covered
The USA, Canada, Germany, The United Kingdom, France, Italy, Spain, Russia, China, Japan, South Korea, India, Malaysia, Indonesia, Singapore, Australia & New Zealand, GCC Countries, Turkey, North Africa, and South Africa
Key Segments Covered
Component, Application, Deployment Mode, Enterprise Size, Industry, and Region
Key Companies Profiled

Alteryx
Trimble Inc.
Bentley Systems, Incorporated
CARTO
Descartes Labs, Inc.
Esri
Fugro
General Electric
Google
Deloitte
SAP
Oracle Corporation
Geospoc
Hexagon AB
Maxar Technologies
Precisely
Sparkgeo
Orbital Insight
PrecisionHawk

Report Coverage
Market Forecast, Company Share Analysis, Competition Intelligence, Drivers, Restraints, Opportunities and Threats Analysis, Market Dynamics and Challenges, and Strategic Growth Initiatives
Geospatial Analytics Outlook by Category
By Component:
Solutions

Geocoding and Reverse Geocoding Software
Software
GIS Mapping Software
Others

Services

Consulting
Integration and Deployment
Support and Maintenance
By Application:
Surface and Field Analytics
Network and Location Analysis
Geovisualization
Others
By Deployment Mode:
By Enterprise Size:
Large Enterprises
Small and Mid-Sized Enterprises (SMEs)
By Industry:
Energy and Utilities
Government and Defense
Telecommunication Industry
Mining and Natural Resources
Automotive
Agriculture
Others
By Region:
North America
Latin America
Europe
East Asia
South Asia & Pacific
Middle East and Africa
Frequently Asked Questions
South Asia and the Pacific are projected to register strong growth in the market, exhibiting a CAGR of nearly 15.6% during the forecast period. However, North America was leading the global market with a share of around 23.3% in 2021.
Key trends in the market include: • Technological advancements in 5G communication technology are creating opportunities for the geospatial analytics market growth. • Emergence of modern geospatial cloud services is increasing the market demand.
Geocoding and reverse geocoding software segment is expected to dominate the market over the forecast period, generating maximum revenue, among all solutions, by the end of 2032.
The geospatial analytics market was valued at US$ 9.6 Billion in 2021 and is estimated to grow at a substantial pace with a CAGR of 12.5% to reach US$ 34.5 Billion in 2032.
The government and defense segment is expected to dominate the market over the forecast period, generating maximum revenue, among all industries, by the end of 2032.
The market in the last 5 years (2017 to 2021) grew by a CAGR of 10.2%.
The growing utilization of artificial intelligence and machine learning in GIS solutions is driving the market demand
The geospatial analytics industry in East Asia is estimated to grow at around 3.4X over the forecast period.
The global market growth between 2021 and 2022 is around 10.9%.
The top 5 countries driving demand for geospatial analytics include the USA, Germany, the United Kingdom, India, and Japan.
Europe is predicted to remain one of the most attractive markets during the forecast period, according to Future Market Insights. According to the study, the United Kingdom is expected to account for 26.5% of the Europe market in 2032.
The geospatial analytics market in South Korea and Japan has been valued at US$ 342.1 Million and US$ 495.8 Million in 2021, respectively, and is projected to register CAGR of around 9.8% and 14.6% respectively between 2022 and 2032.
Some of the leading companies in this landscape are Oracle Corporation, Alteryx, Esri, Deloitte, SAP, and Orbital Insight, among others. As per Future Market Insights, nearly 35% of the market share is currently covered by the top players.