Geospatial Solution Market Poised for 4X Revenue Growth over Next Decade
The geospatial solution market has been growing at a healthy CAGR on back of applications in aeronautical and maritime organizations, intelligence agencies, and the military sector. Rapid urbanization and increasing infrastructure development have further complemented the market growth. With subsequent integration of blockchain and mapping technologies, the global market for geospatial solution is projected to witness double-digit growth over forecast period (2019 - 2029). Whitespaces in banking, financial services and insurance (BFSI) and disaster management will be particularly lucrative in terms of generating profits in market.
Key Growth Influencers - Geospatial Solution Market
Increasing Adoption of Geomedicine Solutions to Fuel Market Growth
Geospatial solutions collect, manage, organize, and store data pertaining to geographic information such as zip codes, addresses, or latitudinal and longitudinal coordinates to a location. This includes data accumulated by satellites, digital and analog maps, and street and aerial imagery. Some instances of geospatial solution technologies include Global Positioning Systems (GPS), Geographic Information Systems (GIS), imagery analysis, and remote sensing.
Geospatial data includes information regarding phenomena, events, or objects that have distinct locations on the earth. Such locations can be static as well as dynamic. Data accumulated by geospatial solutions combine attribute information, location information, and/or temporal information. The global geospatial solution market is estimated to register a noteworthy compound annual growth rate during the forecast period of 2019 - 2029.
Geomedicine can produce a new form of medical intelligence that uses national geospatial solution data infrastructures in order to benefit personal human health. After understanding conditions of the environment people live in (or have lived in the past), this information can be used to modernize health information technologies, and be used to make better choices about where people should live. Geospatial data and geospatial solution technology are the core ingredients in creating the new medical intelligence that underpins geomedicine.
Emphasis on Spatio-Temporal Data to Boost Use of Geospatial Solutions
Real-time spatio-temporal information is being generated in almost every sector. Though new applications of real-time spatio-temporal data are being discovered rapidly, the capability of end-users to continuously interact with this data in real-time is a comparatively recent phenomenon. Such innovations are operating as core change agents in cartography, geography, and GIScience, among other related geospatial fields.
Real-time analytics for spatio-temporal data is realigning traditional structures and relationships, expanding research horizons, and transforming the ways in which geographic information is being collected, modeled, and utilized in geography, science, and society. These immediate interactions between space and time remain as underlying processes, which result in accelerated generation of fused spatio-temporal data, myriad mobile geospatial applications, and new geographic research initiatives in governments and businesses.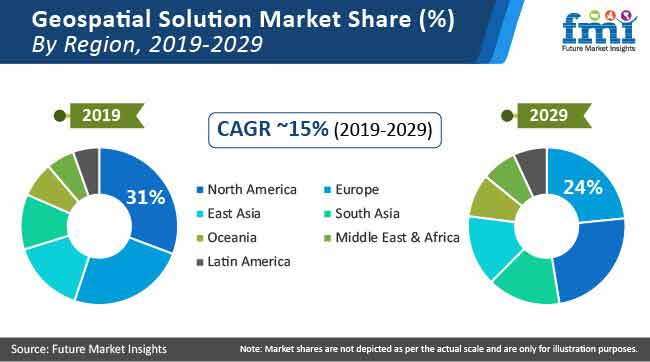 Rising Adoption of Innovative Mobile Geospatial Sensor Platforms
The ability to create miniaturized and comparatively less expensive sensors and devices, integrated with wireless connectivity technologies, is fueling the demand for Internet of Things (IoT). Adoption of lower-cost miniaturized sensors and devices leads to an increasing demand for data accumulation, data manipulation, and data analysis technologies. Application-centric specifications of such sensors and devices offer the capability to attune components to the specific data collection required.
Advancements in miniaturization of solutions have made it easy for end-users to explore new modal qualities for sensor and device distribution such as Unmanned Aircraft Systems (UAS)/Drones and small satellites, which can be rapidly manufactured and deployed with flights or orbit paths tailored as per specific mission requirements. Such mobile geospatial solution platforms greatly enhance abilities of businesses, governments, and individuals to accumulate high volume of remotely collected data for diverse mission-critical purposes, such as environmental monitoring, disaster response, and public safety.
Geospatial Solution Market in North America to Hold Significant Position
North America was the dominant market in 2018 in terms of value for geospatial solutions. The United States is expected to be one of the key markets for sustainable revenue generation from geospatial solution deployments in the foreseeable future, owing to the rapid adoption of intelligent components for defense and internal security, infrastructure, and citizen services related end-uses.
Accelerated adoption of efficient geospatial solution platforms is anticipated to enable the South Asian market to record a significant CAGR during the forecast period, while the geospatial solution market in Europe region is estimated to offer the highest incremental opportunity among all the regional markets, during the forecast period.
Geospatial Solution Market Structure Analysis
Various processes of bringing services and solutions to the public have evolved significantly over the past few years, owing to the changes in customer preferences, along with the rapid growth in the e-commerce arena.
Today, the capability of tracking inventory and shipments remotely makes a business' supply chain more efficient, thus saving money for businesses that use geospatial solutions. For instance, agro-products are harvested on small farms and later distributed to grocers, provision stores and supermarkets in different locations, often crossing state or even national boundaries.
Developers are offering geospatial solutions that can keep supply chain and agricultural professionals informed about when the products left the farm, the routes of travel, and their condition upon delivery.
In case the products look unappetizing upon delivery, the professionals can trace the route all the way back to the farm, and enhance the entire delivery system. Such applications of geospatial solutions are estimated to propel geospatial solution adoption during the forecast period.
Software Set to Outpace Hardware Components
Hardware components currently account for nearly half of geospatial solution market value. However, there are strong possibilities of software generating greater revenues than hardware during the latter half of forecast period. This study reveals that providers of software will reap higher returns specifically in Europe and North America, whereas the adoption of geospatial software will remain significantly high in South Asia & Pacific.
U.S. and U.K. Spearheading Geospatial Solution Market
Global geospatial solution market is represented by North America and Europe, collectively holding about 3/5th shares in market value. The market will particularly flourish in the U.S. and the U.K. Leading market players are also expected to experience profitable returns in Latin America in the near future. On the other hand, led by India and Malaysia, the South Asian geospatial solution market is showcasing significant growth and will take over East Asian market post forecast period.  
Challenges of Privacy Threat and Cyber Attacks Persist
Geospatial solutions are highly vulnerable to cyber attacks, particularly in military applications. Signals from satellites are significantly weak, where a 1-10 W jammer can hamper Global Positioning System (GPS) coverage of both military and civilian signals for a large area. Furthermore, privacy-related issues associated with geospatial solutions remain a longstanding concern. Market leaders are thus investing more in geospatial solution security.
GPS remains highly preferred
Remote sensing gains momentum
High adoption in telecommunications
Surging application in defense and internal security
How Growth will Unfold
GPS, set to surpass US$ 900 Bn by the end of next decade, will continue its hegemony over other technology variants. While this remains a scenario in developed regional markets, developing markets would continue to register rapid adoption of GPS technology. Adoption of remote sensing and 3D scanning is significant, representing higher annual growth rates throughout the projection period. FMI's study also suggests that remote sensing will exceed GIS/spatial analytics by 2024 end in terms of revenue generation.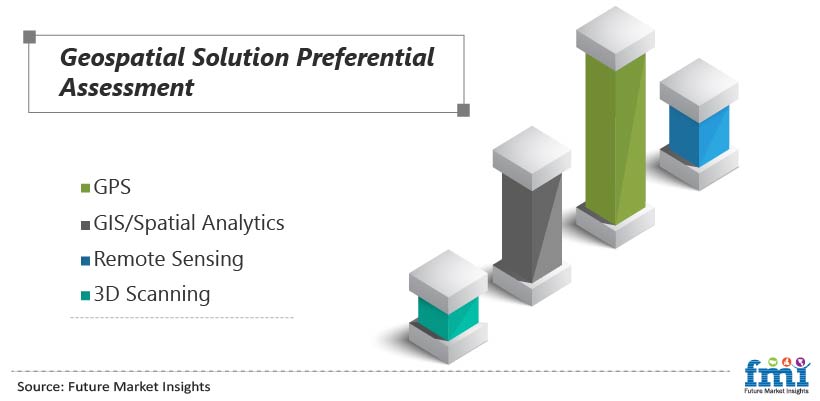 * This data is only a representation. Actual data may vary and will be available in report.
Click Here To Know How The Growth Will Unfold
Custom Market Research Services
FMI offers custom market research services that help clients to get information on their business scenario required where syndicated solutions are not enough.
Overview
Geospatial Solution Market Analysis 2019 - 2029
A recent market study published by FMI on the geospatial solution market includes a global industry analysis 2014 - 2018 and an opportunity assessment 2019 - 2029, and delivers a comprehensive assessment of the most important market dynamics. After conducting thorough research on the historical as well as current growth parameters, growth prospects of this market are obtained with maximum precision.
Geospatial Solution Market Prospects Taxonomy
The global geospatial solution market is segmented in detail to cover every aspect of the market and present a complete market intelligence approach to the reader.
Technology
GIS/Spatial Analytics
Remote Sensing
GPS
3D Scanning
Component
Hardware
Software
Services
Application
Surveying and Mapping
Geovisualization
Planning and Analysis
Land Management
Others
End User
Defense and Internal Security
Infrastructure
Urban Development
Utilities
Retail and Logistics
Agriculture
BFSI
Disaster Management
Citizen Services
Natural Resources
Telecommunications
Region
North America
Latin America
Europe
South Asia
East Asia
Oceania
Middle East and Africa
How the research was conducted?
Primary Research
C - Level Executives
Marketing Directors
Sales Heads
Sales Executives
Technical Advisor
Geospatial solution Providers
Distributors
Industry Experts
Applications
Secondary Research
Company's white papers
Annual Reports and Investor Presentations
Research Papers
Company Press Release
Government Websites and Publications
Primary Interview Splits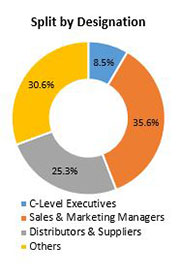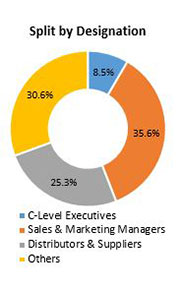 To Learn More About our Comprehensive Perspective on Geospatial Solution Market Prospects,
Get in touch
COVID -19 : Impact Analysis
Request the coronavirus impact analysis across industries and markets
Request Covid -19 Impact
CASE STUDIES
See how our work makes an impact.
At FMI, we design strategies that are adaptive, impactful, and implementable.