Connected Solutions for Oil & Gas Sector Outlook & Key Findings
Connected solutions for oil & gas sector expected to surge at a CAGR of 16.3% between 2020 and 2030
VR training emerges as popular connected solution in the oil and gas market as it remains on the cusp of digital transformation
Connected pipeline solution solving challenge associated with damaging leaks leading to massive losses
IoT to play critical role in minimizing downtime with machine learning and predictive analytics
Fleet management to remain undeniably important to asset tracking and improved deliveries
Connected solutions for oil & gas market also enables remote monitoring – an appropriate solution to operational challenges due to COVID-19
Need for Operational Optimization in Wobbling Oil & Gas Sector Fuels the Adoption of Connected Solution
Connected solutions surfaced as a key enabler across industries, including oil & gas - providing error-solutions for seamless operations. It has gained momentum as companies engaged in upstream, midstream as well as downstream activities are emphasizing on optimizing the operations, to remain relevant and profitable.
From basic changes such as paperless workplace to VR for training on exploration activities, the connected oil and gas software and services are making changes for higher success rates.
Connected Pipelines Rescue Suppliers from Biggest Challenge Caused by Damaging Leaks
Solutions such as connected pipelines for end-to-end management to prevent incidents, ensure safety, resiliency, and security are expected to establish exceptional efficiency.
In a recent development, Scheider Electric and Cisco joined hands improve operational efficiency and Total Cost Ownership (TCO) to ensure quick solutions to complex network issues. The smart pipeline offers a real-time control through SCADA system.
End users have the complete control to even isolate a part of the line to check to leaks with a block valve station. Use of connected pipelines to improve supervision and control, physical safety and security, and overall process safety has ensured continuity of operations under tough circumstances.
Multiservice applications to ensure complete pipeline support thought VoIP, local Wi-Fi access, Internet access, collaboration tools, and mobility have created tremendous reliability on modern technology.
Most of the oil & gas companies are focusing on adopting Connected Solutions for Oil & Gas to focus more intensely on reforming their portfolio and taking a greater role in the energy transition.
The ongoing pandemic has highlighted the need for work continuity, which can be perfectly achieved with connected oil and gas solutions. Remote experts, dispersed teams, and delegation of work have been the cornerstones of this small digital improvements that have led to complete transformations.
IoT in Oil and Gas Sector Proves Mettle with Predictive Maintenance Solutions
Efforts to minimize downtime with machine learning and predictive analytics have brought spotlight on Internet of Things (IoT).
IoT has particularly worked towards reducing non-productive time (NPT) that can be caused by usually understood elements such as weather changes. Cost reduction and risk management are the primary objectives that have been achieved by IoT with asset tracking and predictive maintenance solutions.
Ability to identify potential drilling sites, exact locations for pumping, precise time for filter replacement are some of the crucial insights that IoT sensors offer for asset tracking management purposes. IoT systems can be used to track shipments with GPS or satellite that allow connections with sites across the globe.
Moreover, the oil & gas sector is facing intense pressure to improve operational efficiencies and therefore, oil & gas companies are continuously increasing their investments in ICT technologies including business intelligence, IoT, enterprise applications, and cloud computing. Also, according to the survey, around 65% of oil & gas companies are focusing on increasing their total ICT budget in 2019, in order to adopt connected solutions for improving business functions and to reduce cost to subdue the impact of fluctuating oil prices.
Fleet Management Software Paces Ahead as Remote Monitoring Reduces Downtime
Future Market Insights states, the oil & gas fleet management application segment is expected to increase almost 4X during the forecast period (2020-2030), registering a CAGR of around 15% during the forecast period.
Despite the ongoing geopolitical and climate changes the oil and gas industry has been operating in an organized and coordinated manner. Transportation of inflammable materials with improved efficiency, reduced costs, and in compliance with government regulations across multiple borders can been possible with exceptional fleet management software.
Companies have been able to reduce the losses due to improper driving practices, upset schedules, challenging weather conditions, difficult terrains, and vehicle inefficiency. Fleet management software is designed to provide better route map for trips, equipped with information about traffic, terrain, and weather predictions with real-time feed.
Accurate ways to account for fuel throughout the entire supply chain has also won fleet management software a special place in the oil and gas industry. Focus on optimizing efficiency is expected to boost this segment as it assists in reducing vehicle idling time with precise data for timely fuel delivery, requirement for timely maintenance, and tracking asset locations in real time.
Connected Solutions for Oil & Gas Reduces Cost for Upstream Activities with Real-time Monitoring
In this time of fluctuating crude prices, upstream oil & gas companies are focusing on reducing cost of exploration and production by adopting innovative technologies like big data and industrial IoT. Connected oil and gas solutions are helping upstream companies in exploration process by enabling them with the better idea of subsurface geology and faster processing of data and transforming them into surface models.
Around 50,000 wells are handled by a large upstream oil & gas company which are spread across the world. Connected solutions for oil & gas industry helps in automating and real-time monitoring, which reduces cost of manual labor, paperwork, and errors by millions of dollars. Thus, companies are gearing up to digitally transform themselves with new age complementary technologies.
Solution Enablers Strengthening Presence in Asian countries : Regional Outlook for Connected Solutions in Oil & Gas Sector
Economic growth and increasing oil and gas demand as a result of large scale industrialization in the countries of East Asia and South Asia is playing a pivot role in development of connected solutions for oil & gas sector. Established oil & gas companies are updating operation by integrating connected solution. A three fold increase in spending on connected solutions anticipated by leading oil & gas companies in the region during the forecast period.
In terms of value, the connected oil and gas market in East Asia and South Asia & Pacific collectively captured the 1/4th of the global value in 2019. The strong growth in oil and gas demand from countries such as China and India is playing a crucial role in driving the adoption of these smart solutions that enable exceptional efficiency.
Exploration and extraction activities will remain high in North America in the next decade, fuelling the adoption of connected solutions in the oil and gas sector.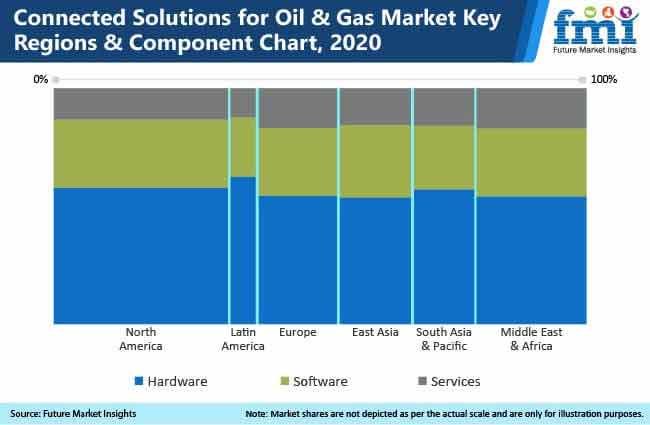 Market share of upstream segment in North America, Latin America, Europe, and Middle East & Africa is around 50%, owing to the vast presence of exploration and production companies in these regions. For instance, North and Latin America collectively accounts for around 33% of the world's oil reserves and these regions includes six of the top 20 global oil producing countries in the world.
In East Asia and South Asia & Pacific the downstream segment holds a lion's share as the demand for oil and gas products remains insatiable. Vast presence of oil refineries, petroleum product distributors, petrochemical plants, and natural gas distributors in the region have also contributed to this share.
Enabling Employee Safety with Connected Oil and Gas Solutions
Real-time communication at exploration sites generates raw data, which can be analyzed and monitored with these software and solutions for better output. For instance, drilling operations using sensors can deliver continuous diagnostics ensuring efficiency, safety, and reduced cost of operations.
Availability of accurate data for making quick decisions, reduced equipment failure, and persistent plant automation have led to increased safety of workers. Analyzing patterns and comparing it to historical data can predict events before they happen, creating a safer work environment for upstream players.
How will Connected Oil and Gas Solutions Tackle COVID-19?
The ongoing COVID-19 crisis has made the role of connected oil and gas even more important in the industry. Dire need for smart working solutions in these unprecedented times are expected set a safety standard for the future.
Leveraging AR/VR technologies in the industry, coupled with drones and smart sensors will prove to be important in building a remote workforce. Use of AI and ML-based solutions tools and solutions instead of traditional approaches are also projected to set a precedent in establishing organized working systems.
Building a reliable aerial surveillance system with drones and unmanned vehicles with cameras will go a long way in making social distancing work in a job that has always depended on labor. Similarly, remote inspection and maintenance will also be the way ahead of companies looking to ensure continued production without any health crisis.
Digitization of supply chain to track and trace assets will ensure every part is accounted for and is traceable. This will allow reduction in errors, thereby increasing operational efficiency.
The Sector is Open for Innovators, but Tech-Goliaths Lead from the Front
Continuous investments and focus on developing collaborative partnerships to innovate and develop digital capabilities to leverage new business models has become a key strategy of solution providers. It has been instrumental in enhancing their customer reach and sales revenue.
Partnerships and collaborations with policy makers and governments are also helping connected solutions for oil & gas solution providers to tackle disruption in supply and demand and unlock values for ever-changing and diverse needs.
Key Players in the Connected Solutions for Oil & Gas Market are:
Cisco Systems, Inc.
Intel Corporation
Sierra Wireless
General Electric
Honeywell International
Telit
Schneider Electric
Siemens AG
Robert Bosch GmbH
*The list is not exhaustive, and only for representational purposes. Full competitive analysis available in the report
Connected Solutions for Oil & Gas Market: Segmentation
The global connected solutions for oil & gas market is segmented in detail to cover every aspect of the market, and present a complete market intelligence approach to readers.
Component
Hardware

Sensors
Beacons
IoT Gateways
Others

Software

Oil & Gas IoT Platform
Fleet Management Software
Others

Services

Professional Services

Oil & Gas Consulting & Advisory
Integration & Deployment Services
Support & Maintenance

Managed Services
Value Chain
Upstream
Midstream
Downstream
Application
Asset Tracking and Monitoring
Predictive and Preventive Maintenance
Supply Chain Management
Leak Detection
Fleet Management
Others
Region
North America
Latin America
Europe
East Asia
South Asia Pacific
Middle East & Africa
Need specific information?
Talk Show:
The Rise of Intelligent Packaging
Personalized, Connected and Sustainable
November 18, 2021
11:00-11:45 AM PST (USA & Canada)
This is a LIVE session