Connected Logistics Market By Component (Devices, Software, Services), Transportation (Roadways, Railways, Airways, Seaways), Vertical (Manufacturing, IT & Telecom, Automotive, Retail & Consumer Goods, Food & Beverages, Healthcare) & Region - Forecast to 2019 - 2029
Connected Logistics Market - Analysis, Outlook, Growth, Trends, Forecasts
March 2020

REP-GB-4287

388 pages
Retail & Consumer Goods Industry to Shape Shareholders' Bottom Lines
The retail & consumer goods vertical would be the immediate customer of connected logistics, primarily attributable to the top-line growth of the e-Commerce industry. Consumer behavior has changed with the high influence of digital sales channels. This is compelling retail & consumer goods companies to reshape their underlying operating models with connected logistics, to keep pace with the ever-evolving industry and consumer demand. By 2029, the deployment of connected logistics in the retail & consumer goods industry will value over US$ 15 Bn.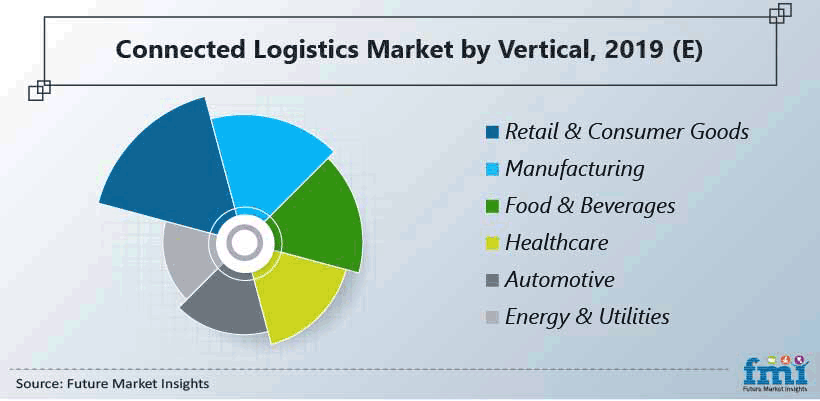 U.S. Market Remains Most Lucrative
Revenue of the connected logistics market in North America will nearly triple over the next decade. The region is an early adopter and manufacturer of digital solutions, and thus, continues to generate significant total returns to stakeholders. Furthermore, this study highlights that, the U.S. represents the most lucrative growth prospects, and would hit US$ 10 Bn towards the end of the foreseeable period. Asia Pacific (APAC) is also reflecting investment opportunities, owing to rapid tech penetration to enhance logistics and product traceability. Influenced by an inflating customer base, companies in the region are increasingly embracing connected logistics in order to improve efficiency in terms of time and cost.
AI to Optimize Connected Logistics Ecosystem
Artificial intelligence (AI) is taking center stage in the logistics industry, as it helps reduce operating expenses (OPEX) and manage inventory with contextual intelligence. This technology exhibits the ability to optimize delivery routes and networks, as well as predict trends based on factors such as real-time sales and weather. The employment of anticipatory logistics backed by AI is accelerating, as it boosts efficiency and quality by predicting demand before consumers make a purchase.
Furthermore, AI provides actionable insights from the data collected via supply chain and logistics, which can be used to forecast accurate demand and capacity planning, thereby streamlining the entire connected logistics ecosystem.
How Growth will Unfold
Market players continue to invest their resources in connected logistic devices, which capture around half of overall market stack. Among the devices, radio-frequency identification (RFID) and off-highway vehicle (OHV) telematics would be the top priority for enterprises, owing to their attractive features - better stock and personnel safety, and enhanced customer retention. Market players are also extracting value-capture opportunities from software, which will surpass US$ 6 Bn in 2020. Furthermore, the adoption of connected logistic services is expected to falter markedly in the coming years.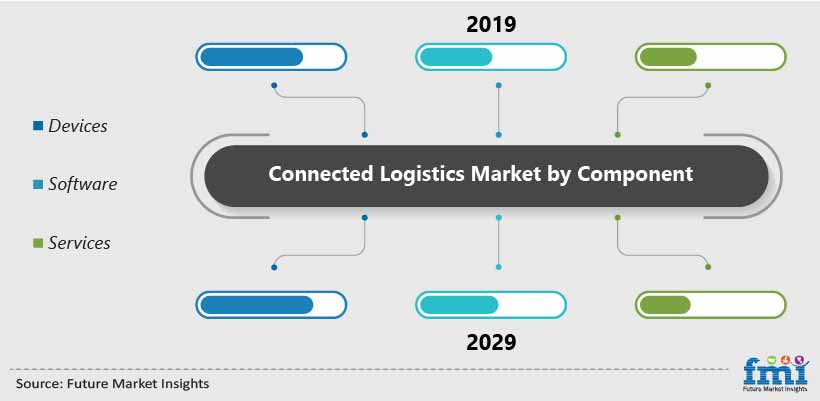 World's Most Profilic Intelligence Engine
Get Access To The World's Largest Market Research Database.
Sign Up Now
CONNECTED LOGISTICS MARKET TAXONOMY
The global connected logistics market is segmented in detail to cover every aspect of the market and present a complete market intelligence approach to readers.
Component
Devices

Vehicle Telematics
Data Loggers
GPS Tracking Devices
RFID Tags

Software

Fleet Management
Asset Tracking
Security Solutions

Services

Consulting
Integration & Deployment
Support & Maintenance
Transportation
Roadways
Railways
Airways
Seaways
Vertical
Manufacturing
IT & Telecom
Automotive
Retail & Consumer Goods
Food & Beverages
Healthcare
Energy & Utilities
Others
Region
North America
Latin America
Europe
East Asia
South Asia & Pacific
Middle East & Africa
Need specific information?
Our Clients