Connected Logistics Market Set for Three-fold Revenue Growth Over 2019-2029
Amidst tech-driven disruptions, a majority of supply & logistic companies are still living in the pre-transformation era. Industrials are striving to introduce new products and deliver better services that respond flexibly to evolving expectations, while maintaining (or improving) their value pool. In order to flourish in this digital era, industry executives need a new-age model for their supply chain and logistics. Against this backdrop, the global connected logistics market will experience an astounding growth over 2019-2029, with revenue surging over 3X.
Key Factors Shaping Connected Logistics Market
Increasing Adoption of RFID Tags in Connected Logistics Spurring Market Growth
The rising need for efficient supply chain management is expected to support the growth of RFID tags in the connected logistics market. RFID in logistics has potential in route optimization and real-time tracking of goods. RFID is used to provide precise location and quantity data in real-time. RFID produces accurate and real-time information of goods that are in-transit or work-in-progress. Generally, RFID tags store detailed information up to 2 KB related to the product on which they are tagged, and the prices and details of products are automatically recorded. RFID tags in integration with cloud-based technology are used for real-time monitoring and storing data. Cloud-based RFID tags offer users additional functionalities such as warehouse and inventory management, depending upon the need for operations.
Logistics 4.0 Driving Growth of Connected Logistics Market
Logistics 4.0 enables process improvement through a variety of technological advancements, which include automated systems, driverless transport vehicles, and robotics. Increase in the adoption of cloud-based technology with the usage of logistics 4.0 and IoT is driving the growth of the connected logistics market. IoT sensors are built into cargo, ships, cabs, and trains, and are connected to an alarm system or dispatcher that is used for tracking and monitoring. These sensors transmit information to the team, which then gains insights of hidden risks and knowledge. This also gives accurate in-transit visibility and delivery of goods. The demand for cloud-based software as a service is increasing in logistics, as it helps logistic professionals access critical data and applications, both, on the road and in the office, from any connected device.
Adoption of AI Propelling Demand for Connected Logistics
Artificial intelligence (AI) is taking a central role in the logistics industry. AI provides logistics with contextual intelligence, which is used to reduce operating costs and manage inventory. AI has the ability to predict demand, optimize delivery routes, and manage networks. It can predict trends based on factors such as real-time sales, weather, and other things. The demand for anticipatory logistics that uses AI is increasing, as it allows logistic professionals to improve efficiency and quality by predicting demand before a consumer places an order. AI helps give useful insights from the data collected through supply chain and logistics, which can be used to streamline the entire logistics ecosystem. AI can help optimize future performance by forecasting accurate demand and capacity planning.
North America Connected Logistics Market to Remain Dominant through 2029
In terms of value, North America led the global connected logistics market in 2018. This regional market is projected to offer the most lucrative opportunities for revenue generation over the forecast period. The market in South Asia & Pacific is expected to record the highest growth rate over the forecast period, owing to the adoption of advanced technology to improve logistics management and traceability. Organizations in this region are experiencing increase in customers, which brings out the need for organized logistics to reduce cost and time.
Connected Logistics Market: Structure Analysis
Partnerships, acquisitions, and collaborations by niche players is one of the key strategies being followed by leading connected logistics providers in the market.
Bosch, Infosys, Cisco System, HCL Technologies, SAP SE, and Intel Corporation are the largest and most experienced players in the global connected logistics market.
The market is fragmented in nature, which remains a key factor for its dynamic competitive structure.
Retail & Consumer Goods Industry to Shape Shareholders' Bottom Lines
The retail & consumer goods vertical would be the immediate customer of connected logistics, primarily attributable to the top-line growth of the e-Commerce industry. Consumer behavior has changed with the high influence of digital sales channels. This is compelling retail & consumer goods companies to reshape their underlying operating models with connected logistics, to keep pace with the ever-evolving industry and consumer demand. By 2029, the deployment of connected logistics in the retail & consumer goods industry will value over US$ 15 Bn.
U.S. Market Remains Most Lucrative
Revenue of the connected logistics market in North America will nearly triple over the next decade. The region is an early adopter and manufacturer of digital solutions, and thus, continues to generate significant total returns to stakeholders. Furthermore, this study highlights that, the U.S. represents the most lucrative growth prospects, and would hit US$ 10 Bn towards the end of the foreseeable period. Asia Pacific (APAC) is also reflecting investment opportunities, owing to rapid tech penetration to enhance logistics and product traceability. Influenced by an inflating customer base, companies in the region are increasingly embracing connected logistics in order to improve efficiency in terms of time and cost.
AI to Optimize Connected Logistics Ecosystem
Artificial intelligence (AI) is taking center stage in the logistics industry, as it helps reduce operating expenses (OPEX) and manage inventory with contextual intelligence. This technology exhibits the ability to optimize delivery routes and networks, as well as predict trends based on factors such as real-time sales and weather. The employment of anticipatory logistics backed by AI is accelerating, as it boosts efficiency and quality by predicting demand before consumers make a purchase. Furthermore, AI provides actionable insights from the data collected via supply chain and logistics, which can be used to forecast accurate demand and capacity planning, thereby streamlining the entire connected logistics ecosystem.
Devices remain highly preferred
Software to witness stable growth
Surging usage in roadways
Railways to see adoption upheaval
High adoption in retail & consumer goods vertical
Increasing application in manufacturing vertical
How Growth will Unfold
Market players continue to invest their resources in connected logistic devices, which capture around half of overall market stack. Among the devices, radio-frequency identification (RFID) and off-highway vehicle (OHV) telematics would be the top priority for enterprises, owing to their attractive features - better stock and personnel safety, and enhanced customer retention. Market players are also extracting value-capture opportunities from software, which will surpass US$ 6 Bn in 2020. Furthermore, the adoption of connected logistic services is expected to falter markedly in the coming years.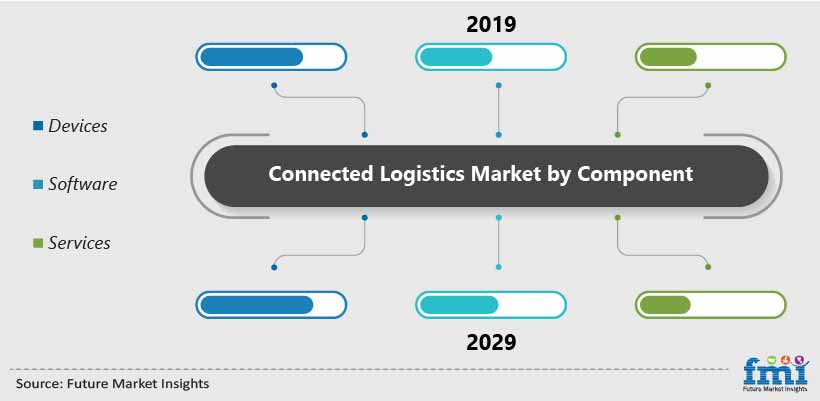 * This data is only a representation. Actual data may vary and will be available in report.
Click Here To Know How The Growth Will Unfold
Custom Market Research Services
FMI offers custom market research services that help clients to get information on their business scenario required where syndicated solutions are not enough.
Overview
A recent market study published by Future Market Insights (FMI) on the connected logistics market includes global industry analysis of 2014-2018 and opportunity assessment for 2019-2029, and delivers a comprehensive assessment of the most important market dynamics. After conducting thorough research on the historical as well as current growth parameters, growth prospects of the market are obtained with maximum precision.
Connected Logistics Market Taxonomy
The global connected logistics market is segmented in detail to cover every aspect of the market and present a complete market intelligence approach to readers.
Component
Devices

Vehicle Telematics
Data Loggers
GPS Tracking Devices
RFID Tags

Software

Fleet Management
Asset Tracking
Security Solutions

Services

Consulting
Integration & Deployment
Support & Maintenance
Transportation
Roadways
Railways
Airways
Seaways
Vertical
Manufacturing
IT & Telecom
Automotive
Retail & Consumer Goods
Food & Beverages
Healthcare
Energy & Utilities
Others
Region
North America
Latin America
Europe
East Asia
South Asia & Pacific
Middle East & Africa
How the research was conducted?
Primary Research
C - Level Executives
Marketing Directors
Sales Heads
Sales Executives
Technical Advisors
Connected Logistics Providers
Distributors
End-user Experts
End Users
Current Market Dynamics and Challenges
Market Characteristics
Market Performance and Growth Quadrants
Competition Structure and Market Structure
Strategic Growth Initiatives
Near Term and Long Term Market Growth Prospects
Market Segment Splits and Authenticity
Opinions on Market Projections and Validity of Assumptions
Secondary Research
Company White Papers
Annual Reports and Investor Presentations
Research Papers
Company Press Release
Government Websites and Publications
Primary Interview Splits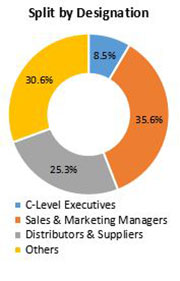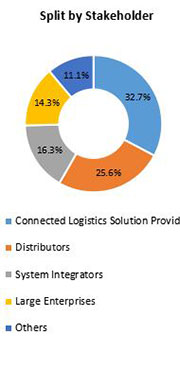 To Learn More About our Comprehensive Perspective on Connected Logistics Market,
Get in touch
COVID -19 : Impact Analysis
Request the coronavirus impact analysis across industries and markets
Request Covid -19 Impact
CASE STUDIES
See how our work makes an impact.
At FMI, we design strategies that are adaptive, impactful, and implementable.