E-tailing Solutions Market - Key Research Findings
Global e-tailing solutions market size in 2020 is estimated to be valued upto US$ 12 Bn
E-tailing solutions market is expected to register a CAGR of 14% during the forecast period of 2020-2030
Continuous advancements and developments of e-commerce platforms integrated with technologies like artificial intelligence, machine learning, and analytics makes to enable market to widen its scope
East Asia and North America will continue to be among the prominent regional markets for e-tailing solution providers with increased consumer preference for convenient spending
COVID-19 positively impacts e-tailing solutions market as demand for safe shopping rises
Consumer-centric Approach and Intuitive Interface Make E-tailing Solutions an Obvious Choice for Shopping
Internet proliferation has been backbone of e-tailing solutions market, enabling service providers to reach wider audience with each passing year. With unfaltering support from the e-commerce industry, brands have successfully catered to every consumer segment though online retail. Study suggests that 30% of consumer spending was recorded online, which makes it significant number that demands a deeper look.
Ability to tailor services and deliveries to the needs of the consumers have won the e-tailing solutions market an unprecedented response. For instance, ability to opt for premium services with yearly fees has given consumers slight autonomy over deliveries.
Today, role of e-tailing solution providers in revolutionizing retail space has given SMEs an international exposure, facilitating their growth and domestic GDPs. Credit for uplifting B2B and B2C logistics and services must be given to e-tailing solution providers who have helped brands to overcome geographical complexities in many parts of the world with the help of ecommerce.
Establishment of own last mile deliveries, especially tough terrains, has won this companies a wider, loyal consumer base. Needless to say, this has been enabled by improved connectivity, especially in the developing parts of the world. Their adaptability in the recent crisis has been commendable with extension of their essential services to cater to the dire need of protective gears and sanitation materials.
E-tailing companies are continuously focused on the development of customer-centric e-tailing platforms with the option of regional language instructions and regional language Chabot for end-to-end assistance. Development of intuitive e-tailing interfaces for quick searches and navigation have played a pivotal role in turning the game around for some vendors.
Big Data Delivers Insights to Change the Game to E-tailing Vendors
The growth of Big Data has led to a paradigm shift in the e-tailing space. Solution providers are using copious amount of data to answer complex questions about consumer behavior. The disruptive growth e-tailing and its high momentum are attributable to continuous and rigorous data analysis.
Smartphones with internet, that are constantly surfing, are gathering information about consumer choices, time of shopping, price consciousness, and location changes, feeding valuable information for formulating Big Data analytics. These analytics have been the guiding force behind the gargantuan success of e-tailing vendors that cleverly cater to consumer preferences by structuring the gathered data to offer best brands, selling best products, at the best prices, and in the most convincing ways.
AI Joins the Game with Remarkable Intelligent Insights
The role of AI in development of e-tailing market has been stupendous as it has been carefully observing the human interactions, desires, and needs and assessing it for creating a positive impact on the business. AI has contextualized and narrowed-down understandings to offer accurate result of desired products in the virtual world.
The AI software is designed to leverage machine learning to improve tagging and organizing to offer visual searches that are correctly labelled. The abilities of AI such as natural language processing, machine learning, and knowledge learning have been deployed to yield bigger business.
Amazon, key player in the e-tailing market, has been an early adopter of AI technology to business efficiencies. The company has deployed AI to understand the willingness of consumers to buy a specific product to enabling cashless transactions on deliveries. Using smart technologies to understand the context of consumer's behaviour has been the prime focus on companies operating in the e-commerce industry. By the end of 2030, companies are projected 10-12% of their entire research and development expenditure on blockchain and AI abilities to improve market penetration.
Online Grocery Sellers Emerge as Biggest Clients to E-tailing Companies
As more and more consumers got internet-habituated in the past decade, it opened a growth avenue for the market with online grocery shopping. Neighborhood grocery stores in urban spaces have had a tough competition from e-tailing vendors. While the migration might about be 100%, it definitely has increasing Y-o-Y.
E-tailing companies are working on models to help local vendors quickly sell perishable items, resolving supply chain issues, and retaining a steady consumer base. Convenient option of choosing delivering timings and ability to reduce chores given the hectic nature of urban lifestyles has also promoted e-tailing vendors to tap into the market.
Farmers and other SMEs have been the biggest beneficiaries of growing reach of e-tailing services in urban landscapes. Ability to consume fresh farm produce and elimination of middlemen in most cases have been welcomed by sellers and consumers, giving the e-tailing market a shot in the arm. By the end of 2030, the food and beverages segment is projected to account for 30% of e-tail, largely driven by sale of groceries.
How COVID-19 Worked in Favor of E-tailing Solution Providers
Urgent lockdowns that led to panic buying, have reiterated the place of e-tailing in daily lives. In the coming months, as social distancing will remain imperative to safety, e-tailing solution providers will prove to an essential service for making a far-reaching impact on retailing.
COVID-19 has negatively impacted the sale of non-essential goods on e-tailing shopping portals. However, it equally highlighted the role these vendors are projected to play in safe shopping by ensuring less crowding in shopping areas and safe door-to-door delivery. Thus, in the coming months, COVID-19 will reinforce a positive perception of e-tailing vendors, boosting their role in the overall economy.
Grocery shopping has emerged as the key segment amidst the pandemic, as shoppers have relied on timely deliveries without exposing themselves to the outside world.
Region-wise Analysis: South Asia & Pacific to Grow at Fastest Rate as E-commerce becomes Ubiquitous
The incremental $ opportunity of North America is estimated at 7.4 Bn during the forecast period of 2020 to 2030. On the other hand, East Asia's incremental $ opportunity is estimated at 10.7 Bn as the region boasts an expanding population base. Increasing investments in encouraging online shopping are also projected to favor East Asia's sizeable progress.
South Asia & Pacific region market holds 1/3rd of the overall market as the population base remains uncontested. The relentless penetration of internet, improved connectivity, and growing pool of tech-savvy population have made a major contribution to the market.
E-tailing sector in this region is dominated by B2B transactions. However, with big entrants such as Amazon, the perception towards B2C has changed considerably. As countries in this part of the world largely operate on tourism, this segment has come to play a critical role.
Improved inventory management, supply chain, minimising wastages, and improved customer experience in emerging economies of China and India have also favoured market growth in recent years. E-tailing has flourished in these particular countries with direct and indirect generation of employment, improving purchasing power and standard of living.
Development of applications that are sensitive to cultural and language diversity especially in a country like India has drastically led to expansion of market in question.
The impact of e-tailing can be felt across verticals in these regions as it has prompted growth of allied industries and entrepreneurship.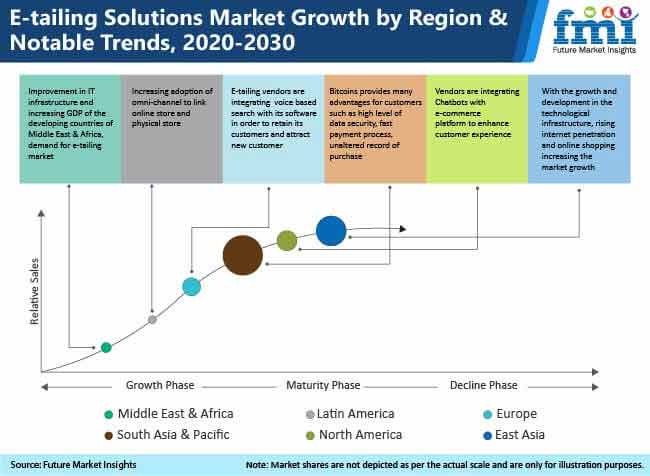 East Asia and North America is the dominating region in the e-tailing market as the trend of online shopping has strengthened. Companies are continuously focused on the integration and development of Chatbot and voice-based search with e-tailing platforms to attract new customers. Companies are increasing the adoption of omnichannel networks to link physical and online stores with the e-commerce platform.
Customer demand for flexibility and choice is driving the speed of technology innovation in e-commerce. Merchants and customers are increasingly using digital currency to make contributing, transactions to their growth and influence.
Growth of blockchain technology for payments and cryptocurrency like bitcoin, the secure peer-to-peer payment ecosystem for ecommerce transactions would growth to a large extent, impacting the market growth.
Major E-tailing Solutions Vendors:
Shopify Inc.
Salesforce.com, Inc.
Oracle
Digital River, Inc.
WooCommerce
BigCommerce Pty. Ltd.
Adobe
eComchain
Elastic Path Software Inc.
VTEX
Sitecore
Skava
Kentico Software
SAP
Wix.com, Inc.
Global E-tailing Market: The Way Forward
In the coming months, every shopper will prioritize safety, making e-tailing solutions providers an important part of shopping experience. From luxury to grocery brands, e-tailing is poised to take the world by the storm with social distancing becoming the new normal.
Analysts at Future Market Insights predict that the global e-tailing market will touch a valuation of US$ 45,561.7 Bn by 2030. This growth will a result of strong logistics and incredible usage of AI that delivers exact consumer sentiment to understand demand patterns.
World's Most Profilic Intelligence Engine
Get Access To The World's Largest Market Research Database. Ngage with a revolutionary intelligence engine that scale and pricing that flexes as per your needs
Sign Up Now
E-tailing Solutions Market: Segmentation
The global e-tailing solutions market is segmented in detail to cover every aspect of the market, and present a complete market intelligence approach to readers.
Solution
E-commerce Platform
E-commerce APIs
Services

Professional Services

Design, Integration & Implementation
Consulting
Support & Maintenance

Managed Services
Vertical
Food & Beverages
Fashion & Apparel
Health & Beauty
Electronics
Automotive
Home & Furniture
Others
Region
North America
Latin America
Europe
East Asia
South Asia & Pacific
Middle East & Africa
Need specific information?