Introduction
With crude oil & gas being a valued global commodity, the related exploration, refining, internal transfer of base feedstock and intermediate distillates as well as the final derived product involve a high degree of supervision and monitoring of the mentioned operations in oilfields and associated refinery units. Oilfields have three integral operations viz. upstream, midstream and downstream, which require continuous monitoring and supervision.
The chief objectives of supervision and monitoring are optimizing product output rate, scrutinizing each level of start-to-finish project, eradicating any anomalies and errors from the mandated norms, avoiding any oil/fuel spills and losses incurred during explorations, internal transfer of intermediates and monitoring inventory levels. Another crucial aspect of digital oilfield solutions is to arrest any counterfeiting or theft that might occur during midstream and downstream operations.
Traditionally, manual intervention and monitoring were associated with the monitoring and supervision of oilfield and refinery based operations. However, to decrease the lead cycle of operations, increase the degree of accuracy in key parameter measurements, ease the functioning in remote and inaccessible areas, digital oilfield solutions have been emerging as an attractive solution over the last two decades on the global front.
The key benefits associated with digital oilfield solutions include zero tolerance band for observation of parameters to be measured/ monitored, ease of installation and operation including remote areas, sound shelf life, and access to real time data with no time gap, ability of data integration and its analysis and minimal levels of physical size, maneuvering and installation. The digital oilfield solutions market, since its inception, has evolved as a high value market and has been witnessing a healthy growth rate in the current scenario. It is expected to have a prolonged effect of growth during the forecast period.
The digital oilfield solutions market comprises digitally operating platforms of measuring instruments either as an individual component or an integrated unit (e.g. a sensor as an individual unit whereas controllers as an integrated unit), controlling and display based automation and software systems as well as services related to hardware components/units and automation systems. The scope of the digital oilfield market in this research study is mainly associated with the upstream, midstream and downstream processes associated with the oil/gas field and refinery units installed by the respective oil and gas companies.
The global digital oilfield solutions market is estimated to be valued at US$ XX Bn by 2018 end and reach US$ XX Bn by the end of 2028, expanding at a CAGR of 6.3% over the forecast period. The global digital oilfield solutions market is anticipated to represent an incremental opportunity of US$ XX Bn between 2018 and 2028 and thus, is expected to be a high value – high growth market.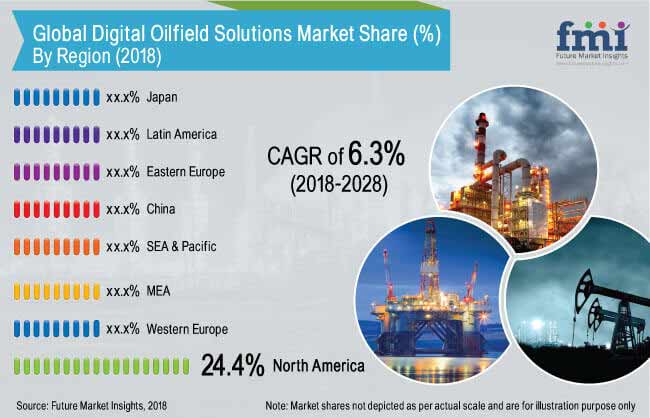 Drivers and Trends
The global digital oilfield solutions market is expected to witness steady growth rate over the forthcoming years. Rising adoption of LTE regarding technological advancements has led to an upsurge in offshore oil and gas industry. Growing partnerships among key players in the oil and gas industry to digitally transform the industry is supporting the growth of digital oilfield solutions market. The growth in the market is fueled by increasing investments by Middle-East region, especially in nations, such as Saudi Arabia, UAE, and Kuwait.
Key Players
Some of the prominent players reported in this study of the global digital oilfield solutions market include ABB, Emerson Electric, Rockwell Automation, Siemens AG, Schneider Electric, Honeywell International Inc, and General Electric, among others. These players are key participants in the global digital oilfield solutions market and there are some regional players who are offering hardware products.
In recent times, automation suppliers are merging or collaborating with service companies such as Microsoft and IBM to enhance the security and safety of their systems. As cyber threat is a major concern for the oil and gas industry, merging and acquisitions, and collaboration activities by large players will drive the end users to adopt modern digital oilfield solutions.
Key Segments Covered
By Component
Hardware
Software
Services
By Domain
Automation solutions
Instrumentation
By End Use
Upstream
Midstream
Downstream
By Region
North America
Latin America
Eastern Europe
Western Europe
South East Asia (SEA) & Pacific
China
Japan
Middle East & Africa (MEA)
Need specific information?
Talk Show:
The Rise of Intelligent Packaging
Personalized, Connected and Sustainable
November 18, 2021
11:00-11:45 AM PST (USA & Canada)
This is a LIVE session