Global Heated Jacket Market to Reach ~US$ 368.5 Mn by 2029
The global heated jacket market is projected to reach ~US$ 368.5 Mn by the end of 2029. The market was valued at ~US$ 77.7 Mn in 2019. If these figures hold true, the market will exhibit a CAGR of ~16.8% between 2019 and 2029. Regionally, North America is expected dominate the heated jacket market. However, during the forecast period, East Asia will also exhibit more lucrative growth opportunities. In terms of end-user, the heated jacket market can be classified into men and women. The men segment holds the major market share as compared to women.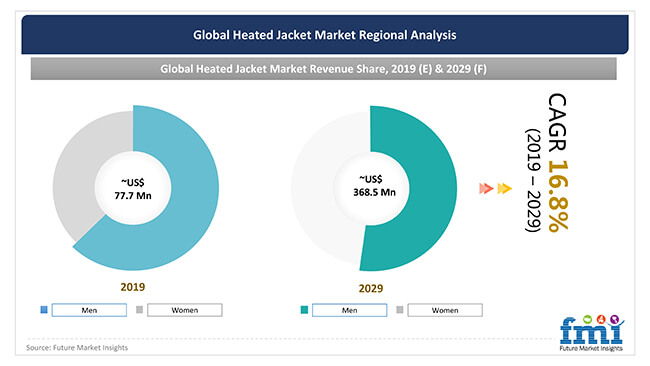 7-20 Volt Power Type Heated Jacket is Catalysing Growth of Heated Jacket Market
The global heated jacket market is primarily dominated by 5-7 volt category as increasing demand for such products among winter sports enthusiastic consumers who like rock climbing, hiking, skiing, and biking. The 5-7 volt power type segment holds the largest market share as compared to other power types as they lasts for long and more comfortable as compared to others.
However, the 7-20 volt segment is expected to expand at highest CAGR over the forecast period due to rise in demand of high battery powered heated jackets among military sector as well as industrial and construction purpose as it maintains body temperature in extremely cold weather condition.
Additionally, the product is developed with long-lasting cloths that are water and wind resistant coupled with consumers are demanding for slimline heated jackets with maximum heating sections that can be stores and cleaned easily in low-temperature conditions will fuel the global heated jacket market for further sales during the forecast.
How will Growth Unfold?
Heated jacket market is primarily dominated by North America owing to high adoption of such products among winter athletes along with growing demand fashionable heated apparels in the region. Key companies in the heated jacket market are continuously seeking for various certifications to compete in the market coupled with significantly increasing their brand penetration on various online platforms to expand their product availability and customer base.
The East Asia market is expected to grow at the fastest CAGR in the global heated jacket market followed by South Asia attributed to increasing consumer's participations in outdoor activities such as mountaineering, snowboarding, and hiking in cold climate condition.
Additionally, South Asia is anticipated to grow at significant CAGR during the forecast owing to rise in per capita spending on apparels, and companies are significantly entering in to developing countries to cater to untapped customers in the region.
Moreover, considerably increasing e-commerce penetration in the developing countries such as India and China to purchase products online due to easy of convenience, availability of multiple brands at affordable price range, and various discounts offered by online players will also boost the heated jacket market to a new height. Online retailers are expected to grow with highest CAGR during the forecast and will contribute a significant revenue share to the global heated jacket market.
World's Most Profilic Intelligence Engine
Get Access To The World's Largest Market Research Database. Ngage with a revolutionary intelligence engine that scale and pricing that flexes as per your needs
Sign Up Now
Market Segmentation
The global heated jacket market is segmented in detail to cover every aspect of the market and present complete market intelligence to readers.
End-User
Power Type
Below 5 Volt
5-7 Volt
7-20 Volt
Size
Small
Medium
Large
XL (Excel)
2XL (Double Excel)
Application
Leisure
Industrial/ Construction
DIY
Other Applications
Sales Channel
Wholesalers/Distributors
Hypermarkets/Supermarkets
Multi-Brand Stores
Exclusive Stores
Independent Small Stores
Online Retailers
Other Sales Channels
Region
North America
Latin America
Europe
East Asia
South Asia
Oceania
Middle East & Africa
Need specific information?