Hydrogen Electrolyzer Market Outlook & Key Findings
Hydrogen electrolyzer market is set to grow at a CAGR of over 10% during the forecast period 2020-2030
The global hydrogen electrolyzer market size is projected to witness a substantial 2.5x increase in market size by 2030
Growing investment in renewable electricity through water electrolysis will continue to drive demand for hydrogen electrolyzers
China, Germany, Japan, Korea and India will be the key regions adopting hydrogen electrolysis on back of higher gas import prices for hydrogen generation
Hydrogen Electrolyzer Market Analysis
Conventionally, natural gas has been the primary source of hydrogen production. Around 6%-7% of its utilization is channelized towards hydrogen production. Production of hydrogen from natural gas is exorbitant with fuel being the largest cost factor.
With costs of renewable electricity steadily declining, production of hydrogen from water electrolysis will incite demand for hydrogen electrolyzers. Further, a steady dip in prices of solar, wind and PV is being witnessed.
Use of hydrogen electrolyzers at places with abundant supply of natural resources will pave way for a supply option at an affordable cost keeping into account distribution and transmission costs.
Hydrogen Electrolyzer Market Trends
Reducing investment costs is a key focus area for hydrogen electrolyzer manufacturers. Feasible solutions to accomplish this include investment in larger units or using electrolyzers with higher efficiency.
Manufacturers are using the tried-and-tested, as well as novel techniques to maintain the elusive balance between production and cost. For instance,
Electrolyzers using the proton exchange membrane (PEM) method require no electrolyte and water passes through a polymer membrane and electrodes arranged in stacks for better performance. It gives the electrolyzer the advantage of reacting to fluctuations and has lower maintenance costs
Novel variants like the anion exchange membrane (AEM) avoids the utilization of exorbitant metals that are used as catalysts in the previous method thus reducing the overall cost of hydrogen production
Electricity energy requirement is much lower in electrolyzers that use ceramic membranes as the heat is provided by the conduction of ions used in the process leading to higher efficiency yields
In countries such as the US, China and the G4, alkaline hydrolysers are witnessing steady adoption owing to their low-costs. This is followed closely by the PEM electrolysis method as it is highly suitable for distributed systems, has low maintenance equipment and delivers superior quality hydrogen gas.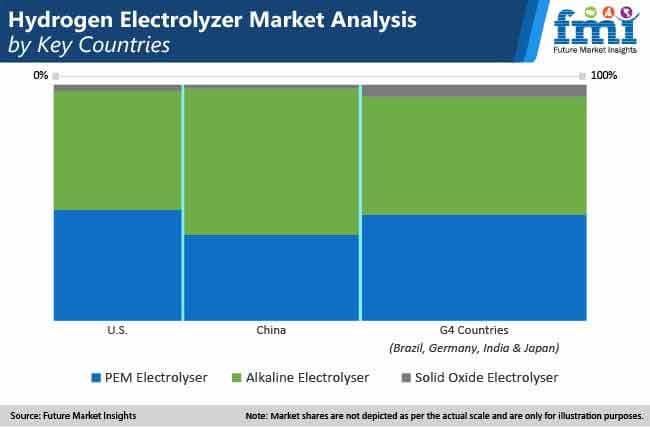 Hydrogen Electrolyzers with High Capacity Gain Traction for Sustainable Mobility and Energy Generation
In recent years, the demand for high capacity hydrogen electrolyzer has gained momentum, and it is estimated that that the technology development by players such as Siemens is enabling it to capture a sizeable market share for the production of hydrogen by competing with other technologies.
Siemens Gas and Power is working frantically to produce an electrolyzer system to produce hydrogen from renewable feedstock. Towards this, the company is planning to upgrade its SGT-400 industrial gas turbine at one of its plants to produce more hydrogen for power generation. Through this, it plans to increase its overall volume of hydrogen by at least 80%. The project will kick off in 2021.
Nikola Corporation which has recently debuted on NASDAQ has recently concluded a purchase order with Nel ASA for 85 MW alkaline electrolyzers which cumulatively produce more than 40,000 kgs of hydrogen per day. These electrolyzers will lend support to Nikola's hydrogen fuelling stations on various trucking routes thus paving the way for clean transportation.
Hydrogen Electrolyzer Market Consumption Pattern - On-site Hydrogen Generation Systems Remain Highly Preferred
On-site generation of hydrogen is gaining traction among different end-users owing to various environmental and economic advantages associated with it.
The use of on- site hydrogen electrolyzers leads to overall reduction in transportation costs and reduced CO2 emissions during transportation. Hydrogen as a chemical feedstock has the highest utilization rate. This application is set to account for maximum on-site hydrogen generation to prevent voluminous storage.
Risk of gas handling and storage is also moderated during on-site generation. Capital investment is relatively less while using small scale on-site hydrogen generation systems.
PEM on-site hydrogen electrolyzers which are high in demand are producing hydrogen at a fairly consistent flow at costs that have been factored in at zero inventory.
Scaling, Production and Sourcing Remain Key Challenges in Hydrogen Electrolyzer Market
The Hydrogen Council believes that production of hydrogen through electrolyzers can cater to a substantial chunk of energy demand and reduce nearly one-fifth of carbon emissions. However, scaling up will lead to an overall investment of US$ 20 Bn – US$ 25 Bn every year through 2030.
With 90% of electrolyzed hydrogen being produced on-site, there is little room for trade or price discovery. This will lead to manufacturers incurring a substantial production costs on the facility for installation of electrolyzers
Further, only a small fraction, in the range of 3%–4%, is produced by the electrolysis of water involving zero carbon dioxide. This is due to the fact that the process of electrolysis is relatively more energy intensive and the overall cost of production is higher as compared to other conventional production methods
The use of hydrogen produced through electrolysis has remained limited majorly to energy applications where renewable energy i.e. solar or wind is used for producing feed electricity for electrolyzers. Thus, higher processing cost is expected to impede the growth of the market
Hydrogen Electrolyzer: Regional Analysis
In terms of growth, the US, along with countries in western Europe, Asia Pacific are anticipated to stay apace at a promising rate during the forecast period.
Renewable energy and electric mobility are gaining immense traction in these regions. The production of green hydrogen through thermolysis and water electrolysis is seen as viable solutions in these markets thus reducing the gap between a decarbonized future and cleaner transportation
In regions such as Latin America, a considerable cost reduction in electricity generated through renewable sources such as solar, PV and water has facilitated the setting up of hydrogen electrolysis plants.
Latin America will continue to show significant growth prospects for hydrogen electrolyzers, albeit it will grow from a low base.
Hydrogen Electrolyzer Market: Competitive Landscape
The global hydrogen electrolyzer market is a fragmented market due to the presence of a number of regional as well as international players. The strategies of market stakeholders revolve around enhancing scalability, cost efficiency and increasing the production.
Some of the prominent companies in the hydrogen electrolyzer market include Siemens AG, Nel Hydrogen, McPhy Energy S.A, ITM Power Plc, Hydrogenics, Tianjin Mainland Hydrogen Equipment Co. Ltd, Areva H2Gen, Giner Inc., ELB Elektrolysetechnik GmbH, GreenHydrogen.dk ApS, iGas Energy GmbH, Beijing CEI Technology Co., Ltd. And Next Hydrogen, and Accagen SA etc. and others.
Nel, an industry pioneer in the production of cost-efficient electrolysers has carved a niche for itself generating hydrogen with the help of renewable energy sources. For instance, its Proton PEM electrolyser has a modular design that can be containerized and scalable.
In June 2020, Nel Hydrogen received an order from Nikola Motor got a 85 MW alkaline electrolyzers which will produce 8 ton/day of hydrogen for fueling stations.
In June this year Siemens and Engie collaborated on the setting up of 12MW green hydrogen project in Saillat- sur-Vienne, France. Together they will produce renewable feedstock to produce and store electrolyzed hydrogen. This will be done through conversion of the existing infrastructure thus proving advantageous for lower costs and minimized lead time.
Similarly, Nestle is planning to get a high-temperature electrolyzer for its refinery at Rotterdam. The electrolyzer is purported to be 20% more efficient than its low-temperature counterparts.
COVID-19 to Cause Marginal Delay in Roll-out of Clean Hydrogen
The economic downturn spurred by the COVID-19 crisis will cause a delay in the evolution of clean hydrogen:
In short-term, smaller businesses and technology providers in the hydrogen electrolyzer market landscape will face a liquidity crunch with low demand and a subsequent drop in revenues
Leading manufacturers in regions such as Europe will put a halt on green hydrogen plans as economic recovery plans gain more prominence. Major investments which were previously targeted towards the production of green hydrogen will scale back
Other investors who earlier showed a heightened inclination to invest in clean hydrogen production will show lesser inclination now to finance such initiatives.
Towards this, compensation to the hydrogen value chain will help to mitigate some losses. Stronger commitments towards decarbonization through financial bailouts in the short and medium term will enable market recovery.
Market Taxonomy
The global Hydrogen Electrolyzer market is segmented in detail to cover every aspect of the market and present a complete market intelligence approach to the reader.
By Product Type
Proton Exchange Membrane (PEM) Electrolyzer
Alkaline Electrolyzer
Solid Oxide Electrolyzer
By Capacity
Low (<500 kW)
Medium (500 kW to 2 MW
High (Above 2 MW)
By Output Pressure
Low (≤10 bar)
Medium
(10 bar – 40 bar)
High (≥ 40 bar)
By Application
Ammonia
Methanol
Refinery Industry
Electronics
Energy
Power to Gas
Transport
Metal Production & Fabrication
Pharma & Biotech
Food & Beverages
Glass Industry
Others
By Region
North America
Latin America
Western Europe
Eastern Europe
Asia Pacific Excluding Japan (APEJ)
Middle East & Africa
Japan
Need specific information?