An Incisive, In-depth Analysis on the Hydrolysed Vegetable Protein Market
This study offers a comprehensive, 360 degree analysis on the Hydrolysed Vegetable Protein market, bringing to fore insights that can help stakeholders identify the opportunities as well as challenges. It tracks the global Hydrolysed Vegetable Protein market across key regions, and offers in-depth commentary and accurate quantitative insights. The study also includes incisive competitive landscape analysis, and provides key recommendations to market players on winning imperatives and successful strategies.
COVID -19 : Impact Analysis
Request the coronavirus impact analysis across industries and markets
Request Covid -19 Impact
The hydrolysed vegetable protein market is likely to expand at a significant growth rate over the forecast period
Optimistic Scenario
In this scenario, the market is anticipated to account for close to US$ 1000 Mn by the end of 2027 at a CAGR of 6.0% over the forecast period.
Likely Scenario
In this scenario, factors such as rapid rate of industrialization, emergence of new markets for hydrolysed vegetable protein, growing savoury ingredient market, growing focus on innovation and R&D, and stringent environmental regulations are projected to propel the growth of the global market at a 5.6% CAGR during the forecast period. The market is expected to account for little more than US$ 960 Mn by the end of 2027.
Pessimistic Scenario
In this scenario, the market is forecast to account for little more than US$ 930 Mn by end of 2027. However, CAGR is projected to decline to 5.3% during forecast period.
Shortage of protein and untapped potential in the developing Asia Pacific countries
Protein is used to build body tissue, making it the most essential component of our food. Whereas the supply for protein is relatively low especially in developing countries. For instance, around 6 Mn people particularly children died every year due to lack of protein in developing and under developed countries. Increasing demand for processed food in Southeast Asia is attributed to rise the purchasing power of consumers and economic growth in the region. The hydrolysed vegetable protein has high demand as a flavour enhancer in sauces, soups, snacks, and ready-to-eat food products. For instance, to take an advantage of the opportunity Exter B.V., a Dutch company along with Thai Theparos, a local food company announced to establish a modern production facility for reaction flavours and vacuum oven dried HVP.
Powder & granules segment is expected to gain significant revenue share by 2027 over 2017
Powder & granules segment is estimated to account for little more than 50% value share in 2017 and is expected to increase to little more than 53% share in 2027 and gain 320 BPS in 2027 as compared to 2017. Powder & granules segment revenue is projected to increase at Y-o-Y growth rates ranging from 6.0% to 6.3% over 2017–2027. This segment is expected to exhibit a CAGR of 6.3% over the forecast period. Powder & granules segment is expected to rank relatively high on the attractiveness index in the global hydrolysed vegetable protein market by 2027 end. This segment is expected to be valued at more than US$ 500 Mn by 2027 end.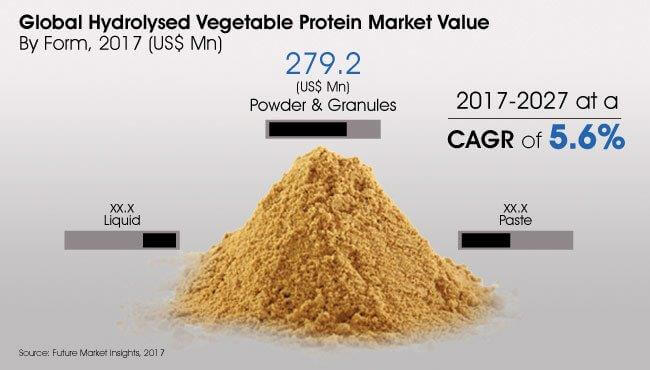 Consolidation of fragmented market, open innovation and faster new product development trending the global hydrolysed vegetable protein market
The consolidation of the textural food ingredient market is being driven by a number of factors. The long term success in the food ingredients market is contingent on constant innovation, global presence, negotiating power and the development of substantial production capabilities. The absence of the mid-sized players in the industry thus prompts various small scale companies to seek consolidation as they lack the financial resources and economies of scale that are necessary to compete with large companies. Another major reason for the consolidation is the increased negotiation powers with food producers and commodity suppliers with multinationals such as Nestle and Kraft. The changing consumer's tastes and preference has also stimulated growth in the textural food ingredients market.
The growing changing consumer demand and the lack of growth in developed markets in the recent years is driving the form segment to accelerate its innovation and new product development cycle to tap into faster growth categories. The number of innovations in last few years within the food and beverage industry is been fueling at an accelerated rate and is expected to maintain the same during the forecast period. The plant protein ingredient is the new innovation which are available in fractionated concentrate and isolates. This whole food ingredients contribute texture, flavour, color attributes to the food and beverage final products.
Future Market Insights has come up with the new report titled, "Hydrolysed Vegetable Protein Market: Global Industry Analysis (2012 – 2016) and Opportunity Assessment (2017 – 2027)." After an extensive study of the global hydrolysed vegetable protein market, it has been noted that food and beverages industry has highly influenced this market throughout the projected period of 10-years. We have observed that stringent standards by regulatory bodies across the globe has created a high impact on the global hydrolysed vegetable protein market. The report focuses towards developing products that are associated with various health benefits in order to leverage opportunity arising from growing number of health conscious consumers in the global hydrolysed vegetable protein market. After examining this market thoroughly, our analysts have arrived at a conclusion that the key players operating in this market are focusing on enhancing production capacity and innovating rapidly to offer products that are healthy and also come in different types. According to the report, the market concentration of key players in the global hydrolysed vegetable protein market is increasing continuously, both on vertical (between as well as on horizontal levels. Many food & beverages, personal care and pharmaceutical companies are entering into mergers and acquisitions in order to increase their production capacity.
Independent analysis of market taxonomy
Our analysts have covered seven regions to get the clear view of the market size and to analyse its attractiveness. The analysts have further discussed the key region trends which are contributing the development of the hydrolysed vegetable protein market, globally and have also analysed the various drivers which are influencing the market in the above-mentioned regions. We have taken an overview of key definition and executive summary, and have presented market taxonomy. Our uniqueness lies in the unprejudiced analysis of the various factors, challenges, market trends while examining market dynamics.
We have studied the market performance of 20 key vendors that are presently functioning in the global hydrolysed vegetable protein market. We have profiled these companies and presented a detailed analysis of their overall business performance and a comprehensive evaluation of their short-term and long-term business and go-to-market strategies. We are intended to provide report audiences with a dashboard view of the competitive landscape of the global hydrolysed vegetable protein market.
Segmentation of the global hydrolysed vegetable protein market
Region

Form

Raw Material

End-Use

North America

Latin America

Western Europe

Eastern Europe

Asia Pacific excluding Japan

Middle East & Africa

Japan

Powder & Granules

Paste

Liquid

Soy

Corn

Wheat

Pea

Rice

Others

Food & Beverages Industry

Food

Ready-to-make Food Products

Ready-to-eat Food Products

Seasonings

Pet Food

Other Food Products

Beverages

Cosmetic & Personal Care Industry

Hair Care Products

Skin Care Products

Others

Pharmaceutical Industry
Our unique research methodology
In-depth secondary research is used to determine overall market size, top industry players, top products, top applications, industry connotations, identify distributors, and manufacturers

List of industry players such as manufacturers, distributors, Retailer and industry specialists is developed

We have conducted interviews with industry experts, industry players, distributors and Retailer for data collection and verification

We have formulated a detailed discussion guide in order to conduct interviews with industry expert

Data is validated by triangulation method, in which secondary, primary and our unique analysis have contributed to the final data
Harish Tiwari
Global Head - Business Development
Akshay Godge
Client Partner - Global Business Development
CASE STUDIES
See how our work makes an impact.
At FMI, we design strategies that are adaptive, impactful, and implementable.