Vegetable Carbon Market By application (Beverage, Bakery, Snacks, Cereal, Candy, Dairy, Fruit Preparations, Meat, Poultry, Pasta, Sauces, Soups, Pet Food) & Region - Forecast to 2021 - 2031
Vegetable Carbon Market - Analysis, Outlook, Growth, Trends, Forecasts
November 2021

REP-GB-14218

250 pages
Vegetable Carbon Market Snapshot
[250 Pages Report] Recently published vegetable carbon market analysis shows that global demand for vegetable carbon increased by year-on-year (YoY) growth of 2.7% in 2021. The sales of vegetable carbon are expected to grow steadily, with a total valuation reaching US$ 7.1 Mn in 2021.
According to Future Market Insights (FMI), the vegetable carbon market is expected to grow at a 3.7% CAGR between 2021 and 2031. It is expected to hold 1% of n natural food color market in 2021.
| | |
| --- | --- |
| Vegetable Carbon Market Estimated Value (2021E) | US$ 7.1 Mn |
| Vegetable Carbon Market Value CAGR (2021-2031) | 3.7% |
| Vegetable Carbon Market Year-on-Year Growth in 2021 | 2.7% |
Vegetable Carbon Market Outlook 2021-2031 Compared to 2016-2020 Forecast
Vegetable carbon is a fine black powder prepared with carbonized plant material and sold in supermarkets. Vegetable carbon black powder is primarily used in the food business, particularly in confectionaries requiring concentrated dark tinted confectionery, frosts, or sweets. Vegetable charcoal powder is also used as a color additive and in conjunction with other colours to accomplish varying colour intensities.
In 2018, March, the European Union published a data of permitted food additives, which included vegetable carbon (E153). Following that, in connection with other EU regulation, use of vegetable carbon increased in Europe's food and beverage sector.
Vegetable carbon extracted from plants also is permitted for use in the food sector in Australia, Canada, and New Zealand. Plant-based vegetable carbon with active components that have medicinal uses such as cleanser and detoxification is being introduced by pharma firms. Following the EU's permission, flavor enhancer producers are likely to increase manufacturing in order to introduce vegetable carbon.
Driven by these factors, the vegetable carbon market is forecast to register a CAGR of 3.7% during the forecast period of 2021-31 in comparison to the CAGR of 2.8% exhibited in 2016-2020.
The Department of Health (DOH) had to come in and shut it down just as black (goth) foods were reaching their peak. Eater New York reported this week that the city has forbidden activated charcoal from food and beverages due to an FDA judgement that restricts it from being used as a food additives or coloring additive.
Since March 2016, the DOH has issued several "commissioners orders" requiring restaurants to discontinue products containing activated charcoal. Restaurants, on the other hand, have only recently been ordered to suspend selling products made with charcoal. Stringent regulations curbing use of activated charcoal will result in higher sales in the vegetable carbon market in the near future.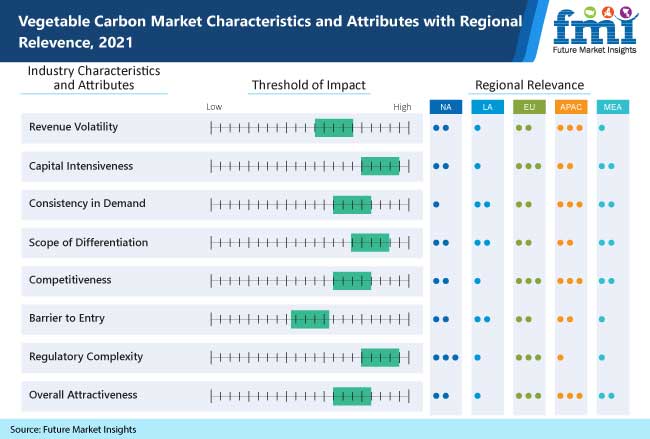 Will Sales in Vegetable Carbon Market Continue Growing?
The upward trend of growth in the vegetable carbon market is expected to continue in the forthcoming years, assisted by rising health concerns about food, which is pushing demand for clean label food products and ingredients.
Growth forecast for the vegetable carbon market is anticipated to remain optimistic in the upcoming years, aided by rising innovations in applications of vegetable carbon. Food manufacturers are replacing artificial food coloring by natural colors and pigments derived from organic sources. They are even scrutinizing the differences among the natural colours and sustainable food colors.
A vegetarian diet significantly reduces an individual's carbon footprint, so vegan-friendly sustainable food colors sales are on the rise.
Will Vegetable Carbon Market Gain from Increasing Use of Vegetable Black in HoReCa Industry?
Chefs love the particular shade of black derived from vegetable carbon. That hue of black which flows with everything, including in cooking: it adds personality to a dish, boosting other color schemes as well as flavorings whenever the time arrives to display those, or a component of astonishment.
Use of vegetable carbon elevates even the most basic of food products (such as cheeseburgers, wherein the bread dough is blended to vegetable charcoal flour, or pasta, that also gets forward hues of black rather than white to make the sauce stand out even more vibrantly). This has no negative side effects and is practically tasteless. Vegetable carbon therefore can be used in both sweet and savory dishes.
In reality, vegetable carbon does have a considerable applications and several cooks have introduced charcoal-based meals on the recipes. The most widespread application is in bread and pizza crust, and also in the preparation of crackers for serving sausage, fish, cheese, or veggies.
It is even served with caviar and shellfish, for example. The second application is to flavor and color vegetable oils with a little vegetable charcoal powder to give this item a new shade of color, even while uncooked, and to improve the presentation of the dish.
Diverse applications within the food sector will continue driving the vegetable carbon black market.
Will Vegetable Carbon Market Register High Demand in Personal Care and Cosmetics Sector?
Vegetable carbon has been used for ages to purify and detoxify. It has emerged as the all-new all-purpose beauty ingredient that can be used for skin, hair, and health in a variety of ways. Carbon has excellent skin and hair beautifying properties, making it one of the best natural ingredients for skin and hair care.
Vegetable carbon is a non-abrasive exfoliant. It aids in the removal of dead skin cells from the skin's surface. It also draws impurities from the skin and fades acne scars, dark spots, discolorations, and uneven skin tone, as well as gently exfoliating the skin.
It has anti-inflammatory properties that aid in the healing of blemishes, hyperpigmentation, and discolored skin caused by inflammation. Considering these factors, the vegetable carbon market is expected to register high demand from the cosmetic and personal care sector.
Country-wise Insights
Is the Black Ice Cream Trend Propelling the China Vegetable Carbon Market Growth?
Over the forecast period, China is estimated to be one of the most lucrative vegetable carbon markets. According to the Future Market Insights analysis, the China market is expected to grow at a CAGR of 4.3% CAGR between 2021 and 2031.
Coconut ash, a black-colored ice cream which has been a summer sensation in New York City since 2016, has recently become extremely popular among Chinese customers owing to its unique ink-colored look and superior taste.
Because many Chinese internet users published images of the black ice cream on social media, the product quickly garnered widespread popularity in China, drawing an increasing number of individuals to taste it.
According to Chinese rules for the use of food additives, vegetable carbon is a food additive as well as a color additive that can be used in frozen drinks at a maximum of five grams per kilogram.
These factors will continue favoring the China vegetable carbon market through the course of the forecast period.
What is Driving Japan Vegetable Carbon Market?
The Japan vegetable carbon market is estimated to register a CAGR of 3.5%. Black-colored food is becoming increasingly popular in the country. From black coconut-ash dessert and milkshakes to black brioche buns, scope for application of vegetable carbon in the Japan food industry is ample.
With Japan frequently at the frontline of colorful meals and drinks patterns, it's no surprise that Japanese Burger King created the Kuro Burger, which features a bun colored of bamboo charcoal, squid ink sauce, and black-colored cheese.
In Japan, Ikea even initiated a black "Ninja Dog," a hot dog that is completely black, from the sausage to the bun. Black as a food colour is not a new concept; for instance, squid ink had also long been used to flavour and colour pasta and risotto. Black barley, quinoa, and garlic add visual interest and drama to local delicacies. These developments have positioned Japan as a key vegetable carbon market in East Asia.
How is Demand for Chemical-Free Bakery and Confectionary Foods Driving Germany Vegetable Carbon Market?
Sales are estimated to rise steadily over the forecast period. According to FMI, the Germany vegetable carbon market is expected to register a CAGR of 2.7% between 2021 and 2031.
European customers are becoming more conscious about the ingredients used in bakery products, as well as the source of the ingredients. Consumer preference for chemical-free bakery and confectionary foods is increasing the demand for sustainable food colors including vegetable carbon.
In 2012, EFSA (the European Food Safety Authority) stated that the usage of vegetable carbon as a color additive is risk-free which will boost production of vegetable carbon.
How will India Vegetable Carbon Market Fare?
The India market is estimated to grow at a CAGR of 3.1% through the forecast period of 2021-31. Manufacturers are engaging in expanding vegetable carbon production, investing in R&D to improve product portfolio in order to reach wide consumer base in India, which is likely to boost the vegetable carbon demand in the country.
How is Black Bread Fad in Millennials Driving France Vegetable Carbon Market?
According to FMI analysis, the France market is projected to grow at a CAGR of 3.6% over the forecast period of 2021-31. Carbon from vegetable black is a rich and intense color that can easily be used in almost any production process.
Its pourability results in improved color dispersion. Black bread is a big trend in France and other European countries, and it's easy to see why. It's made by adding vegetable carbon to bread, and it's delicious.
This isn't ones usual rye or whole-wheat bread, which is darker than your average loaf. The popularity of these appealing baked goods is gaining traction on social media networks. It is likely that the use of vegetable carbon to propel.
Category-wise Insights
Candy and Confectionary to Remain the Dominant Vegetable Carbon Application Segment
The Candy and Confectionary accounted leading share in the applications segment. Sales of vegetable carbon in candy and confectionery segment will account for 23.7% of overall demand in the market in 2021.
Candy and confectionary products particularly in candies, gummies and chocolates are in great demand from millennial consumers. Their inclination for natural food ingredients for health and wellbeing will fuel demand in the vegetable carbon market.
Competitive Landscape
Food manufacturers are comprehensively incorporating research and innovation and technical advancements in response to the growing demand for natural food colours. Companies are increasing their manufacturing capability to cater to the increasing demand for vegetable carbon from diverse sectors within the food industry. They also are focusing on strengthening distribution channels in way to attain a broader customer base.
Scope of Report
Attribute

Details

Forecast Period

2021-2031

Historical Data Available for

2016-2020

Market Analysis

US $ Thousand for Value

Key Countries Covered

US, Canada, Mexico, Germany, U.K., France, Italy, Spain, Russia, China, Japan, South Korea, India, Thailand, Malaysia, Indonesia, Australia, New Zealand, GCC Countries, Turkey, Northern Africa, and South Africa

Key Segments Covered

Applications and Region

Key Companies Profiled

DDW The Colour House
Jiangmen Goody's Food Co., Ltd.,
Bolise Co., Ltd.
Wpasta Co. LTD
Guangzhou WellLand Foods Co., Ltd.
Chr. Hansen Holding A/S,
Univar Food Ingredients
Dynasty Colourants Co., Ltd
KF Specialty Ingredients,
Hawkins Watts Australia
Holland Ingredients.
Tyson Foods Inc
Wen's Food Group.
Muyuan Foodstuff Co. Ltd.
Santacolor
Others

Report Coverage

Market Forecast, Company Share Analysis, Competition Intelligence, DROT Analysis, Market Dynamics and Challenges, and Strategic Growth Initiatives

Customization & Pricing

Available upon Request
World's Most Profilic Intelligence Engine
Get Access To The World's Largest Market Research Database.
Sign Up Now
Vegetable Carbon Market by Category
By Application:
Beverage

Milk Drinks & Milk Alternatives
Alcoholic Beverages
Carbonates (Carbonated Soft Drinks)
Sports Drinks
Coffee & Cocoa
Tea
Energy Drink
Juice Based Drinks
Flavored water
Enhanced Water
Sparkling Waters
Bakery, Snacks, & Cereal

Breakfast Cereal
Bread
Cakes & Pastries
Cookies
Biscuits & Cones
Frosting / Icing
Crackers & Savoury Snacks

Candy / Confectionery

Panned Candy
Chocolate & Compound Coating
Gummies
Chewing Gum
Jellies & Licorice
Sprinkles & Sugar
Hard Candies / Boiled Sweets

Dairy

Cheese
Ice Cream
Milk Drinks & Milk Alternatives
Pudding / Custard
Dips & Spreads
Yogurt

Fruit Preparations / Fillings
Meat, Poultry, Fish, & Eggs

Casings
Egg & Egg Substitute
Fish / Seafood
Jerky
Meat Substitute
Processed Meat & Poultry

Potatoes, Pasta, & Rice

Pasta
Potato Chips / Crisps
Processed Potatoes
Rice

Sauces, Soups, & Dressings

Asian Sauces
Barbecue & Steak Sauce
Condiments
Gravy / Dry Sauce Mix
Marinade
Oils & Dressings

Seasonings

Batter
Breading and Coating
Bouillon / Soup Base / Stock
Liquid Smoke
Spice Blends / Dry Seasonings

Pet Food

Extruded / Dry Pet Food
Snacks / Treats
Wet Food
By Region:
North America
Latin America
EMEAI
Asia Pacific
Key Questions Answered in the Report
What is Vegetable Carbon market size?
The global vegetable carbon market is estimated to be valued at US$ 7.1 Mn in 2021. It is expected to register a CAGR of 3.7 % between 2021 and 2031.
At what rate did the Vegetable Carbon Market Expand in The Last Five Years?
According to FMI's study, vegetable carbon sales have grown at 2.8% CAGR between 2016 and 2020.The market's valuation stood at US$ 6.8 Mn in 2020.
What are the key trends shaping the Vegetable Carbon market?
Key trends include a rising application in cosmetics, booming demand for black colored food, plant-based ingredients and food products, fondness of clean label food ingredients and food additives, and continued new product introduction are factors shaping the vegetable carbon market.
What are the key factors driving Vegetable Carbon market?
Increasing demand for alternative to caviar for vegan and vegetarian consumer, propelling use of vegetable black color in desserts especially in ice creams, increasing fad of black colored food in hotels and cafes, focus on safety of foodstuffs, demand for natural ingredients, and elevated natural food colors demand will drive the market.
What is the North America Vegetable Carbon Market Outlook?
Demand for vegetable carbon in North America is predicted to grow considerably. As per FMI research, North America is estimated to hold more than 35.4% of the global vegetable carbon market in 2021.
Which Countries Are Key Producers in the Vegetable Carbon Market?
The Germany, Japan, India, China, Italy, and United States are the key producers of vegetable carbon.
Which are the top countries driving Vegetable Carbon Market?
The US, India, Germany, U.K. Italy, and China are the top countries which are driving the growth of global vegetable carbon market.
Which is the Highest-Grossing regional Vegetable Carbon Market?
EMEAI has leading market share in the global vegetable carbon market. It is estimated to account for nearly 39.5% of the overall market in 2021.
What is the Most Preferred Application in the Vegetable Carbon Market?
Vegetable carbon application in Candy / Confectionery is expected to grow at a CAGR of with 3.4% between 2021 and 2031.
Who are some of the Leading Companies offering Vegetable Carbon?
Leading companies offering vegetable carbon black are DDW The Colour House, Muyuan Foodstuff Co. Ltd, Bolise Co., Ltd., Holland Ingredients, Chr. Hansen Holding A/S, Dynasty Colourants Co., Ltd, Jiangmen Goody's Food Co., Ltd., Wpasta Co. LTD, Guangzhou WellLand Foods Co. Ltd., Santacolor, Univar Food Ingredients, KF Specialty Ingredients, Hawkins Watts Australia, Tyson Foods Inc., and Wen's Food Group.
Need specific information?
Our Clients