Introduction
Global demand for texturized vegetable proteins is expected to grow at a significant rate during the forecast period, 2018-2028, mainly reinforced by the escalating health trend worldwide. As awareness regarding healthy lifestyles increases, limited fat & carbohydrate content in food is becoming a major point of contention in diets across all age groups. Additionally, along with animal-derived proteins such as whey, casein and others, soy proteins are preferred by athletes, being a rich protein source. Texturized soy proteins are considered as one of the best substitutes for meat products, finding applications in meat analogues and extenders.
The rising preference for meat substitutes is therefore expected to directly influence consumption of texturized vegetable proteins, thereby supplementing growth of the market. As these food items deliver higher amount of nutrition, preference for meat substitutes in diet plans is rising, which is a promising avenue for higher sales of texturized vegetable proteins.
According to the report by Future Market Insights, the global texturized vegetable protein market is projected to expand at a CAGR of 4.9% during the period of forecast, 2018-2028.
Key market players are focusing on entering new markets by means of collaborations and partnerships with a view to reinforce their product lines. Few of the key players profiled in this research study include ROQUETTE FRERES S.A., CHS, Inc., Archer Daniels Midland Company, Cargill, Inc., E.I. du Pont de Nemours & Co., MGP Ingredients, Inc., Sonic Biochem Extractions Limited, Sotexpro, BENEO GmbH, Victoria Group, Shandong Yuxin Soybean Protein Co. Ltd., Crown Soya Protein Group, among others.
Demand for Texturized Soy Protein to Spur the Growth of the Global Market
Being rich in proteins and fibrous material, texturized soy proteins are a widely used ingredient that enhance the nutrition of the meal and are largely used in several food products, including, but not limited to, snacks and functional bars, ready meals, meat analogues and extenders, among others. The consumption of texturized soy proteins is high among older population, lactating women, pregnant women as well as children.
Their demand is expected to grow at a stellar rate in the coming years owing to their wide adoption in meat and poultry products. This further helps in enhancing nutritional value of the food item by providing more protein content and reducing fats. These factors have spurred the consumption of texturized soy protein worldwide, whose sales are expected to reach a value of around US$ 1.4 Bn by end of analysis period. The increasing sales of texturized soy proteins is poised to largely contribute to the growth of the global texturized vegetable proteins market in the coming years.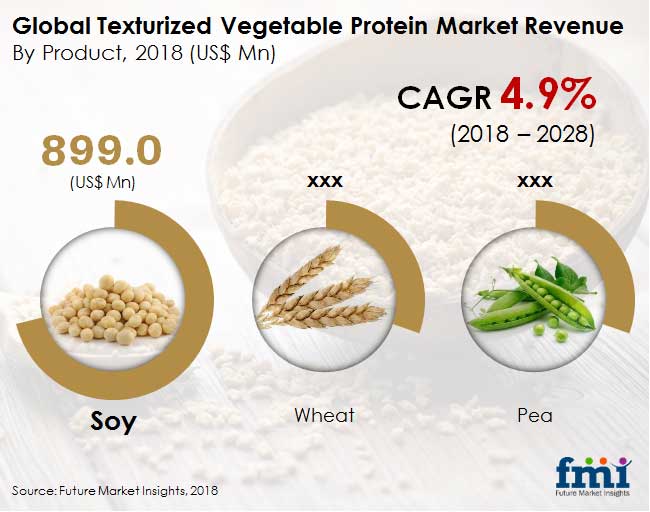 Competition Tracking
The global market for texturized vegetable proteins is characterized by growing number of regional players as well as presence of international players. Increasing collaborations with regional players to gain hold in the local market have been observed. Additionally, regional markets, especially in Asia Pacific, are expected to showcase high growth potential owing to increasing preference for texturized vegetable proteins in the region.
The growing changing consumer demand and the lack of growth in developed markets in the recent years is driving the form segment to accelerate its innovation and new product development cycle to tap into faster growth categories. The number of innovations in last few years within the food and beverage industry is been fueling at an accelerated rate and is expected to maintain the same during the forecast period. The plant protein ingredient is the new innovation which are available in fractionated concentrate and isolates. This whole food ingredients contribute texture, flavour, color attributes to the food and beverage final products.
Market segmentation
Analysis by Product Type
Soy Protein
Wheat Protein
Pea Protein
Analysis by Form
Chunks
Slices
Flakes
Granules
Analysis by End Use
Analysis by Distribution Channel
Analysis by Region
Household
Commercial
Industrial

Food Industry

Snacks and Functional Bars
Ready Meals
Meat Analogues
Meat Extenders
Others

Animal Feed and Pet Food
Analysis by Distribution Channel
Direct
Indirect

Supermarket/Hypermarket
Convenience Stores
Specialty Stores
Online Sales
Other Retail Sales
Analysis by Region
North America
Latin America
Western Europe
Eastern Europe
Asia Pacific excluding Japan
Japan
Middle East & Africa
Need specific information?