In-Circuit Tester Market - Key Research Findings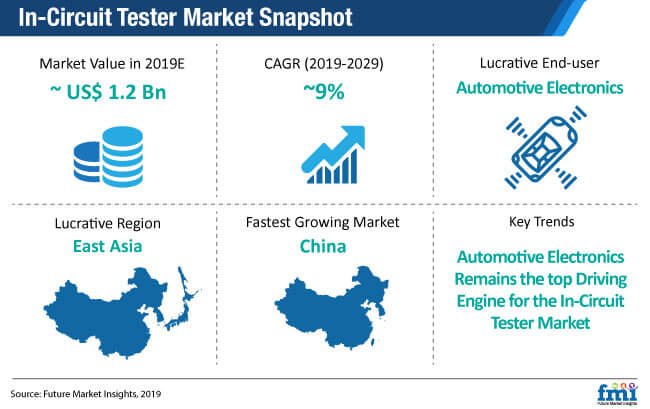 The global in-circuit tester market size is expected to reach ~US$ 1.2 Bn in 2019.
The in-circuit tester market is estimated to grow at a CAGR of ~9% during the forecast period 2019-2029.
The expanding automotive electronics industry is majorly boosting the growth of the in-circuit tester market.
Collectively, North America and East Asia are expected to account for ~47% of the revenue shares in the in-circuit tester industry by the end of 2029.

Rapidly growing industries in East Asia such as automotive electronics, and consumer electronics are creating significant demand for in-circuit testers in manufacturing sectors.
Moreover, rapid growth in the field of aerospace and defence are fuelling the growth of the in-circuit tester market.

Automotive electronics, and consumer electronics are expected to remain prominent end-use industries for in-circuit tester market players.

Manufacturers of in-circuit testers are focusing on advancing their products by increasing their R&D expenditures.
Moreover, leading players are focusing on merger and acquisition strategies to expand their footprint in untapped regions.
Key Factors Shaping the In-Circuit Tester Market
Increased Focus on Vehicle Emission Reduction Boosting Automotive Electronics Sales
Rapid growth has been witnessed in the field of automotive electronics, due to legislations of vehicle emission which have become stricter. Owing to the increasing demand for comfort, efficiency, connectivity, and safety by customers, electronics will witness a surge in demand for new and existing functions in automobiles. Automotive electronics manufacturing demands highly customised electronic circuits with minimum faults.
Moreover, electronic vehicles are gaining significant traction, in the view to reduce fuel consumption and achieve net zero emissions. The automotive electronic industries are growing rapidly across the globe, especially in East Asia and North America due to the presence of key manufacturers. Thus, these parameters are set to propel the growth of the in-circuit tester market across the globe during the forecast period.
Consumer Electronics Gaining Traction amid the Rise of Smart Consumer Devices with Smaller PCB Boards
The demand of in-circuit testers is increasing due to growing consumer electronics industries across the globe. There is increasing demand for the in-circuit testers for the manufacturing of telephones, cell phones, laptops and TV's to test circuit boards. The market is seeing an increasing proliferation of smart consumer devices with smaller and tightly packed PCB boards.
Moreover, East Asia and North America are the prominent regions in the field of consumer electronics as countries such as China, Japan, and South Korea have prominent manufacturers of consumer electronics. These factors are fuelling the growth of in-circuit tester market across the globe.
Increasing Need for On-Field Analysis in Various End-Use Industries to Fuel the Growth of In-Circuit Tester Market
Leading players are focusing on manufacturing technologically advance in-circuit testers, for automotive electronics, consumer electronics, medical equipment, defence & aerospace electronics, power generation, storage & distribution, network & communication, computer & peripheral devices, and industrial electronics analysis due to increasing demand for on-field analysis.
For instance, Teradyne Inc., a leading manufacturer of in-circuit testers has recently launched Multi site inline in-circuit tester, which provides full parallel test of multiple board, step function improvement in system productivity. The significant portability and easy maintenance is increasing the usage of in-circuit testers in various industries.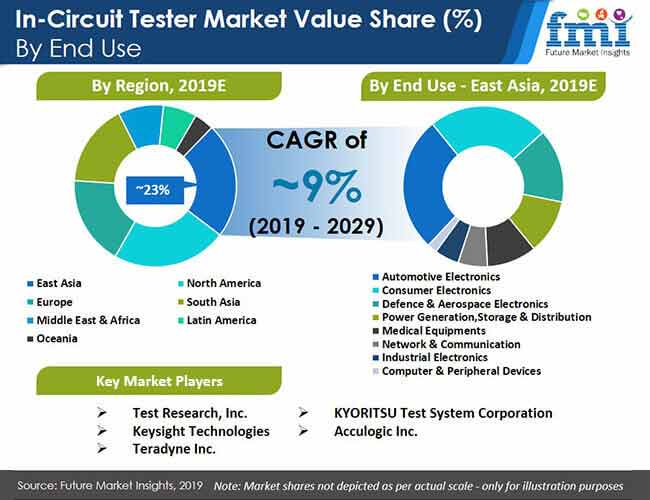 In-Circuit Tester Market Structure Analysis
The global in-circuit tester market is highly consolidated, where leading players are focused on manufacturing multi-functional testers.
The in-circuit tester market is relatively large in size, due to its various applications in many industries.
Leading players of the in-circuit tester are manufacturing products with advanced technologies for greater market penetration which has already been dominated by leading players.
For a stronger foothold in targeted regions, manufacturers of in-circuit testers are advancing their product portfolio by continuously spending on research and development facilities.
Testing Early-Developed and Low Volume Products with 'Multiple Flying Probes'
In-circuit testers, including flying probe tester (FPT), rely on software algorithms - ICT (In-Circuit Test) programming - for controlling the probes, making FPTs highly efficient in examining PCBs (Printed Circuit Boards) that pose issues regarding accessibility. Presence of electromechanical controllers in flying probe testers enable access to PCBs.
FPTs incorporate multiple fast-moving needles for testing along X-Y axis, and a camera for monitoring component polarity, thereby reducing the number of test fixtures required - a cost effective solution. Straightforward programming of FPTs permits testing of high-density PCBs. In addition, the software instructions allow smooth changes such as, component placements, enabling easy testing.
Flying probe in-circuit testers are not dependent on test points as they generally access component pins via automated test-point probing, enhancing test coverage. The entire network is created through multiplexing system and sensors. Enactment of the vias on the board as embedded test points eliminate the need for further test points.
FTPs, with the inclusion of sensors, analyze constituents of the faulty device, including digital multi-meters, and frequency counters. The sensors in flying probe in-circuit testers cover non-target components on the unit from the test, avoiding disturbances in the measurements of phase difference, high-voltage stress, and micro shorts.
Testing Well-Developed and High Volume Products with 'Bed-Of-Nails'
In-circuit testers (ICT), containing multiple contact pins – 'bed of nails'- propel the procedure of analyzing finished products for efficient operation. ICT operators depress particular pins on the test fixture upon the contact of the test points with the PCBs via manual pressure or induced air vacuum. Coupled with software technology, in-circuit testers enable for allowable line speeds in sync with increasing overall quality standards, aiding manufacturers in maintaining the design criteria.
However, bed-of-nails in-circuit testers pose the challenges of high upfront costs, and longer development lead time, yet they are highly suitable for testing well-developed and high-volume products. In addition, ICTs requires about 1 minute for one test cycle unlike FPTs, which take up to 15 minutes per board, relatively decreasing post-development expenses per unit.
North America and East Asia - Upsurge in Consumer and Automotive Electronics Sales
Countries including, China and the US, are showcasing significant traction of electric & battery-operated vehicles in a bid to decrease vehicular pollution, and fuel consumption. In addition, stringent fuel economy and emission control standards are compelling automobile makers to boost the production of powertrain electronics.
ADAS (Advanced Driver-Assistance Systems) are garnering substantial adoption in automotive electronics owing to drivers' safety - a factor grabbing the eyes of the manufacturers of in-circuit testers.
Further, consumer electronics (CE) such as smartphones, laptops, and HD TVs are becoming commonplace in China, the US, and Japan following increasing dependence on electronic gadgets for performing regular household chores. As such, in-circuit tester market players are penetrating the target regions for portfolio expansion
Riding the Wave of Innovation – The Road Ahead
Artificial Intelligence (AI), and 5G communication network are set to influence automated operations across diverse verticals. As such, players, including Teradyne Inc., are developing automatic in-circuit test equipment to analyze next-gen semiconductor chips for 5G, AI and automotive applications.
Optimum accuracy, and efficiency are cornerstones for in-circuit testing – a fact motivating market forces to design in-circuit testers compatible with SMEMA, and offers functional test expansion with the help of PXI modules. In addition, the testing instruments are armed with intuitive UI (User Interface) with flow-based easy program development.
How Growth Will Unfold
Surging adoption of advanced electronics in sectors - automotive, aerospace, and consumer goods - implies the need for compact PCBs with multitude of connections. Manufacturers are setting their sights on designing automobiles equipped with advanced safety-systems, such as autonomous emergency, lane keep assist, and collision prevention to ensure passengers' safety.
Government across the globe are urging carmakers to focus on the production of electric vehicles (EVs) and hybrid electric vehicles (HEVs) to achieve sustainability. As a consequence, examining semiconductor chips for high performance becomes quintessential.
Increasing adoption of electronic gadgets, including smartphones, PCs, and other home appliances require PCBs with high volume of connections, propelling the demand for in-circuit testers for accurate testing of PCBs in consumer electronics. Furthermore, in aerospace bracket, pilots rely on monitoring equipment, including accelerometers, and pressure sensors, to inspect the operation of aircrafts, while communication with ground control is a crucial aspect to assure secured air trips.
Key Segment
By Product
Multimode Flying Probe Tester
In-Line Tester
By Portability
By Application
By Fixture
Vacuum
Pneumatic
Mechanical
By Mode
By End Use
Automotive Electronics
Consumer Electronics
Medical Equipments
Defence & Aerospace Electronics
Power Generation, Storage & Distribution
Network & Communication
Computer & Peripheral Devices
Industrial Electronics
By Region
North America
Latin America
Europe
Middle East & Africa
East Asia
South Asia
Oceania
Need specific information?