Laser Safety Glass Market By Technology (Glass Laser Safety Eyewear, Polycarbonate Safety Glasses, Thin Film Glasses, Laser Protective Face Shield, Intense Pulse Light Safety Glasses), Application (Automotive, Medical, Chemicals, Military, Aerospace, and Defense) & Region - Forecast 2019 - 2029
Laser Safety Glass Market - Analysis, Outlook, Growth, Trends, Forecasts
November 2019

REP-GB-885

190 pages
Laser safety glass Market – Key Growth Influencers
[190 pages Report] Gobal sales of laser safety glass are projected to reach 6.3 Mn units by the end of 2029, which translates into a robust 10% volume CAGR during the forecast period (2019-2029)
Government Regulations Regarding Industrial Safety
Increase in stringent government regulations for worker safety is expected to drive laser safety glass market growth of laser safety glass in the forthcoming period. For instance, OSHA (Occupational Safety and Health Administration) sets standards for the use of Personal Protective Equipment (PPE) across metal fabrication, welding, automotive component manufacturing, advanced healthcare and defence.
The enforcement of this regulation is expected to foray into regional markets of potential growth such as Middle East, Asia and Latin America thus fortifying the laser safety glass market growth and presence beyond the established regions.
High Traction in Medical Services and Industrial Engineering Space
New laser applications present unique safety and personal protection challenges in medicine, defense, research and industry. Laser safety glass provides protection from high density lasers while performing laser treatment processes. Technological advancements in oncology, dentistry, dermatology, and aesthetic medicine and cosmetic surgery have provided broader scope for the applications of laser safety glass.
Amongst all the end use sectors, Industrial construction consumes a significant market share of the Laser Safety glass industry due to the metal fabricating processes such as welding, engraving, 3D printing, automotive component manufacturing etc.
The value share of the glass laser eyewear segment is projected to grow 1.4X compared to that of the polycarbonate safety segment over the forecast period, due to easy availability and cost-effectiveness of glass laser. Glass laser type of eyewear offers better protection capacity when exposed to hazardous surroundings for workers as compared to polycarbonate ones.
With regard to cumulative dollar potential, the glass laser eyewear segment is expected to create an opportunity 1.25X that of polycarbonate laser safety glass over the forecast period.
Innovations Such as Intense Pulse Light (IPL) Safety Glasses
In terms of technology, the laser safety glass market is segmented into glass laser safety eyewear, polycarbonate laser safety glass, thin film glasses, laser protective glasses, and intense pulse light (IPL) safety glasses.
Among these, the glass laser safety eyewear segment has been estimated to account for over 30% of the laser safety glass market revenue in 2019, and is anticipated to increase at a healthy CAGR during the forecast period. The laser protective face shields segment is expected to exhibit prominent CAGR of ~12% in terms of value, during the forecast period.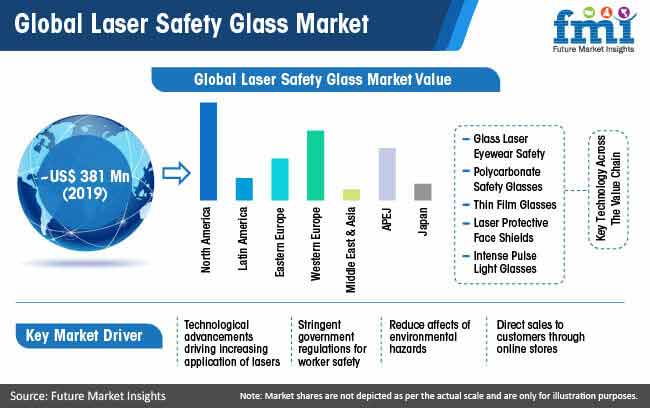 Laser Safety Glass Market Structure Analysis
The global laser safety glass market is fragmented due to the significant presence of small- & medium-sized manufacturers.
Key players such as Honeywell International Inc., 3M, uvex group, Phillips Safety Products, Inc., and Thorlabs, Inc., are anticipated to account for ~30 percent of the global market for laser safety glass and generate a revenue of more than US$ 50 million in the market for laser safety glass.
Other laser safety glass market participants comprise of players such as s Univent Optical Technologies, Kentek Corporation, Laser Safety Industries, NoIR Laser Company LLC, Global Laser Ltd., and VS Eyewear in the global laser safety glass market.
Laser Safety Glass manufacturers are primarily pursuing strategies such as mergers and acquisitions with regional or international enterprises as well as focus of sales promotions through online platforms via sales discounts, bulk buying offers to strengthen their product/ brand image as well as sales footprint.
Most companies are majorly relying on online sales of laser safety glass. Companies such as Philips Safety Products, Laservision by uvex group are providing discounted coupons for laser safety glass as part of their promotional campaigns
World's Most Profilic Intelligence Engine
Get Access To The World's Largest Market Research Database.
Sign Up Now
Laser safety glass market: Taxonomy
The global laser safety glass market is segmented to cover every aspect of the market and present complete market intelligence to the reader.
By Technology
Glass Laser Safety Eyewear
Polycarbonate Safety Glasses
Thin Film Glasses
Laser Protective Face Shield
Intense Pulse Light Safety Glasses
By Application
Automotive
Medical
Chemicals
Military, Aerospace, and Defense
Others
By Region
North America
Latin America
Eastern Europe
Western Europe
MEA
APEJ
Japan
Need specific information?
Our Clients