Moisture Analyzer – Near-Infrared Technique- Best Fit for Continues Analysis
Advancement in the field of calculating moisture levels has led to the use of near-infrared technique, measuring the reflectance and absorbance of light to determine the level of moisture. The use of near-infrared technology is widespread, appearing in the food processing, pharmaceuticals, packaging, chemical, and textile industry. Meanwhile, the huge demand from the food and beverage industry can be attributed to the strict regulations to maintain high quality of food products by maintaining the moisture content.
Moisture Analyzer Market - Global Industry Analysis (2013-2018) & Market Forecast (2019-2027)
Moisture analyzers, most commonly known as moisture meters, operate on the basis of infrared heating technology. Moisture analyzers are devices that are used to identify and measure the moisture content in solids, liquids, as well as pasty materials. Moisture analyzers find a wide range of applications in the food & beverages, pharmaceuticals, semiconductor, polymer, and other industries. Moisture content is often mistaken as the water content in materials. In reality, the moisture content in a material comprises of all of its volatile components such as organic solvents, fats, oils, and water content.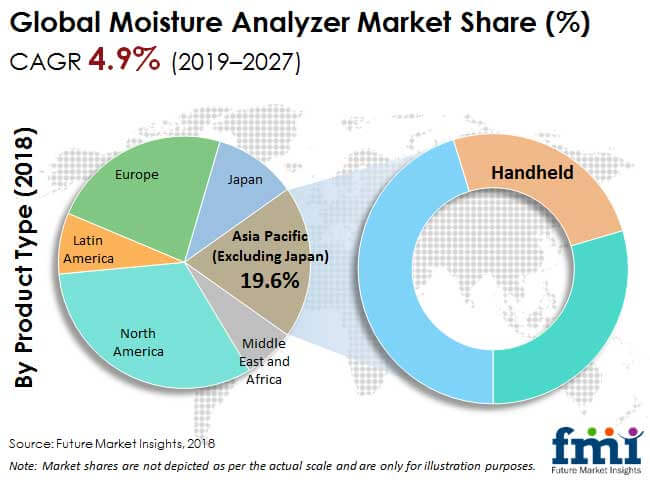 The food and beverages industry is expected to create substantial demand for the moisture analyzer in forecast period.
Moisture plays a vital role in influencing the quality and functioning of materials, hence, it is mandatory for the manufacturing industry to maintain the correct moisture content in raw materials as well as in its finished products to ensure their optimal performance and to meet the product standards & regulations. Food and beverage products are highly perishable and can be quickly affected by moisture, hence, it is important for the manufacturers of food and beverage products to maintain the accurate amount of moisture throughout the manufacturing process. Moisture content also needs to be monitored during the packaging and dispatch of food and beverage products to maintain the quality of these products throughout the supply chain. As a result, the food and beverage industry is among the largest consumers of moisture analyzers.
The moisture analyzer market is expected to witness high demand from the pharmaceuticals industry
The pharmaceutical industry is one of the most quality-centric industries as the chemical compositions and molecules used in pharmaceutical products are very sensitive and can be easily affected by variations in moisture. The pharmaceutical industry needs to ensure high accuracy in terms of the chemical composition due to the sensitivity of these products. Moreover, to meet the stringent government norms and standards related to chemical compositions, the pharmaceutical industry needs to take care of the moisture content in the manufacturing process to maintain quality. Hence, the pharmaceutical industry is the second-largest consumer of moisture analyzers.
For instance, Mettler Toledo, a leading manufacturer of moisture analyzers, have reported substantial growth in its revenue from the pharmaceutical sector in the past few years.
The in-line moisture analyzer segment is expected to witness significant growth
On the basis of product type, the moisture analyzer market is segmented as desktop-mounted, handheld, and in-line. The demand for in-line moisture analyzers is expected to grow at highest rate among other moisture analyzers during the forecast period, due to the rapid growth of process automation in the manufacturing industry, as well as various other industries, which is eventually generating the demand for in-line moisture analyzers. In-line moisture analyzers can be installed on production lines for the continuous inspection of the level of moisture content in process material for quality checks, and to make possible changes based on the inspection to ensure high-quality end products.
For instance, TEWS, a leading German manufacturer, stated in their annual news report 2017, that the In-line moisture analyzers with patented technology resulted in 300% efficiency of pharmaceutical production
Increasing expenditure on the chemical sector boosting the demand for moisture analyzer market
Continuous growth in the chemical sector, as well as investments in the same, are among the major factors driving the moisture analyzer market. Moreover, high investments on chemical testing, drug discovery & development, and proteomics is also creating potential growth opportunities for the market. In addition, increase in the development activities carried out by the chemical and pharmaceutical industries in most of the developing and developed nations has a direct impact on the moisture analyzer market. Increasing government funding and research activities, driven by the development of large-scale chemical and pharmaceutical projects across the globe, is also driving the moisture analyzer market.
For instance, World chemicals turnover was valued at €3,475 billion in 2017 according to CEFIC, the European chemical Industry Council.
In recent past, it has been observed that the governments of major economies, such as the U.S., Russia, the U.K., Germany, France, Japan, India, China, and others, are focusing on the development of commercial chemical facilities and strengthening their chemical and pharmaceutical sectors.
Recently, India's largest agrochemical company, United Phosphorous, announced the acquisition of Arysta Life science for about USD 4.2 billion. This is expected to drive the demand for moisture analyzers worldwide.
APEJ is expected to increase its dominance in moisture analyzer market due to rapid growth in the chemical sector
Asia Pacific excluding Japan is expected to hold a significant market share in the global moisture analyzer market during the forecast period. Rapid developments in the chemical and pharmaceutical industries and significant growth in the food and beverages industry are creating high demand for moisture analyzers. Moreover, expanding investments in the chemical as well as food & beverages industries by governments of different countries in the region, such as India and China, are expected to drive the moisture analyzer market in APEJ.
For instance, According to Economic Times report, India's chemical industry is estimated to grow at 9 % CAGR to reach USD 304 billion by FY25, from USD 163 billion in FY18.
Furthermore, the increasing overall development and GDP growth in the countries of APEJ are also among factors supporting the demand for moisture analyzers in the region.
Measuring Moisture Content during Manufacturing Process- A Growing Practice
Increasing number of companies across industry verticals are largely focusing on measuring the moisture content in the product during the manufacturing process. Measuring the moisture content during the production of baked products and snack food is on a rise as the excess moisture content during the product manufacturing stage can cause clumping and result in product deterioration. Currently, many moisture analyzing methods are used commercially, however, new methods are being introduced with a focus on reliability and cost-efficiency.
US to Lead the Moisture Analyzer Market Growth in North America
Presence of several moisture analyzer manufacturers in the country along with the industries such as pharmaceutical, food and beverages, and chemicals that are the major consumers of the moisture analyzing equipment. Owing to the stringent regulations in the food and beverages and pharmaceutical industries in the US to produce high quality products, manufacturers in these industries are increasingly focusing on using moisture analyzers to maintain product quality and increase the shelf life of food products. Meanwhile, in recent years, portable and handheld moisture analyzers featuring captive electrical resistance sensors or capacitance have also gained popularity in the US.
The Broader Perspective
Demand for inline moisture analyzers have grown owing to the adoption of automation across industries, however, desktop moisture analyzers are likely to witness increasing sales in the coming years for high degree of accuracy. Meanwhile, loss on drying analyzing technique offering good measure of the moisture content along with the detection of any volatile substances in both solid and semi-solid materials is likely to gain traction in the coming years.
Desktop moisture analyzers will remain top-selling category
Demand for inline moisture analyzers will witness considerable growth
Loss on drying analysis technique to sustain high demand
Infrared radiation likely to witness substantial growth
Manufacturing industry accounts for larger share of the moisture analyzer market
Gains from food and beverages industry will also remain significant
How Growth will Unfold
To offer stable production run leading to the high quality food product, food companies are extensively using moisture analyzers. Food and beverages companies have also started focusing on maintaining moisture content in raw materials used to produce final product. Measurement of moisture at several steps of food production is resulting in the demand for advanced moisture analyzers providing quick results.
Manufacturing | Pharmaceutical | Food & Beverages | Chemicals | Construction | Pulp & Paper | Others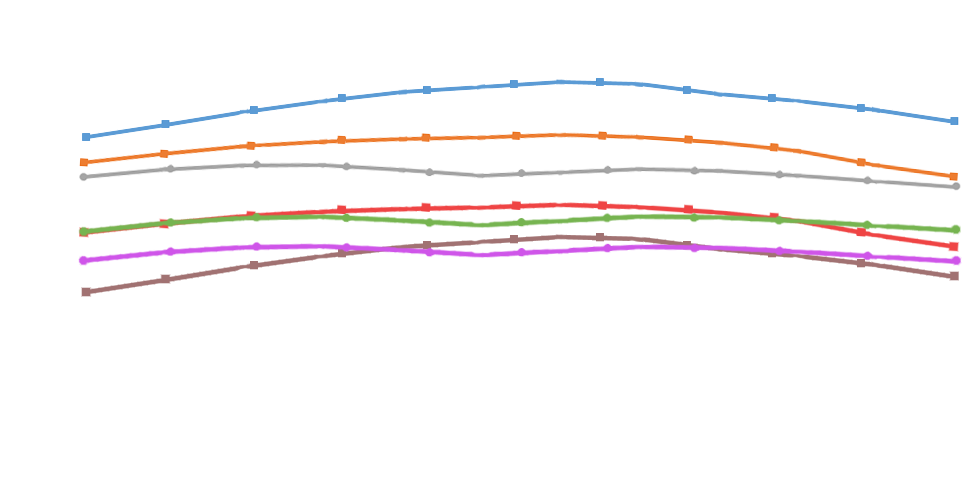 * This data is only a representation. Actual data may vary and will be available in report.
Click Here To Know How The Growth Will Unfold
Custom Market Research Services
FMI offers custom market research services that help clients to get information on their business scenario required where syndicated solutions are not enough.
Overview
Moisture Analyzer Market: Global Industry Analysis 2013-2018 & Opportunity Assessment 2019-2027
A recent market study published by FMI "Moisture Analyzer Market: Global Industry Analysis 2013-2018 & Forecast 2019-2027" offers a comprehensive assessment of the most important market dynamics. After conducting thorough research on the historic as well as current growth parameters of the Moisture Analyzer market, the growth prospects of the market are obtained with maximum precision.
Moisture Analyzer Market Taxonomy
The global Moisture Analyzer market is segmented in detail to cover every aspect of the market and present a complete market intelligence approach to the reader.
Analysis Technique
Loss on Drying
Karl Fischer Titration
Infrared Radiation
Microwave Radiation
Capacitance
End Use
Manufacturing
Pharmaceutical
Food & Beverages
Chemicals
Construction
Pulp & Paper
Others
Region
North America
Latin America
Europe
Japan
APEJ
MEA
How the research was conducted?
Primary Research
Primary research interviews with Key opinion leaders and other participants were conducted for data collection and validation of the below information:
Adoption of Moisture Analyzers
Average Selling Price (US$) and Market Growth
Key Developments
Key Trends and Opportunities
Regional wise Dynamics
Market Share Information
Key Brands
Competition & Key Vendor Strategies
Competition & Key Vendor Strategies
Secondary Research
American Society for Testing and Materials
British Measurement & Testing Association
International Society for Pharmaceutical Engineering
Pharmaceutical Research and Manufacturers of America
International Association for Food Protection
National Sanitation Foundation (NSF International)
American Forest & Paper Association
American Association of Pharmaceutical Scientists
Food Safety and Inspection Service( USA)
Food Safety and Standards Authority of India
Food Standards Agency (FSA, UK)
Primary Interview Splits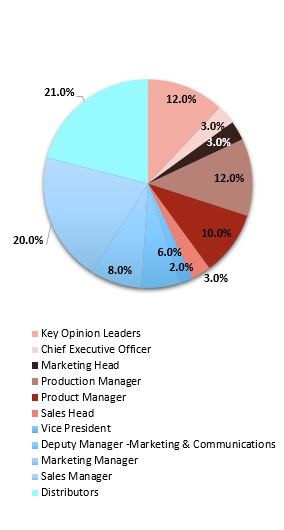 To Learn More About our Comprehensive Perspective on Moisture Analyzer Market ,
Get in touch
COVID -19 : Impact Analysis
Request the coronavirus impact analysis across industries and markets
Request Covid -19 Impact
CASE STUDIES
See how our work makes an impact.
At FMI, we design strategies that are adaptive, impactful, and implementable.