XRF Analyzer – One-Stop Solutions for Quality Assurance and Process Control
XRF analyzers are finding extensive applications across multiple end use industries, including oil & gas, pharmaceutical, metal & mining, and environmental research. Quality assurance and process control requirements of end users are setting a buoyant tone for growth of XRF analyzer market in 2019 and beyond.
XRF Analyzer Market - Key Research Findings
Global XRF analyzer market size in 2018 – nearly US$ 2. 2 Bn
The XRF analyzer market is expected to observe a CAGR of approximately 5.7% over 2019-2027.
According to the recent statistical data by the World Bank,
The metals index is estimated to witness an increase, following a 9% fall in the prices of iron ore, which is offset by an increase in the prices of base metals. The highest increase in price point has been estimated for nickel, i.e. by 30%.

Precious metal prices are estimated to increase by almost 3%, in the wake of higher inflation expectations and an increase in the US interest rates.

According to Ayhan Kose, the director of World Bank's Development Economics Prospects Group, "Oil exporters with flexible currency regimes, relatively large fiscal buffers, and more diversified economies, have fared better than others since the oil price collapse."
The aforementioned factors are expected to fuel the growth of the XRF analyzer market across the globe at high CAGR during the forecast period.
Middle East & Africa will remain among the most prominent regional markets for XRF analyzers
In the Middle East & Africa, Saudi Arabia is one of the leading providers of the oil, gas, and natural resources.
Middle East & Africa and Asia Pacific will continue to spearhead the global market for XRF analyzer
In Asia Pacific, China, and India are among the leading providers of various metals such as vanadium, phosphates, tungsten, graphite, antimony, coal, molybdenum, tin, lead, zinc, and gold.
There has been considerable growth in pharmaceutical, metal & mining, and oil & gas industries, which is expected to significantly contribute to the growth of the XRF analyzer market over the forthcoming years.

The growing availability of handheld/portable XRF analyzers is expected to boost market revenue
The increasing demand for handheld/portable XRF analyzers in the field of mining industries and oil & gas industries is expected to propel the handheld/portable XRF analyzer market across the globe over the forecast period.

Handheld/portable XRF analyzers are handy, easy to use, and lightweight. Therefore, there has been an increase in the need for the handheld/portable XRF analyzers on the field inspection of elements or metals.
Top 3 Factors Shaping the XRF Analyzer Market
Demand for XRF analyzers in the mining industry is boosting the market
The adoption of XRF analyzers in the mining industry for the determination of numerous glass, ceramics, metals, etc. is on the rise. Handheld XRF analyzers are used to perform the on-site geochemical analysis of the drill core, mine face, or to prepare samples. As per FMI, this is estimated to remain a prominent parameter that is boosting the global demand for XRF analyzers.
The introduction of technologically advanced XRF analyzers is trending
The availability of technologically advanced XRF analyzers is fuelling the growth of the market. Technological advancements in these analyzers include proximity sensors, radiation safety, improved detection parameters, high-count, and high-resolution rate. These technological advancements are boosting the XRF analyzers market.
Increasing demand for the determination of the elemental composition of precious metals is propelling the XRF analyzers market
Increasing demand for the identification of various precious metals is fuelling the growth of the market. These metals include gold, platinum, and others. XRF analyzers are among the key devices adopted by most of the gold processing services, gold refiners, and gold recyclers. Moreover, the XRF analyzers are widely used for the determination of the gold karat or gold concentration. The market is gaining traction owing to these factors.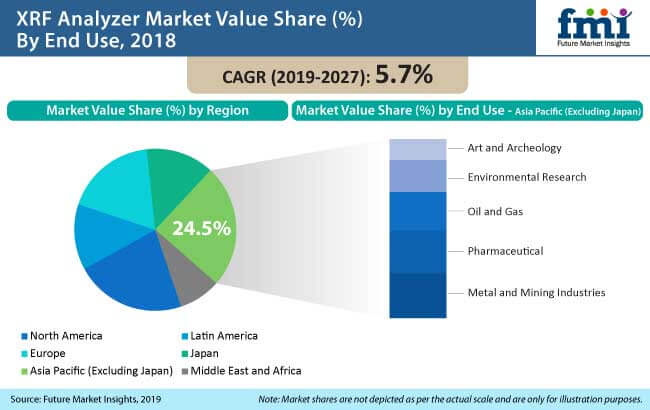 XRF Analyzer Market Structure Analysis
The global XRF analyzer market represents a consolidated competition landscape, wherein the Tier 1 companies hold a revenue share of more than 55%.

While most of the key players maintain a strategic focus on the emerging markets in Asia Pacific and Middle East Africa regions, the report underlines that their developmental strategies will emphasize technological advancements.

Prominent companies active in the XRF analyzer marketplace are also focusing on new launches, which majorly include handheld and portable devices.

Cost-effectiveness will remain a common strategy adopted by key players in the XRF analyzer market.
Market to Experience Decent Growth, Adoption in Metal & Mining to Provide Impetus
XRF analyzer landscape is likely to see decent growth in future, on account of its sheer proliferation across multiple end-use applications. One of such prominent application segment is metal & mining, wherein XRF analyzers are increasingly used for determining the elemental composition of glass, metals, ceramic, and other materials. XRF analyzer also helps with seamless testing of solid and liquid material samples and offer accurate results. Such particulars provide credence to the unabated demand for XRF analyzer through 2027.
APEJ Remains the Largest Market for XRF Analyzers, MEA to Reflect Substantial Growth
APEJ is likely to continue being a lucrative market for XRF analyzer, driven by the renewed focus on metal & mining applications in the region. MEA is estimated to promise new opportunities for the key players of XRF analyzer market, on the back of ever-increasing pace of industrialization.
The Broader Perspective
The XRF analyzer landscape is on a constant upswing, considering the fact that end use industries are on a constant lookout for effective devices for monitoring and measurement. The market is estimated to witness a massive inclination toward handheld XRF analyzers, on the back of high scale portability and maneuverability.
Handheld XRF analyzer to be the best–seller category
Demand for benchtop XRF analyzer to witness unwavering growth
Sales of energy dispersive XRF analyzer to remain intact and healthy.
Wavelength dispersive XRF analyzer to witness steady demand
How Growth will Unfold
Growth of XRF analyzer market will benefit from the expanding use across multiple end use applications. XRF analyzers are well-known for providing qualitative and quantitative material characterization, which further assists end use operators to effectively handle identification, detection, analysis, process control, and quality control. In line with the specifications of the target applications, XRF analyzer of different types and modularity will witness substantial demand.
Metal and Mining | Pharmaceutical | Oil and Gas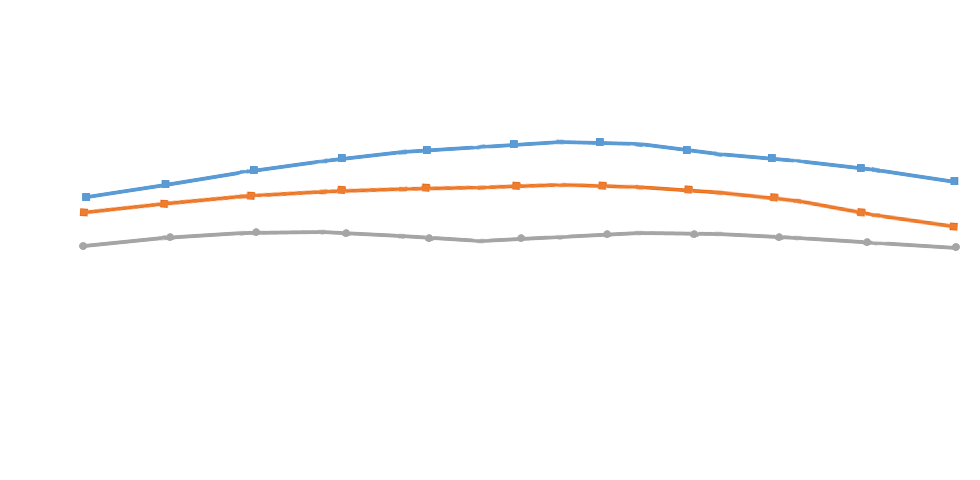 * This data is only a representation. Actual data may vary and will be available in report.
Click Here To Know How The Growth Will Unfold
Custom Market Research Services
FMI offers custom market research services that help clients to get information on their business scenario required where syndicated solutions are not enough.
Overview
XRF Analyser Market: Global Industry Analysis 2013-2018 & Opportunity Assessment 2019-2027
A recent market study published by FMI "XRF Analyser Market: Global Industry Analysis 2013-2018 & Forecast 2019-2027" offers a comprehensive assessment of the most important market dynamics. After conducting thorough research on the historic as well as current growth parameters of the XRF Analyser market, the growth prospects of the market are obtained with maximum precision.
X-ray Fluorescence (XRF) Analyzer Market Taxonomy
The global XRF Analyser market is segmented in detail to cover every aspect of the market and present a complete market intelligence approach to the reader.
Modularity Type
Portable/ Handheld
Benchtop
Product Type
Energy Dispersive XRF
Wavelength Dispersive XRF
End Use
Metal and Mining Industries
Pharmaceutical
Oil and Gas
Environmental Research
Art and Archeology
Region
North America
Latin America
Europe
Japan
APEJ
MEA
How the research was conducted?
Primary Research
Primary research interviews with Key opinion leaders and other participants were conducted for data collection and validation of the below information:
Adoption of XRF Analysers
Average Selling Price (US$) and Market Growth
Key Developments
Key Trends and Opportunities
Regional wise Dynamics
Market Share Information
Key Brands
Competition & Key Vendor Strategies
Competition & Key Vendor Strategies
Secondary Research
Industrial Minerals Association - North America
International Council on Mining and Metals
American Pharmacists Association (APhA)
National Mining Association
Mining Industry Association
Mining Association of Canada
Australian Mining Association
American Pharmacists Association (APhA)
Canadian Pharmacists Association
European Federation of Pharmaceutical Industries and Associations
Primary Interview Splits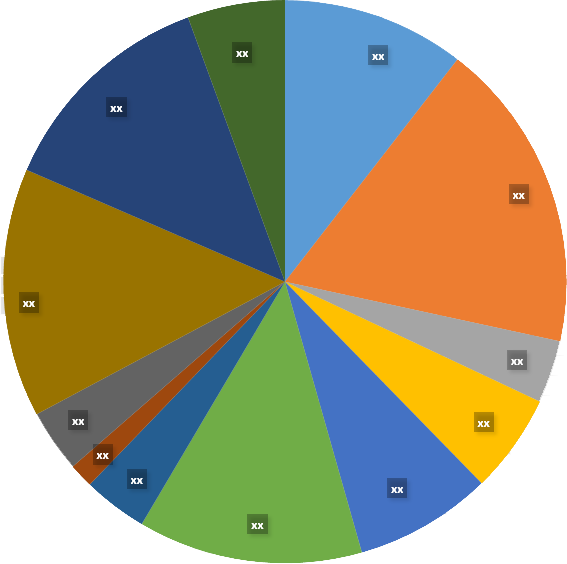 To Learn More About our Comprehensive Perspective on X-ray Fluorescence (XRF) Analyzer Market,
Get in touch
COVID -19 : Impact Analysis
Request the coronavirus impact analysis across industries and markets
Request Covid -19 Impact
CASE STUDIES
See how our work makes an impact.
At FMI, we design strategies that are adaptive, impactful, and implementable.