Trace Oxygen Analyzers - Critical in Maintaining Ambient Oxygen Levels and Hinder Oxygen Depletion
Testing equipment have come a long way in recent decades primarily due to consistent research and ongoing developments in technology. Owing to the rapid advancements in technology, at present, trace oxygen analyzers are attuned with the latest innovations and offer users added insights that the previous generation of trace oxygen analyzers were unable to provide. In recent years, the demand for trace oxygen analyzers has surged at a fleeting pace, in the view of growing adoption in multiple industries including, pharmaceutical & healthcare, electronics, chemical & petrochemical, and food & beverage, among others. Trace oxygen analyzers are primarily used for efficient industrial process control, environment monitoring, and processing of natural gas and petrochemicals. In the current scenario, the healthcare and pharmaceutical sectors are flourishing worldwide which has directly impacted the demand for advanced trace oxygen analyzers. Further, growing applications of oxygen monitoring in other end-use industries including, power generation and food transportation are expected to boost the growth of the global trace oxygen analyzer market in the foreseeable future
Trace Oxygen Analyzer Market - Key Research Findings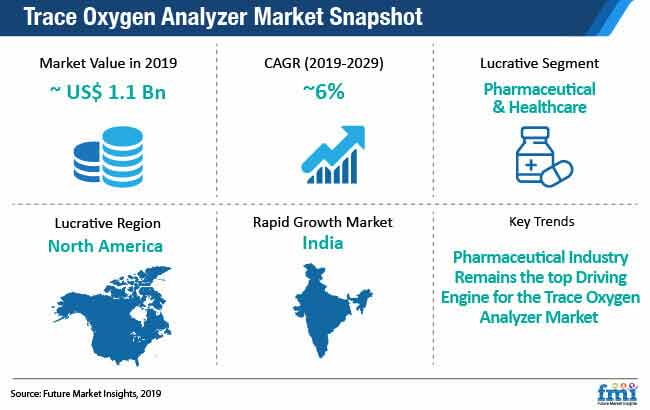 The global trace oxygen analyzer market size is forecast to reach ~ US$ 1,127 Mn in 2019.
The trace oxygen analyzer market is estimated to grow at a CAGR of ~6% during the forecast period 2019-2029.
The expanding pharmaceutical & healthcare industry is majorly boosting the growth of the trace oxygen analyzer market.
Collectively, North America and East Asia are expected to account for ~ 45% of the revenue shares in the trace oxygen analyzer industry by the end of 2029.

Rapidly growing industries in East Asia such as pharmaceutical, chemical, pulp and fibre are creating significant demand for trace oxygen analyzers in manufacturing sectors and laboratory analysis.
Moreover, increased manufacture of semiconductors and other electronic products are fuelling the growth of trace oxygen analyzer market.

Pharmaceuticals and petrochemicals are expected to remain prominent end-use industries for trace oxygen analyser market.

Manufacturers of trace oxygen analyzers are focusing on advancing their products by increasing their R&D expenditures.
Moreover, leading players are focusing on merger and acquisition strategies to expand their footprint in untapped regions.
Key Factors Shaping the Trace Oxygen Analyzer Market
Flourishing Chemical and Pharmaceutical Industries
The chemical and pharmaceutical industries are growing rapidly across the globe, especially in Asia Pacific, North America, and Europe. Countries such as India and China have fastest growing chemical industry, especially China which is moving towards manufacturing speciality chemicals. North America and Europe are prominent regions of the pharmaceutical industry. These factors signify that the manufacturing of chemical and pharmaceutical products is increasing at rapid pace. Trace oxygen analyzers are widely used in manufacturing plants and laboratory facilities for various applications such as oxygen inlet monitoring, sample preparation, laboratory analysis, vacuum systems monitoring, among others. Also, leading players are manufacturing advanced products in line with various applications of end-use industries. For instance, In January 2019, Barben Analytical, a unit of AMETEK Thermal Process Management launched oxygen analyzer (OXYvisor), which can measure the trace oxygen in the gas and liquid phase. These factors are boosting the growth of trace oxygen analyzers.
Growing Petrochemical and Electronics Industry
The demand of trace oxygen analyzers is increasing due to growing petrochemical and electronics industries across the globe. The manufacturing of semiconductors is required to purify gases, hence the trace oxygen analyzers are significantly used for analysing the purity of the gases up to ppm and ppb level. Moreover, the trace oxygen analyzers are extensively used in petrochemical industry for monitoring the quality of various gases. Also, it widely used for monitoring the hazardous gases in manufacturing plant. Leading players are focused on increasing the production capacity of the plant due to increased demand of trace oxygen analyzers and this is likely to boost the growth of the trace oxygen analyzer market. 
Increasing on-field analysis
Leading players are focused on manufacturing the portable trace oxygen analyzers for laboratory, as well as on-site analysis due to increasing demand for on-field analysis. Moreover, significant portability and easy maintenance aspects are increasing the usage of trace oxygen analyzers in various industries.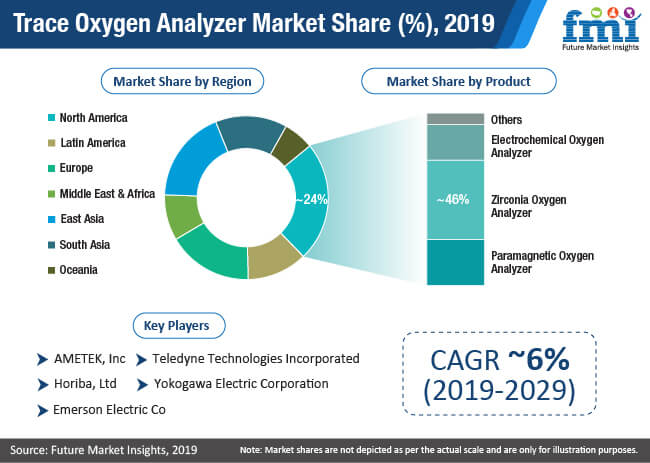 Trace Oxygen Analyzer Market Structure Analysis
The global trace oxygen analyzer market is highly consolidated, where leading players are focused on manufacturing multi-functional and portable trace oxygen analyzers.
The trace oxygen analyzer market has been relatively large in size, due to its various applications in many industries.
Leading players of the trace oxygen analyzer are recently acquiring analytical equipment manufacturing companies to expand their product portfolio in the field of trace oxygen analyzer. Moreover, regional players are manufacturing products with advanced technologies for greater market penetration which has already been dominated by leading players.
For a stronger foothold in targeted regions, manufacturers of trace oxygen analyzers are advancing their products by continuously increasing research and development facilities.
Robust and Durable Zirconia Oxygen Analyzers Garner Popularity
Over the last decade, the demand for trace oxygen analyzers that are integrated with advanced technologies and deploy non-depleting analyzing principles experienced a commendable growth. Zirconia oxygen analyzers in particular, garnered immense popularity for their robust nature, capability to withstand high temperatures & pressure, and longer shelf life. Furthermore, technological advancements have played an imperative role in developing highly accurate zirconia oxygen analyzers that require minimum maintenance and calibration. Thus, owing to the aforementioned factors, the adoption of zirconia oxygen analyzers has increased at a promising pace in recent years – a trend expected to continue in the coming years.
Some of the other advantages of zirconia oxygen analyzers such as, speedy response rate, efficient detection in low oxygen conditions, and alarm notification if the oxygen levels drop below the required levels have also contributed towards their growing demand across a number of end-use industries. As demand for zirconia oxygen analyzers continues to move in an upward trajectory, the global trace analyzer market is expected to grow at robust rate in the coming years. Zirconia oxygen analyzers are widely used by gas producers to measure the impurity levels of oxygen and end-users of gas to ensure the quality of the gas used for the production of chemicals. Manufacturers involved in the global trace oxygen analyzer market are making continuous efforts to enhance the capabilities and specifications of products by adopting new technologies such as luminescence-based sensing.
North America and South Asia Offer Promising Growth Prospects
The trace oxygen analyzer market in North America is expected to witness a healthy growth, owing to several factors including rapid innovations in existing oxygen analyzers, advancements in sensing technology, and growing importance of monitoring oxygen levels in the food packaging industry. Further, the chemical and pharmaceutical sectors in North America and South Asia are expanding at a swift pace, which in turn has positively influenced the demand for trace oxygen analyzers. The presence of a developed healthcare industry in nations including the US and Canada has created several lucrative prospects for the market players. Further, active market players based in North America and South Asia are expected to increase research expenditure to provide future-proof trace oxygen analyzers for an array of applications
Market Players Eye Promotional Strategies to Assert Market Presence
Stakeholders in the trace oxygen analyzer market are likely to focus on the development of state-of-the-art multi-functional trace oxygen analyzers for different applications in the end-use industries. In addition, sensing the growing adoption of zirconia oxygen analyzers, manufacturers are investing in research and development to enhance the efficiency of their products. Further, several players are leaning towards expanding their production capacity to eliminate bottlenecks that exist in the production-supply cycle. In addition, product promotion by branding is a trend that is likely to continue as prominent names in the trace oxygen market are using the aforementioned tactic to tap the unexplored potential. For instance, Emerson Electric Company formulated promotional strategies for their analytical and measurement instruments with the brand name "Rosemount" to enhance their brand's visibility in accord with the different sectors.
Zirconia oxygen analyzer remains sought-after
Electrochemical oxygen analyzer sales pick pace
Portable remains most preferred
Adoption of benchtop gathers momentum
High demand from pharmaceutical & healthcare
Surge in adoption for power generation
How Growth will Unfold
The existing and upcoming market players are likely to lean towards the production of eco-friendly trace oxygen analyzers by enhancing design and assessment standards. Further, the growth of the trace oxygen analyzer market is expected to hinge on the demand from the booming food packaging and power generation industries in the coming years.  With stringent regulations in place concerning the quality of perishable food products, the use of trace oxygen analyzers is gaining pace, in order to ensure that oxygen in packages containing controlled atmosphere is at optimum level. Further, the growing adoption of zirconia and portable trace oxygen analyzers in various end-use industries including, power generation, chemicals & pharmaceuticals, and more are expected to shape the future growth of the trace oxygen analyzer market.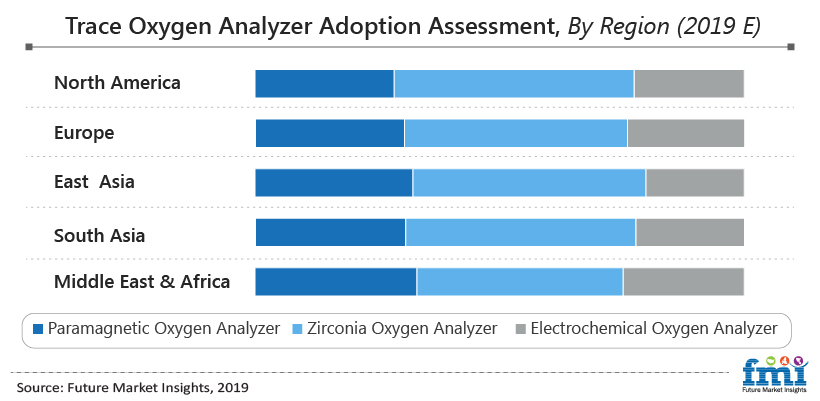 * This data is only a representation. Actual data may vary and will be available in report.
Click Here To Know How The Growth Will Unfold
Custom Market Research Services
FMI offers custom market research services that help clients to get information on their business scenario required where syndicated solutions are not enough.
Overview
Trace Oxygen Analyzer Market Analysis 2019 - 2029
A recent market study published by FMI on the trace oxygen analyzer market includes a global industry analysis 2014-2018 & opportunity assessment 2019-2029, and delivers a comprehensive assessment of the most important market dynamics. After conducting thorough research on the historical as well as current growth parameters of the trace oxygen analyzer market, the growth prospects of the market are obtained with maximum precision.
Trace Oxygen Analyzers Market Taxonomy
The global trace oxygen analyzer market is segmented in detail to cover every aspect of the market and present complete market intelligence to the reader.
By Product
Paramagnetic Oxygen Analysers
Zirconia Oxygen Analysers
Electrochemical Oxygen Analysers
Infrared Oxygen Analysers
Others (Ultrasonic, Laser)
By End Use
Pharmaceutical & Healthcare
Electronics
Chemical & Petrochemical
Food and Beverage
Power Generation
Others
By Region
North America
Latin America
Europe
South Asia
East Asia
Oceania
Middle East and Africa
How the research was conducted?
Primary Research
Chief Executive Officer
Vice President
Sales Head
Product Manager
Marketing Head
Deputy Manager -Marketing & Communications
Marketing Manager
Sales Manager
Distributors
Customer Service Representative
Current market dynamics and challenges
Product Type Segment Split and Authenticity
Yesteryear trends
Market characteristics
Competition structure and market structure
Strategic growth initiatives
End-Use Industry Segment Split and Authenticity
Market segment splits and authenticity
Near-term and long-term market growth prospects
Opinions on market projections and validity of assumptions
Secondary Research
Trade Websites
Association Connecting Electronics Industries
ASTM International
International Organization for Standardization
American National Standards Institute
International Federation of Pharmaceutical Manufacturers & Associations
International Energy Agency
Primary Interview Splits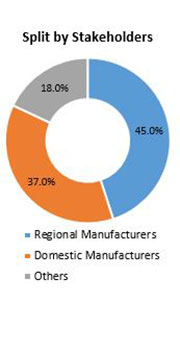 To Learn More About our Comprehensive Perspective on Trace Oxygen Analyzers Market,
Get in touch
COVID -19 : Impact Analysis
Request the coronavirus impact analysis across industries and markets
Request Covid -19 Impact
CASE STUDIES
See how our work makes an impact.
At FMI, we design strategies that are adaptive, impactful, and implementable.