Nutraceutical Excipients Market - Key Research Findings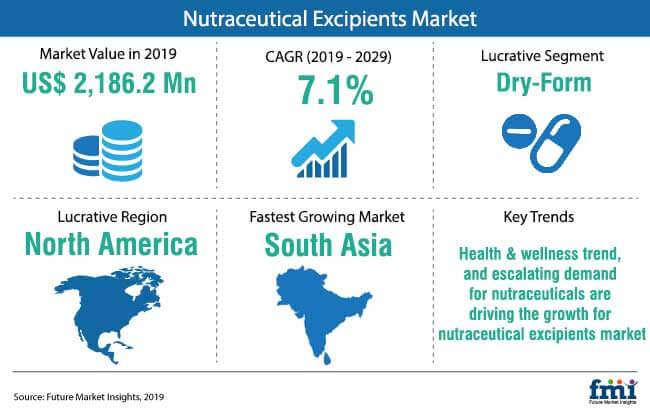 Global nutraceutical excipients market size expected in 2019 – Nearly US$ 2,186.2 Mn.
The nutraceutical excipients market will observe approximately 7.1% CAGR over 2019-2029.
Ascending prevalence of lifestyle-related diseases creating a catalytic effect for nutraceutical excipients market.

According to WHO, over 1.9 billion adults were overweight in the year 2014, with 600 million of these being obese. This statistical data denotes the growing pace of prevalence of lifestyle-related diseases, eventually translating into chronic conditions.
The increasing health issues is leading in growing sales of dietary supplements, functional food, and functional beverages which is creating demand for nutraceutical excipients.

North America and Europe are expected to gain significant market share of nutraceutical excipients during the forecast period.

North America and Europe are prominent regions in the nutraceutical market.
Driven by the trending health consciousness and the rising spending powder of consumers on premium and specialty nutraceutical products, developing regional markets are also representing significant market growth potential.
Strong R&D and concentration of big players are providing a collective push to the nutraceutical excipients market growth prospects at a global level.

South Asia holds high growth potential for nutraceutical excipients market.

South Asia is anticipated to hold maximum growth opportunity for nutraceutical excipients manufacturers.
In addition to the growing trend for health and wellness, South Asia's market for nutraceutical excipients is also receiving strong support from rapid growth in the population and increasing number of new market entrants in the region's nutraceutical excipients manufacturing space.

Binders, and fillers and diluents to remain most preferred product type for nutraceutical excipients market

The growing demand for solid dosage form in nutraceuticals including tablets, capsules, granules, sachets, powder, and others is creating demand for binder, fillers, and diluents which are used to hold the ingredients, improve the bioavailability and functionality of the nutraceuticals thus have maximum market share in the product type for nutraceutical excipients.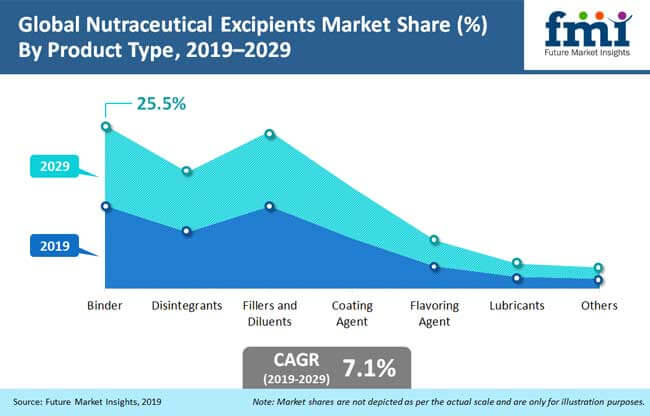 Top 2 Factors Shaping the Nutraceutical Excipients Market
New Product Development & Acquisitions Trending in Nutraceutical Excipients Landscape

The manufacturers of nutraceutical excipients are focusing on product development and intensive research and development activities. The manufacturers are focusing on developing multi-functional excipients with advanced properties to improve the efficiency of the product and to minimize the cost and time frame required in the making of formulation. Big players are acquiring small excipients manufactures to upscale their production capabilities and to offers advanced excipients.

In 2017, DowDuPont Inc., completed the acquisition of health and nutrition business of the FMC Corporation. The acquisition is anticipated to gives DowDuPont one of the most extensive pharma offerings to assist the growing pharmaceutical and nutraceutical excipients industry

Brisk Expansion of E-commerce Sector to Pave the Way for Nutraceutical Excipients Market Growth

The growing E-commerce sector is leading to the increasing market opportunities for nutraceuticals which, in turn, is escalating the need for nutraceutical excipients. Manufacturers of nutraceuticals can promote and sell their products on a global platform and can connect with a much broader consumer base through online retailing.

Besides, consumers are also benefiting from the growing E-commerce in the supply chain as consumers have greater accessibility to the products. Consumers have the transparency to compare the products and their prices on the same platform and take well-informed decisions.
Nutraceutical Excipients Market Structure Analysis
The global nutraceutical excipients market represents a consolidated competition landscape wherein Tier 1 companies hold 45-50% revenue share.
Some of the top shareholders in nutraceutical excipients market include Ingredion Incorporated, Cargill Incorporated, DowDuPont Inc., Kerry Group plc, Roquette Frères S.A., Ashland Global Holdings Inc., and BASF SE.
Ensuring superior product quality and adherence to good manufacturing and ethical distribution practices are attributes followed diligently by branded nutraceutical excipients makers for differentiating themselves.
Nutraceutical Excipients – Gains Underpinned by Proactive Attitude towards Preventive Healthcare
Incessantly increasing prevalence of lifestyle diseases is triggering consumers to become more conscious about their dietary habits and nutritional intake. Consumers are weighing their dietary choices with the attitude influenced by preventive healthcare to mitigate the negative health impacts of fast-paced lifestyle. With preventive healthcare becoming the need of the hour as the percentage of geriatric population of the world surges, the demand for nutraceutical excipients will surge to gain improved health outcomes.
Market Set to Grow 2x between 2019 and 2029
Increasing incidences of lifestyle diseases are catalyzing the ongoing R&D activities in the nutraceutical excipients landscape. Business operations will continue to be influenced by growing demand for multi-functional nutraceutical excipients. Existing excipients available in the market are being revised and cross-linked to improve their prevailing characteristics while minimizing the production costs to a significant extent.
Manufacturers are expected to bank on the recent advancements in excipient technologies to enhance the adaptability of multifunctional nutraceutical excipients in diverse end-uses and applications.
North America – A Vital Revenue Pocket for Stakeholders
The demand for nutraceutical excipients is witnessing an uptick in the United States, despite the incorporation of strict regulations and laws, such as Dietary Supplement Health and Education Act (DSHEA), on the sales of dietary supplements in the country. Increasing health awareness and dietary consciousness among consumers of all the age groups is the primary driving engine for the market in North America.
Though the product penetration remains significantly low in developing regions, such as Asia Pacific and Latin America, the market for nutraceutical excipients is expected to gain momentum in these region in the upcoming years.
What Does it Mean for Manufacturers?
As any nutritional or dietary supplement finds more stable form in solida state rather than in liquid state, thereby demand for dry nutraceutical excipients will continue to hold a significant share of the market revenue.
Market players are resorting to new manufacturing techniques for co-processing the existing dry nutraceutical excipients to cater to the increasing end-user demand and remain ahead of the curve in the coming years. Moreover, an exploration of solid-state properties of dry nutraceutical excipients and its impact on functionality will foster this trend in the upcoming years.
Need specific information?