About the Report
A growing trend that was noticed with regard to nutraceuticals in pre-pandemic years was a steady increase in consumption of nutritional supplements by young consumers. This translated into a higher growth rates for protein-based supplements as compared to other vitamin or mineral-based supplements, which mainly catered to older populations.
This trend saw a reversal in 2020 as the Covid-19 virus brought immunity back into focus. As a result, the growth rate of vitamin-based supplements has made a strong come back. This shift has had a significant impact on nutraceutical packaging.
Vitamin-based supplements accounted for nearly a third of the overall share in the nutraceutical sales in 2020. The spurt in sales by mainly led by developed countries in North America and Western Europe. Product launches in preventive care segments like vitamins, minerals and probiotics also outstripped those in the proteins and amino acids segments.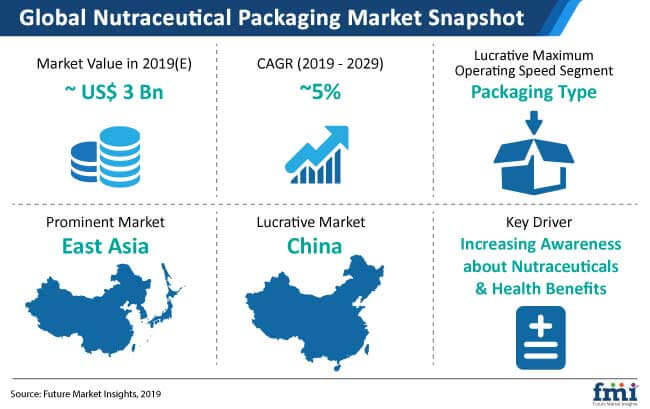 At the same time, the demand for protein-based supplements also increased in absolute terms as more youngsters took to exercising during the extended lockdowns in several countries. Going forward, it is estimated that protein-based supplements may regain their previous momentum. This had led to certain ambiguity for major players involved in manufacturing of nutraceutical packaging products.
However, the sum total of sales of nutraceutical supplements are slated to grow at a CAGR higher than their pre-pandemic levels. With sales in all product verticals and regional segments growing, manufacturers of nutraceutical packaging are in a pleasant dilemma of which segment to allocate maximum investments in.
However, it is also estimated that they may hit certain barriers with regard to availability of raw material and possible supply chain disruptions due to changing geoeconomic patters.
Key Research Findings
The global nutraceutical packaging market size is projected at ~US$ 3 Bn, in 2019.
The market is projected to grow 1.6x during the next ten years.
Europe and North America are expected to remain among the leading regions in terms of market value share, accounting for more than half of the global nutraceutical packaging share.

North America is expected to create high incremental opportunity for the market by the end of the forecast period. Europe is expected to be one of the key regions with a matured pharmaceutical industry, which will translate into growth in sales of nutraceutical packaging.

The share of table top nutraceutical packaging is expected to increase by the end of 2029 due to the increasing demand from hospital & retail pharmacies and increasing preference for gym and sports activities.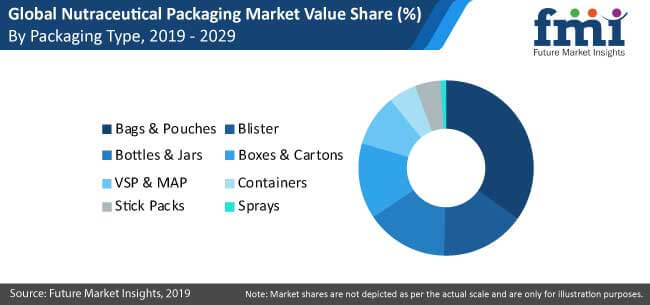 Key Factors Shaping Demand for Nutraceutical Packaging
Increasing Consumption of Dietary Supplements
The consumption of supplements and additional nutrients is consistently increasing due to critical health issues such as diabetes, hypertension, cardiovascular ailments, osteoarthritis, osteoporosis, etc. In addition to this, limited nutrition from the consumed food leads to nutrient deficiency, which is fulfilled by dietary supplements and additional nutrients.
Sports Nutrition is Gaining Traction Among Youngsters
Millennials are actively joining gyms and are involved in sports. Hence, they have more preference towards protein powder, protein shakes, and health drinks, as compared to multivitamins and pills. Generation X people are more focused on a work and personal life balance. They require supplements for dealing with middle-age maladies. They are focused on consuming more protein, mainly plant-based protein, which helps them manage their weight. They have less preference for artificial ingredients, pills, or products with poor taste.
Increasing Preference of Millennial Demographic in the U.S.
The U.S. represents the largest nutraceutical market in the world. Owing to the increasing consumption of dietary supplements and other nutrients, the U.S. is one of the leading regions in terms of market share and market maturity. The driving force for the market in the U.S. is the health consciousness of consumers and their inclination towards natural nutrients.
Growing consumption of nutraceuticals is observed as consumers are opting for preventive measures to maintain their health and wellbeing. This will result in increased demand for nutraceutical packaging during the forecast period. It is observed that, generation X and baby boomers are taking regular nutraceutical supplements in the form of vitamins, minerals, omega 3 fatty acids, and prebiotics.
The nutraceutical packaging of these ingredients is done either in the form of blister packs, bottles & jars, or containers. Sales of nutraceutical packaging in the U.S. are expected to grow further because of millennials. Millennials are more inclined towards gym activities, swimming, and other sports, and pose as a major driving factor for the growth of nutraceuticals such as protein powders and energy drinks. This millennial lifestyle is expected to positively impact sales of nutraceutical packaging products.
Nutraceutical Packaging Market Structure Analysis
Many nutraceutical packaging manufactures are engaging in product launches and acquisitions in order to increase their global reach.
Europe and North America are estimated to account for a high share in terms of value of the global market during the forecast period.
Bargaining power of suppliers in the East Asian region is high as compared to other regions, as there are less number of players in the region.
Nutraceutical Packaging – Countering Counterfeiters, Emphasizing Safe Product Supply
Integrity of nutraceutical companies is vital, and countering the counterfeiters is a must. Leading market stakeholders are adopting advanced packaging techniques, ranging from invisible inks and unique fingerprints, to anti-diversion codes and hologram-enabled identification. Emphasis on adding security features in nutraceutical packaging grows, while retaining the aesthetic appeal of packaged products to ensure safer product supply.
Market Set to Grow 1.7X between 2019 and 2029
Adoption of sustainable, green packaging solutions is on the rise, and the pervasive shift away from plastic to paper is increasingly evident in the nutraceutical packaging landscape. Although plastic bottles are still the mainstay of nutraceutical packaging, stakeholders are taking efforts to innovate, to bring safer materials with unique designs to the fore.
Tailwinds of Growth in Developing Markets
Developing markets remain lucrative for nutraceutical packaging manufacturers. Players in these market continue to focus on redesigning their packaging with demographic group-targeted solutions. Developing markets hold potential opportunities, and stakeholders are developing eye-catching packaging and labeling formats to stay distinguished in their offerings.
The Broader Perspective
Consumer spending on preventative care continues to grow, as they embrace the health & wellness trend, thereby contributing to sales of health supplements and nutrition products. Nutraceutical packaging manufacturers are driving consumer loyalty via functionality that meets consumer preferences, and delivering smarter solutions for greater wins at store shelves.
How Growth will Unfold
Consumer continue to show a marked preference for nutraceuticals in powder & granules form, creating high demand for packaging solutions for these products. Demand for nutraceutical packaging for products in the form of tablets & capsules will also remain strong, followed by liquid products.
NUTRACEUTICAL PACKAGING MARKET TAXONOMY
The market is segmented in detail to cover every aspect of the market and present complete market intelligence to the reader.
By Packaging Type
Blister
Bottles & Jars
Bags & Pouches
Stick Packs
Boxes & Cartons
Containers
Sprays
VSP & MAP
By Product Form
Tablets & Capsules
Powders & Granules
Liquid
Solid
By Product Type
Dietary Supplement
Functional Food
Functional Beverages
By Material
Glass
Paperboard
Plastic
Aluminum
By Ingredient
Vitamins
Minerals
Prebiotics
Probiotics
Amino Acids
Omega 3 Fatty Acids
Others
Region
North America
Latin America
Europe
South Asia
East Asia
Oceania
Middle East & Africa
Need specific information?