Introduction
Produce is the generalized term for group of farm produced goods and crops, which include fruits, and vegetables such as oats, grains and meats. The term produce usually implies that products are fresh and in same state as they were when harvested. Various types of packaging are employed for produce such as corrugated boxes, bags & liners, trays, and plastic containers such as bowls, tubs, and cups.
Demand for Produce Packaging in Foodservice Industries and Retail Stores
Majority of consumers buying local food are seeking product freshness as well support to the local economy. With rising demand for gluten- and meat-free meal options, fresh produce has been gaining popularity in both foodservice industries and retail stores, as these seek ways to appeal consumers with dietary restrictions. In retail stores, demand for packaging of produce offerings, which are display-ready and being sold ready-to-eat will gain an uptick, in a bid to extend shelf-life of these produce offerings.
Similarly, demand for produce packaging in foodservice industries will also remain higher, while providing healthier food options at the same time cutting down on labour costs and meal preparation time.
Increasing demand for organic food products is a major trend being witnessed in the global produce packaging market. Demand for natural and organic food is expected to gain an upsurge on the back of shifting consumer preference for healthy diets, which contain fewer growth hormones & antibiotics, and are low in carbohydrates. Organic agricultural products need superior packaging for increasing their shelf-life. Moreover, with soaring number of households with single person, demand for small-sized packs of fresh produce has surged significantly.
Majority of retailers prefer small packages of fresh produce as they are compact, resulting into requirement for less shelf space and thereby leaving room for stacking more items. Benefits such as these have compelled packaging industries in expanding their material offerings and product portfolio.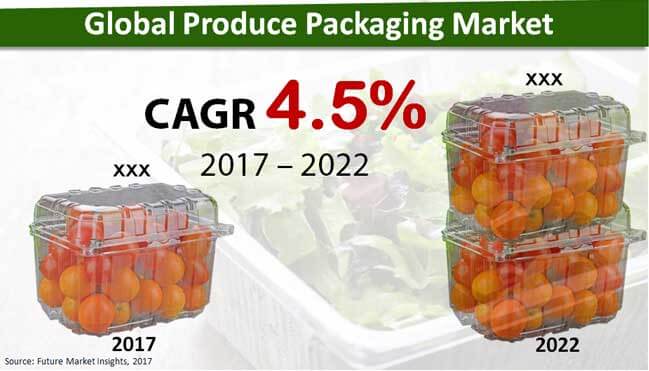 Future Market Insights (FMI) has projected a moderate expansion for the global produce packaging market in its recent report, for the forecast period (2017-2022). Revenues from the market are estimated to exceed US$ 35,000 Mn by 2022-end.
Corrugated Boxes to Remain Preferred for Produce Packaging
On the basis of packaging type, corrugated boxes are expected to remain preferred in the global produce packaging market. Revenues from corrugated boxes' sales are projected to account for more than 35% market share in 2017. In addition, sales of bags & liners, and plastic containers such as cups, tubs and bowls, for produce packaging are expected to account for roughly similar market revenue share in 2017. Sales of plastic containers will witness a robust expansion over the forecast period.
Growers/shippers are anticipated to remain the most attractive end-users of produce packaging, with revenues latching on to above half share of the market in 2017. Retail stores are expected to stick to their position of being the fastest expanding end-users of produce
Market Taxonomy
Region
North America
Latin America
Europe
Japan
APEJ
MEA
Packaging Type
Corrugated Boxes
Bags & Liners
Plastic Containers (Cups, Tubs, Bowls etc.)
Trays
Other Packaging (Plastic Film, Moulded Pulp Containers, Wooden Crates etc.)
End User Type
Growers/Shippers
Repackers
Retail Stores
Application
Food grains
Vegetables
Fruits
Need specific information?