Produced Water Treatment Systems - Credible Addition to Oil & Gas Exploration
Advancements in oil & gas industry have always been parallel to development of water treatment infrastructure. Effective management of produced water became a significant part of the oil & gas business, considering its potential to be a source of fresh water, in addition to stringent legislations put in place for unchecked discharge of produced water in the environment. Petroleum, a major source of energy and revenue for many countries, is produced with large volumes of waste, with wastewater comprising over 80% of the liquid waste. With ever-increasing water demand and more stringent environmental limits, produced water treatment systems gained increasing momentum over the years, to release clean water, store energy, and recover valuable materials from the produced water with minimal impact on the environment. This has also led to considerable increase in consumption of water treatment chemicals across the globe.
As handling of produced water becomes critical in petroleum exploration and production operations, Future Market Insights (FMI), in its new study, analyzes the current technologies for the management of produced water and their growth prospects. The study also brings to fore credible insights on produced water treatment systems market that can assist the stakeholders in well-informed decision-making.
Produced Water Treatment Market - Key Research Findings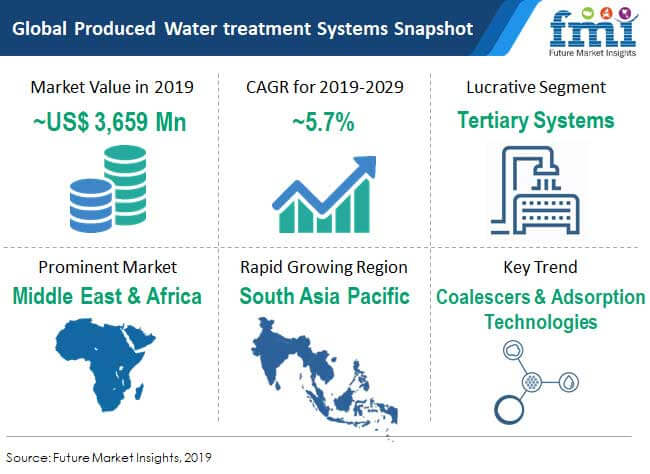 The global produced water treatment systems market size in 2018 was ~US$ 6 Bn.
The produced water treatment systems market is expected to grow at a CAGR of ~6% during the forecast period of 2019-2029.
Upsurge in the demand from the oil and gas industry, and stringent government regulations has been recently driving the sales of produced water treatment systems.
Collectively, South Asia Pacific and East Asia are likely to account for half of the revenue shares in the produced water treatment systems industry by the end of 2029.

South Asia Pacific, attributing to the strong presence of the oil & gas industry, is expected to continue to be a prominent regional market for produced water treatment systems manufacturers.

The offshore reinjection segment is expected to remain a prominent application area to invest in, for produced water treatment systems market players.

The oil & gas industry has witnessed significant growth over the recent past, and rapid oil & gas exploration activities has been particularly noteworthy.
Noteworthy application potential of produced water treatment systems has been identified in the offshore reinjection category.
Key Factors Shaping the Produced Water Treatment Systems Market
A Paradigm Shift to 'Advances in Water Treatment Technologies'
The oil & gas industry has been accelerating its shift to technologies that tend to reduce almost every toxic effluent from water, such as induced gas flotation, compact flotation unit, nutshell filtration, and coalescers being one of the most sought-after type of technologies. With regulatory norms tightening in terms of hydrocarbons and other toxic content found in produced water, manufacturers ought to focus on innovative solutions, such as produced water treatment systems that allow elimination of toxic chemicals from water, making it ideal for disposal or reuse purposes. With rising oilfields globally and increasing oil extraction activities relating to onshore and offshore reserves, especially in emerging regions such as MEA and South Asia Pacific, produced water treatment systems are set to witness an upsurge in the demand over the upcoming years.
Stringent Government Regulations towards Water Conservation
The increasing demand for eco-friendly (chemical free) produced water treatment technologies is, in turn, expected to drive the growth of the global produced water treatment systems market. Moreover, stringent government regulations related to the impact of untreated produced water on environment and reinjection policies in the oil & gas sector, are estimated to boost the growth of the global produced water treatment systems market. Agencies such as European Water Association (Europe), India Water Works Association (India), and Environmental Protection Agency (U.S.), among several other government authorities, are proactively engaged in framing policies and regulations related to the water treatment for disposal or reuse purpose. For instance, in the U.S., EPA (Environmental Protection Agency) has made it mandatory for industries to treat water before it is disposed out of the facility. Specifications pertaining to maximum permissible contamination levels have been framed in this regard.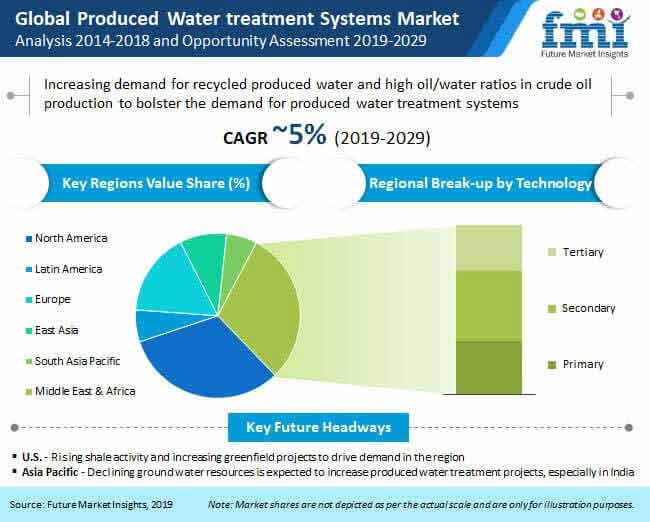 Growing Remote Operations in the Oil and Gas Industry
Key players in the oil and gas industry in North America and Europe are entering into remote areas for exploration, drilling, and production activities. Key oil and gas operators in these regions are acquiring contracts for such remote sites. Thus, more drilling operations and oil & gas exploration activities would occur generating a large amount of produced water, which is directly driving the adoption of produced water treatment systems. The U.S. oil and gas operators are moving towards Alaska and other sites for offshore reinjection applications, which is expected to drive the produced water treatment market in the near future.
Aacquisitions, Collaborations, and Partnerships to Penetrate into Overseas Market
By the end of 2018, oil prices have gained its momentum to reach more than US $65 per barrel. This has shown the opportunity for manufacturers and end users of various industrial products. The rise in oil price has generated a linear trend towards new orders and contracts irrespective of end-use industries. Key end-use industries that are targeted are oil and gas, chemical and petrochemical, and power generation industries. Asia Pacific is the prominent region that is driving new orders and contracts related to the produced water treatment systems. For instance,
In May 2019, Schlumberger announced its strategic collaboration with TGS-NOPEC Geophysical Co., for ocean-bottom node projects for multiple clients in the U.S. and Gulf of Mexico, to develop high quality products for clients under its geophysical services segment.
In April 2019, Aker Solutions signed an agreement with Fsubsea, to develop FASTsubsea, for faster oil recovery in an environment friendly manner.
Produced Water Treatment Systems Market Structure Analysis
The global produced water treatment systems market represents a fairly consolidated competition landscape, where a majority of key players maintain their strategic focus on the development of solid distribution partnerships and joint ventures, targeting a firmer global footprint.
The produced water treatment systems market has been relatively moderate in size, which remains a key factor for its dynamic competitive nature.
Prominent manufacturers of produced water treatment systems are currently prioritizing R&D and new product launches to resonate with the growing adoption of chemical free systems in North America, Europe, and China.
Portfolio extension is also identified to remain as one of the key developmental strategies adopted by manufacturers of produced water treatment systems.
For a stronger foothold in target markets, produced water treatment system manufacturers are anticipated to continue to rely on inorganic strategies, such as mergers and acquisitions.
Profound understanding of the market trends and preferential shifts of end-use segments across several regions are likely to create a bottleneck for prominent players, looking forward to untapped opportunities in the produced water treatment systems market.
Cost-effective Technologies Remain Key to Future Management
Intensification in exploration activities, both offshore and onshore, has worked in tandem with development of various produced water treatment systems. With the world population and the demand for freshwater on the increase, market players are constantly exploring new technologies that can significantly reduce energy consumption and bring down the relatively high cost of existing systems. Considering the lack of public acceptability for produced water as a source of clean water, market stakeholders are paying attention on incorporating non-chemical methods in produced water treatment, including the use of filters, polymer membranes, membrane chemicals and reverse osmosis.
Produced water treatment systems continue to garner significant traction, in the view of increasing stringent government regulations related to impact of untreated produced water on the environment and reinjection policies in the oil & gas sector. However, complying with the regulatory norms has been creating several challenges for the manufacturers, such as relatively high cost of equipment for tertiary systems as compared to primary and secondary systems.
Opportunities Abound in MEA's Thriving Onshore Activities
The majority of the global oil production has historically stemmed from the large oil field in Middle East, while countries in North America are increasingly playing an important role in the oil production. Market players remained focused on exploring opportunities in these regions, on the account of hefty investments in the development of unconventional resources, resulting in significant increases in produced water volumes. As leading oil & gas companies continue to acquire contracts for drilling operations and exploration activities in remote areas, a large amount of produced water would be generated. Therefore, the market players should be looking at a period of sustained demand.
Incisive Outlook on Market Trends and Opportunities
As governments as well as environmental groups have raised many concerns about the discharge and reuse of produced water, market vendors will need to redefine their strategies, producing analytical methods and performance data of chemical formulations that enter the market. Constant restrictions on disposal of produced water lined with scarce water resources across the globe are further likely to provide opportunities in advanced treatment technologies. While technologies such as coalescing plate separation for onshore and cyclonic de-oiling and de-sanding for offshore locations continue to influence business strategies, manufacturers are rigorously investing in R&D activities on combination of two or more technologies.
The market players are further experimenting cost-effective technologies such as electrochemistry-driven treatment to achieve zero pollutant discharge and reduction in energy consumption that could lead to the production of clean water. With regulatory norms tightening in terms of hydrocarbons and toxic chemical constituents found in the produced water, market players will also need to focus on innovative, eco-friendly solutions for future management.
Moderate capacity systems remain highly preferred
Low capacity systems gathering pace
Increasing adoption projected for secondarysystems
Significant growth poised in use of tertiary systems
Application in onshore water remains significant
Demand growth in offshore water treatment systems
How Growth will Unfold
In addition to new drilling and exploration activities, implementation of enhanced oil recovery projects, especially in Middle East, will continue to provide potential growth prospects of the produced water treatment systems market. Key market players are likely to benefit from strategic collaborations or partnerships with companies operating in global energy industry for multi-client projects across different geographies. Sensing the growing demand and limited availability of fresh water, market stakeholders are planning to establish new produced water treatment and recycling facilities in Middle East and North American countries. Development and launch of application-specific, tailored product offerings and systems will further continue to influence the growth strategies of the market players.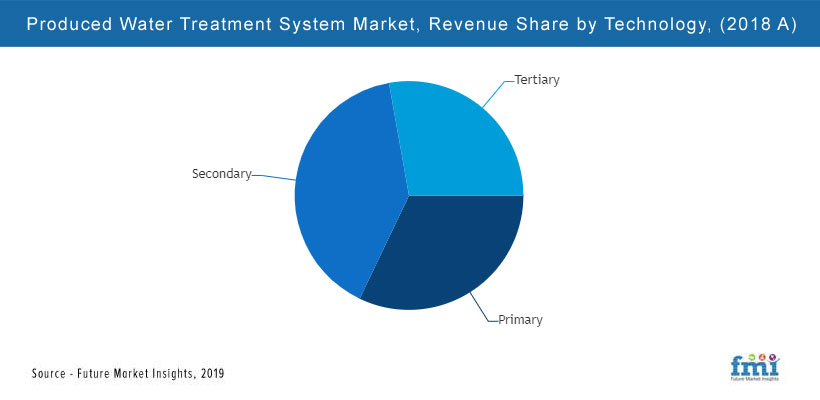 * This data is only a representation. Actual data may vary and will be available in report.
Click Here To Know How The Growth Will Unfold
Custom Market Research Services
FMI offers custom market research services that help clients to get information on their business scenario required where syndicated solutions are not enough.
Overview
Produced Water Treatment Systems Market: Global Industry Analysis 2014-2018 & Opportunity Assessment 2019-2029
A recent market study published by FMI on the produced water treatment systems market includes global industry analysis 2014-2018 & opportunity assessment 2019-2029, and delivers a comprehensive assessment of the most important market dynamics. After conducting a thorough research on the historic as well as current growth parameters of the produced water treatment systems market, the growth prospects of the market are obtained with maximum precision.
Produced Water Treatment Market Taxonomy
The global produced water treatment systems market is segmented in detail to cover every aspect of the market and present a complete market intelligence approach to the reader.
By Capacity (thsnd bl/day)
Less than 100
100 to 500
Above 500
By Technology
Primary
Secondary
Tertiary
By Region
North America
Latin America
Europe
East Asia
South Asia Pacific
Middle East and Africa
How the research was conducted?
Primary Research
C - Level Executives
Marketing Directors
Product Managers
Business Development Officers
Production Managers
Procurement Heads
Sales Executives
Distributors
Traders
Raw Material Suppliers
Industry Experts
End Users
Current market dynamics and challenges
Yesteryear trends
Market characteristics
Market performance and growth quadrants
Competition structure and market structure
Strategic growth initiatives
Near-term and long-term market growth prospects
Market segment splits and authenticity
Opinions on market projections and validity of assumptions
Secondary Research
Industry Publications

World Oil Outlook
Oil & Gas Portal
Publication from trade organizations, associations, and governments, along with ITC trade database and regional / local paid databases

Factiva
Company Press Releases
Annual Reports and Investor Presentations
Research Papers
Government Websites and Publications
Trade Websites
Primary Interview Splits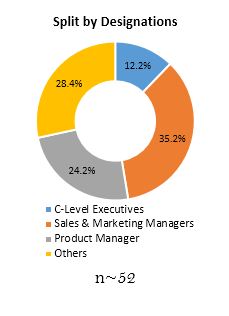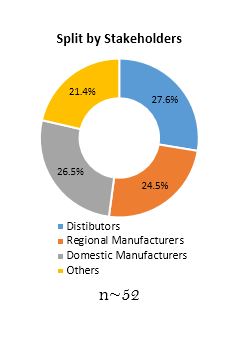 To Learn More About our Comprehensive Perspective on Produced Water Treatment Market,
Get in touch
COVID -19 : Impact Analysis
Request the coronavirus impact analysis across industries and markets
Request Covid -19 Impact
CASE STUDIES
See how our work makes an impact.
At FMI, we design strategies that are adaptive, impactful, and implementable.