About the Report
The rain barrels market is expected to witness remarkable growth during the forecast period as industries such as industrial chemicals, petroleum and lubricants, beverages, and paints, inks and dyes continue exhibiting increasing demand. Rising customer preferences towards lightweight and customizable packaging solutions are key factors fuelling the demand for rain barrels. Sales are expected to pick up in response to the increasing adoption of recyclable and flexible packaging solutions in European countries.
In its new study, ESOMAR-certified market research and consulting firm Future Market Insights (FMI) offers insights about key factors driving demand for multi-depth corrugated boxes. The report tracks the global sales of multi-depth corrugated boxes in 20+ high-growth markets, along with analyzing the impact COVID-19 has had on the medical device industry in general, and multi-depth corrugated boxes in particular.
How the Historical and Future Outlook of Rain Barrels Market Compare?
According to the World Health Organization (WHO), nearly 1.1 billion people in the world do not have access to safe and clean drinking water, while 2.6 billion people lack basic sanitation facilities.
In order to support the growing water requirements, conservation and sustainable use of water have become imperative. Climate change and global warming are playing a major role to increasing the demand for water. It also has created a water shortage in many parts of the world.
Effective water management and maintenance are required to keep water hygienic and safe for use. Rainwater harvesting is an effective way of water conservation that can be carried out easily at home to enhance the volume of water usage. Rainwater can be later used for watering plants, cleaning gardens, and lawns. According to FMI's analysis, rain barrels sales have grown at a CAGR of 4.9% between 2015 and 2019.
Are Functionalities of Rain Barrels Enough to Drive Sales?
Using rainwater not only increases water supply but acts as a direct replacement for tap water. While it might not replace the water supply but it can be utilized for other non-potable uses. It could be easily used for domestic purposes such as car washing, watering lawns and flushing down toilets. Since there is limited fresh water and the demand for the same is increasing day by day, it is necessary to find a replacement for the same.
Storing rainwater in rain barrels could easily minimize the risks of environmental containment and could help to maintain water supply in drought situations. It uses less energy and minimizes the emission of CO2.
The rain barrels market is expected to witness significant growth because of the relevance of rain barrels for water storage. Availability of different color options and ease of printing on rain barrels make them convenient for both, manufacturers as well as consumers.
Product improvement has been the focus area for various rain barrels manufacturers. Manufacturers emphasize providing a variety of rain barrels to their customers to fulfil their needs. Customized solutions for customers with the integration of technology is likely to augment the growth of the rain barrels market.
Furthermore, technology such as heat sealing and thermoforming improves the functionality of rain barrels. Heat sealing leads to the closure of material, which prevents contamination or leakage and ensures the safety of the water stored in rain barrels. Further, thermoforming produces strong, semi-flexible, seamless, and leak-proof inserts in a range of thicknesses as per the customer requirements.
The increasing need for water will drive rain barrels sales. The rain barrels market will experience further growth with the advancement of recycling and biodegradable packaging. Plastic accounts for the largest share in rigid bulk packaging materials.
Why Plastic Rain Barrels Have an Edge Over Metal Rain Barrels?
The cost-effectiveness of plastic-based products is providing better options for manufacturers and converters in comparison to metal rain barrels. The raw material resin used in manufacturing plastic rain barrels is easy to obtain at an appropriate price. Plastic rain barrels offer reusability and cost efficiency which is leading to a increasing applications across various regions.
Plastic rain barrels minimize the need for drilling and they are efficiently reducing the contamination owing to their manufacturing through blow molding technology. Hence, plastic rain barrels have a competitive edge over other materials of rain barrels.
Will Climatic Conditions Play a Vital Key in Driving Demand for Rain Barrels?
It is also observed that frequencies of droughts have increased in certain parts of the world. The Mediterranean region has also reflected an increase in droughts over the years. The need for water conservation in these conditions is set to boost the rain barrel market. The practice of rainwater harvesting and using limited water will help the rain barrels market to grow.
What Drives Rain Barrel Use in Urban Households?
Intercontinental business & trade of chemicals & fertilizers is a vital factor driving the growth. Also, due to the increasing use of water in urban households, water barrels have become a necessity. Moreover, plastic lids are being replaced by a metal or fiber rings in order to minimize any type of product contamination in water.
The growing population and increasing adoption of lightweight rain barrels are driving growth. Approximately 50% of storm water infiltrates into the ground, recharging groundwater. About 40% evaporates, and only 10% runs off. In developed landscapes, by contrast (e.g. our neighborhoods); only 15% infiltrates and a whopping 55% runs off, this is because water can't penetrate hardscape (roads, rooftops, parking lots, etc.).
When one collects rainwater, it reduces storm water impacts by holding water on-site rather than letting it run off). When released, water sinks back into the ground where it belongs, hydrating soils and recharging the groundwater beneath us.
Rain Barrels: Vital or Vogue?
Rain barrels have their own advantages such as water storage, helping to reduce storm water runoff, and preventing soil erosion. But more than an advantage, they've turned into a trend. Rain barrels have become a garden necessity as they add to the aesthetic appeal and décor. Oak rain barrels are becoming a luxury garden accessory with the youth.
Is Sustainability the Need for the Hour for Rain Barrels Manufacturers?
Sustainable packaging solutions adopted by various industries are anticipated to create growth opportunities for rain barrels market. With the growth in various industries, the demand for sustainable packaging has hiked.
Increasing environment consciousness and regulatory guidelines by various governments led to an inclination towards environment-friendly packaging materials.
According to the report of 'unenvironment.org', 8 million tons of plastic end up in the world's ocean every year. The global consumption of plastic continues to grow and the major challenge is biggest producers are unable to manage their wastes effectively. This provides an opportunity for rain barrels manufacturers to provide solutions, which are recyclable and do not have hazardous effects on the environment.
Most of the plastic rain barrels are made from Food Grade High-Density Poly Ethylene (HDPE) and Low-density Polyethylene (LDPE) material, which can be easily recycled. Furthermore, rigid forms of LDPE used in rain barrels which is easier to recycle and can often be collected and recycled by recycling programs.
Which regions holds the maximum market share for rain barrels?
Europe is expected to hold the maximum market share for rain barrels due to its wide-ranging natural disaster pattern and water shortage. Europe is expected to hold more than 20% of the market share throughout the research period.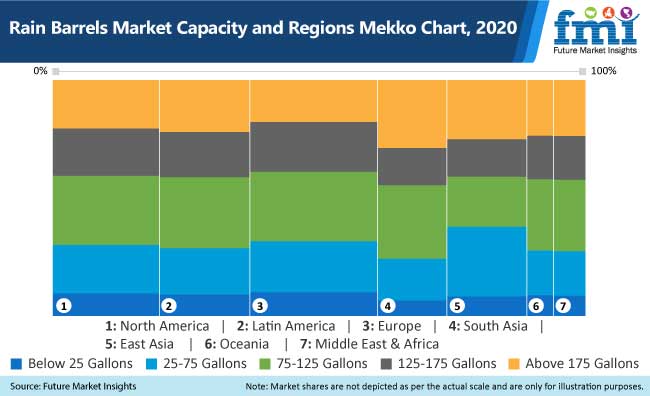 Country-wise Analysis
Is the U.S. a Hotspot for Rain Barrels Manufacturers?
According to UNESCO, countries in North America consume 2.5 times more water than European countries. The causes attributing to the same could be rapid industrialization and lower cost of water compared to other regions. Water management is highly essential in these areas in order to reduce water depletion and restore water in every form.
In the United States, major beverage brand Coca-Cola and World Wide Fund for Nature (WWF) took an initiative to help locals manage stormwater by conducting rain barrels workshops, with Coca-Cola donating more than 36,000 drums to date to collect more than 303 million litres of water. Few states in the U.S. have rainwater regulations such as in California it is regulated through the Division of water rights and Hawaii is regulated through the Department of Health and Safety.
Are Rain Barrels a Necessity in Canada?
Rainwater collecting is increasing in Canada and especially in rural areas. Small town municipalities are giving away free rain barrels to the citizens to promote the habit of saving water. Recycling rainwater will not only reduce dependency on freshwater but also help to restore freshwater supply. In Canada, freshwater isn't available which causes an issue when it comes to usage.
The Okanagan Valley in British Columbia has the lowest quantity of freshwater available per person in Canada. Collecting rainwater in Canada is challenging due to its cold weather conditions and it poses a challenge for a customer to store water. However, many manufacturing companies are coming up with innovative designs for keeping the rainwater warm, even in colder temperatures.
Is Rain Water Harvesting Driving Sales in Germany?
Germany ranks third as the most affected country due to climate risk. It underwent scorching heatwaves in 2018 with more than US$ 3,500 million worth of losses from the agricultural sector. 2018 turned out to be the hottest years in the history of Germany. It caused more than 1,246 deaths and 0.12% of the downfall in its GDP.
Rain tax, also known as the stormwater fee is charged to all German citizen who owns real estate properties. It was introduced in Germany in the year 1990 to protect against environmental damage caused by stormwater runoff. Rainwater harvesting is followed by most citizens in Germany to collect and store rainwater so it could further be used for other purposes and also to avoid adverse weather conditions.
What are the Regulatory Impacts for Rainwater collection in UK?
Water Regulations Advisory Scheme (WRAS) regulates water supply in the UK. It helps to prevent wastage of water and also keeps a check on overflowing. The UK is a vital market for rain barrels since a large chunk of manufacturers are based in the UK and supply rain barrels all across the world. Rainwater collection is perfectly legal and is even motivated by many city municipalities in the U.K.
How is Rainwater Harvesting Fuelling Sales in India?
Thunderstorms, droughts and heavy rainfall are prominent in India because of its tropical climate. Many rainwater harvesting structures are being created by the government and also individuals to curb the harmful effects of excess natural disasters. To address the problem of water depletion, Uttar Pradesh government took major steps in 2019 like making it mandatory for new builders and residents to have a facility for rainwater harvesting in their abodes.
In 2019, Metro water staff and Municipal Corporation started inspection for rainwater harvesting structures in 15 zones in Chennai. Renovation for rainwater harvesting structures is being actively carried out in Chennai and many other parts of Southern India. India makes a lucrative market for rain barrels due to its tropical climate and lack of water in some areas.
Category-wise Analysis
Which material is preferred more for rain barrels manufacturing?
The plastic segment is expected to gain the most traction and accelerate at a CAGR of 5.9% during the forecast period. Along with rigid rain barrels, plastic rain barrels also include PVC rain barrels which are collapsible and lightweight. These rain barrels are the most inexpensive ones out of all the other rain barrels. They can be folded and easily adjusted anywhere due to their flexible material.
Why does Open Head Preferred More Than Tight Head Type?
Open head type rain barrels are easier to clean and manage than tight head type. They account for more than 66% of market share in 2020. Open head type barrels could also be used for other purposes like storing other objects or solutions. Due to versatility of open head rain barrels, they are expected to expand at a faster rate than tight head barrels.
Based on capacity, rain barrels with 75-125 gallons capacity will account for maximum sales in the market.
Competitive Landscape
Companies offering rain barrels focusing on innovations in material type and technological advancements to provide better and cutting-edge rain barrels to the customers. Information and communication technology (ICT) and machine learning have paved way for the development of smart rain barrels.
Technologies like automatic beep sensors and automated lids are being used in rain barrels to make them more effective. Some of the leading companies operating in the rain barrels market are:
Capi Europe B.V.
GRAF GMBH
Koolatron Corporation
ROTO Group UK
WISY AG
The Barrel Makers
Kingfisher Direct Ltd
Etills Limited.
Oaklands Group Ltd
Good Ideas Inc.
Bosmere Products Ltd.
Emsco Group
*The list is not exhaustive, and only for representational purposes. Full competitive intelligence with SWOT analysis available in the report.
Scope of the Report
Attribute

Details

Forecast Period

2020-2030

Historical Data Available for

2015-2019

Market Analysis

USD Million for value and 000' Units for Volume

Key Regions Covered

North America, Latin America, Europe, , Middle East & Africa, South Asia, East Asia, and Oceania

Key Countries Covered

USA, Canada, Germany, UK, France, Italy, Spain, Benelux, Poland, Russia, China, South Korea, India, Thailand, Malaysia, Vietnam, Indonesia, Australia, New Zealand, GCC Countries, Northern Africa, Southern Africa

Key Segments Covered

Capacity, Material, Head Type, Region

Key Companies Profiled

ORBIS Corporation
Capi Europe B.V.
GRAF GMBH
Koolatron Corporation
ROTO Group UK
WISY AG
The Barrel Makers
Kingfisher Direct Ltd
Etills Limited.
Oaklands Group Ltd
Good Ideas Inc.
Algreen Products, Inc.
Bosmere Products Ltd.
Emsco Group

Report Coverage

Market Forecast, brand share analysis, competition intelligence, DROT analysis, Market Dynamics and Challenges, Strategic Growth Initiatives

Customization & Pricing
Key Questions Answered in the Report
Which is the most lucrative market for rain barrels?

Indonesia is the most lucrative market for rain barrels. It is estimated to rise at a CAGR of above 7%.

Which is the top-selling capacity of rain barrels?

Rain barrels with capacity of 75-125 gallons account for maximum sales in the market.

What are some recent technological developments in rain barrels?

Beep sensors and automated lids are some technological developments that are incorporated to transform rain barrels into smart rain barrels.

Which are some leading companies offering rain barrels?

Orbis Corporation, Capi Europe B.V., GRAF GMBH, Koolatron Corporation, ROTO Group UK, WISY AG, Etills Limited., Oaklands Group Ltd and Emsco Group are few leading players in rain barrels market.
Rain Barrels Market by Category
Capacity Type
25-75 gallons
75-125 gallons
125-175 gallons
Above 175 gallons
Material Type
Metal
Plastic
Wood
Concrete & Clay
Head Type
Region
North America
Latin America
Europe
East Asia
South Asia
Middle East and Africa (MEA)
Oceania
Need specific information?
Talk Show:
The Rise of Intelligent Packaging
Personalized, Connected and Sustainable
November 18, 2021
11:00-11:45 AM PST (USA & Canada)
This is a LIVE session