Market to Witness Healthy Competition Due to Increasing Consolidations among Key Players
Increase in product consolidations activities, including sales and service agreements, collaborations, rising research and development activities, new product launches, joint ventures, partnerships, patent transfers and mergers & acquisitions among global and regional players are a characteristic phenomenon of the overall competition in the global brain monitoring system market. Additionally, provision of after sales services, such as software update and up gradations.
Many global players have also installed new manufacturing and after sales service set-ups in countries, such as China, Japan, Brazil and Mexico, to increase the reach of their products. The aforesaid consolidated factors are anticipated to propel the growth of the brain monitoring market over the forecast period.
Increasing Acceptance of Neuro and Brain Related Studies in Developing Nations
Emerging countries especially in the Asia pacific region, such as China and India, are anticipated to be top hotspot destination for investment opportunities for key players. It is due to the high diagnosis growth rate, research activities, quality improvisations, increasing healthcare modernization in these countries.
To increase revenue share, medical device manufacturing companies should focus on improving their research and development activities for brain monitoring systems such as, Standard Electroencephalography (EEG) Systems, Magnetic Resonance Imaging (MRI) Systems and other emerging systems such as Functional Near-Infrared Spectroscopy (fNIRS) with advanced facilities. Such steps will add growth into the brain monitoring devices market over the forecast period.
Increasing demand for high end, advanced brain monitoring systems from end users, such as hospitals, ambulatory surgical centers, clinics and neonatal & pediatric Intensive care units (NICUs/PICUs) for better output and performance, will generate opportunities for launching of novel brain monitoring techniques in the market over the long run.
Rising Use of Brain Monitoring Systems in Large Integrated Healthcare Facilities
The use of brain monitoring systems has skyrocketed over the past decades. Brain monitoring systems has helped brain to gain insights of function, modulation, and pathology of the brain. The growing number of life threatening brain related neurological diseases and brain trauma injuries have led to a significant increase in the usage for EEG standard and MRI systems for brain monitoring across hospitals and clinics and other healthcare facilities.
Increase in Number of Brain Aneurysm and Traumatic Brain Injury Cases
According to the Brain Aneurysm Foundation, around 500,000 people lose their lives each year to brain aneurysm. Also, around six million people in the U.S. i.e. one in 50 people suffer from brain aneurysm each year. Rise in geriatric population is expected to boost overall demand for brain monitoring systems. As per an independent study, brain aneurysm is quite predominant in the age group of 35-60 years.
According to the Canadian Institute of Health Research (CIHR), as of 2015, annual incidences of Traumatic Brain Injury (TBI) is estimated to be around 600/100,000 in North America and Europe. The epidemiology of mild traumatic brain injuries is almost two-third, which occur in males and are most common in young (35–50 years) and elderly (65 years and above).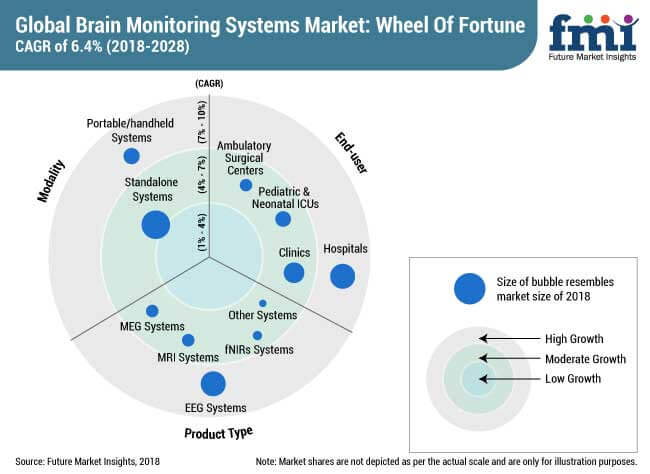 Competitive Landscape
This section of the report features profiles of key players operating in the brain monitoring systems market based on their market shares, differential strategies, brain monitoring systems product offerings, marketing approach and company dashboard. Examples of some of the key players featured in this report include Nihon Kohden Corporation., Electrical Geodesics, Inc. (Koninklijke Philips N.V.), Siemens Healthcare GmbH, Hitachi Ltd Natus Medical Incorporated, Medtronic plc. Compumedics Ltd, Neurosoft, EB Neuro S.p.A, and Ricoh Company Ltd among others.
The key manufacturers of brain monitoring systems are focusing on marketing strategies to increase both their product portfolio as well as geographical presence. The company's manufacturing brain monitoring systems are focused on pricing strategies in order to lead in the market for brain monitoring systems.
Some other key market strategies followed by brain monitoring systems manufacturers include distribution & collaboration agreements to increase product reach, partnering with local as well as global retailers, and long-term partnerships with ambulatory surgical centers, clinics, hospitals and other distributor channels such as neonatal and pediatrics ICUs
Definition
Brain monitoring systems are used in neurological testing for detection of any abnormality in the functioning of the brain cells (neurons) that leads to development of neurological disorders such as Parkinson's disease, epilepsy, dementia, brain tumor, sleep disorder, and Alzheimer's. These systems also allows to observe and identify activity of neurons without invasive neurosurgery.
This systems mainly monitors brain functions such neural activity, pressure surrounding the brain, cerebral oxygen capacity, tumor and strokes, blood pressure, traumatic cranial injury, and other critical conditions and aid in avoiding severe consequences. The non-invasive brain monitoring systems like MRI, EEG, MEG, fNRI etc. have increased demand in the global market. These mostly preferred for scanning anatomical pathologies in brain and understand structural and functional activity of neurons.
The brain monitoring systems forms the integral part of neuroimaging and radiological procedures. In the report, the market of brain monitoring systems captures the installed base market of non-invasive brain monitoring systems with focus on MRI, EEG, MEG and fNRI systems only.
About the Report
FMI conducted a research study on the brain monitoring systems market for the forecast period 2018 to 2028. The report offers a comprehensive evaluation of the business opportunities prevailing in the brain monitoring systemsmarket along with insights on the brain monitoring systems products, trend, systems prices and awareness level for brain monitoring systems market. The report elaborates the macroeconomic factors influencing the dynamics of brain monitoring systemsmarket and its futuristic potential.
Additional Questions Answered
Some of the additional questions addressed in this report on brain monitoring systems market
What are the revenue potential of brain monitoring systems market across North America and Europe?
Who are the key competitors and what are their portfolios in the brain monitoring systems market?
What are major challenges influencing the growth of the brain monitoring systems market?
How intervention from regulatory authority is shaping the brain monitoring systems market growth?
Research Methodology
The brain monitoring systems market has been estimated based on supply-demand approach. The market was first calculated based on different brain monitoring installed base percentage usage conducted in different region/countries. The test percentage estimated was based on product usage in top 20 countries globally.
Other qualitative factors analyzed during market value estimation include awareness level of usage of brain monitoring systems including devices installed base in the region, prevalence of brain aneurysm cases, epilepsy cases and other brain disorders. This information was further validated with rigorous primary research (including interviews, surveys, in-person interactions, and viewpoints of seasoned analysts) and secondary research (including verified paid sources, authentic trade journals, and resourceful databases).
The research study on brain monitoring systems market also includes top trends and macro as well as micro-economic factors shaping the brain monitoring systemsmarket. With this approach, the report on brain monitoring systemsmarket anticipates the industry attractiveness of every major segment in the brain monitoring systems market over the forecast period.
Key Segment
Based on product type
fNIRS
EEG Systems
MEG Systems
MRI Systems
other brain monitoring systems
Based on modality
Portable/Handheld Systems
Standalone Systems
Based on end-users
hospitals
ambulatory surgical centers
clinics
pediatric & neonatal intensive care units
Based on region
North America
Latin America
Western Europe
Eastern Europe
Asia Pacific Excluding Japan
China
Japan
MEA
Need specific information?