Government Regulations Could Unlock Good Opportunities in Salt Content Reduction Ingredients Market
The salt content reduction ingredients market is extremely competitive worldwide, leaving little room for smaller players to make their mark. Companies have to overcome the contradictory challenge of preserving product taste while simultaneously reducing the salt content to a large extent. The U.S. Food and Drug Administration has several regulations and policies concerning voluntary salt content reduction.
According to the 2015-2020 dietary guidelines for Americans and Healthy People 2020, people should ideally consume no more than 2300 grams of sodium daily. These policies will compel key stakeholders to utilize salt content reduction ingredients in their products, boosting the prospects of the salt content reduction ingredients market.
Monosodium Glutamate Reduces Salt While Maintaining Unique Flavour
An excessive consumption of sodium leads to a number of health issues including hypertension and cardiovascular ailments. Therefore, reduction of salt intake is highly advisable and the use of monosodium glutamate in processed foods can reduce salt content, while enhancing an umami taste. There are many benefits to using monosodium glutamate as a salt content reduction ingredient.
Monosodium glutamate in lieu of salt reduces sodium content by almost 40% without any loss in taste as MSG contains 1/3rd the sodium of salt. Glutamates are typically used at much lower levels than salt and they contribute only 2% of sodium contained in an average diet even in cases where MSG is liberally sprinkled on foods. Only a small proportion of MSG is needed to make food appetizing and adding more will not harm the body either.
Glutamates Dominate the Salt Content Reduction Ingredients Market
The glutamate segment had the maximum share in the salt content reduction ingredients market by type at the end of 2017. Glutamate is poised to lose 70 BPS by 2027 but is unlikely to cede its pole position by then. The global consumption of glutamates is expected to reach approx. 3,330 KT by the end of the forecast period with a robust CAGR of 9.1% by volume.
The market value of glutamates is poised to cross US$ 4.6 Bn by then, making it large enough for all companies actively involved in the salt content reduction ingredients market. Glutamates have a market attractiveness index of 5.0 in the salt content reduction ingredients market and this is largely due to its versatility. Glutamates can be used in different dairy products, seasonings, and sauces to reduce the sodium content.
Yeast Extracts Segment to Record Significant Growth
The yeast segment is anticipated to have a market share of 9% in the salt content reduction ingredients market in 2017 and could grow by 80 BPS. The yeast segment is estimated to witness an exponential CAGR of 10.4% from 2017 to 2027 and companies would do well to focus their attention on this lucrative segment in the salt content reduction ingredients market.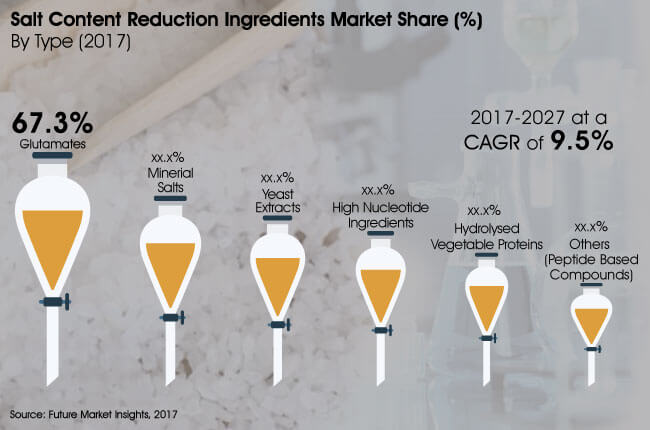 Salt Content Reduction Ingredients Impact Appeal of Food Products
It can be tricky to find the right balance of reducing sodium content with salt content reduction ingredients by opting for a solution that is optimal and this is entirely dependent on the food in question. Salt content reduction ingredients often leave an aftertaste in products and it is very difficult to determine the exact proportion of salt content reduction ingredients required while processing food products. For e.g. – Potassium chloride leaves a slightly metallic/ bitter aftertaste making it essential to moderate its use very carefully in food products.
Salt Content Reduction Ingredients Market Taxonomy
Type
Yeast Extracts
Glutamates (Monosodium/Potassium)
High Nucleotide Ingredients (Disodium Inosinate, Calcium Inosinate, etc.)
Hydrolysed Vegetable Protein (HVP)
Mineral Salts (KCl, K2SO4, CaCl2, etc.)
Others (Peptide Based Compounds, etc.)
Application
Dairy Products
Bakery Products
Fish Derivatives
Meat and Poultry
Beverages
Sauces and Seasonings
Others (Snacks, etc.)
Region
North America
Latin America
Western Europe
Eastern Europe
APEJ
Japan
MEA
Need specific information?
Talk Show:
The Rise of Intelligent Packaging
Personalized, Connected and Sustainable
November 18, 2021
11:00-11:45 AM PST (USA & Canada)
This is a LIVE session